Derek Fisher Must Have Lost His Damn Mind When He Posed With Matt Barnes' (Ex? Estranged?) Wife Before They Went On Vacation
The Slippery Fish looks like he's about to go swimming again! Listen, I was thrilled when the Knicks fired Derek Fisher because he was a terrible coach. But now I'm even happier Fisher is gone, because he clearly is just a reckless person. You can't pose for pictures before going on vacation with another dude's wife, let alone if it's Matt Barnes AKA the tatted up dude that already (allegedly) beat you up once.  Especially if Barnes is off for the week thanks to the All Stra break.  Cheesing in that picture is a worse idea than not drawing up plays for your 7'3″ unicorn in crunch time.
Now I am not saying Derek Fisher deserves to get murdered by Matt Barnes, but I am also not saying that I would completely understand if he does it. Because if you are going on vacation, everyone thinks you are going to have a fair share of freaky vacation sex. And that will not make your girl's current/ex/estranged/whatever-Barnes-is husband happy. Gloria deleting the picture after it went up probably seemed like a good idea at the time, but the Internet is written in ink, not pencil.  Now it just seems like they are trying to cover something up.
Obligatory sideboob/love triangle pic.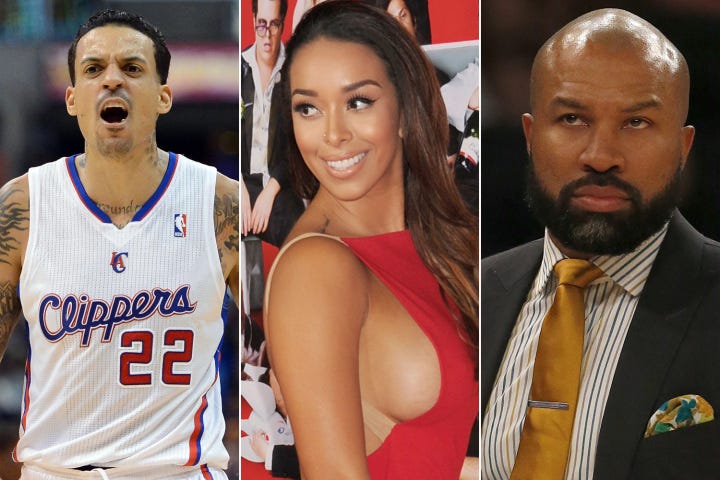 And obligatory Kobe eating Barnes' ball fake Vine.