Politicians In New Zealand Apparently Have To Watch Out For Flying Dildos
Mirror- Steven Joyce, a member of the New Zealand National Party, was talking to crowds in Waitangi, near Paihia, when he was 'attacked' by a woman in the audience. In the clip, the large, pink toy comes flying across the camera screen before hitting the 52-year-old squarely in the face. As she threw the sex toy, the woman is head yelling: "That's for raping our sovereignty." She adds: "That's for raping our country, because of the TPP and selling away our rights and our freedom." After throwing the lewd object, she was then escorted away by members of the politician's security team. It is though the woman was referring to the Trans-Pacific Partnership, which was signed in Auckland yesterday. The agreement is one of the most ambitious free trade deals ever signed and aims to deepen economic ties between 12 countries including the US, Japan, Australia, Canada and Peru.
This is why I love Australia and Baby Australia (New Zealand).  Just a bunch of savages throwing around dildos all willy.  We need to bring this type of mindset to the U.S. of A.  You think politicians would spit out the kind of nonsense they spew if there was a chance they would get a giant plastic cock to the face?  Not bloody likely, mate.  We are the birthplace of democracy, but I always appreciate when another country adds their own wrinkle to the mix.  It's your move, New Hampshire.  Let these politicians know that either you Live Free Or Die And/Or Take A Dildo To The Dome during this next caucus.
Also, definitelyyyyyyyy would.  Cute, feisty, and has enough toys in the bedroom that she can just Uncle Rico one at her least favorite politician.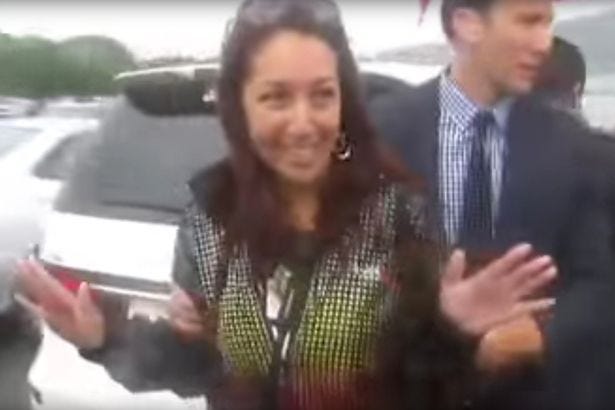 As much as I love this video, the best thing to ever happen in New Zealand was the ridiculous Haka dance opening from MTV The Challenge: Duel 2.
By the way, if you are going to buy an adult toy to throw at a politician, go to AdamAndEve.com with the promo code KFC to get a great deal (I am just writing this so I can have off on St. Patrick's Day, which is also the first day of the NCAA Tournament).