That sound you hear are the Boston Celtics, and they are coming for that ass. Throw another W up there, their fifth in a row, and take a look at where the Celts sit this morning. 27-21, tied for 4th in the East, a half game back from the 3 seed, shit just 5 games back from the TWO! Their defense is the second best in the NBA. They lead their conference in scoring. At +4.3, they have the 3rd best differential in the East, and 6th in the entire league. To no surprise their assist percentage is third in the league. Basically what I am trying to explain is that this team is for real. It's legit. No other way around it, the numbers don't lie. Neither do my eyeballs. To those who want to maintain that this team sucks, has no shot, and is a bottom of the East team, I'm sorry. I commend you on trying to keep this stand for this long, but it's time to stop. Are they inconsistent? Absolutely, they'll without a doubt lose some games in the future that will make us all scratch our heads. Doesn't matter.
Now I know what you are thinking. This is just some sort of overrection off a little Celtics high during this 5 game win streak where they have played some cupcake teams. I mean Orlando is like 1-12 in 2016, I won't argue that. But I will say, not so fast my friend. My excitement is from looking at the larger picture.
.@NBA STANDINGS
(Last 82 games)

Golden St. 71-11
San Antonio 65-17
Cleveland 61-21
OKC 56-26
LA Clippers 54-28
BOSTON 49-33
Toronto 49-33

— Sean Grande (@SeanGrandePBP) January 29, 2016
Hmmmmm…
The Good
– In a twist not yet seen before on this blog, the first spot of the night goes to…Winter Storm Jonas! What an effort! I won't go as far to say that this was the best game of his entire life, so let's just go with entire NBA career. In his 21:39 of action, he didn't miss a damn shot. His 4-4 (3-3 from deep) 13 points 10 rebound performance was so unlike him I almost didn't believe what I was seeing. I saw a guy who shook off his yips and shot the ball with confidence. Tommy said it during the broadcast and it's true, this was the Jonas the Celtics got towards the end of last year, when they went on their huge second half run. Jerebko didn't slouch on the defensive end either, finishing with a defensive rating of 96 (he's a 103 on the year). A key piece to the huge bench production, this was an unexpected performance but one I'll take every day of the week.
– I absolutely LOVED the opening play. A little dribble handoff from Isaiah to Amir who then runs off a down screen from Sullinger who is at the elbow. From there Sullinger pops out to receive the ball from Johnson, and immediately he and Avery Bradley (who is cutting from the wing) go into pick and roll and Sullinger rolls smoothly to the basket for the easy bucket. This was about as perfect of an opening play as you can have. Great timing, ball movement and it resulted in a high quality shot.    
In fact, we saw this type of pick and roll a lot early from this team. This time, it was Isaiah to Amir   
IT's not done! This time he sets up Amir Johnson for the alley-oop jam. Watch it again (and again, and again): pic.twitter.com/Z3RpoXJQHd — Boston Celtics (@celtics) January 30, 2016
– What is with this team and their ability to make quarter ending shots. We saw it twice last night. First, Isaiah with the coast to coast like the bad motherfucker he is to end the 2nd.
Then, we got Evan Turner with this ridiculous coast to coast to end the 3rd.
Evan Turner was the @HRBlock Clutch Player of the Game in the C's 5th straight win. Check out his buzzer-beater!https://t.co/yZeqcrYQ3D

— Boston Celtics (@celtics) January 30, 2016
That's how you take advantage of some bad defense.
– I really liked how assertive Kelly Olynyk was, especially in the fourth quarter. He was a team high +17 in the final frame, but I thought he played great all night. We are seeing some glimpses of his potential, and it's scary. His outside range is legit, he's shooting it with confidence, but he also is being aggressive toward the basket. The Celtics are 19-7 when he takes 8+ shots. There are times when he still looks to pass a bit too much, but if he is going to stroke it like he has been, and also be able to do this
Kelly Olynyk would like to remind everyone… The bounce is real: pic.twitter.com/QUEQja8qAQ

— Boston Celtics (@celtics) January 30, 2016
well then we might have something here. This boys and girls, is what you call and inside/outside game. Beautiful.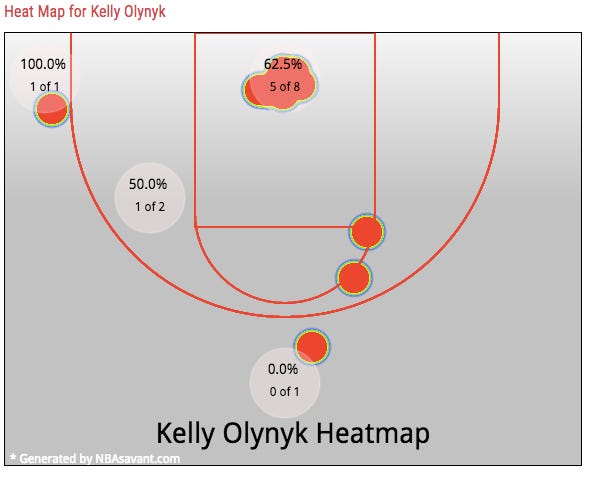 – Surprising that the Celtics actually won the rebounding battle 46-41 since they usually struggle in this department against Orlando. The bigger shocking number? The edge in the paint. The Celtics owned this area, scoring a 50-32 advantage.
– The second unit played great obviously, and credit Evan Turner for turning his play around. Over his last 6 games, he's been pretty solid: 25.5 minutes 31-51 (60%) 13 points 4 rebounds 5 assists. That's pretty good. So it shouldn't be surprising that when he plays well, the Celtics play well. That's what's frustrating about the Evan Turner experience. If he could just not be absolutely terrible, this team can be a force.
– There is something to be said that each of their last five wins have all been pretty much blowouts. When has that happened recently?
– The knock on Marcus Smart has been that he can't be that true piece because he can't shoot. Whoops! I'll admit he has a long way to go, but perhaps we got a little glimpse into his progression last night. I'm not going to freak out over a guy hitting 3 threes, but I will sit here and nod with approval.
– Having game splits of 50/41/80 is going to win you a LOT of games. Just shows how well the Celtics are playing.
– If you missed it, here was Isaiah after the game talking about his All Star nod.
No…YOU'RE crying
The Bad
– It's nitpicking, but the starters didn't play THAT well last night. Jae was solid as he usually is, but Isaiah and Avery sort of struggled shooting the ball. Obviously we all saw how the Celtics started shooting the ball as a team, air ball city. They started something like 3-14 to open, which didn't make me feel too good.
– Another 29 FTA for the Magic. Sigh,
– RJ only getting 3 minutes in ANOTHER blowout. James Young only got 6. The Celtics once led by 27. They must be dogging it in practice or something, only explanation.
The Ugly
– You win 5 in a row all by blowouts, you get the night off from the Ugly section. Cherish it, because it probably won't happen again.
Now it would be a real dick move for the Celts to lay an egg against Orlando tomorrow and make me look like a complete idiot, but that is a possibility. Home and homes are tough (see Brooklyn series). Having said that, things are at an all time high for us Green Teamers, and this team is playing some great basketball. I have a feeling Brad is going to do all he can to make sure his players are not believing their own noise because as we've seen they can get put back in their place pretty quickly.
In the meantime, relish the fact that despite all this, the Celtics still are flying under the radar. People don't want to admit there is something brewing with this team, and that's just fine by me.
27 down 20 to go
P.S
If you missed it, Wyc went on Felger & Mazz yesterday and was surprisingly honest. It's a must listen