NFL Monday Morning Rewind - AFC
Let's do it.
Colts 35, Titans 33
We were THIS close to getting the official "Andrew Luck sneaky kind of sucks" bandwagon on the road. THIS close. 2 interceptions in back to back possessions to start the second half.
A 27-14 deficit, and then good old Andy showed up (with a lot of help from the Indy Defense).
Also if you had the Colts -3 you went on a Roller Coaster. Up 14-0, put the bet in the win column, down 27-14, put it in the loss column, up 35-27, back in the win column, and then of course in the most predictable play of all time, the Titans score a touchdown and don't convert the 2 point conversion resulting in a 2 point Colts win and loss ATS. At least the Titans tried on the 2 point conversion, just kidding it was the worst play ever.
Swag City.
And Chuck Pagano is officially the new Dick Vermeil "I will cry at any given moment for no reason whatsoever" NFL Head Coach.
HUGE Week 3 win against a rookie Quarterback. One of those wins you remember forever and ever.
Raiders 27, Browns 20
JOSHY FOOTBALL!
Shit
Shit some more
Shit again
And one more time.
2 other notes about this game.
Amari Cooper is a beast and the Nickname AC/DC with David Carr is awesome, just awesome enough to get enough hype and never win a Super Bowl, but still awesome. Chris Berman doing one of his sit down "serious voice" interviews with the 2 of them on Countdown by Week 8 at the latest.
2. This is one of those games where I expect to get fan fight videos for the next 3 weeks. Just every few days another one pops up on youtube. If we don't then they've failed us all.
Bengals 28, Ravens 24
The most exciting game of the day saw 4 lead changes in the last 9 minutes of action. The 2 best being the strip sack and score
Immediately followed by AJ Green with an 80 yard touchdown catch.
"Where did this all go wrong?"
"Hmmm, I like this screen, but I REALLY like this bubble screen, tough call"
"We're 0-3 for the first time in franchise history? Are you fucking kidding me???"
"Yup, Bubble screen it is, let's  go with the bubble screen, final answer, I think"
Weird is the new normal.
Real talk for a second, I don't like the Ravens but I will absolutely miss Steve Smith Sr. So much fun to watch every single Sunday. No one quite like him in the NFL. And no I didn't say this just because I'm scared to death of him even though we've never met.
Jaguars 17, Patriots 51
The Patriots are very good.
Tom Brady is very very good.
This guy who dressed up as the Pope and went to an NFL game is very very very weird
And of course, Tally it up.
Eagles 24, Jets 17
Brandon Marshall just out there making things happen! #NoEgos
Basically pulling a Reggie Bush USC moment where he just says fuck it and stops using his brain.
Turns out Ryan Fitzpatrick is not a very good quarterback, you guys.
BUT he did go to Harvard, and people forget that.
GRIT
Try Hard or delicious or both?
Just hanging out with some queso.
Buccaneers 9, Texans 19
Oh shit bro, so tough.
Just remember, however bad your Monday is going at least you aren't Kyle
This has nothing to do with this game but when I looked up Kyle Brindza on twitter this came up so alright then.
Puke
Bills 41, Dolphins 14
Quite the eventful game in Miami. The Dolphins suck. Bills Mafia is back.
Warren Buffett is a weirdo
Rex reclaimed his swagger.
Richie got revenge
"Hey man, not for nothing but I'd love to shit in your mouth whenever you have a free moment"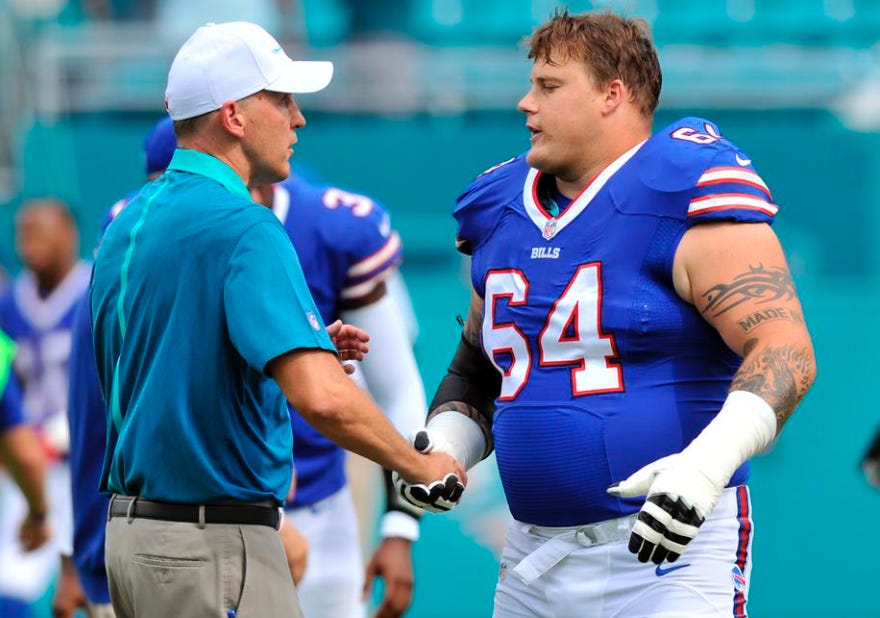 Ryan Tannehill is who we thought he was.
Dolphins fans never disappoint
And Brent Grimes wife got arrested for headbutting a Cop. Nice little Sunday.