The Road To The US Open Kicks Off With The Charles Schwab Challenge At Colonial Country Club
Ralph Lauer. Getty Images.
Welcome back to another week on the PGA Tour, which is by no means slowing down after a phenomenal PGA Championship at Southern Hills. This week brings us back to Fort Worth, Texas, home of one of the Tour's oldest stops and one of the Tour's five "invitational" tournaments (the others being the Genesis, the Arnold Palmer, the Heritage, and next week's Memorial).
Last year we had a tight one with some typically strong Texas guys duking it out, with Jason Kokrak taking home the hardware. Most memorably, this was one that slipped through Jordan Spieth's fingers, as he held the 18, 36, and 54 hole leads but crumbled with a Sunday 3-over 73 to finish solo 2nd. It would have been his 2nd win in Texas of the season, as he had won the Valero a few weeks earlier to finally break his winless strong. He'll be giving it another go this week, should be an interesting storyline.
Last year's leaderboard and recent winners…
2021 Leaderboard
Recent Winners
The Course
Colonial Country Club is a private par 70 course measuring just about 7,200 yards. It was designed by John Bredemus and Perry Maxwell in 1936 and has hosted this event (under a wide variety of different names) since 1941. It's not a terribly long course. You're going to find NINE par 4's here measuring under 450 yards. That don't mean much to us weekend hackers, but to these guys that means a ton of drivers and wedges. That 7,200 number makes it look a lot longer for a par 70 than it actually is thanks to that 247 yard par 3 4th and the 3-shot par 5 11th.
1 and 2 are generally regarded as easy birdie holes, and then you get the Horrible Horseshoe for holes 3-5. Love me a good nickname for a stretch of holes. The two par 4's are the two longest on the course and demand accuracy off the tee. That 247 yard number for the par 3 sandwiched between speaks for itself, and the green is elevated there too. So you get sandbagged a bit to start off your round and then get hit in the face.
Overall, this course suits a player with accuracy off the tee and precision on their approaches. It is by no means a bomber's paradise. The list of recent winners outside Kokrak will back that up.
Best Hole - Par 4 5th, 481 Yards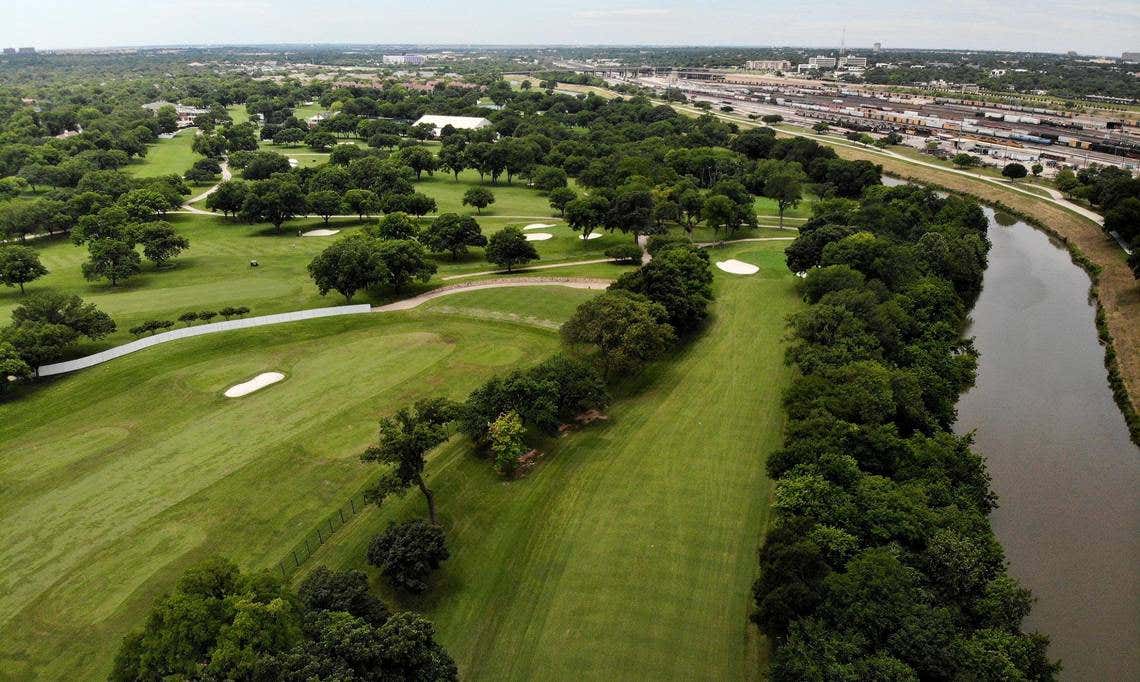 None of the holes on the Horrible Horseshoe are all that scenic, but I simply have to take one of those holes given that in many years, it's the toughest 3-hole stretch on the entire Tour. The 5th is a dogleg right with the Trinity River and trees bearing down on you on the entire right side of the hole. Even on your approach, there's no room to breathe on the right. The rough left off the tee is thiccc, so you're forced to try to hit the perfect tee shot down the left side of the fairway.
Here's an instructional video on how to play the hole from Colonial head pro Dow Finsterwald, Jr, where he oddly goes tee-to-green and then putts left-handed.
The Weather
Hot, sunny, and windy. Texas golf, baby.
The Coverage
The Trophy
Tom Pennington. Getty Images.
This thing is a behemoth. I like that about it. If you're gonna be a tournament in Texas, you gotta go big and that's exactly what they've done here. Pretty sweet eagle on top there too. You only really get birds involved with your trophy at the Sanderson Farms and I believe that trophy is quite simply a chicken. This is a superior bird and this is a superior trophy. Plus you get a plaid jacket, which technically isn't unique (see the Heritage) but it's a sweet touch regardless. All in all, this ensemble is a 7.4/10. 
The Board
Coming off his win at the PGA, Justin Thomas is the betting favorite this week at +1000 at the Barstool Sportsbook. I'll be honest, I'm a little surprised he's still playing. This feels like one of those situations where you see the major champion hungover Monday morning on the Today Show and the WD for the next week's event comes shortly after. But one of the quotes I kept hearing after his W is that JT just loves winning golf tournaments. Guy's addicted to it. I'm not gonna rule out that that WD is still forthcoming, but I am going to rule him out as my pick. He's capable of winning any tournament he's in obviously, but I think the victory tour will drag him down a bit.
Behind him, we've got a shockingly solid field for an event sandwiched between a major and next week's Memorial. Other multiple major winners Spieth and Morikawa join JT, and we've got world #1 Scottie Scheffler playing after a missed cut last week. But I'm gonna ride the momentum with another local guy who is inevitably going to win one of these things, and that's Will Zalatoris at +1800. In fact, he's my new honorary Tony Finau "bet until he wins" guy. But he's a real fit for this track. Well… this course is as balanced in terms of what type of player it favors as any, but ball-striking is a skillset that plays anywhere. If he doesn't get gusted on #6 on Sunday last week, he's the Wanamaker winner and he's probably more like +1200 this week. The value is there and this is like a home game for Will. Take him.
Other Plays
Will Z Group A +500 (Over JT, Scheffler, Spieth, Morikawa) - See above
Abraham Ancer +3500 To Win - Game fits and he's finished T-14 here the last 2 years. T-9 last week at the PGA too.
Kevin Kisner To Win +9000/Top 10 +700 - Guy has said time and time again that there's a handful of courses on Tour where he can win, and this is one of them. His W in 2017 proves that. This is my favorite value of the week. Also buy your Ain't No Hobby merch.
Harold Varner III To Win +4500/Top 10 +350 - I liken this course to Harbour Towne a bit, a place where HVIII has Top 5'd in each of the last 2 years.
Talor Gooch Group D +300 (over Berger, Kokrak, Rose, Simpson) - I'm big on the Gooch on 2022.
Mito Pereira Top 30 -110 - After looking more closely at his recent results, that performance last week didn't come from completely out of nowhere like I had originally thought. He's actually finished Top 30 in 15 of his last 23 starts worldwide. Pretty impressive and consistent stuff.
There ya have it. Enjoy the Schwab.