NBA Conference Semifinals Day 12 Betting Preview: Bucks And Warriors Favored To Close Out In Game 6s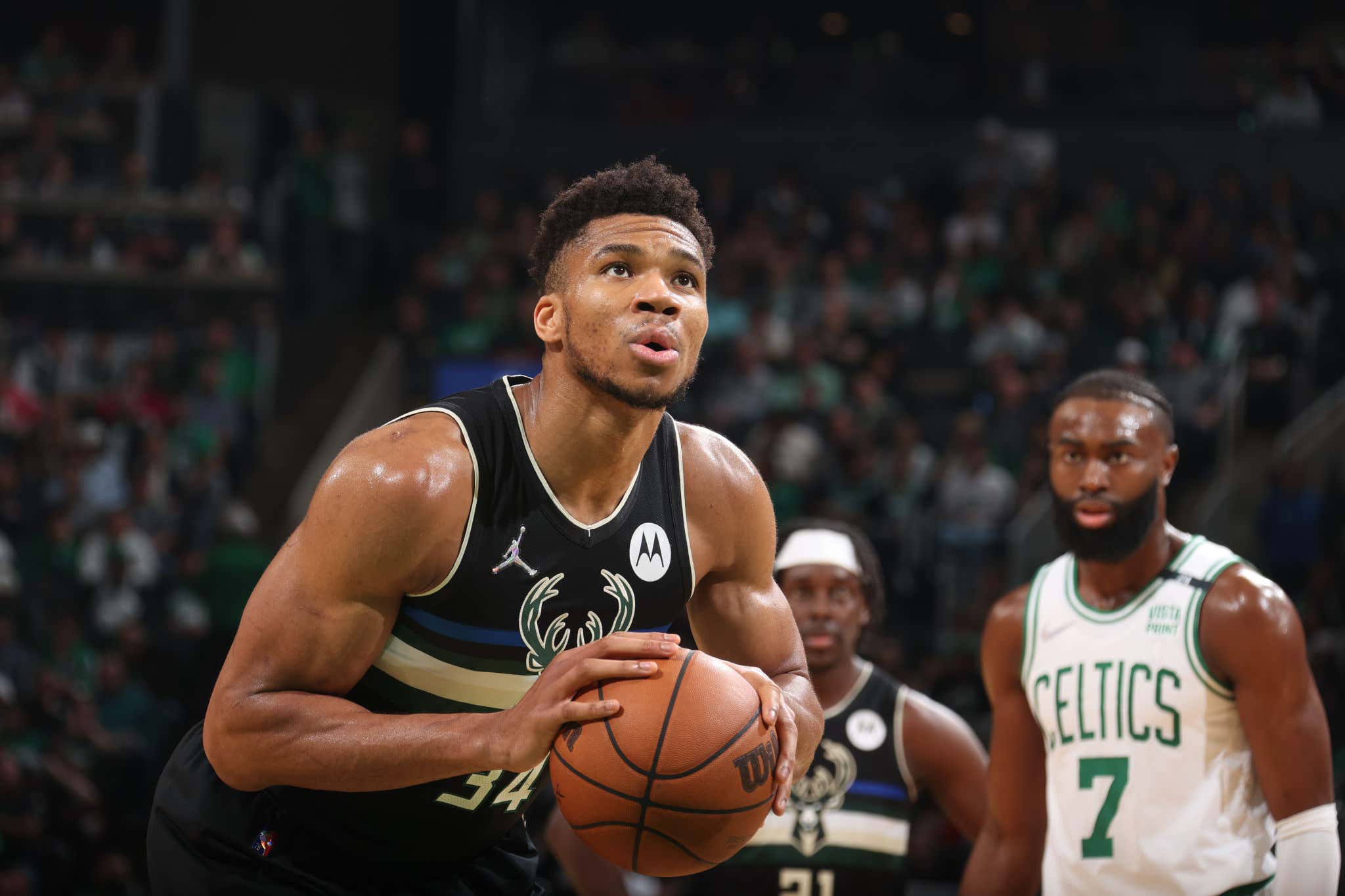 Nathaniel S. Butler. Getty Images.
Here I was thinking I had a 3-0 betting run last night, but Luka Doncic fell one point short of his Over scoring prop. However, that Suns-Mavs Under hit, as did the Heat moneyline!
I'll take a 2-1 card with how brutal these NBA playoffs have been to predict and wager upon. So anyway, for Friday's action, the Boston Celtics are on the ropes heading into Milwaukee, while the Golden State Warriors hope to put an embarrassing Game 5 performance behind them and finish off the frisky Grizzlies.
C's need one more big stand on the road
Celtics at Bucks (Game 6 — MIL leads 3-2), 7:30 p.m. ET on ESPN
It says a lot that the Bucks (-1.5) are such slim favorites, but this feels more like respect for Boston (+102) than a slight toward the Deer. After all, Milwaukee is playing without All-Star wing Khris Middleton, needed an incredible fourth-quarter rally to steal Game 5 and also blew Game 4 with a late collapse.
Combine all those factors with the Celtics' NBA-best +7.3 point differential in away games, and it's not difficult to envision how they could take home-court advantage right back and force a decisive Game 7.
One thing the C's don't have is Giannis Antetokounmpo (-136 to be the top scorer). Pretty clear at this point that the Greek Freak is the best player on the planet. Giannis is backing up last year's NBA Finals MVP run with another dominant showing against Boston's No. 1-rated defense. 
What's most impressive is that when there's an opportunity to slam the door on an adversary, Giannis and the Bucks don't miss. Milwaukee (-121) has won its past eight close-out contests.
Brook Lopez (OU 10.5 points) has averaged 15 points in his last three against Boston at home. That's a low-key prop value if you're interested. On the Celtics' side of things, Hank has an interesting one, projecting Marcus Smart to redeem himself after Jrue Holiday ate his soul down the stretch of Game 5: It's Smart to go Over 24.5 points, rebounds, and assists + Boston to win at +250.
Remember when everyone was gassing up Jayson Tatum (OU 29.5 points) like he was a legit top-five player after the Celtics swept the hapless Brooklyn Nets? Yeah well, he's hit a bit of a wall against the reigning NBA champions. Not sure this is being discussed enough: Tatum has shot 38.2% from the field and 28.5% from 3-point range in his last five starts. That's BAD.
I know Tatum is making an impact in other areas. Still, if he's meant to be Boston's go-to guy with everything on the line, that's troubling. Another way to look at it is maybe Tatum is saving his best for last. I won't be shocked if he absolutely lights it up tonight. If anyone's absolutely due for an efficient, monstrous scoring effort, it's him.
One more trend: Milwaukee (-1.5) is only 17-29 ATS at home this season.
Warriors can't be much worse…can they?
Grizzlies at Warriors (Game 6 — GS leads 3-2), 10 p.m. ET on ESPN
I was one of the idiots who thought Golden State would close out Memphis in Game 5. Boy was that an ill-fated, dry ice-caliber cold take. Could not have possibly been more wrong. 
Game 6 will be a different story. I would say I guarantee it, but I'm shook by the Grizzlies' 39-point beatdown that honestly wasn't even that close. As I mentioned when blogging about Memphis' 77-point first half without Ja Morant, the Warriors have been prone to historic defensive lapses before. That won't happen again at home, in a situation where they have a shot to clinch a Conference Finals berth.
The Grizzlies are one of the most impressive stories in a single NBA season of the past decade, or maybe more. They're a young group with a naive, almost ridiculous sense of collective confidence that should be the subject of a best-selling self-love/self-help book. Although Memphis (+8) is a big underdog, that hasn't stopped them before.
Quick counterpunch…in the past eight meetings between these squads overall, the home team has covered the spread seven times. Golden State leads the NBA in average margin of victory in its own arena at 10.4 points per game, and won Game 3 by a score of 142-112.
Since this is a Boston-founded site and the Celtics are featured herein, I'd like to cite Bill Simmons' Ewing Theory here — because it may soon be dubbed the Morant Theory. Originating with the Knicks' seemingly improved play when Patrick Ewing would miss time, the Grizzlies (+280) have taken that a step further. With Morant sidelined, Memphis is 21-6 SU including the playoffs.
In Game 4, the first in the postseason sans Morant, the Grizz only lost 101-98. On the road. This Grizzlies defense is hounding the Warriors, and they're not responding well. Golden State should find a way to dig deep and pull Game 6 out, yet it seems like a tall task to cover such a big spread.
One more trend: The Over (218.5 at -110) is 12-2 in the Grizzlies' past 14 postseason games.
NBA Plays of the Day: Celtics +102 ML, Jayson Tatum Over 29.5 points / Grizzlies +8 and Over 218.5
If you've read all the way through to this point, these plays of the day won't surprise you. Tatum scored 30 and 34 the last two times out even while going just 5-for-21 from downtown. I think he'll fare better as a shooter in Milwaukee. His road splits as a 3-point marksman are far better (39.5% to 30.9%). That should help Boston send its series the full distance.
Then we have, yep, Memphis at least covering the spread. It'll take a similar Herculean defensive effort as they've staged in the past two duels, but these Grizzlies seem up to the task. Still, it's going to be a rapidly-paced, chaotic type of game. With so many possessions and such a high volume of shots, the Over should just barely clear 218.5.
Gambling problem? Call 1-800-GAMBLER