The Pelicans Are SOFT If They Don't Unleash Zion Williamson With Devin Booker Potentially Out For Weeks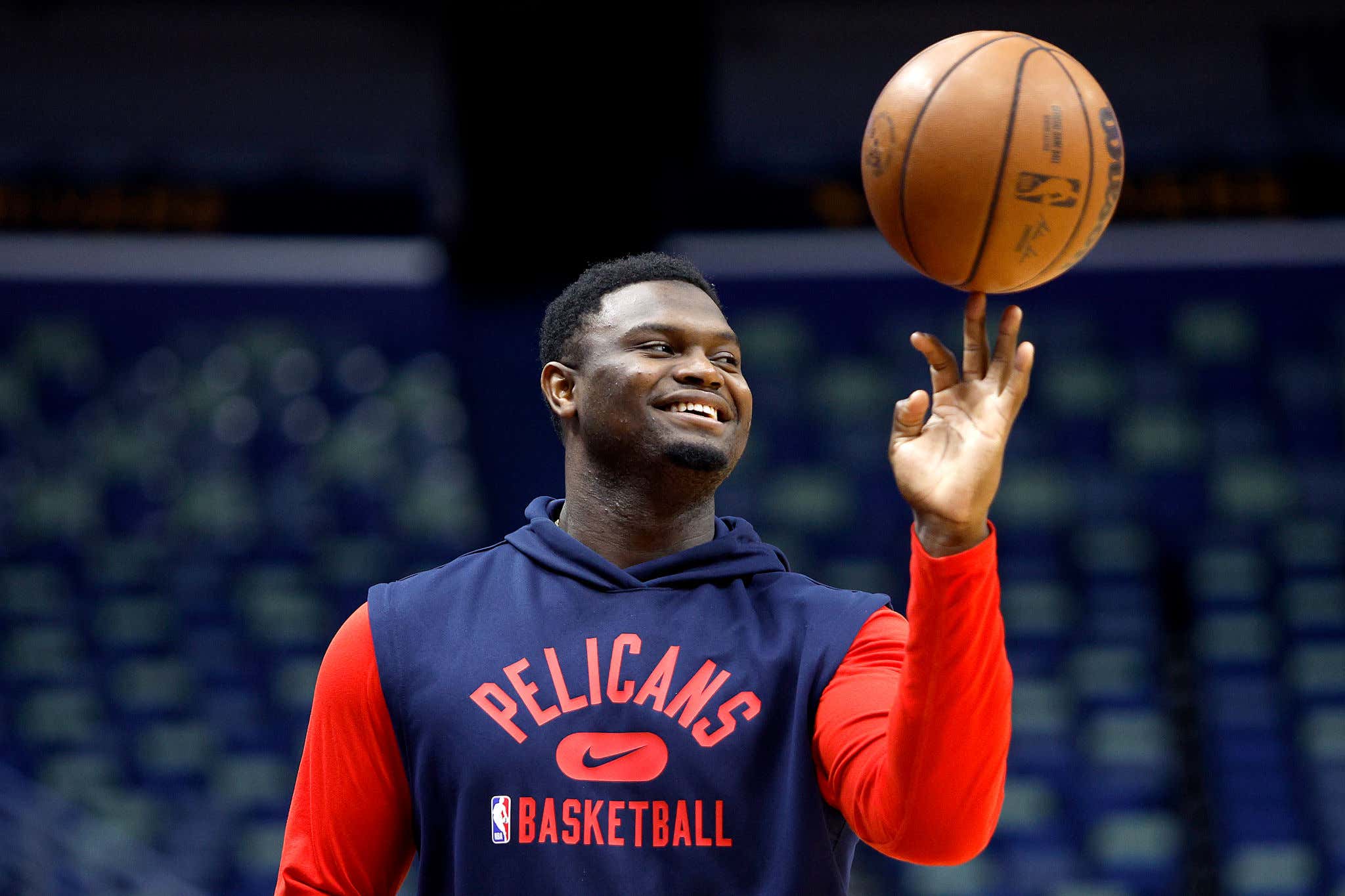 Sean Gardner. Getty Images.
First of all, all the good, healing vibes I can muster for a basketball player go out to Devin Booker, because after scoring 31 first-half points in Game 2, he suffered a severe hamstring injury and that just sucks.
Unfortunately, injuries are part of the game, and now the reigning Western Conference champion Suns are without their leading scorer for the foreseeable future. I mean, shit. For all his antics, in-game histrionics and overall dislikability as a person, Chris Paul has gotten absolutely hosed for his entire career in the playoffs. CP3 is healthy so far, but his top running mate is out.
…I felt it necessary not to coldly, heartlessly toss aside Booker's injury, because it's devastating to him, to Suns fans and to basketball purists who want to see every squad at full strength for the best postseason possible. But now, this is the point where we get to the New Orleans Pelicans' side of things, and talk about Zion Williamson.
Speaking of injuries, woof. Zion was supposed to return to start this season from a foot injury. Apparently, rehab didn't go so well, he reaggravated it, spent months away from the Pelicans, kept the organization in the dark for much of that time, didn't text CJ McCollum upon his trade from Portland, and, as we all know, Zion could've kept himself in better shape throughout this whole saga to perhaps expedite his recovery.
FOR ALL THE PROBLEMS, gratuitous bullshit and how poorly the Pelicans and Zion have handled their relationship over the past calendar year or so, there is now a huge opportunity for the former No. 1 overall pick to suit up, and help New Orleans steal this series from the Suns. Without Booker this season, Phoenix is 8-6, but has lost the last three when he's been sidelined.
Even without Zion, and before Booker got injured in Game 2, the Pels were beating Phoenix by a score of 77-74. Make no mistake, the scoring combination of McCollum and Brandon Ingram, the elite defense of rookie Herb Jones and the glass-crashing machine that is Jonas Valanciunas provide New Orleans with plenty of juice. HOWEVER, no one moves the needle on this team like Zion Williamson.
Think about how electric Smoothie King Center would be if Zion returned, even in a limited role. And how much better he'd make the Pelicans as a team. He's the most unstoppable interior scorer in the sport, and can create plays off the dribble, while also sprinkling in a few highlight-reel flashes of brilliance on defense thanks to his strength, length and insane, explosive vertical leap.
Quick reminder, in case you forgot because it has been a MINUTE: Here's a small sample of what Zion is capable of:
Last season, in 61 games, Zion put up 27 points, 7.2 boards and 3.7 assists per contest. Eighth in scoring average, fourth in PER, in his age-20 campaign. SHEESH.
ESPN's Andrew Lopez did a deep dive on the whole timeline of Zion's injury history and tenure in New Orleans, and embedded within that 239589358923582958294-word feature with the snarky "three-year, 85 game career" slight in the headline was this noteworthy paragraph that is a microcosm for how the player and franchise can't seem to get on the same damn page:
"According to multiple sources, there's currently a difference of opinion between the Pelicans and Williamson on whether he is healthy enough to play. The team maintains that the bone in Williamson's foot hasn't healed enough for him to take the floor."
OK yeah but, we've seen Zion do a fucking 360 windmill dunk in warmups. That's a hell of a lot of stress to put on your "broken" foot if it's not fully healed.
In that same ESPN article, Zion's stepfather, Lee Anderson, raised this great point that hammers home EXACTLY WHY I'M WRITING THIS IN THE FIRST PLACE:
"Speaking for the Pelicans staff … they are putting some stock in Zion getting healthy and being ready for the long haul…But my thing with the long haul, you have to wait on it. The short haul, sometimes when you're faced with an opportunity right now, you never know when you're going to be presented with that opportunity again."
Yeah, there's an opportunity smacking New Orleans right in the face and hopefully they're not too stupid to realize it.
Do the Pelicans understand what's at stake here? If the playoffs have taught us anything this early on, it's that it's WIDE. ASS. OPEN. Booker's injury has something to do with that. So, too, does the fact that Bucks All-Star Khris Middleton is dealing with a sprained MCL.
Quick aside: Here I must give a shout out to a commenter who correctly stated the playoff bracket in the NBA does not reseed, therefore rendering some of my analysis null and void. I have been watching the NBA for years. I'm not sure if the COVID times and weird bubble format that ensued broke my brain completely, or if I didn't realize it before…but yeah. I feel like my whole life is a lie right now.
New Orleans began this season 1-12. If they bring Zion back and he's, say, 80% of what we've seen him to be so far in the NBA, their ceiling as a team increases exponentially, and they could pull off one of the most memorable postseason runs in recent memory. None of that is hyperbolic. It's the truth.
If anyone knows his one-of-a-kind body best, it's Zion. He pretty much exhausted every evasive action possible to return to the court this past season. The fact that he reportedly wants to play now suggests, at least to me, that he's gotta be close enough to 100% that he feels he can make a significant impact. There are multiple videos of this dude EXPLODING off the floor to rock the rim. I think he's OK.
So yeah, Pelicans, you're SOFT if you don't put Zion in. A run at least to the Conference Finals is very doable. This could be the story of the entire playoffs.