Kyrie Irving Capped A Perfect Shooting Half With Buzzer Beater, And The Nets Weathered A Late Cavs Rally To Clinch 7th Seed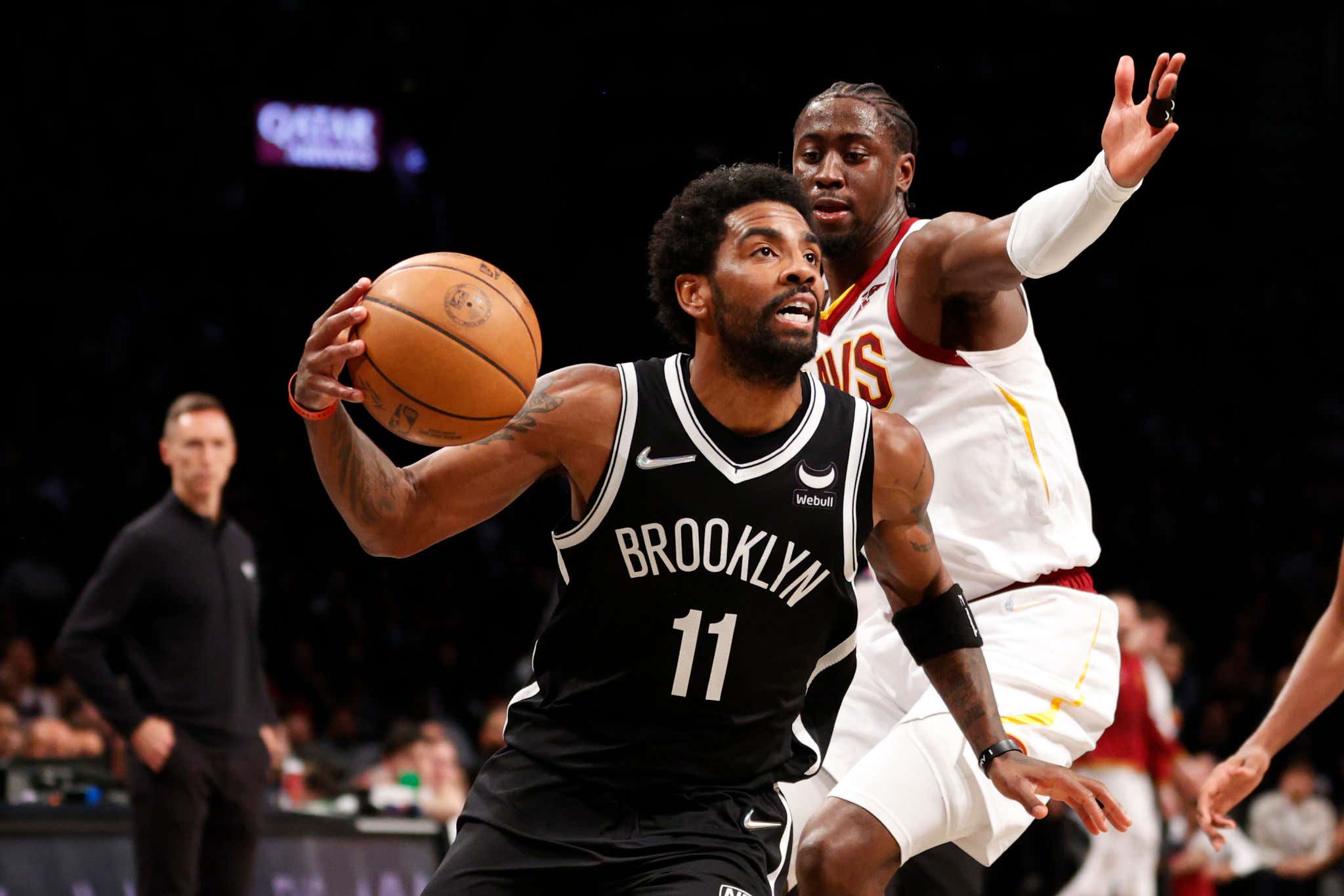 Sarah Stier. Getty Images.
Make fun of Kyrie Irving all you want. I'm right there with you. Flat Earth. Strange vaccine discourse. Ejected from multiple teams. Often injured. Contentious with the media. Total headache on so many levels. 
But you can't argue that this dude can HOOP. He lit up the Cavs for 20 points in the first half at Barclays Center, the same venue he was denied playing in for so long. Thanks to that and a massive 40-20 lead after one quarter, Cleveland's comeback was too little, too late, as the Nets prevailed 115-108 and improved to 4-1 against the Cavs this season.
Brooklyn was expected to win tonight, but damn, it seemed like Kyrie and Kevin Durant were taking it personally early on. They were scalding-hot in the first half. Irving wound up with 34 points and 12 assists, while Durant had 25 and 11 in those categories.
Anything feels possible when these guys are firing on all cylinders, as it's arguably the best 1-2 offensive punch in the game. The problem is, both of them get banged up often. KD has already missed a lot of time this season and has been healthy for some time. All those home contests Kyrie had to miss actually has him fresher leading into the (presumptive) playoffs than he would've been.
Darius Garland did what he could to get the Cavs back in it — even relishing his role as a road enemy after one of his several buckets en route to 34 points on the night:
But when it came time to close, KD delivered, scoring seven key fourth-quarter points to thwart Cleveland's rally. 
It wasn't the worst thing for Brooklyn to face a little bit of a challenge, as they're about to be in for a massive series against the Celtics up next. To their credit, KD and Irving got plenty of their teammates involved. Those 23 combined assists pop out as a key takeaway from tonight. If that type of ball movement continues, and they get a brilliant distributor in Ben Simmons back and dialed in? Look out.
Is everything seriously lining up for the Nets right now? Is Simmons about to come back and play the best ball of his career with two mercurial, outspoken superstars in Durant and Irving taking away much of the glaring spotlight?
Kind of depressing to think about. Like, Boston fought and clawed all season to roar back from a rocky start and ascend to the No. 2 seed — may not be able to hang with the Nets if KD and Kyrie are on. No disrespect at all to the likes of defensive dynamo Marcus Smart, or the elite duo of Jayson Tatum and Jaylen Brown. It's just…Tuesday was a reminder that the Nets can really be dangerous, and their two best players raise the team's collective ceiling immensely.
You hate to see it. You really do. Or at least I really do. UGH.
Such is life. KD gonna keep trolling on Twitter. Simmons still will be an enigma who I will refuse to cheer for until he matures. And whatever the hell is going on between Kyrie's ears, well, more power to him — and to the Nets in general. Every major sports league needs a heel.