An Honest Take On Tiger Woods' Chances To Win The 2022 Masters, AND Some Great Value Bets At Augusta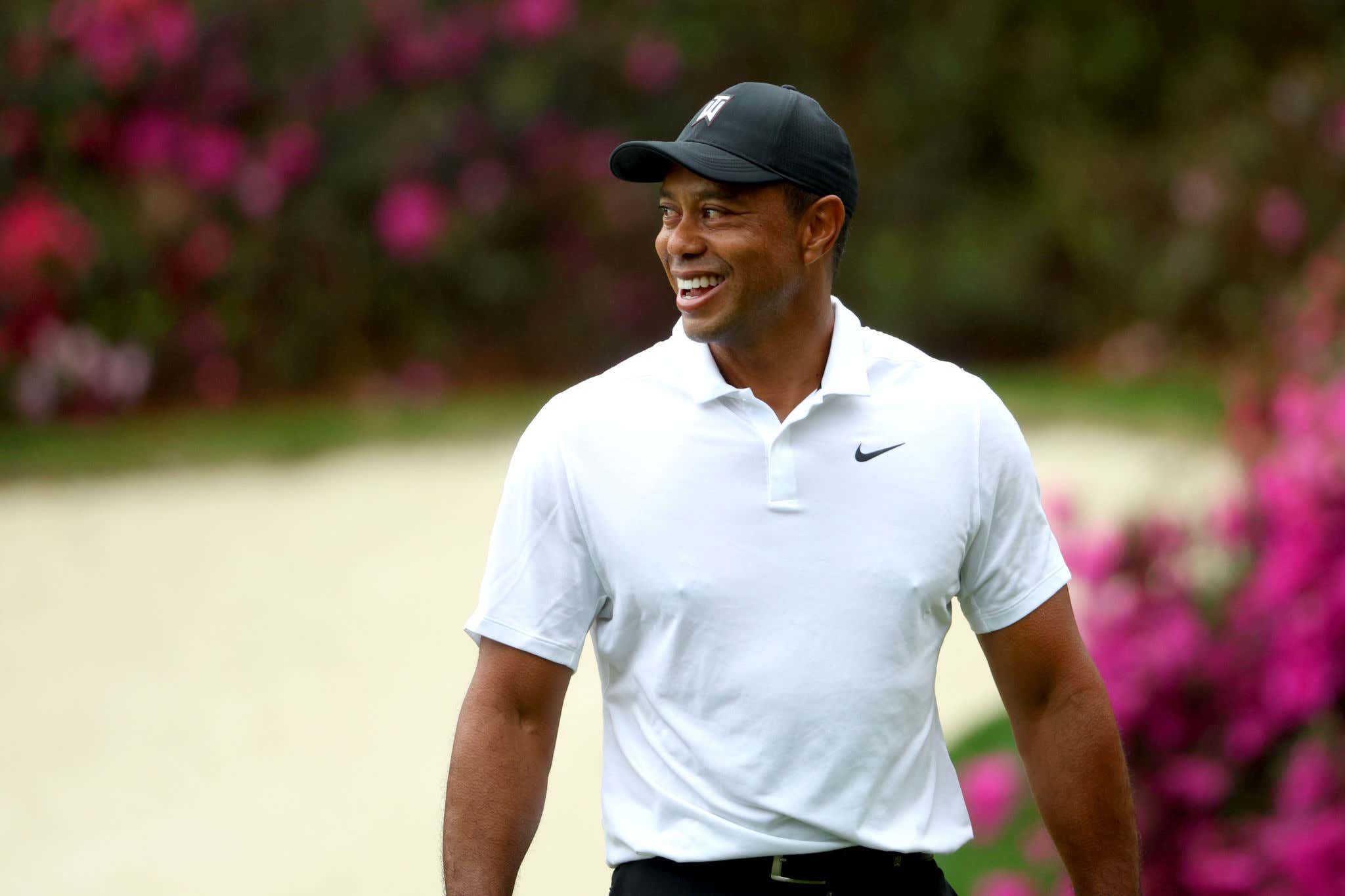 Andrew Redington. Getty Images.
Tiger Woods is only about 14 months removed from a serious car accident that almost led to one of his legs being amputated. Now, he's strolling the iconic grounds of Augusta National and gearing up for yet another Masters Tournament. It still almost doesn't feel real.
And it's not like Woods is barely holding it together entering the season's first major like he has in some years past. By all accounts, the GOAT looks to be in top form as he vies to tie Jack Nicklaus with a sixth green jacket.
The weather in Augusta, Georgia, is supposed to dip into the 40s for the low, which may wear on Tiger's joints and cause a few more aches than hotter weather otherwise would. It's not like he's going out there to just be a fun, ceremonial addition to the field, though. 
As he said at his press conference — and as has been reiterated time and again throughout his incredible career — Tiger does not put the peg in the ground ANYWHERE unless he fully believes he can win.
I wanted to dig into Tiger's Masters history and his background at the majors in general to see what happened in prior years when he either took long hiatuses prior to teeing off at Augusta, or was dealing with some sort of ailment entering a huge event. I figured I could find enough data to scrap together a realistic, objective take on how he'll finish this week. Don't worry, we'll also look at that insane 2019 victory, because that was just utterly surreal.
Oddsmakers are paying plenty of due respect to Tiger, who's only trailing 15 golfers in the odds to win outright (+3500). He's at +700 to finish top-five and +350 to be in the top 10. Not bad for someone who hasn't played a PGA Tour event since the 2020 Masters (played in November instead of April, because, ya know, COVID), where he tied for 38th.
This is definitely the longest break Woods has ever had before making the stroll back up Magnolia Lane. And he's returned from injury so many times it's difficult to keep track. So let's take a look.
2008 — THAT U.S. Open
Tiger came back way too soon from knee surgery to play at Torrey Pines. Not only did he essentially win the damn U.S. Open on one leg, but he had to play the 72-hole championship in regulation, and then beat Rocco Mediate in a playoff that spanned 19 additional holes. Legendary as that triumph was, Tiger set himself back and was out for the rest of the year.
2010 — Tiger's return from his infidelity scandal
After being put through the wringer by the public due to the actions that unraveled his marriage, Tiger roared back to Augusta and promptly finished tied for fourth. He hadn't teed it up since November 2009. That he was able to STILL finish this well in the Masters with all that going on in the background is just another example of Tiger's crazy mental fortitude and laser-like focus on the task at hand when he's inside the ropes. Tiger went on to finish T4 in the following year's Masters, too, but was coming off a top-25 finish at Arnie's event. Speaking of which…
2012 — From winning the Arnold Palmer Invitational to T40 at Augusta
Injuries started to pile up in the ensuing years, yet Tiger still kept pushing through for dominant spurts when he could. Despite coming off a win at Bay Hill, he was way out of contention at the Masters in 2012. That's still the worst finish Tiger recorded in the tournament since tying for 41st as the low amateur in 1995, and missing the cut in 1996.
2014, 2016 and 2017 — Did Not Play
2015 — A young man's game
A missed cut at the Phoenix Open and a WD at the Farmers Insurance Open thereafter due to a back injury knocked Tiger out of action for over two months before he surfaced again at the 2015 Masters Tournament. Although he was tied for fifth entering Sunday, Tiger was 10 shots behind Jordan Spieth for the 54-hole lead. Spieth prevailed by four strokes over Phil Mickelson and Justin Rose to match the Masters scoring record at the time at 18 under par — set by Tiger in 1997. 
2018 and 2020 — T32 and T38 finishes
2019 — WINNER!!!!!!
Leading up to the 2019 Masters, Tiger had finally gotten back on track health-wise thanks to spinal-fusion surgery. He was competing regularly again, and had a top-six and second-place finish in The Open and the PGA Championship in the previous two majors under his belt. In his last start before the Masters, Tiger finished fifth in the Match Play event.
Bottom-line prediction on how Tiger will fare at The Masters

OK. So, in all the other years when he won (1997, 2001, 2002, 2005), they were quite similar to the above 2019 scenario. Tiger was in strong form coming in and had a clean bill of health. Still, even in the years where he wasn't quite right, he found a way to get at least within striking distance of Butler Cabin.
Between just how good Tiger has looked practicing at Augusta, and his penchant for returning from prolonged absences to appear as if he hasn't missed a beat, I'm certainly not going to count him out. Anything can happen on the back nine on Sunday, and there's nary anyone in the field with more bankable, positive experiences to draw from than Tiger in those tense situations.
If the books have Tiger at +3500, I'd knock him down to +2500. A 25-to-1 shot to win. I'm pretty sure he's worthy of being listed ahead of Will Zalatoris, Daniel Berger and Shane Lowry — and just behind Jordan Spieth and Xander Schauffele.
Here's where I see the best value for Tiger: Somewhere in the middle of all those past post-hiatus results. I'm not copping out or being overly hedgy just to cover my ass. It just makes sense. I think the competitive rust will be evident. I also think stamina will play a factor and will be a disadvantage. Tiger himself has admitted to struggling more with the endurance of walking than with the actual hitting balls part. Augusta National's severely undulating topography promises to be a challenge to trek, but if anyone can do it, hell, it's Tiger.
Bold prediction: Tiger Woods finishes 15th in the 2022 Masters Tournament. His top-20 prop is +120. Get on it!
2022 Masters Tournament top value bets
Anyway, now to some other players — some of whom I believe have a better chance at winning than Tiger, others who are just as good of sleeper picks.
Note: Player lines presented in the X/X/X format indicate odds to win/to place top-5/to place top-10
Cameron Smith— +1600 / +350 / +163
It's a Tiger-esque feat to win consecutive starts on the PGA Tour. Scottie Scheffler just played a lot of golf to win the WGC Match Play title. He's also dealing with the pressure of being the newly minted World No. 1. Count me among the doubters who didn't have Scheffler ascending that high in 2022 — or maybe even ever — especially this early.
The point is, if you're going to take a shot on one of the young guns who have yet to win a major, don't give me Scheffler this week. Don't give me Viktor Hovland, who made two doubles and a triple at last year's Masters and ranks 209th in strokes gained: around the green. Give me Cameron Smith.
Everyone's favorite long-haired, crustache-rocking Aussie is off a triumph at The Players Championship in which he recorded 10 birdies in the final round. He basically iced the thing on the most intimidating short hole in all of golf:
STONES.
I would be concerned about Smith having something left in the tank for Augusta, except that he's taken three weeks off to prepare for his potential major breakthrough. Smith finished T5 in 2018, and in his last two Masters starts, he's gone T2-T10.
Squirrelly as Smith can be driving the ball, the wide fairways of Augusta National aren't nearly as punishing to wayward drivers as many PGA Tour venues. Just ask Tiger. Smith may also be the best putter on the planet right now, which will come in handy on the Masters' tabletop greens. The Players that he isn't fazed by the big stage was just the latest instance that proved Smith isn't fazed by the spotlight. I wouldn't be stunned at all if he donned the green jacket on Sunday, but if you want to play it safe, take Smith to at least finish in the top 10.
Xander Schauffele — +2000 / +450 / +200
This man is my pick to win the whole damn thing. Schauffele has been knocking on the door at majors for a while now. What's crazy is, he actually hasn't won a PGA Tour event, period, since the Tournament of Champions in January 2019. That's a winless drought of over three years for a player this good all-around.
In the three seasons before this one, Schauffele has ranked eighth, third and fifth respectively in stroked gained: total. That's truly mind-boggling consistency. Oh, and at The Masters? Schauffele was a joint runner-up in 2019 and placed T3 this past year. He has six top-five finishes and nine top 10s in major championships.
I'm hammering Xander. The guy triple bogeyed the par-3 16th in the final round last year, but he was pushing Hideki Matsuyama down the stretch. Key distinction from before: Schauffele may not have a PGA Tour "W" lately, but let's not forget that he did win a GOLD MEDAL at the Olympics. He's out for revenge at the Masters. This is unfinished business. All the props. The whole card. SEND IT on Schauffele.
PS: Picking a pre-tournament winner in golf is one of the greatest feats in sports betting if you nail it. Just look at the ROI when you manage to hit. Xander has shorter odds than three of the last five champions:
Louis Oosthiuzen —+4000 / +750 / +350
Speaking of dudes who are due, Louis Oosthuizen has the career Grand Slam — in second-place finishes. That's right. The 2010 Open Championship is still the crowning achievement of Oosthuizen's career. With his buttery swing, sick short game and a putter that led the PGA Tour in strokes gained last season, something's gotta give for Louis.
To say Oosthuizen has had his fair share of close calls is an understatement. He finished in the top three of 2021's final three majors. And here's the thing: I know Louis hasn't fared well at The Masters lately. That loss in a 2012 playoff to Bubba Watson was a big blow, but Oosthuizen has made eight straight cuts. Tons of experience accumulated across all those rounds. He's found a way near the top of the leaderboard in all the other big events. He's bound to be at least in the top five or 10 come Sunday's end. 
Hell, given how much of a lock Oosthuizen has been to make the Masters cut, he's an excellent top-20 prop play at +120.
Paul Casey — +6000 / +1100 / +550
And last but not least, we have Casey, who's 11-for-15 in cuts made, with five top-10s and eight top-25s in his Masters career. He's also at +163 to finish in the top 20. 
I know that putting is extremely important at Augusta, but so is missing the greens on the proper sides with your approach shots. Like, if you miss on the wrong side of the hole, you're dead. No chance to chip it close. Then, you wanna get a little bold with your par putt? Suddenly you're staring at six feet for bogey. That's where some big numbers can creep in.
I say all this to say: IRON PLAY is huge in the Masters. And if you're looking for an Iron Man who can aim small, miss small and just need a little bit of a heater with the flat stick to make some noise, you'll be hard-pressed to find a steelier veteran than Casey as a Masters sleeper. 
Wanna see something? I kept scrolling through his stats, and could not believe it. These are Casey's ranks in strokes gained: approach to the green on the PGA Tour over the past decade or so:
2013-14: 5th
2014-15: 3rd
2015-16: 13th
2016-17: 1st
2017-18: 11th
2018-19: 8th
2019-20: 9th
2020-21: 2nd
This season: 6th
"'I don't pump iron. I am iron.' - Hasbulla" - Paul Casey
Gambling problem? Call 1-800-GAMBLER