The Rams Sign Bobby Wagner And Continue Their Full-Send, Fuck-It, Win-Now Policy While Dinosaur GMs Cling To High Draft Picks And Cash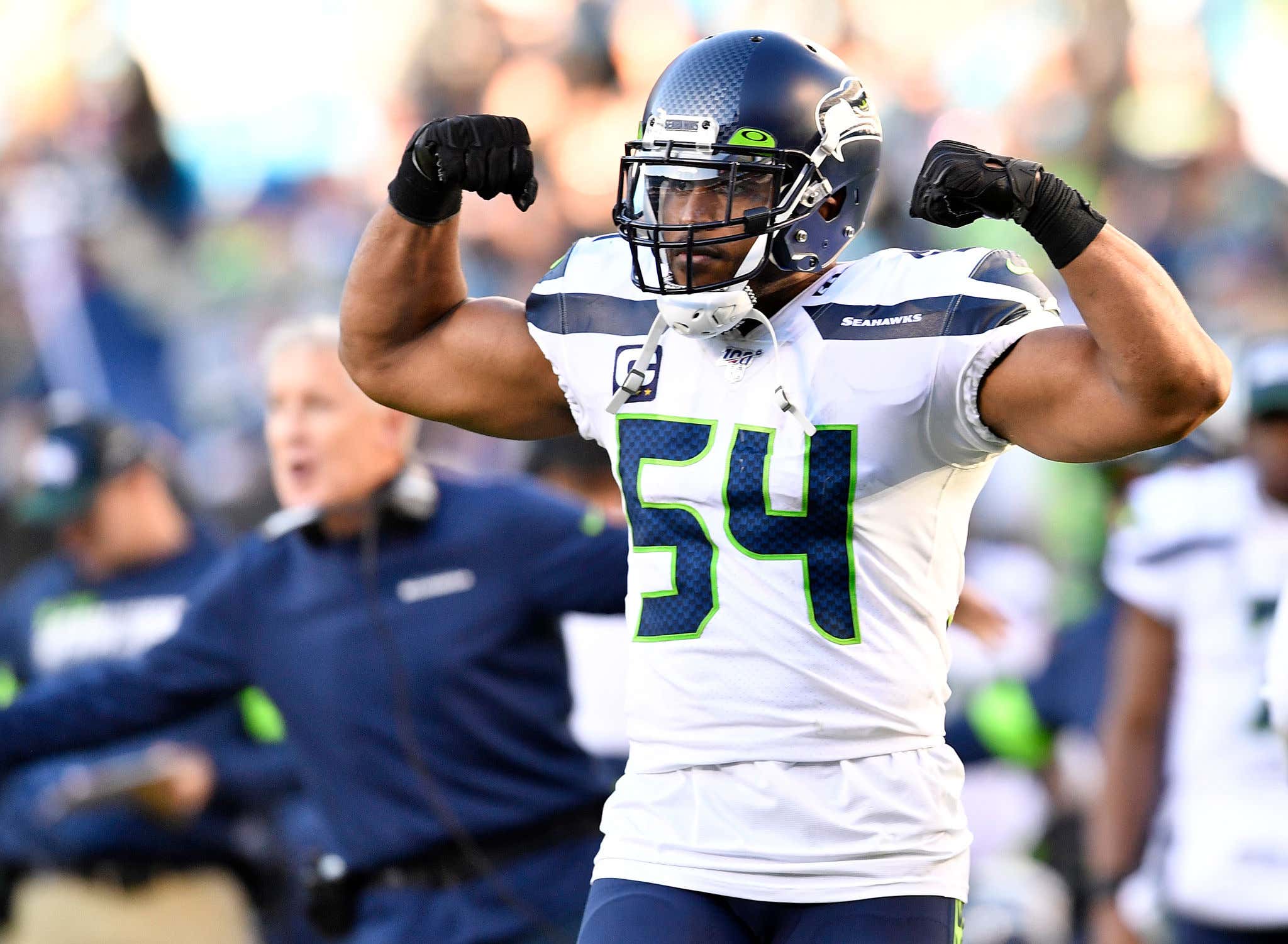 Grant Halverson. Getty Images.
Pro Bowl linebacker Bobby Wagner will be staying in the NFC West next season despite his release by the Seattle Seahawks earlier this month.

Wagner agreed to terms on a five-year contract with the Super Bowl champion Los Angeles Rams, the team announced Thursday.

Financial terms were not disclosed, but sources told ESPN's Adam Schefter the deal is for $50 million and can be worth up to $65 million if Wagner reaches incentives.
Much of the chaotic NFL offseason can be attributed to the raging success the Los Angeles Rams have had at going all-in every year to win the Super Bowl. They just accomplished the ultimate goal, unfortunately for yours truly, against Cincinnati, and it's clear that Rams GM Les Snead isn't resting on his laurels, or getting complacent when it comes to taking big swings.
One noticeable position LA has lacked star power in is at linebacker. Snead often relies on unheralded veterans or mid- to late-round picks, or whatever, players you've never heard of, to fill out that part of the depth chart. Well, that's changed, because Bobby Wagner, after a decade of legendary service in Seattle, is making a full heel turn on the Seahawks and signing with their NFC West nemesis — and who could blame him?
Yeah, Seattle tried to go all-in with Russell Wilson in some ways, but their STUPID trade for Jamal Adams has been an abject disaster. Not a coincidence that the Rams traded for Jalen Ramsey in October 2019, and then the Seahawks wildly overpaid for Adams in July 2020. Apples to oranges in terms of the impact Ramsey has had at cornerback over Adams, a box safety who's shaky in coverage in a perpetually pass-happy league.
Wagner was released by the Seahawks early this offseason. The team traded away Wilson too, because well, they alienated him with their antiquated offensive schemes, and dinosaur of a coach who has way too much influence over personnel, Pete Carroll. Not to just dump on the guy. His legacy is secure. It's just that, the game has passed him by.
When former Seahawks star Richard Sherman is OPENLY CELEBRATING his ex-teammate signing with the enemy, you know you're probably in the wrong.
Carroll is a relic of the good ole NFL days, when you "built through the draft" to accrue a cheap, affordable roster rife with young talent. That worked wonders for him, when Wilson fell into the Seahawks' laps in the 2012 draft in Round 3. In that same class, Wagner came off the board in the second round. 
Yeah, hoping to get lucky enough to land two Day 2 picks like Wilson and Wagner in one draft class seems like a pretty fucking flawed organizational strategy at this point if Seattle's case is any indication. The Rams have absolutely changed the game, and that whole "copycat league" cliche is true, because we've seen so many teams get aggressive trying to emulate them in recent years. Most haven't been able to hang.
While they did draft the best defensive player of this generation in Aaron Donald on their own, not to mention Super Bowl MVP Cooper Kupp, other superstars on LA's loaded roster came from the outside. Their blockbuster trades to acquire Ramsey and quarterback Matthew Stafford cost them a combined four first-round picks. They signed Ramsey to a record-setting deal for a defensive back shortly after landing him, and rewarded Stafford with a four-year mega-extension this offseason after he led them to the Super Bowl.
As Sherman said, the Rams lost Von Miller in free agency to Buffalo. They rented him in the middle of last season for second- and third-round picks. It was worth it, because Miller helped them hoist the Lombardi Trophy. And would you look at that? LA is still going HAM. They signed a No. 1-caliber wideout in Allen Robinson even with the possibility of fielding a receiving corps that featured Kupp, Robert Woods, Odell Beckham Jr. and Van Jefferson. With Robinson aboard, Woods got traded to Tennessee, and OBJ seems unlikely to return. 
Things just move fast in LA. The Rams don't operate from a place of fear. HAHA. And they don't operate from a place of love, either. They're here to rip your heart out, and spit in the face of traditional team-building.
Another underrated element to all this: Snead is being uber-smart in structuring all these contracts so he can keep these top-heavy teams intact for multiple seasons. The NFL salary cap is going to continue to exponentially rise, and LA's execs are smart enough to know this while everyone else seems dedicated to a five-year plan or something.
So while Wagner's deal looks pricy, especially for someone entering his age-32 season, it's going to be set up in a savvy way that gives LA flexibility. And it's really great that Wagner is getting more exposure, because this dude is a stone-cold Hall of Fame lock. Wagner might not be a household name, but he's legitimately the most consistent, elite linebacker of the past decade. Lavonte David is the only other guy who even has a seat at the table in that argument.
Making it all even sweeter, Wagner is a native of Los Angeles, so this is a nice homecoming for him after the Seahawks unceremoniously kicked him to the curb. And by "unceremoniously" I mean it really was COLD given how he helped keep that waning Seattle defense even moderately respectable in recent years.
And in come the Rams to snag Wagner and make him feel the love. That seems to be the common thread with what Snead and Sean McVay have built. Just seems like a fun place to go play — and yeah, the lure of LA doesn't hurt.  
Like, do the Rams have any chill whatsoever? Sheesh. Their defense just got a lot better at the second level. Now they have Donald up front, Leonard Floyd still on the edge, Wagner patrolling the middle of the field as a sideline-to-sideline run defender and elite coverage guy, and Ramsey roaming the secondary at any given spot. 
Meanwhile you've got a team like the Indianapolis Colts, with the most celebrated GM of all-time in Chris Ballard who entered last year in a prominent survey as the alleged BEST GM IN ALL OF FOOTBALL. The Carroll/John Schneider contingent in Seattle was 13th. Snead was, um, 15th?
The Colts trot out a new starting QB every single year, got outfoxed in their pursuit of Stafford, gaffed HARD on the Carson Wentz trade, still have the third-most cap space in the NFL and have precisely one playoff win in five Ballard seasons to show for it all. Ballard used to love draft picks until he…decided to burn through them for Wentz and, now, Matt Ryan. Granted, Andrew Luck's sudden retirement did him no favors, but can we stop with the gushing over this dude until the Colts manage to do something in that mess of an AFC South division? Thanks.
Ballard and other decision-makers of his ilk are probably pining in their offices over what Snead's continued to accomplish, sitting, waiting, wishing, wondering…devastated.
As a Bengals guy, all I can say is I'm glad the team decided to open up the checkbook a bit in recent years. Congrats, Bobby. Maybe we'll see you again in the Super Bowl.
PS: I can't wait to see what Pete Carroll does with the ninth, 40th and 41st overall picks in this year's NFL Draft. HOOOOO boy. Just look at the past six years.