A Look At The Biggest Concerns For Every Playoff Team As We Head Down The NBA's Stretch Run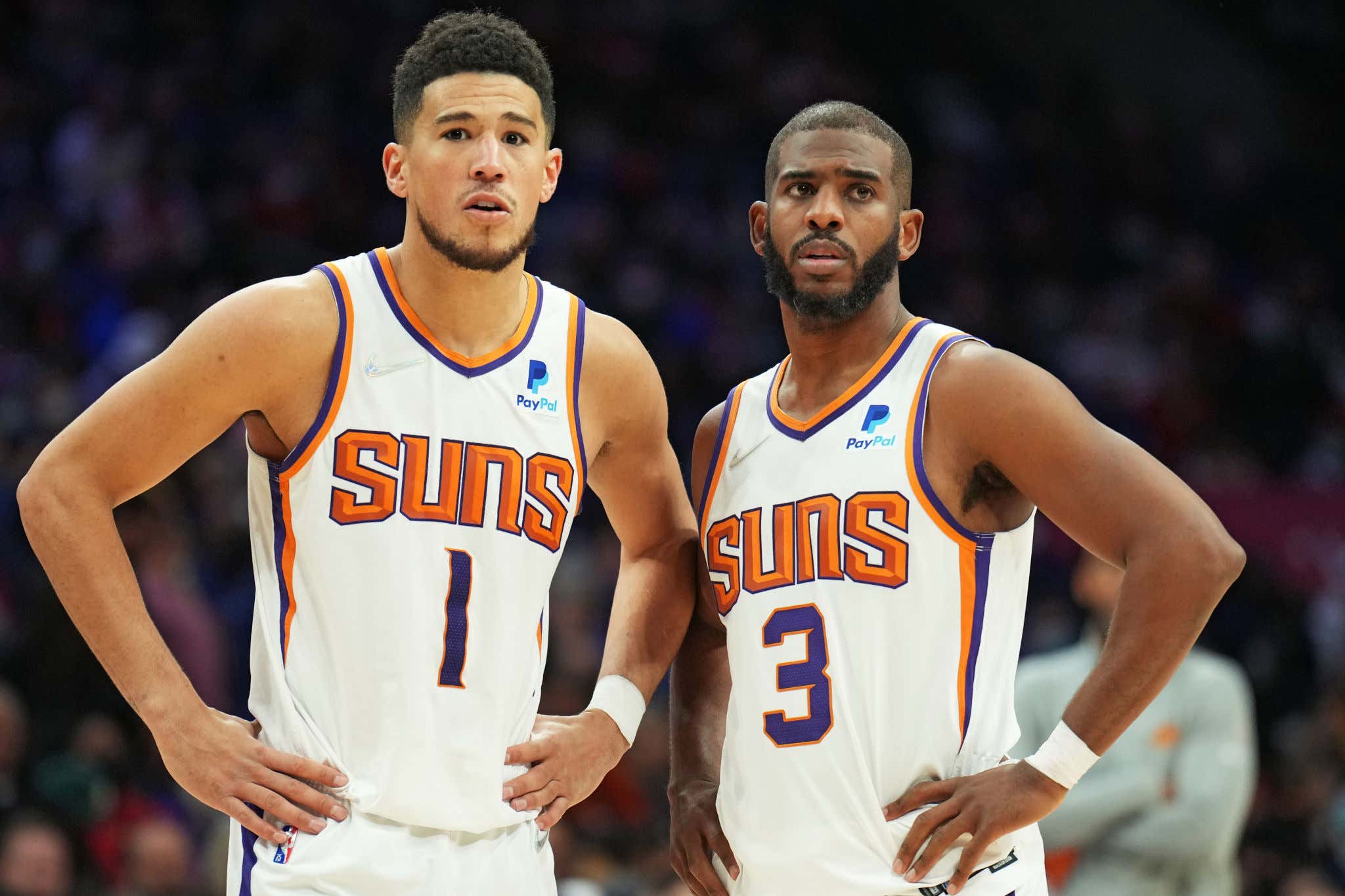 Jesse D. Garrabrant. Getty Images.
Congratulations, you made it through the All Star Break. It wasn't easy, there were a lot of hours to fill, but we're here. NBA basketball returns to our lives tonight and then pretty much every night until mid Summer. It's nut cutting time in the NBA world, where teams are now making their final push. For some, it's about just making the playoffs. For others, it's about trying to get into the top 6. For a select few, it's time to get serious and prepare for a Finals run. The beauty of this time of year is now that teams will start trying on a more consistent basis, every single playoff team has something to be concerned about over these final 22ish games. They all have questions, even the best team in the league. That's what will make this stretch run so fun to watch, so I figured why not run through the top 10 seeds in each conference. I want to be clear, this is not me saying these issues won't be addressed or fixed, they are just some things that I'm keeping my eye on for the next few months. Let's begin. We'll go in order of the current seeding.
Eastern Conference
1. Miami Heat (38-21)
There's really no other way to say it. The fact that the Heat sit atop the conference at the moment despite all their injury/covid issues is wildly impressive. He may not win it, but Coach Spo deserves some big time Coach Of The Year consideration for what he's been able to do. They are one of the few teams with a top 10 offense, top 10 defense, and top 10 neet rating. That's the good news.
Despite all that success, there has been one little area of concern though, and it's something that they need to figure out before they get to the postseason. We saw it before the break
Butler is an extremely clutch player. But there has been signs that matching him up with bigger wings can really impact how the Heat look in these clutch time moments. The numbers back that up. The Heat shoot just 39/37% in clutch time situations this season. They have an Ortg of just 101.0 in those moments. Jimmy Butler is shooting just 29.5/9% from the floor in clutch time situations, and part of that is dealing with bigger players. This is something the Heat are going to have to figure out because you look up and down the East standings and there are plenty of potential playoff opponents that can throw multiple guys at Butler that fit this description.
2. Chicago Bulls (38-21)
Everything I said about how impressive the Heat's record is despite their injuries is absolutely true for the Bulls as well. If you are buying in and seeing a whole lot of red right now, I won't hold it against you. DeRozan has been insane. If LaVine's knee holds up, that's a pretty fucking scary 1-2 punch. So where is the concern?
The Bulls finish the season with the 2nd toughest remaining schedule. On the season, they are 11-15 against teams .500 or better. That's the worst record of any top 7 seed in the East. If you look at how they've faired against the teams around them in the standings (MIA/PHI/CLE/MIL) they are a combined 1-7. They are winless against the Heat, Sixers, and Bucks. Now, context there is important. Guys being out due to injury will obviously impact things. But that's why this is a question. Can this team beat good teams? That's who they are going to face in the playoffs. A total of 27 of their 38 wins are against teams under .500. 
My guess is with guys getting back into the lineup, the answer to that question should be yes. We just have to actually see it before we know for sure. Given they play the Suns, Warriors, Heat (2x), Jazz, Sixers, and Cavs (2x) down the stretch, I think we'll get a pretty good idea. 
3. Philadelphia 76ers (35-23)
You may think I'm going with the obvious, "will Harden/Embiid work?" angle. Uh, no. I'm pretty sure one of the greatest offensive players in NBA history is going to figure out a way to play with one of the most dominant big men in the league. I feel confident in Harden's ability to run P&R. So that's not it.
My concern for the Sixers is something that should be all too familiar for Sixers fans. Can they survive the non-Embiid minutes with whatever backup center is on the floor. This has been what has killed the Sixers in previous playoff runs/seasons. My guess is Doc will do his best to stagger Harden/Embiid to help with this (or at least he should), but as limited as Andre Drummond is as a player, he did fill that role perfectly while he was a Sixer. We saw them sign WCS which is fine as a depth piece. He's a rim running center that should work. But their big man depth is currently Paul Millsap, Paul Reed, and Willie Cauley-Stein. I dunno how that couldn't be a concern or question for Sixers fans. We saw in their game against Boston what not having any sort of defensive/rim protector did the second Embiid stepped off the floor. How many playoff series have we seen the Sixers blow simply because whatever they throw out there as a backup big in the non-Embiid minutes ends up being a disaster? That's something to keep an eye on these next few months.
4. Cleveland Cavaliers (35-23)
By most accounts, this has been a dream season for the young upstart Cavs. Every time you think "OK, now they'll come back to Earth", they just…..don't. They keep on winning. Their success has been built on defense and young guys taking major leaps. Even if you think they are sort of playing with house money because they are probably a year early in terms of their success, there's still a glaring issue that could ultimately be their undoing.
Their offense kind of stinks. I don't mean to be rude, but it's the 19th ranked offense in the NBA. In the East alone, it's 11th. It's partly why they are 15-16 in clutch time games. This is even with guys like Darius Garland, Jarrett Allen, Evan Mobley all having monster seasons. Shit, even Kevin Love looks fantastic. So the concern would be, at a time when every team is going to start consistently trying on defense, will their offense be able to be good enough down the stretch. We know their defense is, and you can win a lot of games that way. But when things tighten up and slow down, will their offensive limitations be their undoing? 
5. Milwaukee Bucks (36-24)
You know how I mentioned the Bulls haven't really beaten good teams? Same is true of the Bucks. Bulls are 11-15 against good teams, Bucks are 11-14. A total of 25 of their 36 wins are against teams under .500 and they are currently the team with the toughest remaining schedule the rest of the way. Do the same exercise for them as we did for CHI. Their record against teams around them in the standings (MIA/CHI/PHI/CLE) is a combined 4-5.
To date, the Bucks have had the 30th ranked toughest schedule in the league. Obviuosly they have Giannis so you're never really worried because he's proven he can carry a team to a title, but for a team that is bunched up with everyone else in terms of seeding, their tough schedule combined with records against good teams is slightly concerning. We know they have the talent to compete with anyone, we just need to ya know, see them start to beat these good teams on a consistent basis.
6. Boston Celtics (34-26)
I mean shit, how much time do you have? What am I worried about with the Boston Celtics? How about everything. Tatum's shooting, health, burnout by the Spring due to short rotations in January, late game offense, you name it. You know how I just talked about how the Cavs should be concerned because they have an elite defense (4th) to go along with a pretty gross offense (19th)? The same exact shit is true for the Celtics. Their defense is elite (2), but their offense will haunt your dreams (18th).
So that's my biggest concern. The shooting/offense. It's anyone's guess what that shit looks like on any given night, and that's a problem. If the offense struggles during a time of the NBA calendar when teams don't really try, what the hell is it going to look like when teams actually give a shit defensively? There's a strong chance this team experiences a similar issue the 2015-16 Isaiah led Celtics faced. The Hawks focused on Isaiah, took him out, and dared everyone else to make shots. They did not. Sound familiar? 
7. Toronto Raptors (32-25)
Like the Celtics, the Raptors saved their season a bit by going on that nice win streak before the break. They are one of the teams fighting to get out of the play in, and sit just 0.5 games back. For a team with the 25th hardest schedule remaining, there's plenty of reasons to be optimistic.
But like a few other teams in this blog, the concern has to be if they too can actually beat anyone good. Their 12-17 record against teams .500 or better is the most losses of any top 7 seed. A total of 20 of their 32 wins are against teams under .500. So how can a team that looks to have fine depth on paper struggle like that? Health is certainly a factor like anyone else, but this is a Raptors team that has a tough time shooting the basketball. Their collective 44.3% from the floor is 26th in the NBA. They are 13th in 3P% and just 18th in scoring. That would be my concern. Can they produce enough offensively down the stretch to keep up with the teams above them and maybe get out of the play in. 
8. Brooklyn Nets (31-28)
Let's keep it simple. Everything. Pretty much everything is a concern for this team right now. If I had to choose one thing, I think it would be time. Will this team have enough time to gel? Nobody knows when Simmons is coming back, nobody knows how much Kyrie will be able to play, and KD is still out. Is 22 games enough time for such a drastic change in roster/playing style to gel and be ready for the postseason. There's a chance the fully healthy Nets become the scariest 8 seed of all time. There's also a chance they go on a run if things actually do work.
Their biggest issue is simply where we are in the NBA calendar. This isn't like mixing Harden into what Philly currently has. The Nets have basically remade their entire roster. 
9. Charlotte Hornets (29-31)
Pretty simple here for the Hornets. Will they ever get back to winning? That might sound dramatic, but they are 1-9 over their last 10. They went from being close to a top 6 seed to now being 5 games back of Boston for 6th. The Hornets have an explosive offense, no two ways about it. They are one of the best three point shooting teams in the NBA. So what's the concern with this group?
That their defense will ultimately be their undoing. It stinks. As a group, they rank 23rd in the NBA and they give up 114 points a night which is 28th. Given how much of their offensive success relies on three point shooting, we're seeing what having a bad defense to go along with that can do. If this team has any hopes of making the playoffs, they have to figure out a way to defend at an acceptable level down the stretch. If they don't, chances are what started off as an exciting season will end in the lottery.
10. Atlanta Hawks (28-30)
I cannot figure these Hawks out. On some nights, they look like the same Hawks that went to the ECF. On others, they look like a team destined for the lottery. The high end talent is there, but for some reason that high end talent has not been able to beat good teams consistently (13-19). Their issues aren't all that different from the Hornets. The Hawks defense is awful, ranking 27th in the NBA. 
That's the biggest dropoff from last year when they made their second half push and would be my biggest concern. High powered offenses are awesome, but unless you have the ability to stop your opponent, nothing else really matters. 
Western Conference
1. Phoenix Suns (48-10)
It's pretty damn hard to find a flaw with this Suns team. I mean it's almost March and they have 10 goddamn losses. They kill everyone. They've won like 20 of 21 or something insanely outrageous. But it's pretty obvious what their biggest concern is right now, and that's surviving these next 4-6 weeks without Chris Paul. The good news is they have a 6.5 game lead over the Warriors, and this roster is so balanced that they should be able to withstand it.
But we also know what the Suns looked like before Paul got there. They were not these Suns. Now we get to see if Devin Booker can carry the load offensively and still win. We hear all the time how valuable Paul is not just for his production, but for his basketball mind. Now this team has to navigate without that for a decent stretch of time. I think it's fair to be concerned about how that looks given what it's looked like in the past. Remember, he played in 70 of 72 games last year and 58 of 58 this year. These Suns haven't really had to live without him for the last two years. Now they do. 
2. Golden State Warriors (42-17) 
Do you even have concerns as a Warriors fan? Even with their little mini "slide" heading into the All Star break they are still sitting pretty. They've survived the worst shooting season of Steph's career and are still title favorites. That feels pretty good.
That's why my concern for them is similar to the Suns. It's injury related. How long is Draymond going to be out, and once he's back how effective will he be? Anyone who watches the Warriors know that Draymond is the straw that stirs the drink, especially defensively. Part of what makes the Warriors so insane is the fact that they play elite defense to go along with everything Steph does on offense. Without Draymond, that shit has tanked. The last time we saw Draymond play legit minutes was 1/5. Since then, the Warriors defense has dipped, and they are just 13-9. Good for some teams, but not them. How effective Draymond can be once he's back will tell us a lot.
3. Memphis Grizzlies (41-19)
Like the Cavs, this has absolutely been a dream season for the Grizzlies and it's a lot of the same factors. Elite defense, young guys taking LEAPS, and a team that just keeps winning. They beat good teams (18-10), bad teams (24-6), and everyone in between. So what could possibly be a concern for this team down the stretch? It's hard to say. You might want to point to their rather low production from behind the arc (26th in 3PM, 24th in 3P%), but then you see the Grizzlies are tied for 1st in scoring despite barely making threes. So that's out. They are elite in clutch time games (17-8) which is the 2nd highest win percentage only trailing PHX, so that's out. They have 28 wins against the West which is only matched by the Suns, so success in their conference isn't an issue. 
So is it possible that the concern might be….there's nothing to be concerned about? That things feel too good to be true? I dunno, I've looked everywhere for a reason to be concerned about the Grizzlies and I really can't find anything. Maybe the health of Dillon Brooks? I feel like that's it.
4. Utah Jazz (36-22)
With the Warriors back to normal and surprise teams like the Grizzlies this year, I feel like the Jazz are getting a little overlooked. Maybe part of it is the fact we've seen this before and we all only care about what this team does in the postseason. This team can score, they trail the league lead in points by just 0.1, and they are the #1 three point shooting team in the NBA. Defensively, they sit at 10th, which isn't bad.
The concern though is something Jazz fans know all too well. Perimeter defense. There's a reason we heard they were looking for defense/wing depth at the trade deadline. If there's one thing that will contribute to the undoing of the Jazz, it's their inability to defend up front. We know once someone enters the paint, Gobert will handle it. The issue is about being able to guard bigger wings and offensive minded guards. That's been the Jazz's achilles heel for a while now and it doesn't really feel like that problem has been addressed. 
5. Dallas Mavericks (35-24)
I think we'll have to give the new look Mavs some time to gel after their deadline moves, but their profile is pretty similar to some other teams in this blog. The Mavs defense is legit (5th), but their offense kinda stinks, even with Luka and Jalen Brunson's breakout year (16th). Pretty similar issues as BOS/CLE.
My concern for them is mostly on the offensive side. They just can't really score. That all sounds crazy since Luka is an offensive wizard, but they rank just 25th in points per game. They are 19th in FG% and 23rd in 3P%. It's why you heard they were in on additional ball handlers and playmakers to play next to Luka. I'm not totally sure their deadline moves addressed those issues either. Spencer Dinwiddie isn't exactly an efficient offensive player. They are just 13-13 against good teams this year, and their offensive issues certainly play a role in  that.
6. Denver Nuggets (33-25)
We all know how dominant Jokic is. He's arguably the MVP. The fact that they are out of the play in despite not having their #2 and #3 all year combined with a bench that stinks is truly insane. But we've also seen the other side of that coin. They are just 11-18 against good teams so far. They've had to rely heavily on Jokic, maybe more than we've ever seen in previous seasons. He's certainly held up his end of the bargain, but that's where my concern lies.
I worry about burnout. We hear Mike Malone talk about it basically every postgame interview he does. He knows he's riding Jokic at an unsustainable level. But with how bad their bench is and given their injuries, what choice does he have? Maybe Jokic proves he can handle it, but maybe not. Given they are just 2.5 games away from dropping into the play in, that matters. Hopefully guys like Murray are able to come back next month, because if anyone in the league deserves help, it's Jokic.
7. Minnesota Timberwolves (31-28)
Look, it's basically March and the Wolves are in the playoff hunt. That's a real sentence that is based in fact. Do you think they are concerned about anything right now? How could they be. They have barely seen this type of success in the last 16+ years. The people of MIN deserve this fun time. 
The concern though should be how much of this is fools gold. I mean their clutch time offense isn't all that great (21st), their defense is slightly below average (16th), and their -6.7 net rating is just flat out not good. They are a team that on any given night has the talent to compete with anyone in the league, but when things tighten up we have no idea how they'll respond. That would be my concern. That despite their record, you probably don't feel great buying in.
8. Los Angeles Clippers (30-31)
I feel like the Clippers mostly get a pass this year. Kawhi was out, George got hurt, and then their big trade deadline acquisition in Norm Powell broke his foot. I mean what do you want from them. It's hard to gauge who they are considering all their best players are injured. So for me, their concern is really just surviving with whoever is left on the roster. It's about staying in the top 10 through the rest of the year and maybe George/Powell are able to come back by the playoffs. The West is tough, but the Clippers have shown the ability to do that so far.
9. Los Angeles Lakers (27-31)
Is the Lakers season over? Depends on who you ask. What I do know is none of their concerns have anything to do with this season. Everything is focused on the fact that the LeBron Era is most likely about to come to an end. With that reality, nothing else really matters. They're old, Westbrook was not the answer, and AD is hurt again. Sort of a pick your poison exercise, but the future of LeBron is what truly matters.
10. Portland Trail Blazers (25-34)
The only real concern the Blazers should have is if it makes more sense to just get into the lottery and get a better pick to then trade this summer, or make the play in just for the chance to be waxxed by the Suns. They have a 2 game lead over SA for the 10th spot, and while they've won 4 in a row, I do wonder if that's done more harm than good when you think of the big picture.
OK, that'll do it. If you made it this far, I am impressed. Now you can go ahead and tell me how dumb I am in the comments. Either way, the stretch run is setting up to be must watch stuff, and I for one am very excited.