Please Publish This Blog AFTER The Ohio State / Michigan Game
Hahahahahah, this never gets old. I know we've beaten them now 9 straight times and 16 out of the last 17 years to the point where school authorities are looking into the rivalry being considered a severe case of bullying, but the answer is no, I don't get tired of wiping the floor with these nerds each November. A 50 burger on the road, right in front of their home fans. And let me be the first to say that I believe Jim Harbaugh needs to be inducted into the Ohio State Football Hall of Fame. I mean seriously, when you think of the Mount Rushmore of Ohio State football coaches, is it not: Jim Tressel, Urban Meyer, Ryan Day, and Jim Harbaugh? Buddy is now 0-6 against the Buckeyes. Would be 0-7 but he waved the white flag last year and cancelled. 
**it must be noted that Harbaugh "beats Ohio State every time when the score is on the values imparted to those he leads"
I'm sure Jim is so appreciative of the kind words of support. A true champion off the field. Meanwhile, on the field…..
I will say I'm a little disappointed in Ryan Day. No, not in his 24-0 record against the Big Ten or anything, but more so for the fact that he lied to me. He said he was going to hang 100 on Michigan, but he only got to 59. I wanted to see if the scoreboard in that old, rinky dink stadium could light up to triple digits. Sad!
Anyways, I know the entire Barstool Sports store was 20% off yesterday, but was the best Black Friday deal not Ohio State -7.5? Early Merry Christmas to all those of you that spotted the typo on the Barstool Sportsbook App. Someone has to get fired over that, right? Buckeyes were a clear 75 point favorites and someone's pinky finger accidentally added a decimal, cutting the line down to a mere touchdown? That was the easiest bet in the history of the sport. Ohio State 59, Michigan 10. Covered by a 41.5 points!
Okay as for the highlights: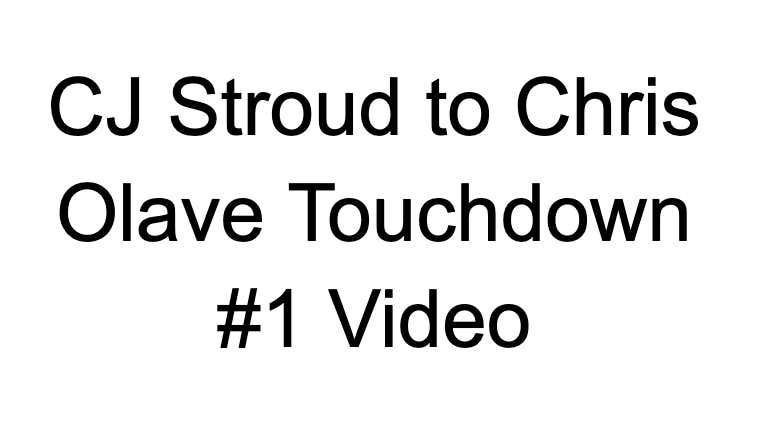 I'm not sure what's more impressive: the throw or the catch? I do feel bad for the Michigan defensive back though. Got moss'd on this one, and then completely burned on the very next one….
Remember when the Biletnikoff Award announced their 3 finalists and not one Ohio State receiver made it? Perhaps one of the funniest things I've ever seen. A black eye on the once prominent award. But that's okay….Buckeyes don't need individual recognition, although CJ Stroud did just lock up the Heisman today…
434 yards, 5 touchdowns, and one very impressive handoff:
Can you believe we get this guy for another two years? Best freshman running back in Ohio State history…..BY FAR. And I know CJ has run away with the Heisman this year, but TreVeyon has got to be the favorite not just next year but the following one as well. Wouldn't that make him the first ever two time Heisman Trophy winner? No one else has ever done that, right? Oh wait, I forgot Archie Griffin did it for the Buckeyes already.
I can't believe I almost forgot…..my favorite highlight of the game!
Editors Note: Please update this with the video Dave makes at halftime this year. I'll leave this one from 2019 in here until he publishes a Fire Harbaugh video, likely around 1:00 or when the Buckeyes go up 4 scores, whichever comes first. 
No! Don't fire him! Sign him to another extension. He's my favorite Michigan coach of all time, and he's an absolute animal on the recruiting trail. Snagging 3-star lineman right under Ball State and Buffalo's noses. 
Anyways, thanks for the end of November entertainment like usual, Michigan. Go enjoy the Music City Bowl. I'll certainly try and tune in for a couple series, but I'll likely have work that day, seeing as you're about to play at noon on a random Tuesday. As for us, we're off to the Big Ten Title game and College Football Playoff for the millionth straight year. Can't wait to do this again next November! Hopefully Harbaugh is still around for it…