Aaron Rodgers Was Brilliant, Mason Crosby Was NOT
Icon Sportswire. Getty Images.
I love how much people are just waiting for Rodgers to come undone and show the world he's not nearly as great as everyone says he is. Any time he shows a flaw or has a less than perfect game, the critics come out and rejoice in his imperfection. Last week, in his first post-COVID game, he had a poopy game against Seattle… and suddenly he's washed up. 
Well not today. Despite the fact he missed a couple of practices last week and the majority of Friday's practice because of a GD toe injury…
… he came out and had a perfect QB rating for half the game, and then in the second half even when he was trying to take a time out, the touchdowns wouldn't stop. 
But credit to Minnesota because they came out and put up 6 and a two-point conversion real quick. Of course, they also made the big, huge mistake of leaving Rodgers with over 2 minutes on the clock and on the first play of, Rodgers did what Rodgers does. 
Unfortunately, what you didn't expect was that in the end, Rodgers and his 385 yards and 4 TDs would leave entirely too much time on the clock… for Kirk Cousins. What you did expect was for Cousins to take that time and make a dumb mistake like throw an interception to Darnell Savage, which he almost did until that turned out to be an incomplete pass. In the end, the Vikings kept the ball and won the game with a last second fleld goal that burned even more thanks to The Mason Crosby Curse. 
In summation: Rodgers is still the shit and Crosby… is not. 
Once upon a time he was one of the most reliable players on the field, but I'm sad to say, that time is not today. Prior to this game he had missed 7 field goals this season, and today he missed one from 32 yards. Somehow, he managed to hit the upright FROM 32 YARDS. That is just completely in every way unacceptable.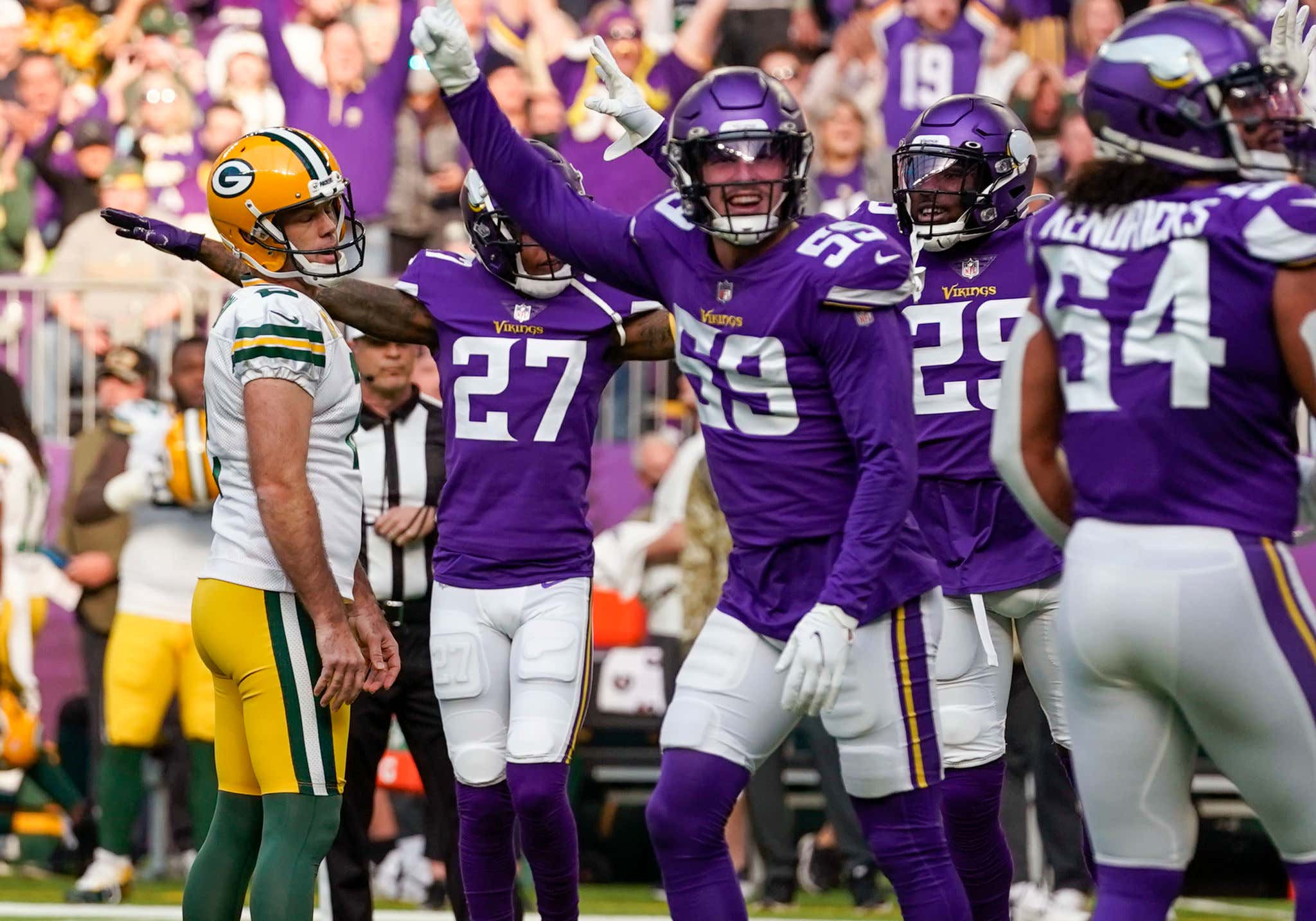 Icon Sportswire. Getty Images.
Sure, the Packers defense should have played better, but this game should not and would not have ended this way had Mason just hit an elementary field goal.The Packers are too good for silly shit like that. Hell, Mason Crosby is too good for silly shit like that. Something's gotta change or this team is going to be plagued with an inability to get 3 that will turn into an inability to get Ws.