SHOCKING NEWS: Leaked Text Messages Indicate Chef Donny WILL NOT BE TRAINING for his Upcoming Rough n Rowdy Fight
At least that's what Billy Football thought after he spent a full day texting with me under the impression that I was Chef Donny.
Little backstory, Billy and I have chatted occasionally via text for the last year, so when I got a message from him out of the blue asking me "What days you training this week?" I was mildly offended he still doesn't know the difference between "Donnie" and "Donny". Donny with a Y, may actually be training as he has a big RnR fight coming up against some mirror selfie fuckboi who gaslights as a chef on TikTok. 
Donnie with an IE however, hasn't "trained" in 3 years and doesn't have plans to start anytime soon (unless I'm offered 50K to step in the ring). Anyways, I was with Hank when I first got the text from Billy and he suggested that instead of clearing up the confusion, I see how far I can take the convo.  
Billy treats his body like a temple but his mind like a Temple university tampon receptacle. That approach might get him a W against an actual caveman like Jose Canseco but when you're fighting an overly sensitive tik-tokker, he with the least amount of anxiety or depression wins. #mentalhealthmatters 
Do you even slip punches bro? Tbh I don't even know what slip punches means but I'm assuming it means to dodge them.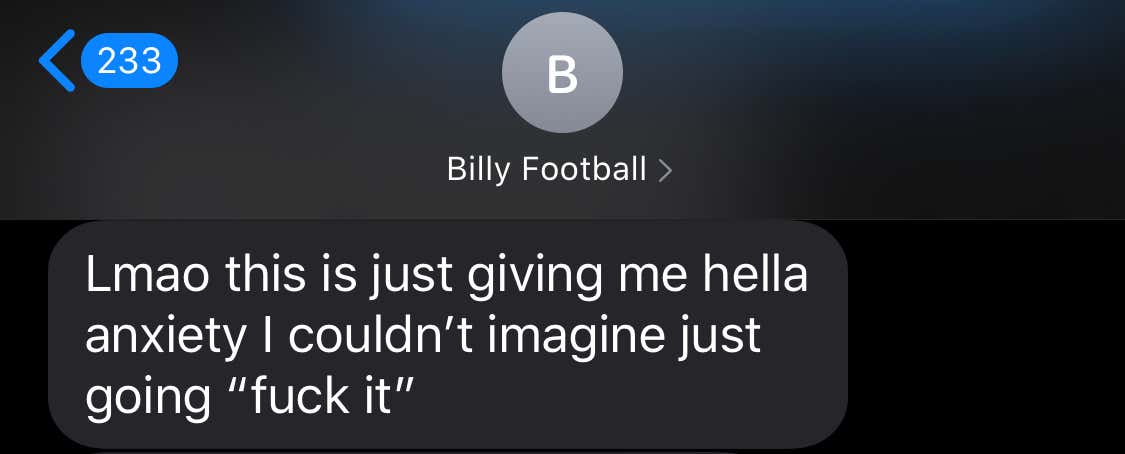 See Billy! This is what I was talking about! Maybe if you focused more on your medulla and less on your muscle mass, a simple text exchange wouldn't send your anxiety spiraling. 
This is where Billy showed his true colors. He isn't concerned about Chef Donny's welfare, he's just angling to be in Chef Donny's entourage so he can get an all expense paid vacation to beautiful West Virginia and show off his gains during the entrance walk. 
Ok forget what I said before, Billy is just a meathead fiending for some ring time. Nothing wrong with that (unless he suffers from an actual exercise addiction which I'm not qualified to diagnose).
The following week Billy finally approached Chef Donny in person and the jig was up.
Since the confusion has been cleared up, Donny and Billy have started training together and I am amped for this fight (BUYRNR.COM). 
Even before I knew Donny he was looking for excuses to get in the ring
And once he started interning for me, had his heart set on fighting in Rough N Rowdy someday, so much so he filmed a training video with both Hu Ayi and Jamol (which I'm assuming he'll now release if he can find the footage). 
Best of luck Donny! and QCP, get your mirror selfies in now as mirrors are gonna be your worst nightmare after your face gets absolutely mangled!
P.S. Let's keep the "Why do you have over 200 unread texts?" comments to a minimum. This blog isn't about that and I can guarantee you none of them are worth opening.