I'm Not Saying I Convinced The McCaskey Family To Sell The Bears. BUT, I'm Not Not Saying It Either
There's two types of people in this world.
One type are the lunatics that believe in manifestation.
The other type do not.
I, myself, am a card-carrying member of the former. I unashamedly subscribe to the theory 110%. Maniac shit I agree, but I'll be damned if the shit doesn't work.
Take the following for example-
21 days ago to the day I wrote this blog.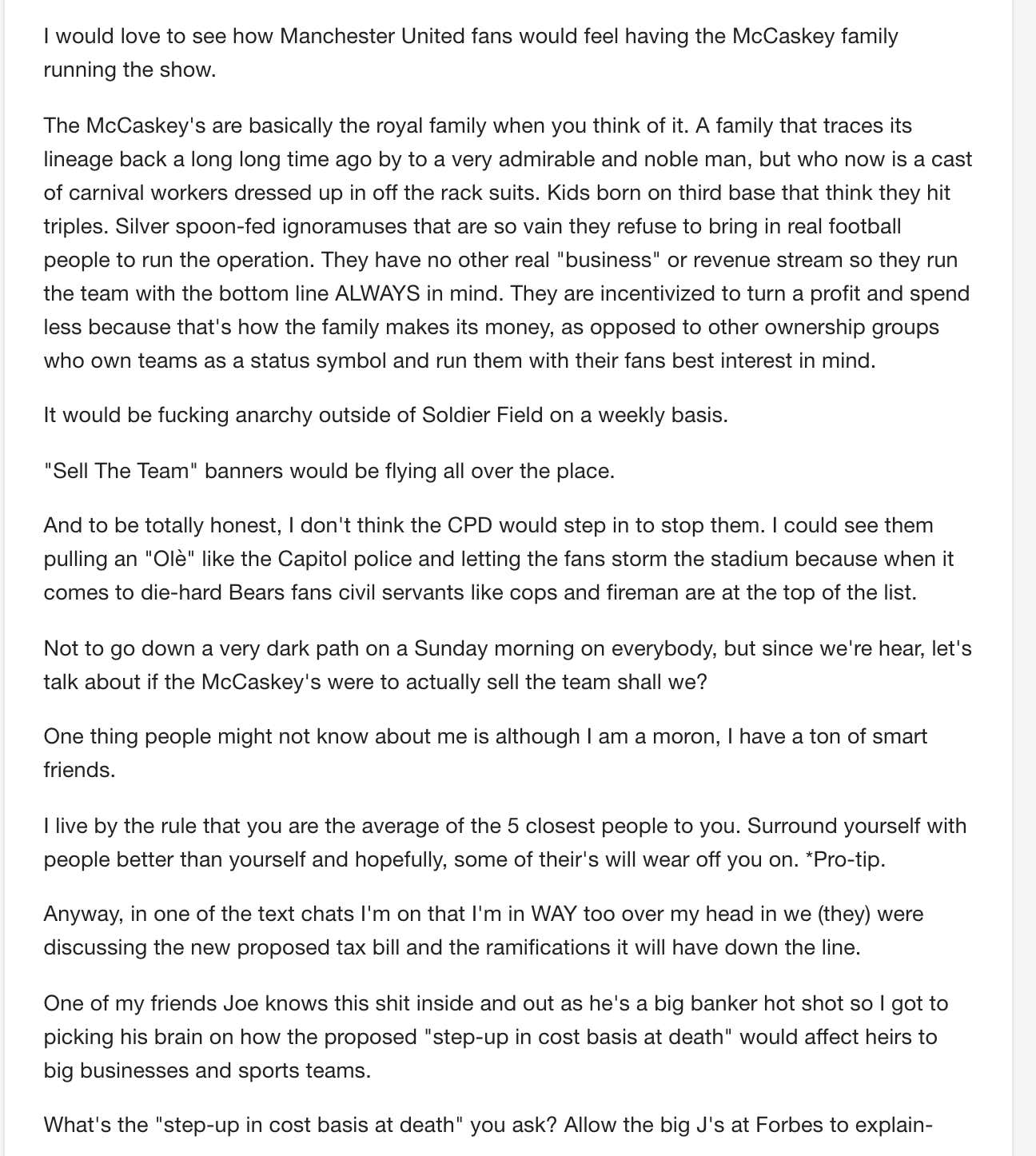 I know what you're thinking… 
"yah ok dude, like the McCaskey's don't have a team of well paid advisors guiding their financial decisions? They get their news from Barstool? Go fuck yourself jagoff"
Keep in mind this is the same family that gave the keys to the kingdom to Marc Trestman.
So call it a coincidence if you want, but either way, the following story broke tonight, 3 weeks after my blog.
Daily Herald - THE QUESTIONER WAS SHARP and creative.

"Which do you think will happen first?" he asked. "The Bears will be sold or the main grandstand building at Arlington Park will be imploded?"

The insouciant looked both ways before answering:

"Even money at this point in time, so put both on the board to open at 4-to-5. This one could truly go either way."

The exchange prompted later back-channel inquiries. The most striking reply came from an individual with exceptional knowledge of the working dynamic within the McCaskey family. That person said: "There is some internal strife going on among family members to sell … now."

The strife makes perfect sense. Even if it is opposite to prevailing thought that the franchise will never be sold as long as Mrs. Virginia McCaskey -- age 98 -- has an earthly say.

THE HALAS/MCCASKEY CLAN IS now touching a fifth generation. That's an expanding list of heirs waiting to hold negotiables rather than simply boast of a T-formation pedigree. It's also outkicking the expectation. Dick Duchossois has long said: "Less than 4% of large-sized family companies make it to the fourth generation."

The entire Bears-to-Arlington Park scenario is predicated upon a nimble, resourced ownership. Past performances suggest that isn't the McCaskeys. They are CD sellers in a Spotified world.

Still, no one can fairly say that George McCaskey hasn't tried to carry on a noble pursuit of keeping the team in the family as a loving, dutiful son.

But is he tasked with the impossible?
Well well well. The plot thickens.
Looks like Bears fans prayers might finally be answered. But by whom exactly? Who are he would be suitors with an actual shot at taking over the McCaskey trainwreck?
For starters this guy. Pat Ryan.
John Gichigi. Getty Images.
Big swinging dick in Chicago and has been forever. Helped try to lure the Olympics to Chicago on the Chicago steering committee, founder of AON (ever heard of it?), already owns a chunk of the Bears, mega doner to his alma mater Northwestern, guy is pretty much the fucking man around here.
Ryan is now chairman and CEO of Ryan Specialty Group, an international holding company he founded "specializing in wholesale brokerage, insurance underwriting managers and other specialty services to brokers, agents and insurers," according to its website. Forbes estimates his net worth at $3.2 billion.
I'm no Nostradamus but I think the Bears would be in good hands with the Ryan family. But don't take my word for it -
Ryan, 83, is the favorite. The billionaire businessman -- in partnership with 91-year-old Andy McKenna -- owns 19.7% of the Bears. He also holds the right-of-first-refusal as "primary investor" if any of the McCaskey stock comes up for sale.

Sons Pat Ryan Jr. and Rob Ryan are energized entrepreneurs who have diversified interests while attempting to maintain the vigor of their father. If Ryan were to purchase controlling interest in the Bears, one of his sons would likely emerge as an adjunct executive force to the future.

Ironically, it was Bluhm -- the billionaire who partners with Churchill Downs Inc. (CDI) in ownership of the Des Plaines/Rivers casino -- who laid the path to the Ryan-McKenna stake in the Bears. In the winter of 1987-88, Bluhm and longtime real estate mate Judd Malkin had an agreement in place to purchase that 19.7% share from the heirs and estate of the late George "Mugs" Halas Jr., the son of "The Papa Bear."
Interesting factoid. Kismit you might even call it. 
Cash-strapped, the McCaskeys executed an eleventh-hour right-of-first-refusal to block the sale to Bluhm and Malkin for reasons of "family control."

The family turned to McKenna -- one of the consummate gentlemen in Chicago business and deal making -- to quickly plug their financial gap.

Enter Ryan with much of the $17.5 million necessary to stall the heirs of Halas Jr. They later sued, claiming the team's valuation of roughly $88 million was low. Their lawsuit failed.

(The Bears are now worth an estimated $3.5 billion.)
3.5 BILLION. When Virginia inherited them they were estimated to be worth $40 million. Marinate on that for a minute.
Potential suitor #2-
Amanda Schwab. Shutterstock Images.
NO MAN IS AS WELL POSITIONED to bring the Bears to Arlington Park as Neil Bluhm, 82.

He is the individual most responsible for steamrolling CDI on to the Illinois casino scape via its purchase of 61% of Rivers in the fall of 2018. Churchill Downs chairman Bill Carstanjen owes him.

Son Andy Bluhm, 50, has made his own mark through Delaware Street Capital. He would presumptively have a significant role in a Bears organization controlled by his father.
Not gonna lie. I've never heard of this guy in my entire life but he just screams money. Like look at that face. That's the face of a guy who is into some really kinky, freaky shit because regular sex and porn just don't do it for you once you reach a certain status. And he reached that point 40 years ago. 
Plus his name is Neil and if we've learned anything around here it's that anybody named Neil has more layers to them than an onion.
What's an 82-year-old want with an NFL team you might ask? Was probably one of those dads who was never around when his kids were growing up. Missed tons of little league games and whatnot. He's nearing the end of his run so what better way to make up for those regrets than to leave your son one of the most historic sports franchises on the planet?
And the last potential suitor named-
Getty Images.
The inclusion of Bezos -- Amazon's $200 billion man -- is automatic on any list of NFL teams rumored to be circling the sales ring.

But it seems that the NFL wants the 57-year-old futurist more than Bezos wants the NFL.

In 2018, Dallas owner Jerry Jones chirped: "I'd carry him piggyback to get him into the NFL."

Since then, floating rumors have had assessments of four teams brought to Bezos -- the Chargers, the Seahawks, the Lions and nettlesome Washington.

Nothing has happened. So why not add the Bears?

It is all two parts information and two parts plausible dream scheming.

But the clairvoyant within can't drift into the arms of Morpheus without thinking:

There is something in the air at Halas Hall.

And it isn't all about imploding race tracks.
Ahh yes, Overlord Bezos. He just bought one of the most prolific movie studios in the world because it was Tuesday, what else can he buy? 
In all honesty, Bezos would be one of those owners who you'd love to own your team, but you'd hate to play for. From a fan perspective, you know this guy is running things like he runs all his businesses, lean and mean. He has no problem spending money, but he'll be damned if there's any waste whatsoever. You can bet your fucking ass he'll be maximizing ROI down to every fraction of a cent. 
You're talking about a guy who has a company policy of hiring people just so they can be fired at the end of every quarter because he wants a consistent 20% turnover rate to cut dead weight and keep people from becoming complacent. Can you fucking imagine employing this mindset in sports from an ownership level? It'd be like a life Premier League with the relegation. He'd have his team's waterboys pissing in water bottles in the name of efficiency without a second thought.
He refuses to settle for second best so he'd probably turn the Bears around in less than 5 years, and keep them at the top until he eventually gets bored of owning just one team and finds a way to buy the entire NFL. 
Tough call but I gotta go Ryan. In my experience, you can't go wrong with a self-made rich dude that grew up rooting for your favorite team buying them. Bob Kraft sat in the bleachers at old Foxboro stadium following the Patriots around for 30 years before buying them with his own money. Then he turned around and built them a brand new state-of-the-art stadium, FINANCED WITH HIS OWN MONEY (he only borrowed $20 million from the state for infrastructure improvements to Route 1) and brought in the greatest coach in sports history. And things turned out pretty good so my vote is for the Bears to follow that formula.
p.s. - you would have thought when I posted that Manchester blog with the financial breakdown that I explicitly mentioned I had received from a group of finance industry friends, prefaced with the mention that I know nothing about this shit, that I was on Squak Box giving shitty advice. You Wall St bro's need to fucking relax. Switch to decaf. Meditate. Go easy on the cocaine on your corn flakes. Just relax a little bit. I'm not coming for your job. It's gonna be ok.