The Experts Agree: The Patriots Crushed the Draft
So now that the Patriots final draft haul is in the books:
QB Mac Jones, Alabama (Round 1, Pick 15)
DT Christian Barmore, Alabama (Round 2, Pick 38)
EDGE Ronnie Perkins, Oklahoma (Round 3, Pick 96)
RB Rhamondre Stevenson, Oklahoma (Round 4, Pick 120)
LB Cameron McGrone, Michigan (Round 5, Pick 177)
S Joshuah Bledsoe, Missouri (Round 6, Pick 188)
OT Will Sherman, Colorado (Round 6, Pick 197)
WR Tre Nixon, UCF (Round 7, Pick 242)
... let's take an assessment of how they did. With all the usual disclaimers about how absurd it is to evaluate the results of a process we really won't have a handle on for at least three years and all that. It's the first Monday after the draft, and all we can do is work with what we've got. It's a snapshot. A stock price, subject to change as they hit the practice field and get into the preseason. But still worth talking about.
With all due respect to Steven Cheah giving the Patriots a B for their draft, after two days of the dust settling and the experts opining, it's become pretty clear that the A+ grade I'm giving them is very much closer to the consensus. America's Draft Guru Intelligentsia has weighed in. And by any objective measure they agree with me that, after destroying the competition in free agency, the Patriots were among the elite class of war rooms who found rich deposits of Unobtainium under the college prospect tree.
You don't have to take my word for it. Take everybody's word for it. A compendium of 18 of the top names in the Draft Evaluations business: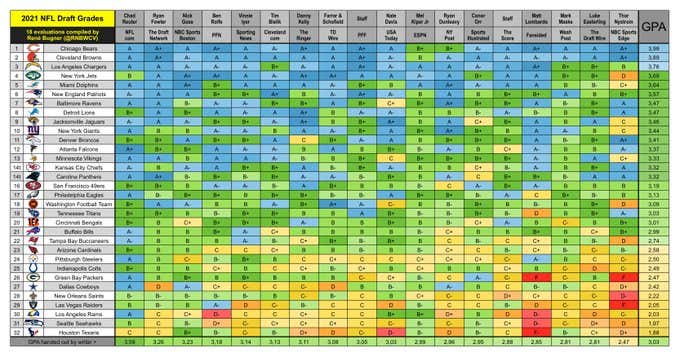 The sixth highest GPA among the 32 teams. No grade lower than a B. Four of them A+s. And, unlike the Class Valedictorian Bears, without giving up next year's No. 1. After having their 3rd rounder taken away by an evil, vindictive despot because a film crew that does not work for the football operations, pointed a camera in the direction of the back of the sideline of the worst team in football. A trade up from 46 to 38 that left them with a 58 pick gap in the sweet spot of the late 2nd-early 3rd round sweet spot where Belichick typically loves to operate. Half of their eight selections coming after No. 177. And still, they grade out better than 26 other franchises, most of whom had way more draft capital at their disposal. 
But then again, if you don't care about the opinions of 18 people who do it for a living, there's always checking with the analytics crowd. Particularly the mathletes who work for Cris Collinsworth's little metrics factory. Pro Football Focus (paywall) is even more bullish on New England's stock:
Day 1: The narrative surrounding Mac Jones for the past few weeks was focused on whether he was worth not just the No. 3 overall pick, but the three first-round selections the 49ers invested in that draft slot. At No. 15 overall, it's an entirely different conversation. Jones led the nation last season in overall PFF grade (95.8) and was the most accurate college quarterback in terms of adjusted completion rate (84.2%) PFF has seen. This is an outstanding pick.

Day 2: Christian Barmore is the best interior defender in this draft, and he should have been a first-round draft pick. He is the only consistently high-level pass rusher from the interior in this class, posting a 90.3 PFF pass-rushing grade against true passing sets last year. Barmore was the No. 12 overall player on the PFF Big Board.
About that. By most draft reviews, the one that really stands out is Barmore. 
Like I said when they took him (in between bitching about how my brother Jack predicted they would), Barmore was NFL.com's 13th highest ranked player at any position. He made USA Today's short list of Biggest Steals:
Bill Belichick landing the player who wrecked Notre Dame and Ohio State's fronts in the College Football Playoff should be a concern to offensive line coaches throughout the NFL. While Barmore's wild playing style often works to his detriment, New England looks like the perfect landing spot for the 6-4, 310-pound disrupter, as he'll be able to sharpen his skills over time while still leveraging his considerable athleticism to stop plays in the backfield.
And Lindy Sports' Draft guide (the print edition so I don't have a link), they rated Barmore the best run defender in at his position and said "There is little doubt there will be a war room pounding the table for this guy to be their pick Day One." So regardless of your opinion of the Pats getting the quarterback they targeted without giving up picks to move up, and who targeted them:
… you have to concede that finding a blue chip run stuffer for the middle of their D-line made Day 2 a smashing success. 
And the math backs up the potential for third pick Ronnie Perkins as well:
He's a guy who undoubtedly dropped because of a failed drug test before the Sooners bowl game. Which is the sort of drop that has helped the Patriots immensely in the past as well as hurt them. One time in particular with the same player, whose name I won't mention here because it would be grossly unfair to Perkins, who also made USA Today's list of steals:
Between the additions of Barmore and Perkins, New England's pass rush looks reloaded. While he might be no more than a rotational player behind Matthew Judon and Kyle Van Noy early in his career, Perkins can be a productive contributor with big upside once he diversifies his arsenal of moves.
And of whom ESPN's Louis Riddick said, "Look, he plays nasty. This is a New England Patriot through and through. Scheme versatility — can play with his hand down in a four-man line, you run an odd front, you run a 3-4, he can stand up and play a 3-4 outside backer. … He can get after it now. This is a New England Patriot right there, who is going to buy into that culture with the way he plays. I'm telling tell you Bill is loading up. He's loading up. He's made some great acquisitions with guys who have the right kind of playing personality."
Also for what it's worth, Perkins is a Patriots fan who, like Jones, wanted to come to New England:
Another of their more intriguing "value" type picks is LB Cameron McGrone. But the gratification on that will be delayed as he suffered an ACL last November and Belichick has already made it clear we probably won't be seeing him until 2022. Plus he's still only 20. But when you've added Van Noy and re-added Dont'a Hightower to the middle of a defense that was already top 10 in the league last year, you can afford to wait for your some of your picks to bear fruit. 
Speaking of waiting, I'll say again this is only how things look on May 3rd. But goddamned, does it look good right now. Covid opt outs returning. A major overhaul of the roster in free agency. And now no less than three of the biggest steals in the draft. Thanks, Nike. That's a good boy. You get an A+ too. 
Now how soon can we get going on minicamps?