After Dubbing Aaron Rodgers "Their QB of the Foreseeable Future" The Packers Need To Cut Their Losses And Trade Jordan Love Right Now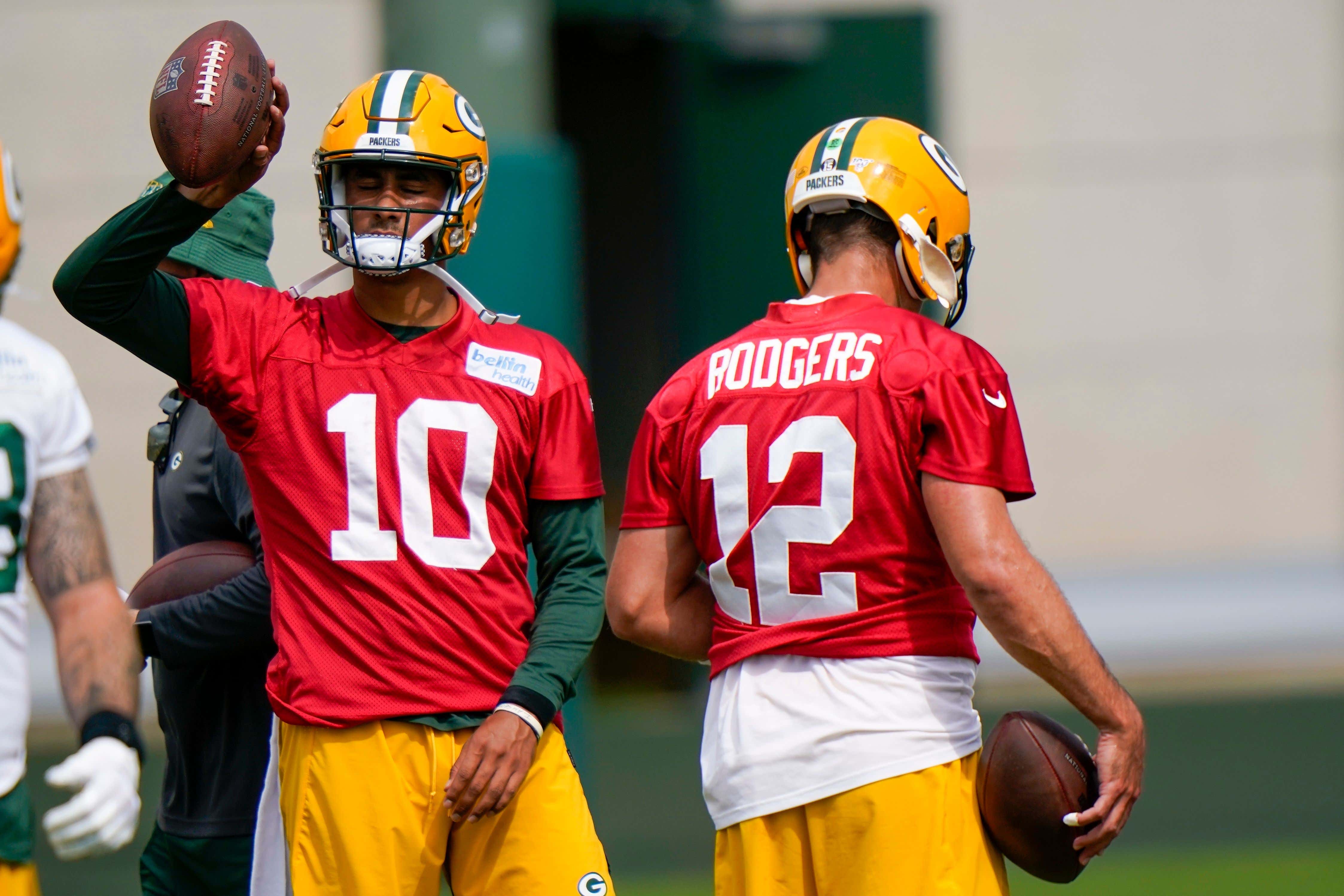 Morry Gash. Shutterstock Images.
Yesterday Packers GM Brian Gutekunst declared once again that Aaron Rodgers is their guy moving forward at the quarterback position.
Bold to declare the reigning MVP of the league coming off a 48 touchdown 5 interception season who led you to the number 1 seed in the NFC as your QB of the future, right? Well, based on shitty rumors to start the offseason, I guess he had to come out and say it prior to Thursday's draft. 
Rodgers loves Green Bay and wants to be here. The problem is that with his contract the way it is, Green Bay can move on after the upcoming season. He's basically on a one year deal. 
If you are going to commit to Rodgers for the future, you can't have a contract opt out like that hanging over each other's heads. I would assume based on yesterday's comments and logic that the two sides will work together on a restructured deal that guarantees he'll retire in Lambeau whenever the hell he decides enough is enough. It'll also free up money in the present to spend on free agents. 
That all sounds and looks great. 1000% the direction this team needs to head. The only other issue? The quarterback you took in the 1st round last year to replace Rodgers because you thought he was finished. You know, one of the worst 1st round draft picks ever made? That one. The guy who didn't dress and was taken over guys like Higgins, Pittman, Shenault, and Claypool. That guy!
Jordan Love himself has nothing to do with making this a bad pick. The man quite literally has not done one thing good or bad. He could very well turn into a rock solid mobile gunslinger in a few years. The thing is, they essentially gave up on the franchise QB who led his team to a 13-3 record and an NFC Championship game appearance. Why? The front office thought it was a fluke and figured they better plan for the future. They one-upped themselves by drafting a running back in the 2nd round. The team that already had an all-pro RB and a very good backup. Yeah they drafted a third guy. This offseason when it was all but assured they would move on from the all-pro in Aaron Jones and promote AJ Dillon, they instead gave Jones the bag and let the number 1 center in the NFL Corey Linsley walk to the Chargers. Logic? We've got none of it here. 
So yeah that's where we're at. Drafting a backup QB and a backup RB last year with your first two selections was deplorable. So now what? Jamaal Williams is gone so you're sticking with Dillon to split time with Jones. But what about Love? In my mind if you're extending Rodgers, as you should, you have to trade Jordan Love right now while you can. You're likely not getting a first round pick, but whatever assets you can get (maybe a 2nd since he hasn't played or done anything yet) you have to acquire and use for this team right now. 
Hanging onto Jordan Love any longer than right now makes no sense to me. Almost the same level of sense as it did when you drafted the guy. Cut bait, get something back for him, and give Rodgers even more assurance this is his team and his team only. There's this rumor that has been going on for a week now of Love heading to the Pats. I'd be fucking ecstatic, but it's likely just a rumor. 
What will probably happen? They'll hang onto Love and draft someone like Kellen Mond with the 29th overall pick. What would I love to see happen on Thursday? Go get me athletic linebackers, a cornerback to challenge Kevin King, and a pass rusher. Zaven Collins would be awesome. Please address this defense for the love of God. Would I be upset taking a wide receiver too? Of course not, but this offense was beyond elite last season. Even if they regress a bit this year, they'll be a top 3 unit in the league. Rodgers makes everything go, but he could really use a defense. Bahktiari being healthy is also an absolute need. 
Nothing can surprise me after last year when I had Brandon Walker and Rone telling me on the En Eff El Draft Show that Green Bay took Love. I would have bet my life they were fucking with me. We'll do it all again on Thursday.