The Celtics Beating One Of The Best Teams In The NBA Could Not Have Come At A Better Time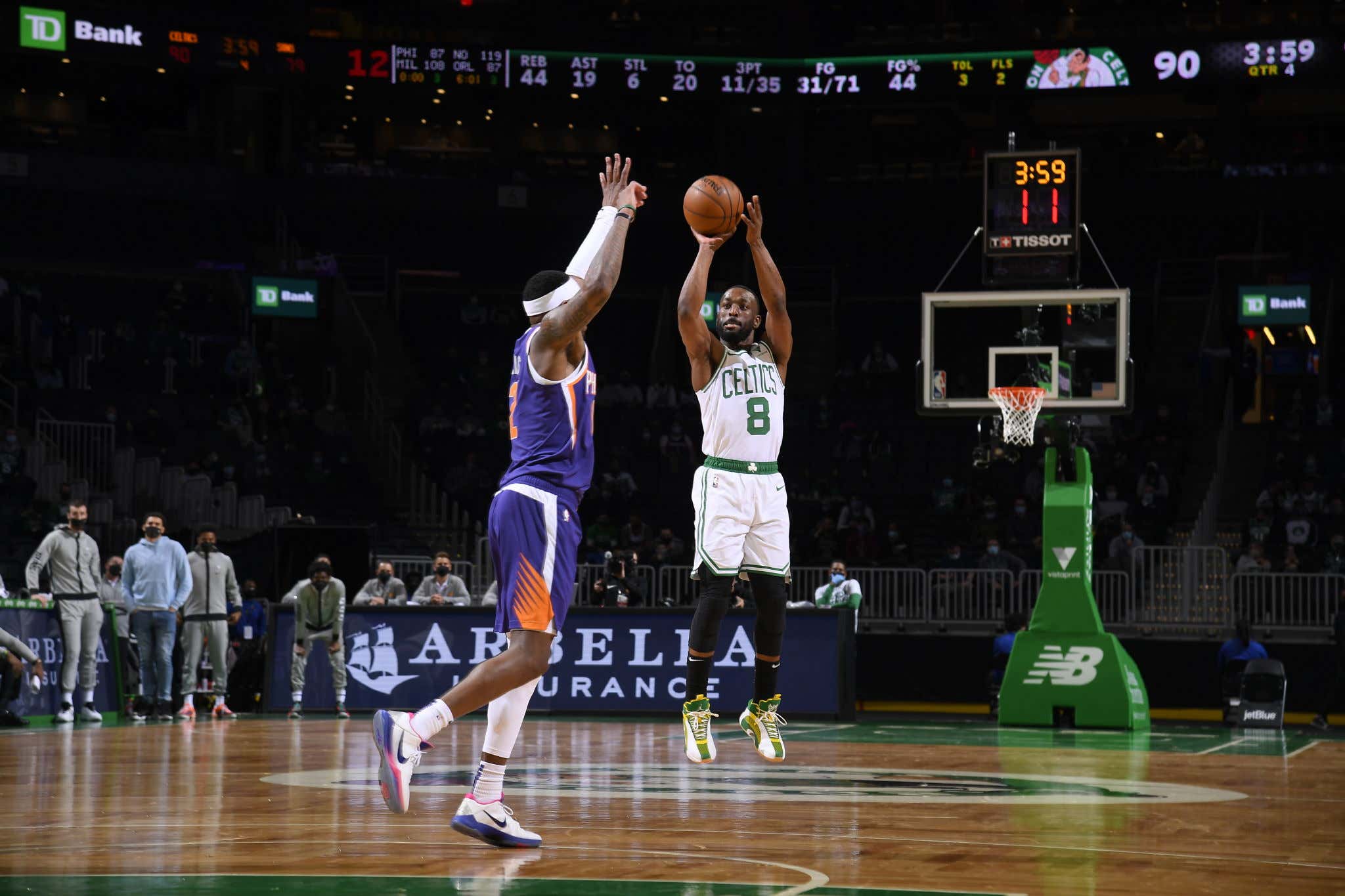 Brian Babineau. Getty Images.
Even with last night being maybe one of the most important wins of the entire season, it feels weird to celebrate anything after the tragic passing of Terrence Clarke. Especially for any of us who are from the Boston area. Growing up we all had the same dream of putting MA on the map. For me it was Worcester. Hours and hours in the driveway playing out that dream scenario. Well, Terrence Clarke was actually doing that, only in real life. Easily the best athlete to ever come out of Boston, but from everything you'll read/hear over the next few days you learn that he was an even better person. Your heart can't help but hurt. All you can do is pray for his family and tell your loved ones you love them because you truly never know. It's all just so heartbreaking.
It feels weird to somehow transition now into last night's game, I've sat here for like 15 minutes trying to figure out how to do it because this was one of the best wins of the entire year. I should be elated right now, but I'm not. I'm happy, but it's not the same given the news. I will say this though. It was nice to see the Celts finally pass one of these tests. After dropping the Bulls game in inexcusable fashion, they put a whole lot of pressure on themselves for this PHX/BKN back to back. With all the teams around them also winning, they need these games. 
It was also a great test to see how this team stacks up against some good competition during this stretch of play. Since the deadline we've now seen them beat MIL, DEN, POR, a red hot GS team, and now arguably the best team in the West. That's pretty good for those who refuse to believe in the progress this team is making until they play good teams. At the same time, perspective is still important. They still sit in 6th just 0.5 games behind the Knicks for 4th. They have some games in hand, and there's no denying that when this team isn't missing 4 of their top 6 rotation players they are playing as well as any team in the entire conference right now. 
There is still more work to be done, tonight is another great test in BKN on back to back, a team the Celts have not beaten all year. KD is reportedly going to play. Remember, it's not so much about the singular wins right now. Those are important, but it's about this team getting back to playing the right way, building better habits. Locking in defensively, moving the ball, shit like that. When they play that way, they are tough to beat.
Let's dive in
The Good
- I don't think many would argue that the Kemba Walker load management plan has probably cost the Celts a game or two throughout the course of the season. Not playing back to backs has been tough. But……it's working
When you think of this team's postseason chances, Kemba is the ultimate wild card. We know what the Jays are going to bring and what they are capable of in a series. So much of their success is going to depend on what version of Kemba we get. The injured version we saw in the bubble was a problem. This healthy version? It raises their ceiling. They can absolutely contend with this version of Kemba playing next to the Jays. Without a doubt the best game of Kemba's season, it wasn't just the offense. Once again we saw Kemba show up on the defensive end in big moments. That has been the case for this entire stretch post trade deadline.
He took 3 more charges, was active all night and shockingly only allowed Chris Paul to score 4 points on 11 possessions. He has not been this huge liability defensively that he wrongfully gets labeled as. Yes, players can target him due to his size, but Kemba is holding his own on that end of the floor right now.
The bigger news though is how Kemba is scoring. It's not just pull up threes coming off a high screen. We're seeing him be way more effective at driving to the rim, the quickness looks great, and that is what opens up the rest of his offensive arsenal. When Kemba struggled early, it's because he couldn't get by anyone. Now? No player on the Suns roster, one of the best defensive teams in the league, could stay in front of him. With Jaylen out and Kemba off tonight, this team needed a monster performance from their star point guard and that's exactly what he gave them.
- If you want to look for reasons why this team looks so different over the last month, high on that list is the play of Marcus Smart. I'll say it again, ever since the heave against NO, he's been a different player. In fact, I'd argue he's been the exact kind of player this team needs him to be. The one where he passes and defends first and shoots second. Making plays like this
on one end, and then locking up Devin Booker to just 2 points on 1-5 shooting on 20 possessions on the other. He was second on the team on contested shots with 10. Second on the team in deflections, and most importantly finished with 0 TOs. His final line of 11/7/5 with only 11 FGA is exactly what he needs to do in his role, even with Tatum not able to buy a bucket and Jaylen missing the game all together.
What I like is Smart didn't just talk about being better, he's acted on it. This is NOT the level of defense we saw him play to start the year, even before his injury. But this IS the level of defense that we all hoped to see as we head into the playoffs. He's playing at his All NBA level and has been for about a month, which is great to see.
- Speaking of defense, this was really a team performance. It's not often you hold the Suns to under 90 points. Even though I will say they missed a ton of open looks, that's life. The Celts still forced 17 TOs, defended the perimeter well, and did not give up a single 30 point quarter all night. 
- Listen, I don't think anyone is ever going to refer to Jabari Parker as the savior of this team or anything like that. But we might have to just accept the fact that he might actually be pretty good in his role as a reserve big off the bench. 
All he needs to do is come in, dunk the easy buckets, rebound, and not be a total disaster on the defensive end. He's doing just that! In about 15 minutes a night as a Celtic he's putting up 8/3 while shooting 66.7% from the floor. Remember, this was Mo Wagner's spot. At the very least he is giving the second unit a somewhat reliable pick and roll option when they desperately need points. For what his role is and what he is asked to do on that second unit, the Jabari signing has been a homerun so far.
- It really is shocking how much Tristan Thompson has been since coming back from covid. He's been a completely different player and someone who I think resembles a player that most thought the Celts were getting in the first place. His 9/12 was great, but I also feel like he's more comfortable within the system. We're not seeing as many frustrating putbacks over 4 guys that gets blocked. Instead, he's rebounding and finding his teammates. Defensively he's been as solid as you could ask. 
- Deuce is such a legend it's at the point where now Chris Paul would do anything for a picture with him
- 11-0 now in the home whites. 11-0. 
The Bad
- I don't want to say the Celts got a little lucky in this game, but the fact is they have a big time turnover problem. You don't normally turn the ball over 20 times against the Suns and find yourself winning that game. This has been an issue for some time now, and being so careless with the basketball is asking for trouble. Kemba and Tatum combined for 9 of the 20 by themselves. That's not great considering they were your two best players. 
Too often are we seeing games where one or multiple main guys are finishing these games with 4+ TOs. In the second half, they had nearly the same amount of TOs (8) as FGM (13). Considering they only shot 36/21% as a team over the final 24 minutes, you can't compound that by turning the ball over. I'm talking brutal ones too, like coming out of an ATO and immediately turning it over. That shit is infuriating. Then doubling down on the very next possession by turning it over again. It's why they were never really able to blow this game open. The Celts gave up 24 points off turnovers, that's all you need to know.
- I also didn't love how easily the Celts were allowing the Suns to get right into the middle of the floor early in this game. Letting CP3 feast in the midrange is not something I would recommend. That's where they really missed Rob in my opinion because he's really the only big on the roster that can be at the rim, yet still find a way to contest midrange due to his leaping ability.
- This team needs to find ways to get Romeo easy buckets. His offense is still so raw, while he provides value as a defender they need to find sets for him that put him in a position to be a threat offensively. It's a little funny that he came into the NBA with a reputation as a scorer and not a defender, and his defense is the thing that has translated immediately. Offensively though, it's bene rough.
The Ugly
- Where else could I put Tatum's 3-17 (1-8) with 5 TOs? It was ugly. In fact, he's in the middle of a pretty shitty rut right now
The good news is despite his poor shooting splits, he's still attacking the rim and getting to the line. Finally. But this team is going to be in a tough spot if we continue to get 3-17s. His playmaking has been better which is nice, he's hitting the glass as well as he has all season and Tatum could probably use a day off at some point. But that's the problem with where the Celts are at. Due to their underachieving basically all year, they don't have the luxury of giving Tatum rest right now. At least not in the immediate future.
The encouraging thing is there really isn't an issue with his shot profile. Of his 17 FGA last night, 9 came from the FT or closer. He just missed. It'd be one thing if he was settling and doing nothing but going iso, but I didn't get that feeling from him last night. He just couldn't buy a bucket. 
Winning the first leg of a B2B is always huge, but tonight is just as massive of a test. This team has not had an answer for Kyrie Irving in any prior matchup. He's eaten them alive. When KD plays, he's been unstoppable. The Nets are going to be motivated now with PHI dropping 3 straight. I'm not sure if Jaylen is playing tonight, but we know Kemba is out. They've been able to pass almost every test thrown their way since the trade deadline, but this might be their biggest one yet.