Patriots 2021 Draft Preview: Linebacker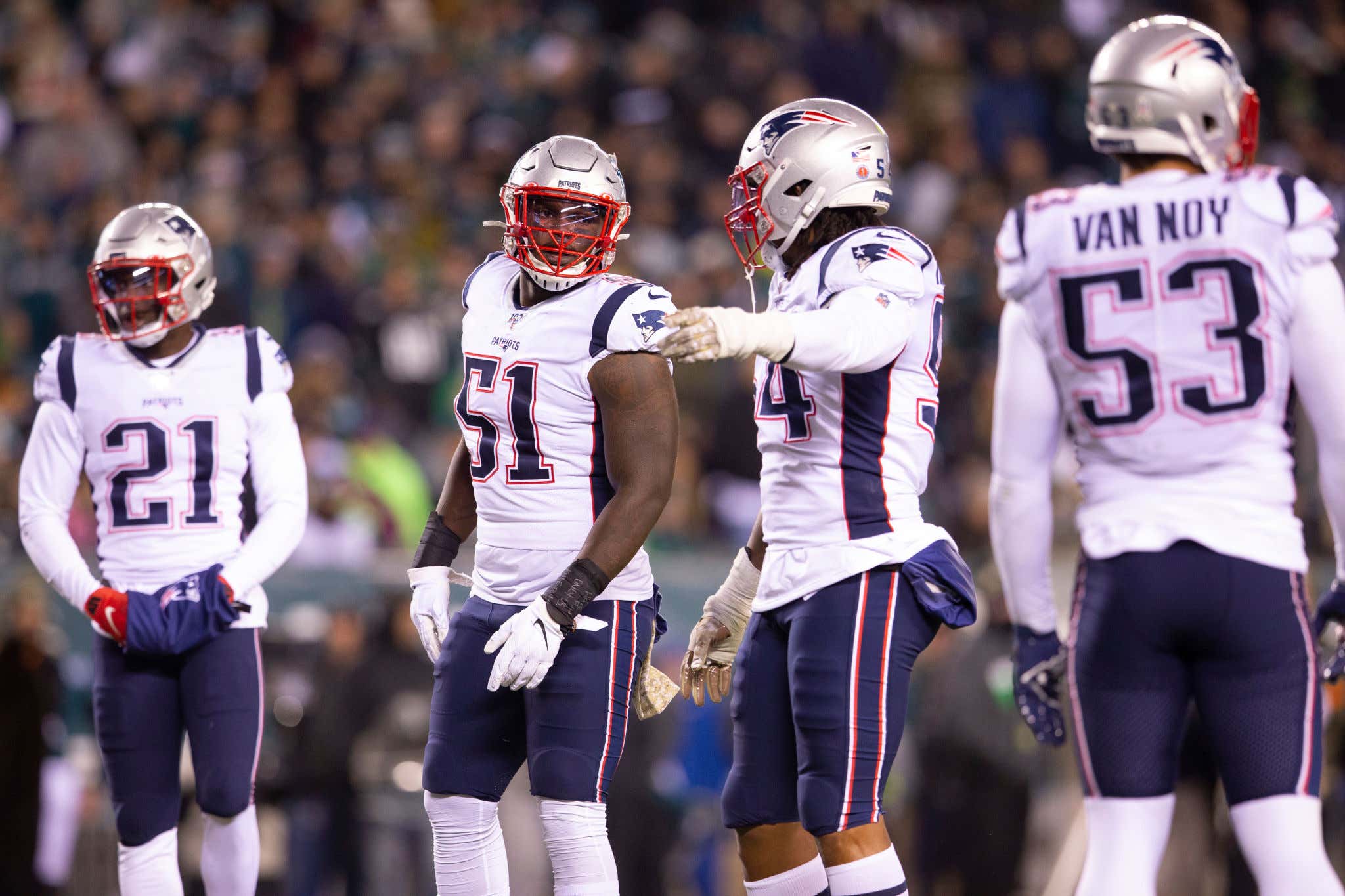 Mitchell Leff. Getty Images.
Current roster: Dont'a Hightower, Kyle Van Noy, Ju'Whaun Bentley, Josh Uche, Anfernee Jennings, Terez Hall, Brandon King, Raekwon McMillan
Positional overview: With the return of Hightower from his Covid opt out and Van Noy from taking the Dolphins in a Bernie Madoff like fleece job (Bern in Hell, Madoff), you might be lulled into thinking that traditional, off the ball linebacker is not a priority in this draft. I'll concede it's not the need, but it is a need. It never isn't on this team. Second level LB has been one of the most drafted positions in New England in Bill Belichick's 21 drafts, with 22 selections altogether. Granted, there are a lot of late round flyers in that mix (Kamu Grugier Hill, Xavier Dickson), and some tremendous successes (Elandon Roberts), but there has also been a lot of draft capital spent, like Hightower in the 1st round and 2nds on Jamie Collins and Brandon Spikes. Last year alone brought Uche in the 2nd and Jennings in the 3rd. Which doesn't preclude the Pats from going back to the position, by any means. In their rookie seasons, Uche appeared to be somewhat of a 3rd down, outside, pass rush specialist, and Jennings seemed limited into more of a run stopping inside 'backer type. To be fair, LB in the Pats scheme is the second most complicated position to play, after only quarterback. At times when he first moved inside in New England, Hightower looked semi-lost, slow to read and react to plays and a step late on everything. Once he grew into the role, he became one of the best defenders of the Dynasty era. So you can preach patience with the new guys, but this team was still graded by Pro Football Focus as just 22nd at stopping the run. Besides that, Hightower and Van Noy are both north of 30. And the next great linebacker corps has to be developed now. 
Once again though, linebacker is another one of those increasingly amorphous positions in today's NFL. And for the Patriots in particular. The traditional roles of Will, Sam and Mike aren't as clearly delineated as they were in your grandpappy's day. As you can tell from the fact I listed Van Noy among the edge defenders as well, which is more or less what Uche's role is. The Pats play a base 4-2-5, with the safety down in the box as a Big Nickel and LBs moving from interior gaps to the outside to back off the line of scrimmage from down to down. For my purposes here, I'm including both inside and outside linebackers, just not pure edge players. At those spots, the Class of 2021 is considered above average, not great. With a couple of blue chips at the top, and a dropoff after that. 
The consensus 1st rounders:
Micah Parsons, Penn State. 6-foot-3, 246 pounds, 4.53 40-time
Yet another precision-engineered linebacking machine off the assembly line at Penn State Motors. And the guys in the lab coats at the wind tunnel built a perfect specimen in Parsons. He's got the optimal size. He's fast and explosive from sideline to sideline. He's got rare read and react instincts. He's got a 32-inch wingspan, which gives him the tackle radius of Vitruvian Man (NSFW, penis drawing), as well as the ability to take on blockers and shed them. His role at PSU was as an old school inside thumper and he was rarely asked to pass rush from the outside. But when he did blitz, he demonstrated the ability to attack the outside and interior rush lanes he picked up as a high school defensive end. Still, he's best suited to a role as a stack, off the ball, inside linebacker. He sat out last season, but has two years of starting experience, and as a sophomore recorded 109 tackles, 14 for a loss, with five sacks and four forced fumbles. In all likelihood, he'll be the first LB off the board and could easily go in the Top 10. 
Compares to the other leading brand: Brian Uhrlacher
Jeremiah Owusu-Koramoah, Notre Dame. 6-2, 221 lb, 4.48
Everything about Owusu-Korahoah is unlimited, including how many times per game Cris Collinsworth is going to guffaw about how he can't pronounce his name. He's the outside 'backer counterpoint to Parsons. In fact, he might be best suited to a hybrid strong safety/Sam/Big Nickel role, with his elite speed for the position, his first step quickness and his coverage skills. He's shown the ability to stay with receivers and tight ends up the seam and undercut curls and flat routes. Most of his snaps in South Bend came in the slot, and he showed an impressive skill set as a corner blitzer. He stood out in games against Clemson and Florida State, where his hit-stick ability was on display. He's the best pass coverage defender in this linebacker group, but plays above his weight and easily projects as a 3-down player. 
Compares to the other leading brand: Davion Taylor
Potential 1st Rounder the Patriots Met With:
Zaven Collins, Tulsa. 6-5, 259 lb, 4.63
Collins is straight up the strongest physical specimen in this group, with the power to explode blockers and pummel puny gods into the turf. As his insane 200 tackles would indicate. Despite his size, he's athletic and can cover ground, demonstrating rare ball skills and the ability to make plays on the ball while in trail technique, with his back to the passer. At that size/speed combo he's versatile enough to play several spots along your front-7, from Sam to a stack linebacker on the inside, odd fronts or even, man or zone. He's got a high football IQ, making all the calls in Tulsa's scheme and was a team leader. And while he's not an elite pass rusher, he's got some experience out of a 3-point stance. 
Compares to the other leading brand: Leighton Vander Esch
Borderline 1st/2nd Rounders:
Nick Bolton, Missouri. 5-11, 237 lb, 4.66
If the Class of 2021 was giving out superlatives, Bolton would make the yearbook as Mr. Read and React, with the best sideline to sideline speed of anyone. He's a burner with good ball skills. He played every game as a freshman before becoming a full time starter in 2019, whereupon (A+ word usage by me. That's the Old Balls difference.) he lead the team in tackles with just under nine per game. As a junior, he was named captain. He's demonstrated elite play recognition ability, rarely if ever taking a wrong step. He's an aggressive, downhill run defender despite his lack of size. And he played up to the level of competition, with a great game against Alabama. While his size might have been limiting about 30 years ago, in a modern game that continues to trend toward smaller, quicker athletes on defense, he fits the new mold of a 4-down player who'll contribute on special teams as well. 
Compares to the other leading brand: Devin Bush
Jamin Davis, Kentucky. 6-4, 234 lb, 4.58
If college prospects sold stock in themselves (pause while every executive at the NCAA spits Chivas Regal all over their their butler's tuxedo at the thought), Davis would be the one you wish you bought when it was trading as penny stock. Going into the year, no one really projected him to be drafted at all, much less be one of the first LBs off the board. But while missing one game for the Covid protocols, he proved himself to be a versatile, all around defender when he racked up 104 tackles, four for loss, 1.5 sacks and three interceptions. He's less a punishing hitter than he is a fluid, ball hunting mover who will make plays all over the field. But he's a fundamentally sound tackler who'll square up a ball carrier, wrap him up and not let them escape. One knock on him is that he's got to improve his hand-fighting technique to get better at disengaging blockers. But he's tough and instinctive. And if a team is willing to take a chance on his one-hit wonderishness, they could get a steal. Ironically, Club Noveau was a one-hit wonder with "Lean on Me," which introduced the 80s to the lyric "We be jamin'." Which should be on the PA system for every big play he makes in the pros. That said, I waited for Pat Chung's entire career for "Everybody Wang Chung Tonight," and the Patriots never delivered. So I don't have much hope.
Compares to the other leading brand: KJ Wright
Sleepers:
Chazz Surratt, North Carolina. 6-2, 229 lb, 4.75
Remember in like S3 of "Friday Night Lights" when Matt Saracen got replaced as the QB1 and talked his way into being a wide receiver and he was good at it because he knew all the route concepts? That's Surratt, only he switched to defense when he couldn't win the quarterback job. And all that understanding of offense paid off, as he proved himself to be a smart, instinctive pass defender. Quarterbacking the Tar Heels' scheme, if you will. He played a lot of run and hit 4-3 Will OLB, where he showed the speed, balance, and low pad level to turn the corner around pass blockers enough to produce 31 pressures. To illustrate the point about how much football matters to him, his brother at Wake Forest took the opt out, but Surratt stuck with the 2020 season and his conversion to defense, and developed into someone who might be taken off the board as early as Friday. If nothing else, as a pro he'll give SportCenter the chance to dust off their "Ma! The meatloaf!!!" references for the first time in ages.
Compares to the other leading brand: Kiko Alonzo
Garret Wallow, TCU. 6-2, 220 lb, 4.59
Wallow is the prototype of the modern day hybrid safety/linebacker, who played both at TCU. A three year starter for the Horned Frogs, he finished his career with just under 300 career tackles, he also QB'ed their defense and did everything well, from making sure everyone was in the right gap to making the coverage calls, covering from the read side to the back side, to spying the quarterback to blitzing, from coming downhill as a run force defender to operating in space. A smart, heady, high-IQ type who processes information quickly. The team captain made 1st Team All Big-12 twice and led the conference in tackles in 2019. Like I said, he seems like a tweener who could be one of those Crossover SUV types (A safebacker? Lafety? I'll work on it), but in the right scheme could fit into a 4-3 Will role. 
Compares to the other leading brand: Matt Milano
A Mid-to-Late Round Pick the Patriots Met With:
Isaiah McDuffie, Boston College. 
​
6-1, 221, 4.65
It's not surprising that the Patriots would kick the tires on a local guy. And even less surprising that they'd meet with guy of McDuffie's stature, since Tedy Bruschi left a permanent undersized ILB-shaped hole in Belichick's gooey, sentimental heart that has never been filled by anyone. McDuffie played mainly as a standout special teamer as a true freshman before becoming a three year starter for the Eagles. In 2019 he suffered a knee injury in the spring game, but fought his way back for the final month of the season, totaling 30 tackles with 3.5 TFLs and two sacks in four games. And just to prove his knee is fully healed, he was fifth in the FBS with 107 tackles. He's enough of a mover to stay with receivers and tight ends in man coverage, with good range, change of direction and agility playing chase and run. Despite not being the hugest guy, he plays with the good kind of violence coming downhill as a run stopper, but the movement and reaction to spy running quarterbacks. He not only plays with a motor whose RPMs are always on the red, he's a coach's son. Belichick might as well just swipe right this second. But I guess he has to wait to see who else crushes on a guy with this kind of bio.
Compares to the other leading brand: Eric Kendricks
The Perfect Patriot: Zaven Collins. If the Pats have a type at this position, Collins is it. Big, tough, powerful run-stuffers who will take on a fullback or pulling guard, fight off the block and either make the stop or reroute the play for someone else to. But also someone smart enough to know what the other 10 assignments are and versatile enough to make plays from all over the first two levels. From Ted Johnson to Jerod Mayo to Hightower and even Junior Seau (RIP), it's been an essential building block to have that guy in the middle of the middle of the D.
Whom the Patriots will draft:  Collins. This of course depends on him falling into the second day of the draft, in that sweet spot where Belichick loves to move up and down the board to land the guys he targeted going in. Failing that I love Chazz Surratt as a mid-round pick. Regardless, I'll be surprised if he doesn't end up using a late one on Isaiah McDuffie. Like I said from the outset, you can never have enough linebackers. 
Earlier Previews: