The Latest Report on Julian Edelman's Knee Sounds Pretty Grim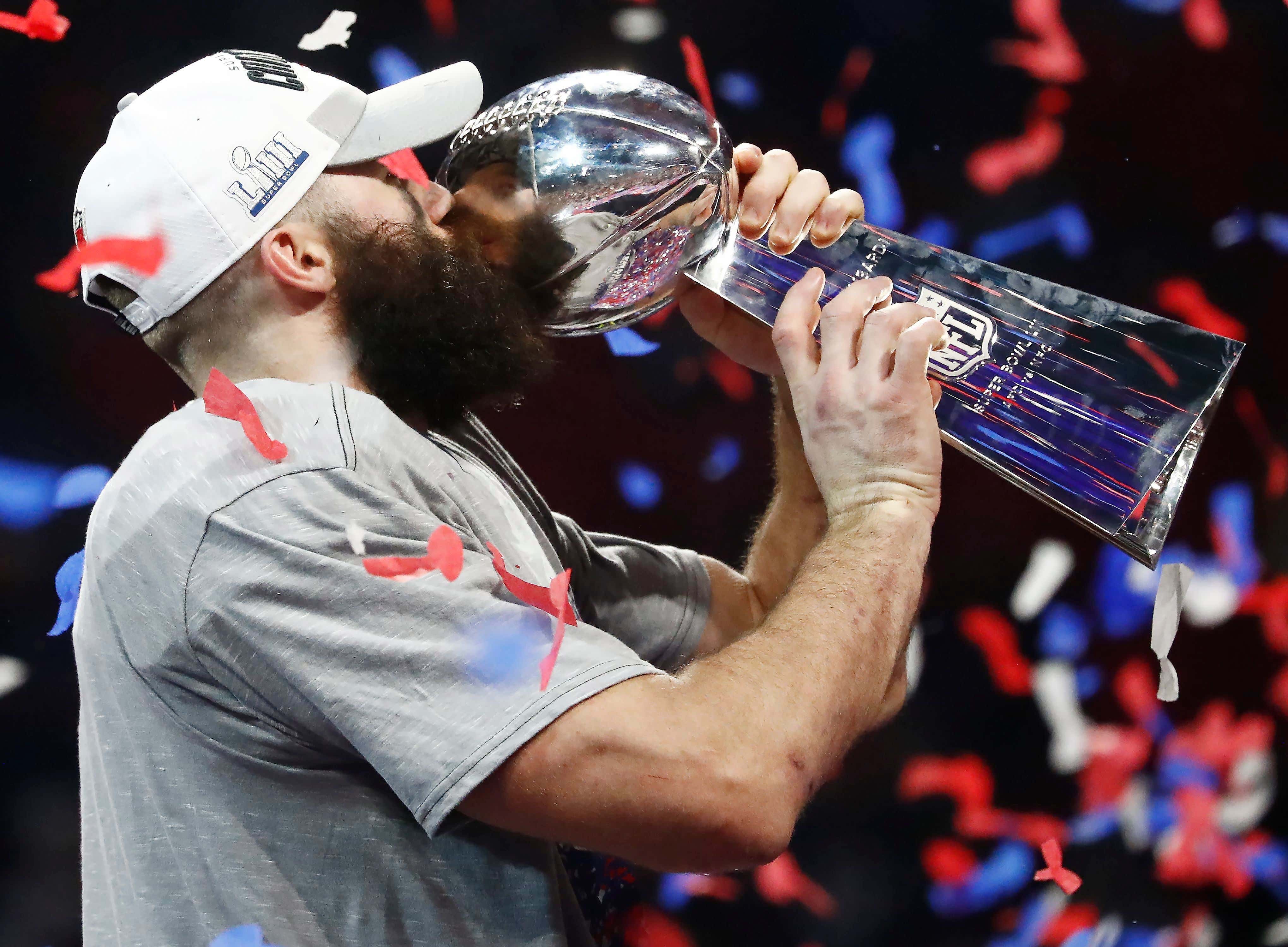 LARRY W SMITH. Shutterstock Images.
Making the case that the return of Julian Edelman is important to the Patriots is stating the painfully obvious like nothing else could be. If I explained it, you'd have every right to feel insulted and demand to speak to my manager. Everyone knows how much he was missed last year. There are Masshole children who were in the womb during his 100 catch, 1,117 yard 2019 season whose first words were "This sucks" when he got hurt in 2020. Animal behaviorists have detected the psychological affects of his knee surgery in pets throughout New England. Seashells on the Cape and Islands play the sound of his injury when you press them up to your ear. People who live in developing countries overseas whose only exposure to American football was wearing an "19-0" shirt when they were kids learned the English word "fucked" just so they could express how bad the Pats were without him last year. 
So I don't need to delve into the numbers beyond reminding you that, even though Edelman toughed it out through six games before having to shut it down for the year, he still finished fourth on the team in receiving yards, third among wide receivers. His future has been in doubt ever since. Which is why the team spent (popular opinion would say overspent) to bring in Nelson Agholor and Kendrick Bourne. Because without the Super Bowl LIII MVP, their receiving corps was to the rest of the league's what the AMC Gremlin is to the Tesla Model X. 
Which is why this latest update is pretty much the worst news of what has been a surprisingly upbeat 2021 offseason so far:
Boston Herald -  Julian Edelman is going to try and gut out another season with a chronically troubled knee. …

According to a source familiar with Edelman's situation, it's doubtful he will be able to play the entire 2021 season. The knee has already hampered him for the better part of two years. 

While surgery can provide temporary relief, nothing can solve the underlying problem, the source said.
That's just brutally discouraging to hear. You can be optimistic, look at Edelman's whole career and how much he's overcome to this point and say that he's a guy who's always thrived on this kind of doubt. And of course, you'd be right. A small school quarterback who gets drafted in the 7th round and transitions into one of the most prolific slot receivers of his generation - not to mention shutting up the mob who were outraged at the mere suggestion he could replace Wes Welker - as well as becoming a three time champion, has made a lifestyle out of defying the odds. But when a guy makes his living making precise cuts in the short areas of the field with pivot routes, choice routes and whip routes, not to mention the occasional jet sweep, the only thing worse to hear than "knee surgery" is the phrase "nothing can solve the underlying problem." And while you appreciate him trying to gut it out and see how it goes in the Fall, it's hard not to think this could be a Dustin Pedroia-like end for him. 
From the team's perspective, there's been no doubt that receiver is a priority in this draft. Now with this news added to reports the 49ers are most definitely going to take Mac Jones with the 3rd pick, making it harder for them to get their hands on a QB with enough experience to plug in as their starter this year, it feels like adding a wideout will be the priority. 
As far as the cold but necessary business calculations, the Herald adds this:
Edelman still has one year left on a deal that would pay him a base salary of $2.8 million, along with a cap hit of $6.1 million, according to Over The Cap. If Edelman is traded or released, the Patriots would be on the hook for roughly $2.6 million of that, freeing up about $3.5 million in cap space.
It's hard to imagine they'd just release a guy who's done so much for them. He's No. 2 on the all time postseason receptions list for crissakes. It feels like Paulie handing Henry Hill a wad of bills and saying he's got to turn his back on him. And all Edelman did was have his body break down after all that heavy traffic he took hits in, not betray his crime family. But it sounds like a decision that's going to have to be made between the coaches, the medical staff and the accountants to determine if his knee is worth the risk or if they'd be better off with $3.5 million in cap space.
Hopefully Minitron will defy all expectations again and save at least one more season in New England. If not, then we can start the countdown to when he's eligible to become a first ballot Patriots Hall of Famer.