The Official Barstool 2021 Masters Tournament Preview (Featuring The Entire Field Of 88 Golfers)
Patrick Smith. Getty Images.
It's the best time of year baby. We're back at the crowned jewel of the golf world, just a mere 5 months after a fantastic and unprecedented Fall Masters. Dustin Johnson put on a performance for the ages with a record 20 under par score to finally win his first green jacket. We had no patrons, no par 3 tournament (still don't on that one), but it's great to be back in our traditional early April spot on the schedule. And lemme tell ya folks, Augusta National is POPPIN
There's a lot to dive into here (this blog ran over 4,000 words in the fall) so let's have at it.
The Course
David Cannon. Getty Images.
Come on y'all. We know what this course is all about. It's the only major that's played at the same course every single year. That's what makes this such a treat. It's a course that measures about 7,500 yards depending on the tee boxes on a given day, but can play a lot longer due to the massive elevation changes around the course. It's a course that rewards distance off the tee, but does not penalize accuracy as much as some others. There's no 2nd cut of rough anywhere on this course. You can find yourself in plenty of trouble in the trees, but a little creativity and patience can help you avoid a big number. Water is the one place where you can find yourself in trouble, and that exists over in Amen Corner and on the par 3 16th. We all saw what kind of role Rae's Creek can play a couple years ago when everybody but Tiger put one in the drink on 12, and then we saw it bite Tiger in the ass in November too.
The thing that makes Augusta National what it is is the undulating nature of the entire place. Without any gnarly rough, the bumps and slopes are one of the few ways this place protects itself, which it's done pretty well for itself going on 85 years now. The greens are traditionally some of the fastest and most challenging on Tour. And the hills aren't just obstacles around the greens. There's hardly an even lie on the entire course that isn't a teebox. So these guys are going to be dealing with all sorts of side lies, downhill lies, uphill lies, and everything in between. Ton of shelves on this golf course so making sure you put the ball in the right spot is absolutely key here.
The Format
88 golfers at this year's edition with a 36 hole cut for the Top 50 and ties. In the Fall (presumably due to daylight issues) they got rid of the "within 10 strokes of the leader" exception to the cut rule and played off split tees. We're returning to everyone teeing off of 1, but they are not bringing back the 10 stroke rule. So it doesn't matter how far the leader gets out in front of the pack, you better keep your eye on whoever is right around that 50th place spot on Friday afternoon.
The Conditions
Modest chance of some rain rolling on a couple of days here, but it's not anticipated to be a long downpour. Should mostly be smooth sailing. Good warm temperatures with some decent wind blowing through to wreak some havoc. That's the weather factor.
As for the conditions……… we saw this course play extreeemely soft in the Fall with rain coming through virtually every day, and the results showed it. These guys were on attack mode throughout the Tournament, and the firmness of Augusta National is really how the course defends itself. I thought Phil made a great analogy today at the range:
I think Augusta National is going to be out for revenge. Most courses on Tour have subvac systems under the greens so that they can dry wet greens more quickly and firm them up by sucking moisture out of them. Augusta National has subvacs under the fairways. Generally they can make these greens and fairways as firm as they want to, the rain was just so perpetual in the fall that it was just an impossible mission. This week that shouldn't be an issue. I think they'll try to swing the pendulum back in the other direction and really give these guys a test. I think the winning score comes in around 14 or 15 under and only a small handful of guys crack double digits.
The Field
The Past Champions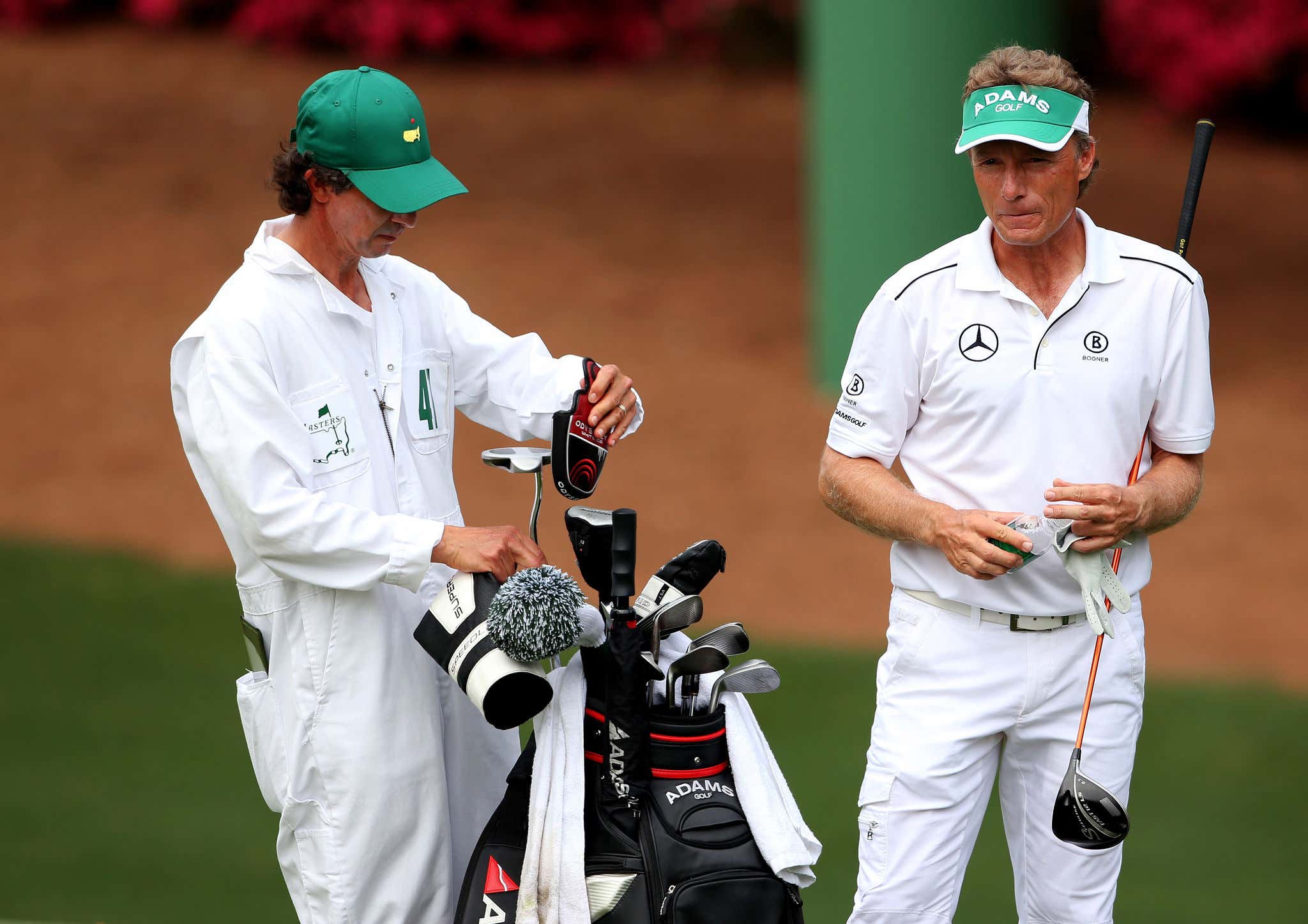 Andrew Redington. Getty Images.
These 7 guys have zero shot at winning and are simply cashing out their rightful prize of a lifetime spot in The Masters. Jack Nicklaus was the oldest Masters champion in 1986 at 46 years young. All of these guys are well past that age and these guys ain't Mr. Nicklaus. 
Ian Woosnam
Larry Mize
Sandy Lyle
Mike Weir
Vijay Singh
Jose Maria Olazabal
Fred Couples
Bernhard Langer
Langer made the cut last year and finished T-29. He may be worth a flyer for a Top 20 +1400. The rest of these guys you're probably looking at make/miss the cut action.
The Amateurs
ERIK S LESSER. Shutterstock Images.
If you know anything about Augusta National Golf Club and its founder Bobby Jones, you know that amateur golf is an integral part of the The Masters Tournament. No amateur has ever won (Ken Venturi came closest, losing a 4 shot 54-hole lead by 1 after shooting an 80) and with the way these Tour pros are playing right now, that's not changing any time soon. Either way, any amateur who makes the cut will be competing for the Silver Cup, awarded to the Low Amateur at the Tournament. Jack, Tiger, and Phil are all guys who won it as amateurs, so it's nothing to shake a stick at. 
Typically there are 6 amateurs in the Masters. Due to cancellations of amateur tournaments around the world, there are only 3 this year. 
Tyler Strafaci (US Amateur Champ)
Charles Osborne (US Amateur Runner-Up)
Joe Long (British Amateur Champ)
Thanks For Coming Out
Jared C. Tilton. Getty Images.
This is a massive pack of guys who are very likely not factors in this years Masters. Most of these guys qualified by one of these 4 ways:
1.  Winning a PGA Tour event after the original date of the 2020 Masters (so after the COVID break)
2. Making the Tour Championship back in September
3. Placing in the Official World Golf Ranking Top 50 at the end of calendar year 2020
4. Winning a major championship 5 years ago (making this the final year of their exemption into the Masters)
5. Snaking their way in with a top 12 performance at last year's Masters that surely won't be replicated (looking at you CT)
Sometimes catch fire in a given week and are able to steal a PGA Tour win and get into this field. Other guys just find really great form in the early FedEx Cup playoff events and find themselves in the field at East Lake. But that doesn't necessarily mean they're going to be factor on golf's biggest stage versus the world's very best. Sorry, but these guys aren't winning, period.
Matt Jones
Brendon Todd
Lanto Griffin
Martin Laird
Michael Thompson
Robert Streb
Henrik Stenson (I respect the way he won his Open in 2016 and kinda just packed it in for his career. I feel weird putting him in this group but his performance at THE PLAYERS was horrific and I just can't justify putting him anywhere else)
Jim Herman
Stewart Cink
Hudson Swafford
CT Pan
Dylan Fritteli
Hudson Swafford
Jimmy Walker 
Brian Gay
The Longshots
Kevin C. Cox. Getty Images.
These guys are a tier above the "Thanks For Coming Out" Guys, but really don't have too much of a chance. It's not unforeseeable to see one or two of these guys on the front page of the leaderboard on Sunday, but these guys ain't taking home a green jacket either. What separates these guys from the guys above is that they're a bit more consistent recently (Conners and Harman) or have proven themselves on bigger stages (like Si Woo winning the 2017 PLAYERS and Willet here) and aren't in great recent form. 
Harris English
Corey Conners
Shane Lowry
Si Woo Kim
Brian Harman
Gary Woodland
Sebastian Munoz
Danny Willett
Cameron Champ
Francesco Molinari
Max Homa (I like Homa best of this group. Alllllmost put him in the 2nd Tier group down below. May be worth taking him in some matchups against some of these other guys)
The Little-Known Internationals
Kevin C. Cox. Getty Images.
These guys are unknowns to general sports fans, but if you follow golf closely you've probably heard of them. Each of these guys have played enough golf on the world's biggest stages to not be phased by the bright lights of Augusta National. I would be shocked if one of these guys nabs a green jacket but hey, nobody saw Danny Willett coming either. If I had to pick one of the group it would easily be Ancer. I also like Bob MacIntyre for Top Debutant. Lefties love Augusta and he earned his way into the field the hard way - grinding his way into the World Top 50 from the European Tour. We're getting a little closer to the real field.
Joaquin Niemann
Victor Perez
Abraham Ancer
Christiaan Bezuidenhout
Robert MacIntyre
Carlos Ortiz
Matt Wallace
Mackenzie Hughes
Bernd Wiesberger
The Veterans
Jamie Squire. Getty Images.
These guys have been around the block before. Some are former major winners. Others are just Tour regulars whose games just aren't at the level it takes to win a green jacket. All have played the Masters and a couple have even won it. But these guys aren't all that likely to win. A couple may contend, but this ain't their year. Sorry.
Ryan Palmer
Louis Oosthuizen
Adam Scott
Jason Kokrak
Kevin Na
Kevin Kisner
Marc Leishman
Matt Kuchar
Ian Poulter
Zach Johnson
Phil Mickelson
Charl Schwartzel 
Veterans With A Chance
Jared C. Tilton. Getty Images.
Same as the section above, but these are guys I can actually see putting together 4 rounds and winning this year's Masters. From here on out, we've got guys worth talking about, so I'm going to do exactly that.
Webb Simpson - Former US Open winner who had his best year in 2019 and his game really hasn't fallen off either. He's probably the best of this group and I don't think anybody is talking about him going into the week. Could be a sleeper.
Billy Horschel - Won the match play two weeks ago, which was enough to bump him out of the previous category. I can't see him in a green jacket but he's got recent form so can't write him off.
Paul Casey -  solid history here, including a Top 10 in 5 out of 14 tries at Augusta. Strong iron play will always give him a chance to be on the leaderboard here.
Lee Westwood - Had that sweet little run a few weeks ago where he finished runner-up in back to back weeks at Bay Hill and Sawgrass. Would be the oldest winner here.
Tommy Fleetwood - Game has fallen off a bit over the past year or so. A couple years ago I'd really like his chances here. Now I'm kinda lukewarm on him. Never got that big win stateside to really push him forward. I think everybody likes him so hoping he turns it around.
Hideki Matsuyama - Low am here in 2011. No wins since 2017, but not like he's bottomed out. Looked good for most of last week in San Antonio. Looks like he's muted the pause at the top of his swing a bit, so he's tinkering.
Sergio Garcia - Obviously had his break through here in 2017, and shows up every so often. Snuck a win under everyone's noses last summer on Tour too. This is his 22nd Masters so he knows his way around the property.
Justin Rose - I was hot on this guy for years at Augusta. His track record here is really good in spite of a couple rough years. 14 cuts made in 15 years, including 12 top 25's. Two runner-ups, including a playoff loss to Sergio. Hasn't contended anywhere recently, which is why he's fallen back into this bucket.
Jason Day - Can you believe this guy is only 33? We treat him like he's in his 40's and rightfully so. His back is always an issue. Half the time he can barely bend over to pick the ball up out of the hole. It feels like it wasn't that long ago since he was on top of the golf world but 2015 was over half a decade ago. He's incredibly talented and an unreal putter of the golf ball which can give him a chance at a place like this, but odds are his days of contending here are fading.
Bubba Watson - It's not like he's playing terribly on Tour, but he really hasn't been in the mix in at all either. He's renowned for being a guy who shows up at a small handful of courses that fit his eye (Riviera, TPC River Highlands, and here) so never say never. But the days of him winning 2 out of 3 green jackets is probably in the rearview.
Who The Hell Knows
In my fall preview this was a special category reserved for Spieth and Rickie. Each have worked their way out of this category. One is playing this week. The other is not. I'll leave it at that.
The Young Guns
Jared C. Tilton. Getty Images.
Viktor Hovland - Came out of a ridiculously talented college graduation class with Morikawa and Wolff and was probably the most highly regarded of the 3 at the time. I can't at all say he hasn't delivered because he's won a couple of times, it's just that Morikawa has blown past these other two. Hovland can strike the ball as good as anyone and that type of iron play can give him a chance, I just don't trust him enough with a wedge or a putter in his hands around these types of greens. He's improved on those two things for sure and that showed when he when at Mayakoba in December, but he's still not quite there where I think he's ready to win a green jacket.
Will Zalatoris - Will is easily the least accomplished of those in this group, but he earned his way into this field with remarkably consistent play on the California and Florida swings to get into the world top 50. Just a really steady climb after graduating from the Korn Ferry Tour last year. He hasn't broke through with a win and really hasn't been in contention on the back 9 on a Sunday either, so in that sense he probably doesn't belong with these guys as somebody who could really win. But it wouldn't shock me if he plays the weekend and backdoors a top 10. If Smylie Kaufman could play in the final Sunday pairing here, then so can Will. Let's just hope he doesn't go down the same path.
Sungjae Im - His play in the fall where he finished T-2 to DJ was ridiculously impressive, but I don't think it surprised anybody who watches golf closely. He had been really consistent for a couple of years and he broke thru with a big win at the Honda just before the COVID break. He's made the cut in every event he's played this year, but only has one top 5 in a limited field event at Kapalua. Consistency is a great asset to have, but it just doesn't feel like he's peaking at the right time. We'll see.
Matthew Wolff - Wolff is kind of like the anti-Sungjae. He's crazy inconsistent. But when he's good, it's a sight to behold. Literally and figuratively. He can hit the ball a mile which is how he was able to keep up with Bryson at Winged Foot most of the way. But I can't get some of his recent performances out of my head. The WD after an opening 83 at the Concession doesn't bode well for anyone's confidence in Wolff this week.
Scottie Scheffler - Scottie's going to have a great career and he showed why by making the final of the match play in Austin a couple weeks ago. But it was abundantly clear to me that the amount of rounds he played that week took a toll on him (and to be fair, it did to Horschel as well) and he played pretty terribly in that championship match. I thought that warranted him pulling out of the Texas Open last week to recharge, but he went ahead and played it and finished T-53, meaning he made the cut and played another 4 rounds. Augusta is a course that can be a taxing walk and I think fatigue will be a factor for him. Sure, he's young and I'm probably reading too much into it, but I can't shake that notion.
The 2nd Tier
Jared C. Tilton. Getty Images.
Patrick Reed - Ridiculously sick short game that can play anywhere, as we saw at Torrey in January. Helps that that goes even further here at Augusta, as seen in 2018. I don't hear anybody talking about him at all and I think there's value in him at 33/1.
Tyrell Hatton - I think Hatton would've loved for this tournament to have been played a couple months ago. Peaked far too early when he rose to #5 in the world in late January. Seems kind of lost since. MC at THE PLAYERS and swept at the Match Play.
Patrick Cantlay - Briefly had the lead on the back 9 of that awesome Sunday where the Big Cat won #5. One of the most underrated players on Earth, mostly because he's vanilla as all hell. But he has won the Memorial which is a course with some similarities to Augusta and won the Zozo in the fall. He's spent more weeks in the World top 10 in the past year than he hasn't. I would not be shocked at all if he breaks through here.
Brooks Koepka - I still cannot believe this fucking guy is playing 3 weeks after knee surgery. Have you seen the way he's reading greens? Dude cannot even bend his knee.
But he's Brooks Koepka. He's all about proving doubters wrong. I just don't know what to do with him here. Swing looks normal in his range sessions but walking this course is no picnic. Plus he's got his team doing hours upon hours of physio therapy. That's gotta be draining at some point, right? RIGHT???
Tony Finau - Maybe this is Tony's week. Probably not. But I won't be missing out if it is. I'm on Tony 33/1.
Daniel Berger - Here's a guy (Collinsworth voice) who is a lot like Cantlay in that he has won a handful of times on Tour, he's gotten himself inside the World Top 15, but he's relatively bland so he doesn't really attract a lot of attention. There haven't been many golfers better than Berger since the COVID restart, and he might have a chip on his shoulder after they didn't make an exemption for him to join the fall 2020 Masters after failing to meet the qualifications at the start of the COVID break. Rules is rules, but I'd probably try to channel that too.
Matthew Fitzpatrick - Fitz is consistently one of my favorite guys to bet for finishing positions at majors the last couple of years. He loves golf courses that play tough and I expect the course to play tough this week. The worst he's finished is 18th in his last 6 events so his form is pretty good. Take a crack at Fitzy Top 5 +275 and thank me later.
Cameron Smith - He's the guy who tied Sungjae for 2nd behind DJ, and he was actually the first player in MASTERS HISTORY to score all 4 rounds in the 60's. I mean that's just insane. His 15-under score would have won all but 5 Masters Tournaments. Tough. That wasn't even his first rodeo at Augusta, as he notched a T-5 in 2018 as well. Good but not great form coming into this week has me favoring Fitz over Smith, but you can't go wrong with either. 
The Heavyweights
Keyur Khamar. Getty Images.
Rory McIlroy - Needs this one for the slam. Every time I hear him talk about how… content he is with the idea of potentially never winning a green jacket I somehow buy more into the idea that having that pressure lifted might actually help him do it. God knows he's got the swing, he's got the shot shape for this place, he's got the talent to do it. But his recent form with him falling apart at Sawgrass and admitting that he's been chasing speed and had lost his way a bit is obviously troublesome. Plus he has this tendency to take himself out of majors with one horrendous round, most often the 1st round. So here's the scoop and I'm gonna tell ya. If Rory gets thru Thursday with a good clean 70 or so that has him on the 2nd page of the leaderboard, we hunt the board and see what kind of value might be there and go from there.
Xander Schauffele - The X man is another guy flying under the radar a bit, probably because he has no top 10's since the Waste Management. But even with that, he's still ranked #6 in the world. He was part of that trio with Koepka and DJ who finished T-2 here in 2019 behind Tiger, so can play here. He's won and had success at Kapalua, which is a course with steep terrains and uneven lies just like Augusta. He's worth a look at 22/1.
Jon Rahm - Sooooooo much is going to be made of him being a new dad. Like so much. It's great and I'm happy for him, but that narrative is going to be beaten into the ground by the time he reaches the 2nd green on Thursday. Tons of jokes about how he hasn't gotten much sleep this week yada yada yada. There's just no way him having procreated with another human 9 months ago can have a material effect on whether he can hit a little white ball where he wants to. Anyway. I don't like Rahm this week.
Collin Morikawa - This is a 2nd shot golf course and there's few iron players on planet Earth better than Morikawa. His irons are so fucking prolific that when he was in college at Cal, they did dispersion testing on his 6-irons and he tested as accurately as the average Tour pro does with their pitching wedges. An average tour pro probably has about a 50-55 yard gap or so between those 2 clubs. In other words, he is equally as deadly from 50-55 yards further back in the fairway as his competitors are. That's so insane. The one knock on Kawa is that he can be a disaster with the flatstick. He's losing nearly half a stroke to the field in every round he plays, which is 179th of 217 on Tour. He made a grip change to a claw grip and put it into play at the WGC-Concession and won, but his putting success didn't carry forward in the next handful of events. This is a course where putting woes can be magnified. If he can just putt decent enough to stay out of his own way, I like his chances better than almost everybody in this field.
Bryson DeChambeau - It did not take long for him to become the talk of the driving range this week by hitting balls over 210+ mph. A lot has been made of his shortcomings in Fall and rightfully so, but the conditions this week are going to be wildly different. Bryson's advantage every single week isn't just that he puts himself that much closer to greens, which are thereby easier to hit. It's that he puts himself in position to hit shorter clubs with higher loft and control those approach shots when they land on those greens. With how soft and wet this course was in the Fall, the rest of the field could get away with flying mid and long irons onto greens and having them land soft and stop on a dime. Hell, Phil said today that he plugged a 5-iron on the 2nd green in his final round in November. So what I'm saying is a major piece of Bryson's advantage over the field is taken away from him when the conditions are that way. They won't be this week. So I wouldn't put all that much stock into that T-34 result last year. He's got a real shot this year, and 10/1 is probably about right where his price should be.
ALSO. I had him on my podcast this week and did a full Masters preview with O's pitcher Josh Rogers there too, so give that a listen.
Justin Thomas - JT was my pick to win in the Fall and finished solo 4th and he's going to be my pick to win this week as well. Every single time he's come to Augusta, he's improved his result: T-39, T-22, T-17, T-12, 4th. Next up is a W. The only thing that kept me from declaring Morikawa as the best iron player on the planet right now is the fact that JT exists. And JT isn't a ticking timebomb on and around the greens. He's a magician with a wedge in his hands. He has incredible feel and imagination and has all the shots in the bag. We saw it at THE PLAYERS a few weeks ago when he started slinging those rope hook stingers down the stretch. That's a shot that can play at Augusta. JT is a guy I'll bet every single year until he wins one because there's just no way this guy doesn't win a green jacket (and probably multiple) at a 2nd shot golf course like this one. Just a matter of time.
Jordan Spieth - What more is there to say? This is his bread and butter. I wrote a ton about this on Monday so I'll generally leave it at that. Big credit to me for buying up 45/1 tickets back in early February. I'll be rooting harder for him than I will for anyone else this week. Do the damn thing Jordo.
The Favorite
Patrick Smith. Getty Images.
#1 in the world. Defending champion. Lover of pigs in a blanket. Dustin Johnson can pretty much show up at any golf tournament and decide that everyone else is playing for 2nd. When he's at the top of the game, basically nobody's touching him. Only person who can maybe touch him on Tour is Rory circa 2014 and we haven't seen that guy in a long time. 
The one question is whether his ability to break through for his November win was aided by the conditions. I don't think that's the case. I'm a believer that Augusta National favors players who shape the ball right-to-left, but I don't believe it to be some sort of prerequisite like many did for a long time. I've even heard Cantlay and Morikawa (both natural faders of the ball like DJ) each make similar comments this week that they got caught up in fitting shot shapes to some of these infamous holes as opposed to just hitting the shape they know best. DJ's performance in the Fall was proof positive that nothing beats hitting it dead straight and long and sticking em close. There's no reason to believe he won't be doing a lot of that this week. If he brings his A game, he's gonna be tough to beat and that's why he's the favorite. If it's his B or C game…. giddy up.
And there ya have it. 4,675 words on the 2021 Masters. Should be a helluva week. Always is.
Enjoy the Masters.