A Successful, Well Respected Michigan Man Was Actually Funding A South American Drug Ring And Working To Build A Cocaine Submarine
Detroit News - A Grosse Pointe Park telecommunications CEO killed in a plane crash was secretly financing an international drug ring and building a remote-controlled submarine to haul cocaine around the world, according to unsealed federal court records.

Federal prosecutors revealed the secret life of Marty Tibbitts, CEO of Harper Woods-based Clementine Live Answering Service, on Thursday while filing criminal charges against an accused drug dealer arrested in North Carolina.

The drug ring and Tibbitts were developing a submarine designed to store cocaine and attach itself via magnets to the hull of cargo ships crisscrossing the Atlantic Ocean, according to the Drug Enforcement Administration.

The allegations clash with public details about the life of Tibbitts, a private pilot who founded the World Heritage Aviation Museum. He projected a dashing profile, posting social media videos and photos from the cockpit of vintage planes and lived in a sprawling mansion once owned by Alto Reed, saxophonist for Bob Seger & the Silver Bullet Band.
This fuckin guy Marty
Just seemed like everybody's average telecom tycoon that liked to fly planes in his spare time. Little did his neighbors know he was financing a Central American drug ring and building remote-controlled subs to transport lots of coke around the globe. All from his nice posh mansion in snooty old Grosse Pointe.
For those of you that have never been to Grosse Pointe, picture the neighborhood from Home Alone and the McCallister's house. Now picture the McCallister's house being somebody's pool house. That's how Grosse Point rolls. Stupid money. The houses there are like castles, sitting on major acreage. These people's landscaping bills gotta be six digits a year. 
Now for Marty Tibbetts, you know this guy was just slaying everything in town, divorced and soon-to-be-divorced. Real silver fox.
Not just anybody can step in and assume responsibility of Alto Reed, saxophonist for Bob Seger & the Silver Bullet Band's house.
Look at this guy. If you don't think you could smell the pussy from this place from miles away then you must not have eyeballs. Or eardrums. Listen to this horn-
Apologies for getting your undies all wet but had to prove the point.
So, it's safe to say Marty Tibbetts was a pretty big swinging dick in the telecommunications world if he was able to afford such a ridiculous house in Eastern Michigan's Beverly Hills. I don't have to tell you about telecoms though, you know.
How sick was this house you ask? Let's take a peep-
Not a bad backyard. The firepit is kinda dinky and could use some work but style points on all the glass overlooking the water.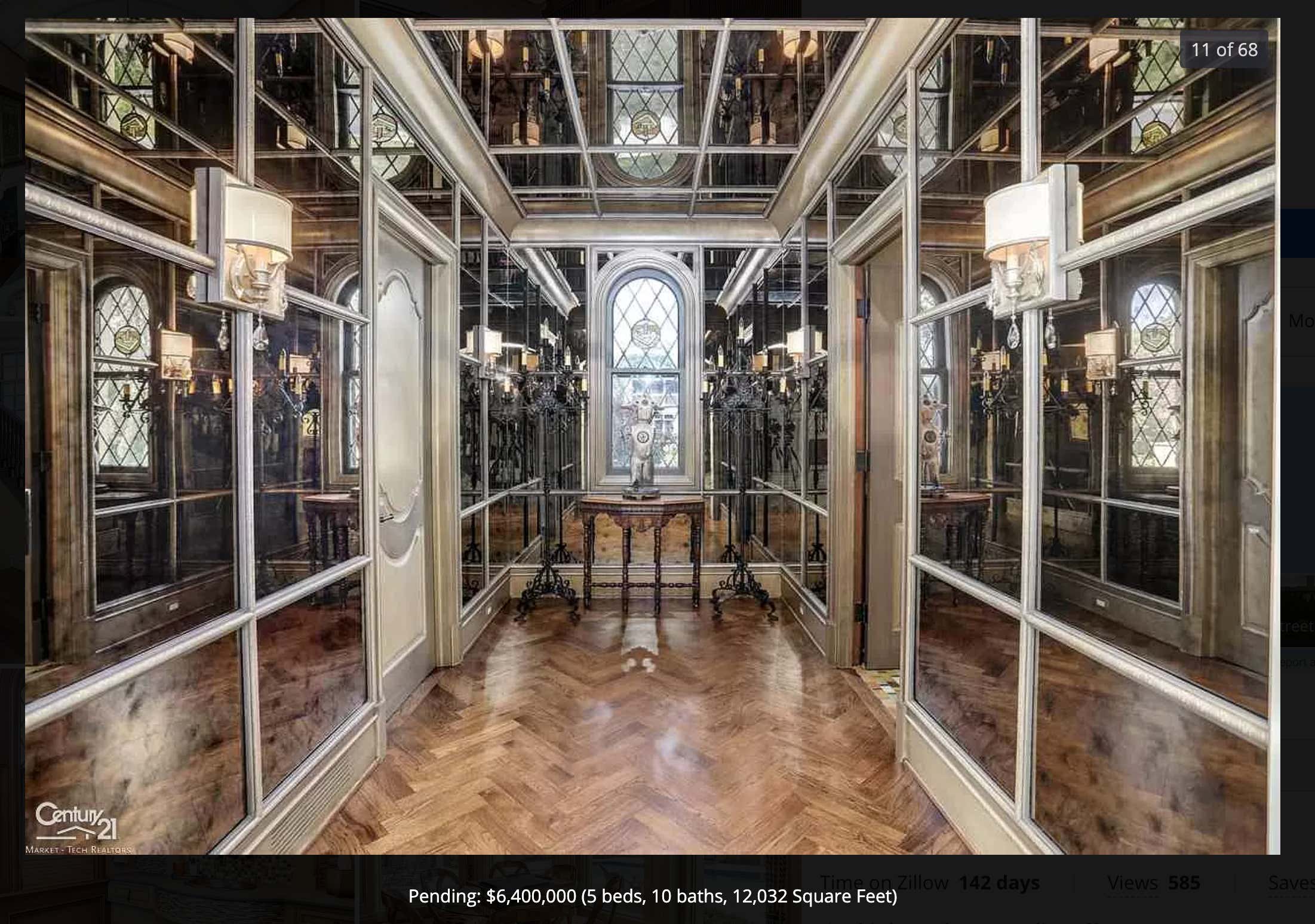 Not sure what kind of wack job would want a carnival funhouse hall of mirrors in their house but to each their own.
This office is incredible. Everyboyd knows rule number uno of dealing drugs is "never let no one know how much dough you hold cause you know the cheddar breed jealousy 'specially if that man fucked up, get yo' ass stuck up" (-C. Wallace) but rule number two has gotta be you need a jaw dropping office that both demands respect, conveys power, and intimidates the shit out of the person sitting across the desk from you. Plus look at the panoramic view of beautiful Lake St. Claire.
Have you ever seen a room that screams cocaine and group sex more in your life? 
Nope.
Drug dealers have safes in their homes.
Drug king pins have walk-in vaults in their homes.
It sucks Marty died and didn't get to see his cocaine submarine dream come to fruition. Who knows if his double life ever would have come to light had he not died. My money's on no chance.
Tibbitts, 50, died when his vintage plane crashed into a barn in Sheboygan, Wisconsin.

Federal court records unsealed Thursday describe a six-year-old drug investigation that reads like a James Bond script.

Tibbitts was financing a large part of the Didani drug trafficking organization and gave large sums of money, the DEA task force officer wrote. Some of the transactions happened in Wayne County.
At some point, Didani and Tibbitts conspired to design and create an underwater parasitic drone to store and transport large quantities of cocaine, according to the government.

They called the drone "The Torpedo."

The torpedo was designed to attach itself to the bottom of cargo ships via magnets. By utilizing an underwater modem, the torpedo would communicate with a remote operator who could track the drone's location via an onboard GPS device.

"The drone was intended to be remotely operated and could release from the vessel at the request of the operator and would send up a GPS location beacon to identify its current location," the officer wrote. 

The drug ring would be able to dispatch a fishing boat to the torpedo's location, up to 100 miles off the coast of Europe.

Investigators intercepted communications between Tibbitts and Didani from May 2016 through June 2018 that indicate a company was hired to build a prototype of the torpedo. Instead of a smuggling submarine, the torpedo was described as an "underwater hull scrubber device."

Tibbitts did not use his real name in communications with the company. Instead, Tibbitts used the alias "Dale Johnson."
Dale Johnson is an A+ pseudonym. 
"The company was not aware that the prototype was going to utilized for illegal purposes," the officer wrote.
Laugh out loud.
His death had a profound impact on the drug ring, according to the criminal filing.

First, the company building the torpedo prototype never heard from "Dale Johnson" after July 20. And his death triggered an international hunt for a new financier and methods to ship drugs worldwide.

Kindle-Walker said she'd known Tibbitts for at least a decade. He was a "normal, fun-loving guy," she said, who always prioritized the education and interests of the Detroit children participating in her group's young cadet programs.
You think you know somebody. But little did you know they were busying becoming the real-life Walter White or Michigan version of El Chapo right under your nose.