Jeff Saturday Tears Into Mr. Kraft for Taking 'a Shot' at Belichick's Drafting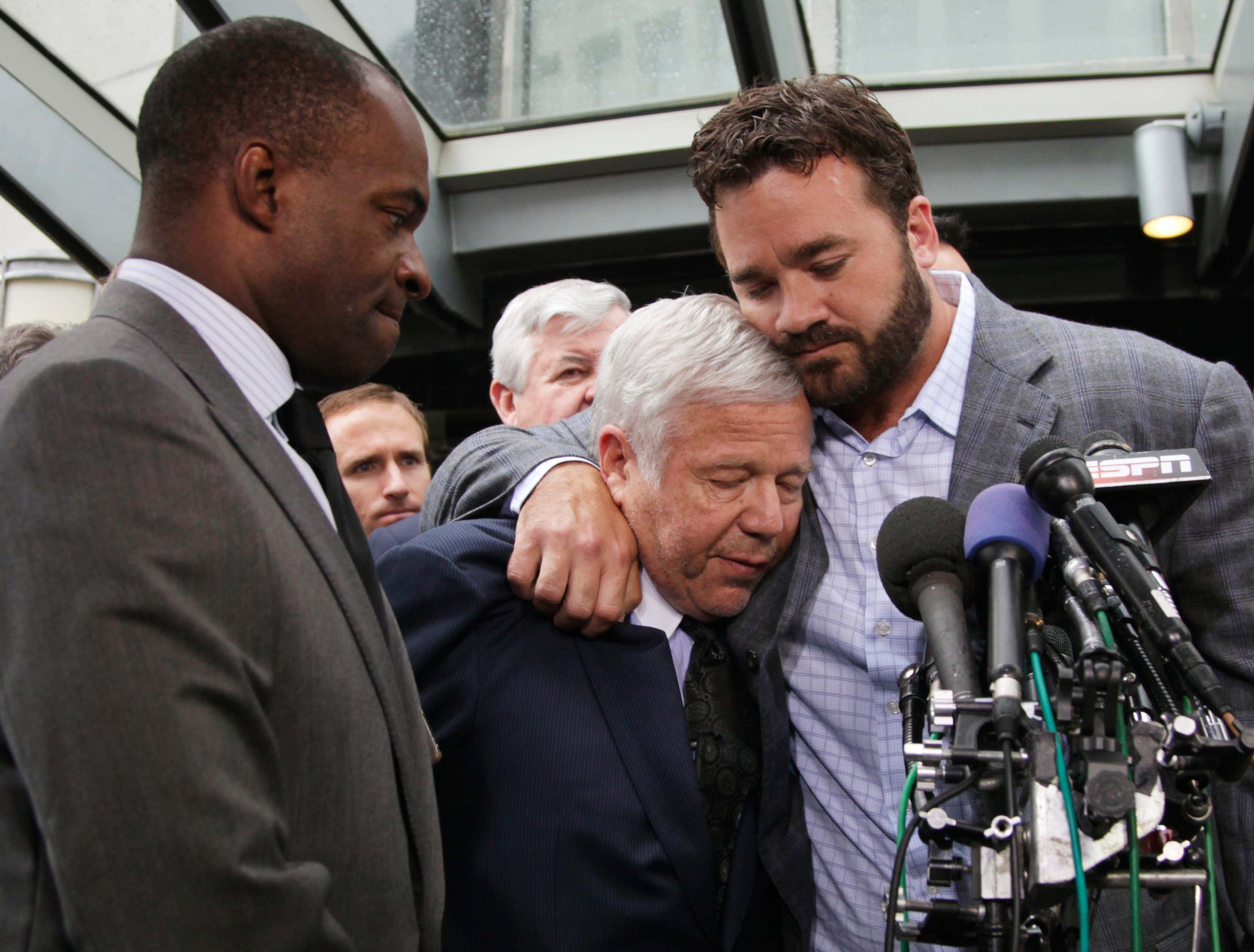 Carolyn Kaster. Shutterstock Images.
What a difference 10 short years can make. This photo is from the summer of 2011. A chaotic time of labor strife in the NFL. The players had been locked out by ownership, cratering the entire offseason. And it wasn't until Mr. Kraft, holding clandestine negotiations at the Nantasket Beach Hotel the quiet, honkytonk seaside town of Hull, MA (known locally as "The World's Longest Ashtray") found common ground between the NFL and the NFL Players association and ushered in an era of unprecedented labor peace. All while leaving his wife's bedside in a Boston cancer ward. 
For his efforts, the one his friends (me) call RKK was on the business end of this warm, emotional, and very sincere hug from Colts center Jeff Saturday, of whom he later said "Never thought I would grow to love & respect the guy who Peyton Manning put his hands on his tush every day." And a friendship was born. 
But that was then. This is now. When Mr. Kraft spoke to reporters a couple of days ago and said, among other things, "[T]he teams who draft well are the ones who will be consistently good. I don't feel we've done the greatest job the last few years, and I really hope — and I believe — I've seen a different approach this year," Saturday would have none of it. 
Appearing on ESPN's "Get Up!", Saturday saw the comments as a shot at the GM. And took the role of outraged, indignant, irrational, Belichick-defending fanboy normally occupied by me. 
NESN - "100 percent a shot. I think Bill needs to walk into Mr. Kraft's office and lay out their record over the past 10 years and the Super Bowls in '14, '16, '18," Saturday said Thursday on ESPN's "Get Up. "Think about how good this team has been and you're going to take a shot at how well they've drafted. I mean, I think this is a ridiculous comment. If you look at their draft, has it been impressive? How do you describe that? I think the wins are what we're all going for. 

"I don't really care if we win the draft. I care that we win football games and Super Bowls and the Patriots have continued to do that whatever their draft record looks like as far as what people are talking about. So why Kraft took that shot at Bill, I'm not really sure. I'm not sure if it's just what's happening with Tampa Bay and Tampa Tom making a Super Bowl — all those things. But man, if I'm Bill, I'm gonna go ahead and show him like everybody else, 'Look at the record, man.' Not a lot to complain about around here."
Look, while on the one hand I respect the hell out of Saturday, I am a little put out about the fact he's working my side of the street. Think of that part in "Shrek 2" when Puss in Boots shows up and Donkey has to remind everyone that the role of annoying, talking animal has already been filled. On the other hand, I'm not mad. I totally get what he's saying here. It is all about the winning games and postseason games and rings around here, and not about winning the draft. So it's fair to ask who Mr. Kraft is to question the personnel moves of the most successful GM in the 100 year history of the sport? The man who build his empire brick by brick? 
Good question. Allow me to answer. He's the head of an organization that is all about accountability, hard work, improvement, and never, ever being satisfied, that's who he is. He can demand that the scouting department do better because that is what is demanded of everyone is all aspects of the franchise. From the man (and best friend) who pull the trigger on draft picks to the area scouts to the guys who drive the equipment out to the practice field, everyone is determined to be better. And if you're all about hiding your mistakes and getting credit for your successes, you won't last in Foxboro. Never forget that the man who got all the credit for the greatest draft pick in the history of sports never took a victory lap for it. Because QB coach Dick Rehbein, who proverbially stood on the table of the war room in 2000 insisting they take Tom Brady instead of Tim Rattay, died before seeing his choice become the starter, much less the GOAT. Instead, others gave him his victory lap posthumously. 
Here's what I'm saying in meme form:
I mean, I would note that the recent drafts have worked out better than is being suggested here, by the owner and the general public. Last year's rookie class is very promising. Two years after the 2019 draft, N'Keal Harry is standing in his professional grave and 2nd rounder Joejuan Williams is only a depth guy. But Chase Winovich and Damien Harris are solid hits. The year before brought starters Isaiah Wynn and Sony Michel and, oh yeah, a sixth Super Bowl. And even the 2017 draft where they only had four picks, all in the 3rd round or later, still produced Deatrich Wise Jr., who just got re-signed to a long term extension. But "good" is never good enough in this organization. And you know who is most responsible for that core philosophy? 
Bill Belichick. 
So don't think for a hot second he's butthurt about his boss saying the drafting needs to be better. Nobody in all the world is better at acknowledging errors and moving on. Look at his track record of moving on from mistakes. How quickly he's released guys who didn't pack the gear to cut it in his beloved Corps. Duke Dawson. Cyrus Jones. Dominique Easley. Granted, we're only talking about a 5th round kicker, but Justin Rohrwasser is already gone without ever swinging a foot in anger in a real game. In New England, you move on. And mistakes only matter in that you learn from them and do better going forward. 
So while I appreciate Jeff Saturday's help, the effort is wasted on this team and this GM. Move along, folks. Nothing to see here. Just another nontroversy.