Mr. Kraft Has No Regrets About Losing Tom Brady and Anyone Who Thinks He Should is an Imbecile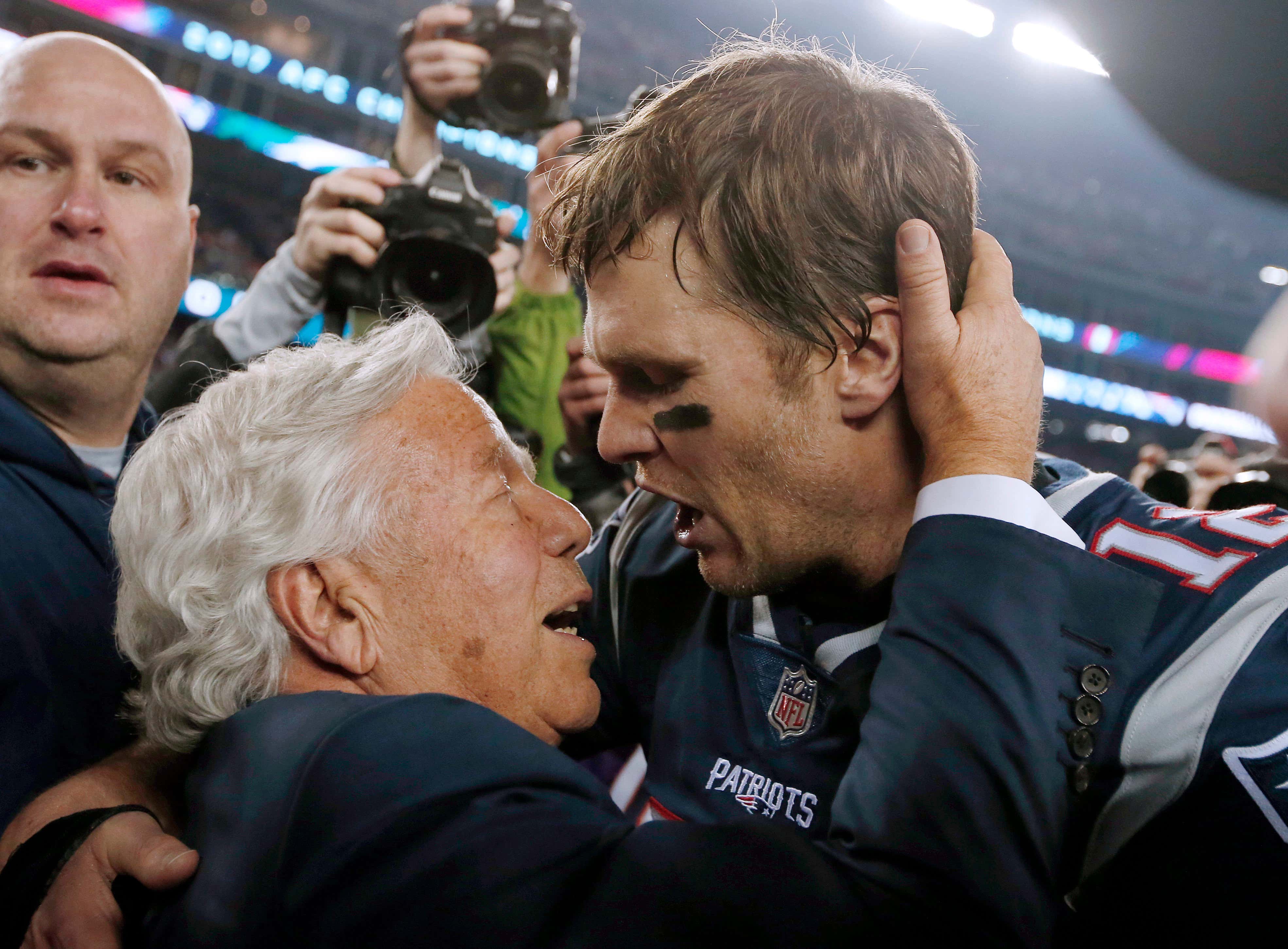 AP. Shutterstock Images.
For the first time since the Patriots season ended in the kind of failure and disappointment that are familiar company around the rest of the league but total strangers in our nape of the woods … neck of the wape … a member of the team's braintrust has done a press conference. Mr. Kraft normally speaks to the media this time every year at the NFL Owner's Meeting. But since 32 billionaires who no doubt got the ultra deluxe, 100% pure, lavender scented, Platinum Grade Covid shots made with the blood of virgin faeries as soon as vaccines became available still can't get together for some reason, all that is being handled virtually. Whatever. 
Regardless, the one whom I (and not you, so don't even think about it) get to call RKK took questions from reporters on a variety of topics. His team's radically different free agency season. The current state of his quarterback position. The future of his quarterback position. But all those questions were pretty much the small talk you get in the interrogation room from the Good Cop before the Bad Cop who's been leaning against the wall the whole time spins a chair around, plunks himself down into it and demands to know what went down on the date in question. In this case, what happened with Tom Brady and why did he leave. 
Q: Watching Tom Brady win a Super Bowl with a different team – did that lead to any feelings of regret that he and the Patriots didn't stick together longer?

RKK: I would have loved for him to retire as a Patriot. Everybody knew that but in life things just happen in a way that you have to balance a lot of things. After 20 years, I thought he was entitled to make a decision that was what he thought was best for him and where he was at. We gave him the ability to do that. It's like marriages sometime – no one knows on the outside everything going on and you try to balance a lot and it is what it is.

Q: Looking back – do you wish that you made a different decision on the team side to not give him that option given the way it's unfolded?

RKK: Well, after 20 years with any player, I'll make this commitment to any player in the future. Anyone who spends 20 years with us and helps us win six Super Bowls… look, we could have, contract-wise, kept him in our camp, but it's just not the right thing. Naturally, we want to win, but who knows what would have happened if he stayed here. Look what happened at the end of his last season here. …
And then, in regards to a different question:
RKK: In the end I trust coach [Bill] Belichick's ability to build a team and put the right players in the best position to succeed. Over the last couple decades he's done OK. I'm privileged to have good managers anywhere in the world – we're in over 100 countries. We give those people autonomy and we let them do their thing.
YES. This. Exactly. A thousand times yes. 
I think I can honestly say without fear of contradiction that no one was as traumatized by Brady pulling the trigger on #Braxit as I was. And continue to be. The 54 or so weeks since he left, went to Tampa, got Rob Gronkowski to unretire and then win a Super Bowl while throwing 50 touchdowns has felt like one long, extended version of one of those dreams where you're in school and realize you're naked. One there's no waking up from. In the 2020 Divorce Bowl, it's Brady 240, NE 0. No one would argue that. But the revisionist history on this topic has been off the charts.
For openers, what was Mr. Kraft supposed to do to keep him? When Brady's agent demanded a deal where he could leave after 2019 and a promise the team wouldn't franchise him, as RKK said, it had been 20 years. At that point if a guy wants to hit the crash bar on the exit door, you can try to talk him into staying, but you can't chain the door. You can tell the other side rules is rules and slap the tag on him against his will. But that's a tough enough move when you're talking about some cornerback nearing the end of his rookie deal. Players generally hate it and you risk losing the guy and the locker room. If you do it to a guy who's hung six banners in your stadium and been with you 20 years, it's a pure insult. You might as well put a up an invisible fence and slap a shock collar on the guy.
As far as the anti-Belichick zealots saying it's all his fault, I ask them: What was the owner supposed to do? At the time Brady negotiated that last deal, the team had just been to three straight Super Bowls. And were fresh off a sixth title where Belichick's defense put on the best performance in the history of the game. Did you expect Mr. Kraft to demand he change his ways? Fire him? Toss him into a volcano to appease the angry GOAT god? Anyone who says that were they in the same situation they would've chosen the coach who built this Dynasty over the unhappy, soon to be 42-year-old athlete is a liar or a dope. And I'm going with "both." 
Besides, the vast majority of the people saying RKK should've intervened and ordered that all of Brady's demands be met are the exact same people who ripped him for supposedly insisting Jimmy Garoppolo be traded to satisfy his QB1 back in 2017. And who 35 years ago were hammering him for "meddling" with Bill Parcell's team. Like the man said, he's got a business empire operating in 100 countries. He built it by hiring the best people and delegating. If you want an owner who makes all the personnel decisions, go root for Jerry Jone's team. And you do not want that. 
To repeat, the situation we've been in for the last year blows. It's humiliating. About as close to a worst case scenario as you can get. And they've been as aggressive in rectifying it as any franchise ever has in the first few weeks of the offseason. But that doesn't mean they should've done everything differently in hindsight. Shit sometimes just happens after 20 unprecedented years of success. 
Which brings me to maybe the best point RKK made. Read this exchange and tell me this team doesn't remain in the right hands:
What was your general impression of the team going 7-9 last year? Do you have a meeting with Bill after the season to summarize the season? What assurances do you have that personnel realizes the error of their ways and are ready to correct them?

RKK: I appreciate it. I'll answer your question by saying that the 34 years before we owned the team do you know how many home playoff games there were?

Q:  Zero?

RK: One. Do you know how many we've had since we've owned the team the last 27 years?

Q: A lot. 

RK: Twenty seven. And we went 23-4 and the previous 34 years they were 0-1.
Enough of the revisionist history. This team is coming back, fast. Despite what the haters say. And don't ever forget to Kiss the Rings.