The Deshaun Watson Saga Gets Weirder by the Hour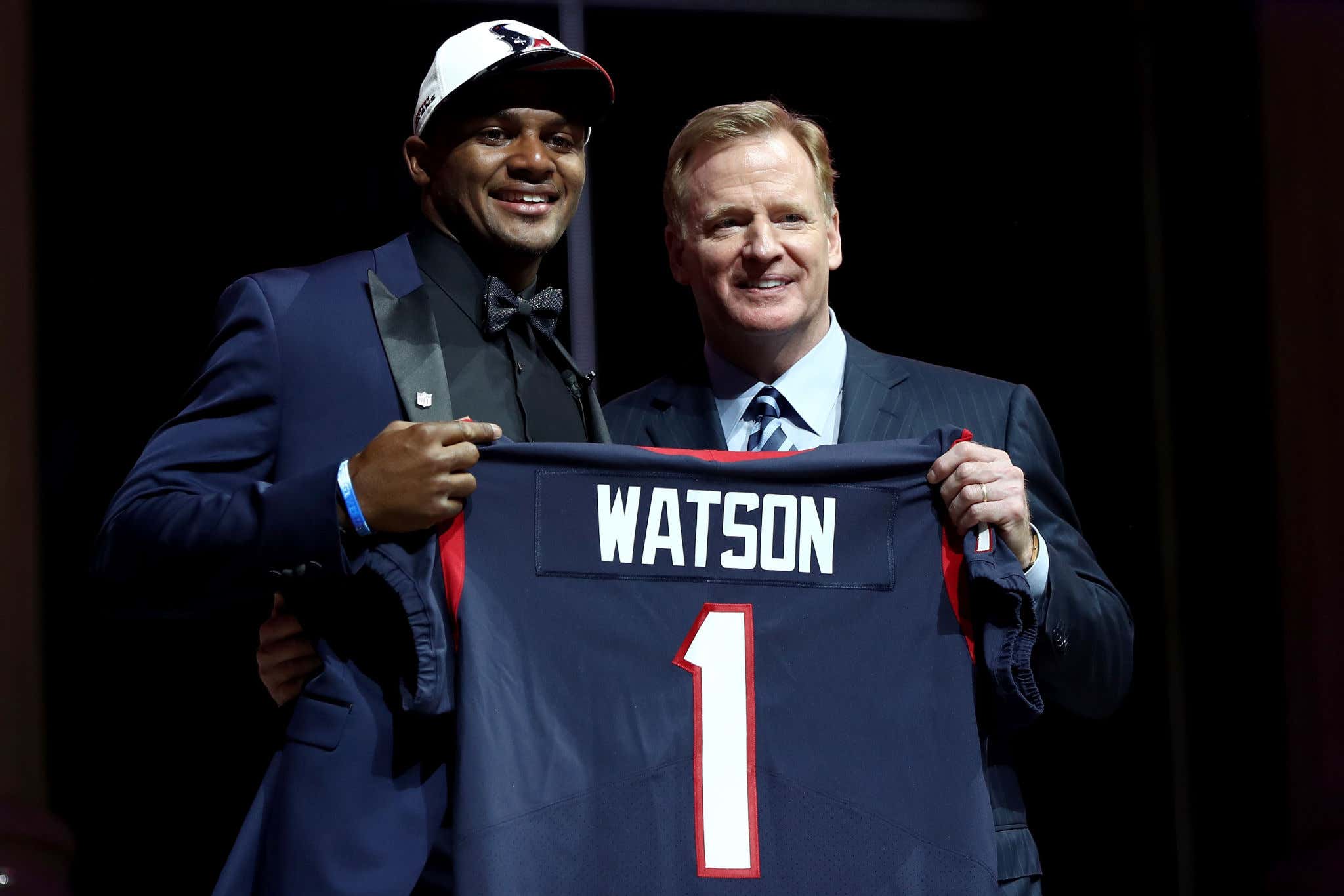 Elsa. Getty Images.
Life - and brace yourself if you've never heard this before because your brain is about to explode from all the wisdom about to fill it - is funny. You'd think things couldn't be better than being a 25-year-old franchise quarterback in a huge football market with three Pro Bowls and two trips to the playoffs in your relatively short career. Deshaun Watson is rich. He's respected by his peers. His future is brighter than the bathroom light when you get up to pee in the middle of the night. You'd think that if anyone was in a good situation on this messed planet, it would be him. 
And yet, it seems like there's been nobody more unhappy over the last few months than Watson. He wants out of Houston. Bad. His team has denied any interest in trading him. The suggested retail price to get him has been as high as three 1st round picks, just as openers. Nothing has been done, despite the reports that half the league has asked about getting him. And the situation his situation is in just keeps getting more surreal. To wit:
Source - TMZ Sports has obtained the lawsuit filed by a woman using the pseudonym "Jane Doe" to protect her identity.

In her lawsuit, the woman -- who says she's a licensed massage therapist who works out of her home -- claims she was first contacted by Watson on Instagram in March 2020 seeking a massage.

From the moment he arrived at her home, the woman claims Watson made it clear he was looking for a sexual encounter … and when the time came for his massage, he stripped naked on the massage table with only a small towel covering his groin.

The woman claims Watson had brought the small towel himself.

During the massage, the woman claims Watson kept directing her toward his genitals -- and said he wanted the focus of the massage to be on his "groin area."

At one point, the woman claims a fully-erect Watson exposed his penis and "purposely touched [Jane Doe's] hand with the tip."

The woman claims she was "shocked and mortified" and promptly ended the massage and began to cry.

That's when she claims Watson made a veiled threat -- "I know you have a career and a reputation, and I know you would hate for someone to mess with yours, just like I don't want anyone messing with mine."

The woman claims Watson apologized via text message but she didn't respond.
Big if true. While Jane Doe is certainly entitled to take her allegations to court, Watson is entitled to due process. No matter how much people love to take one side or the other based on who the accuser or the accused are. Reaching conclusions on something that might have gone on between two people you've never met based on you've read 10 lines about is demagoguery of the worst kind. But if this matter goes to court and evidence is presented against Watson - and just to repeat the word for emphasis - IF, then the damage to him could be permanent. No matter how ridiculous it is to prosecute someone for paying from a Rub & Tug from a consenting, professional, handie provider, allegedly trying to force a one from a licensed masseuse is a serious matter and deserves to be investigated. 
And it needs to be pointed out that Watson denies the allegation.
Here's where this gets weird and hard to work process. That "plaintiff's lawyer" he mentions is Tony Buzzbee, who is apparently a big deal in Houston. He ran for mayor. He campaigned for Rick Perry for President in 2012 and said he'd never vote for Trump, but then gave Trump a half million dollars for his inauguration. If you believe Twitter, he's pals with Houston Texans owner Cal McNair and was a dedicated Johnny Manziel enthusiast:
And ended his lawsuit filing with some pretty specific, self-serving flexing:
Like I said, weird.
I mean, if you're friendly with the Texans owner, why would you take on a client who's allegations are so harmful to his most important asset? And why time it for now, when Watson is trying to force a trade? Even if you think it's an inside job, orchestrated by someone of power in the Texans organization to hurt Watson, which is the natural speculation everyone is jumping to, how does this do anything but drop their asking price for him? If this suit goes anywhere in the weeks to come, Watson is on the Damaged Goods shelf and has to be marked down. So it's counter-intuitive to think team management would be involved, even if there's a relationship with this Better Call Buzzbee guy. Then again, the Texans have been so bizarrely dysfunctional, their franchise player is demanding to be let out of their asylum. So given what organization we're talking about, the idea they'd be involved somehow is at least plausible. 
Then you see the total 180 the top football beat writer in Houston has done in the last 10 weeks or so, and realize with Jack Easterby's Texans, anything is possible:
Pro Football Talk - On January 7, John McClain of the Houston Chronicle said this: "I've got a better chance of becoming the Texans' new head coach than Deshaun Watson has of being traded." Now, McClain says this: "The Texans haven't said they're not trading Watson since January. I expect him to be traded."
What a situation. What a franchise. All but maybe a half dozen NFL teams would commit homicide to get a QB of Watson's caliber. And now that he might be available he might also become a public relations nightmare. But he can't stay where he is, either. Stay tuned. Because however it shakes out, this is going to be the story of the offseason.