Jayson Tatum's Game Winner Last Night Was Exactly What He And The Celtics Desperately Needed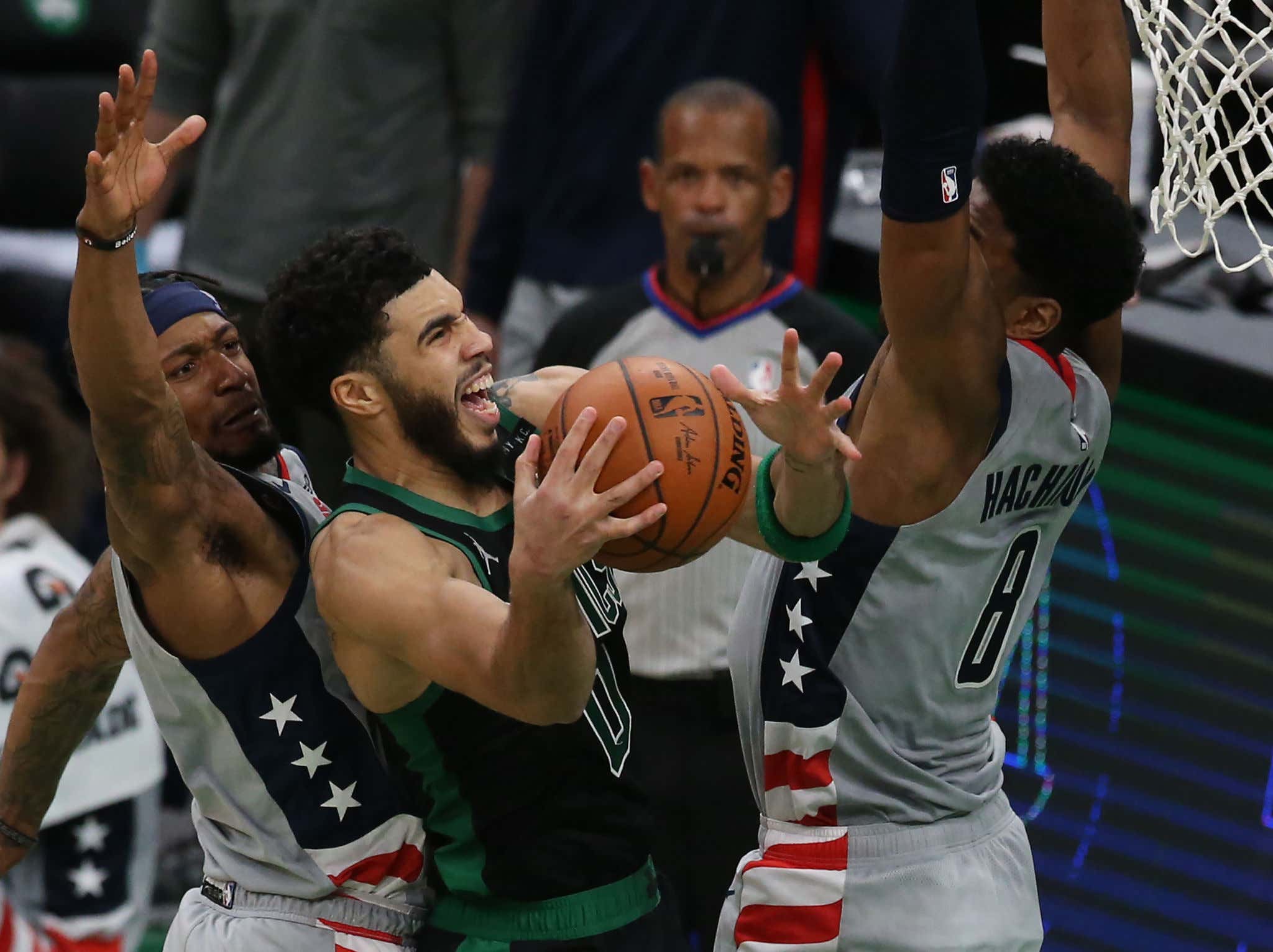 MediaNews Group/Boston Herald via Getty Images. Getty Images.
January 25th. Behind Jaylen Brown's 26 points the Celts went into Chicago and beat the Bulls, to give them back to back wins for the first time in 10 days. They would then go another 34 days without another set of back to back wins. That's pretty insane and also pretty pathetic depending on how you want to look at it. That streak would finally come to an end last night with the Celts somehow pulling out a clutch win over one of the hottest teams in the NBA at the moment. Yeah the Wizards are under .500, but they had also won 7 of their last 8 heading into last night, with wins over BOS/DENx2/POR/LAL. That's a pretty legit sample of teams. It was the win over the Celts about two weeks ago that kicked off that little run. Considering the Celts have been nothing but inconsistent for about a month now, coming off their much needed win over the Pacers in their last game, I wouldn't fault any Celts fan that was maybe a little skeptical heading into this game. How could you not be? 
This team has shown us the ability to bounce back and beat good teams before. That's not the question. The question was could they ever start to build off these good wins and then win the following game. That's been the problem. With Jayen Brown out and Smart still out, the only thing we knew to expect was that this game was going to be an emotional roller coaster. 
And boy was it.
The Good
- It took 10 games for a lot of fans to completely write off Kemba Walker. That he was cooked, washed up, and was never going to be the same player again. I get why that happened, his production was beyond terrible no matter how you wanted to slice it. In those first 10 games he was putting up 15 points a night on 34/30% splits. Production that absolutely deserves criticism.
After those 10 games I wrote this blog and told you not to panic, but to instead look at Kemba's actual history to see that slumps like that were pretty common.
So here's my question. If all it took was 10 games to completely write him off, well then don't you again have to change that narrative after his latest 8 games?
Over this stretch, he's back to putting up 22.4 points a night on 43/40% splits. That's basically in line with his career averages. Just look at what he was able to do last night
That's the old Kemba. That's the Kemba we saw make the All Star team and the third star this team desperately needs. It's not just the quickness to get to the rim looks the same, he's finally back to hitting his open threes. That's why I kept stressing that his issues were not health related, but were mostly a rhythm thing. 
Of course, we need to see more of this. This has to be how Kemba plays basically all the time for the Celts to have any consistency. I'm just curious about all of those people who wrote him off over a small 10 game sample, well here you go. Here's basically the exact same sample of him playing great and only getting stronger. Weird how narratives work right?
What I loved about Kemba's night was his scoring is what kept them alive early, and then it was his passing late that helped seal the deal. A nice 6 assists in the fourth quarter alone with 0 TOs, this is another game where we've seen Kemba show up late. That's very important moving forward. It's also very important that we're seeing him get back to getting into the paint (and finishing!) with ease. Like the Kemba we all remember. 
- Every once in a while we get a reminder from Daniel Theis why he's so valuable to this roster and why he works so well with the starting group. Last night was one of those reminders
Let me be perfectly clear here. Without Theis' midrange jumper barrage in the fourth quarter as this game was starting to slip away, we're blogging another frustrating loss. To say his fourth quarter was huge doesn't really do it justice. But we saw the value in Theis' versatility last night. He can make threes, and he's about as automatic as you can get for a center from 15 feet. He's the perfect safety valve whenever a team goes zone. Put him at the FT line and let him take the jumper. It works, and it's simple. The Celts went to it on like 4 straight possessions and he cashed it in every time. 
Who can complain about 20/9/3 on 8-11 shooting. That's the thing. When an opposing team doesn't have a gigantic imposing center, Theis can thrive. The reason why I feel like Theis has to play with the starters is because he helps create so much space. Especially when defenses want to key in on Tatum. I'll never get the people who don't think Theis is good. He is what he is and he thrives in that role.
- If you thought you needed to see this team come up huge in the clutch, that's even more true for Jayson Tatum. The man had a brutal February. No other way to say it. But when it was time to step up and come through for this team, Jayson Tatum delivered
There were a few things I loved about how this game ended. First, once we got to the 4 minute mark, we really started to see this team defend. It reminded me a lot of their effort in the Dallas loss. Then on the other end, there was no homerun hero basketball. They were aggressive. In the biggest moments of the game, Tatum didn't settle for threes, he attacked quickly and finished at the rim. Obviously, the biggest play came at the game winner, and this is where we're starting to see the evolution of Tatum's game. Earlier in the year I bet he takes a fadeaway jumper. It's a shot he can make, but also one that can drive fans mad in that situation. Instead, once he caught the ball and realized he had Beal on him, Tatum made the perfect decision
You see how Beal is on his outside hip? The baseline is completely open with Beal sort of forcing him into Rui's help. Tatum easily gets past Beal and protects himself with a little mini chicken wing then makes sure to use his shoulders to seal Beal off. After that, it's go time. A one on one moment at the rim with the game on the line 
We've seen everything in this situation. We've seen Tatum get blocked by the rim, blocked by Bam, dunk on someone, you name it. In this moment, we saw Tatum with the beautiful move to go around Rui completely
Beautiful ATO. Beautiful execution. And sure maybe they were only in that position because of a prayer situation where Beal slipped out of bounds but I do not give a fuuuuuuuuck. It's about time something good happened to this team on the basketball court.
- Then on defending the Wizards game winning attempt, Brad dropped his nuts on the table
You'll have to bear with me for a second because for weeks I've been told that the players are tuning out their coach. That's confusing. 
- He only played 18 minutes, but there was more Rob awesomeness in this one. Crazy lobs, some decent defense, and solid work on the glass. Why he's only getting 18 minutes is a different story, but we're starting to get consistent play from Rob which was always the next step. Could he show us his awesome flashes on a more consistent basis. That is happening.
The Bad
- I mean it's certainly not good when an opposing player drops 46 on your head, including 14 in the fourth quarter. Even if that guy is Bradley Beal. There was just no answer for him defensively. I get no Jaylen or Smart, but even still. He had his way with the entire roster. Wasn't the point of playing someone like Semi that he would be able to maybe slow him down? Nope. Didn't happen. He's just such a terrifying player to guard. I was convinced that game winner was going to drop too. That's simply how shit has been going against this team lately. What a scorer that dude is, but at the same time we saw some pretty pathetic defense on him as well. Another player dropping 30+ against this team, I think that's now what, 8 times in their last 9 games?
I would call that bad.
- I would also call the Celts third quarter bad. I'm not sure if it was the 33/37% shooting or maybe the 4 TOs, but both were pretty terrible to experience. I don't even know how they were able to build an 11 point lead at one point, but you knew they weren't going to keep it. It was the same old careless flat basketball that ruins our lives on a consistent basis.
- The fourt quarter wasn't all that much better. I get they shot an insane 70%, but the Celts also had 5 TOs. The first half of that quarter was the very familiar collapse we've seen in every fourth quarter this year. Careless TOs (5), no defense, we saw a team go from up 11 to down 7. That's bad. Somehow they managed to save things, but we can't sit here and ignore like a lot of the problems that have plagued this team for a month didn't show up in this game. The only difference was the Celts actually fought back.
- Yeah the 17-24 from the FT line in a close game bothered. Me. So what. It should bother you too. Same with the 18 TOs. I'm sorry but if you do that shit more often then not you're walking away with a loss. A frustrating loss in a season where we've had way too many of those already.
The Ugly
- I don't get the Grant minutes. I just don't. Especially with Aaron Nesmith being a DNP-CD. How does that make any sense? Especially when Semi/Javonte didn't really do much defensively and Nesmith has actually looked OK on that end. How do you go from  playing 25 a night to a DNP. That is maddening shit by Brad.
With Grant, the Wizards didn't go big. There was no need for us to witness lineups that had both Teague and Grant on the floor at the same time. Guess what didn't work. He did have that huge corner three which I'll give him credit for, but it was more turnovers, more off ball fouls in the bonus, and in my opinion, you could have given his 6 minutes to Rob. 
We all know how important it is for the psyche of this team to close the first half strong. Things are still so bunched in the East, it's very important that the Celts tread water with all the teams around them. They close the first half with LAC and TOR, so there is a great opportunity to end things with some real momentum, get rest, get healthy, and then boom you're ready to roll for the second half. There is still a long way to go to climb out of this hole they dug themselves in, but games like last night are certainly a step in the right direction.