The NBA All Star Starters Are Out And We Have Our First Snub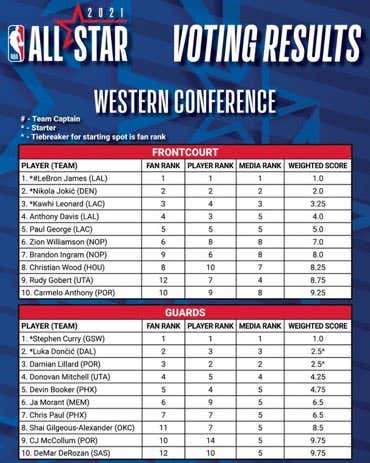 For the most part, there aren't too many surprises with these starting units. A few weeks ago when I blogged about how impossible the All Star voting was going to be I told you that guys like Kyrie were going to be a lock. He's wildly popular and when it comes to voting for the starters popularity is really all that matters. As we know, fans are mostly idiots.
You could make the case that guys like Jaylen Brown, Zach LaVine, and even Trae Young were worthy of that second guard spot, they all have just as good production while playing at least 6 more games, but I get it. What I don't get is what happened in the Western Conference starting guard spots. I'm sorry, but in this season, Luka should not be starting over Dame. I know Luka's putting up numbers, but so is Dame while playing for a much better team. He's probably higher in the MVP standings as I blog this. He had a higher player ranking AND media ranking, but because fan voting counts for 50%, Luka got the nod. That doesn't feel right. It shouldn't be held against Dame just because he may not be as popular as Luka, his play has earned him that starting spot. Easily the biggest screw job.
I was also surprised to see the media sleeping on Zach LaVine like that. Are they not watching the Bulls or reading Carl's blogs? The Bulls are feisty and LaVine is putting up ridiculous numbers to the point where he probably shouldn't be 5th in media vote. It's also crazy that Butler and Bam both finished ahead of Julius Randle in the player vote. I get the fan vote, both are more popular, but given the fact that Butler has barely played and the Heat are 6 games under .500 while the Knicks are competitive largely due to Randle is something I would have thought resonated with players. 
As we know, the real snubs will come once we hear the reserves. It's an impossible process where there are going to be a handful of players who are having All Star quality seasons that get snubbed. Especially in the East, there are like 20+ guys that you could make the case for. 
As I said last week, the league needs to figure something out with the fan vote. I get they want the participation and all that, but this is how you get something like Luka over Dame which to anyone who has watched this year makes no goddamn sense.