Samuel Army's Weekend Soccer Preview/Picks – The "Can Jozay Square Pep's Circle?" Edition
Sam's Safe Space for Soccer Stoolies
Hi Haters™,
Welp. Got some bad news. The analytics geeks over at fivethirtyeight are ready to call it a wrap on the title race.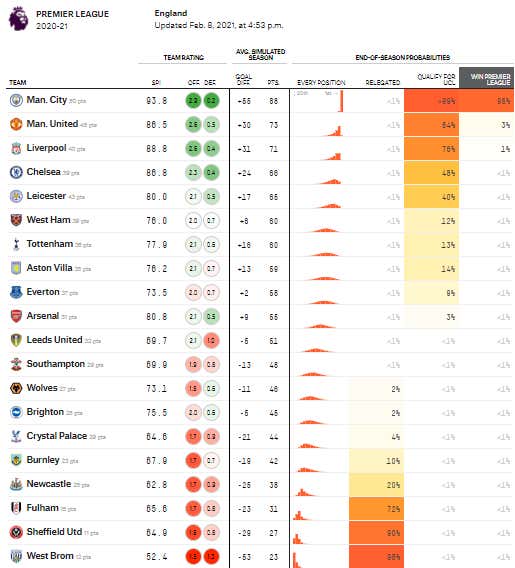 Unfortunately they may have a pretty solid point after Alisson handed City the game last weekend, and with it a 10-point lead over Liverpool and a 5-point lead over United – with a gosh dang game still in hand no less.
FRICK! Ah well. Neither here nor there City play Everton on Wednesday. I am definitely NOT saying that Jordan Pickford should get off his ass and make things a little more interesting by going after Ruben Dias and Ilkay Gundogan like he did (accidentally of course…) VVD.
I would never say or wish for that. I am simply saying that if he did things would get more interesting. Just an observation.
Barring that though we still are looking at one of the more interesting and crowded top four races in recent history, plus the relegation battle, as well as the Championship promotion fight (involving all sorts of Americans)… and that is before even talking about potential title races in La Liga and Serie A… and the MLS, which will officially be back in April!
Lots to stay excited about because soccer don't sleep – ever – but for now let's take a little look at what we got going on this weekend…
---
---
ENGLISH PREMIER LEAGUE
Scores from the midweek:
---
POWER RANKINGS
TOP 4
1. City
2. United
3. Liverpool
4. Everton
Honorable mention: nobody (especially not Chelsea so don't even suggest it)
BOTTOM 3
20. West Brom
19. Sheffield Utd
18. Southampton
Dishonorable mention: Burnley, Fulham
---
WATCHABILITY INDEX (must-watch … not always a good thing)
1. Chelsea (Tuchel yet to impress… and yet yet to lose too)
2. Leeds (soccer's answer to Gary Busey)
3. Liverpool (can one of the new CBs step up and make the team whole again?)
---
Table as things stand:
Dangly status: bit nipply but not overly so
And the schedule for this weekend:
---
PICKS OF THE WEEKEND
LESTER [+245]
LIVERPOOL [+115]
Draw [+240]
Jozay's Spurs visiting Pep's City will get a lot of the attention but this game strikes me as probably more interesting and definitely more entertaining.
Unfortunately word just came out that James Justin James – that's what we are calling him from now on because I can never remember which first name comes first – is done for the season after tearing his ACL. Terrible news for a guy who had REALLY come into his own this season, and for Lester who doesn't have the same kind of depth as the "bigger" clubs with which it is fighting for top 4.
Long story short: I think Liverpool is an absolute lock this weekend for three reasons. (1) If you take away Alisson's dumbf*ckery last weekend, they actually put up an okay fight against a damn good City squad. (2) The JJJ injury will be a big, big blow for the Foxes. (3) I am not making light of the heartbreaking news about Klopp's mom passing, and him not being able to go back to Germany for the funeral due to travel restrictions, so it would not be hard to imagine his guys coming out and giving it just a little bit extra this weekend.
I assume Vardy is back and ready to go so both teams to score sounds miiiiiiiiiighty appetizing but in the end I'm going with…
Prediction: LIVERPOOL TO WIN 3-1
---
CITY [-300]
TOTTENHAM [+700]
Draw [+425]
One of these teams has won 15 straight games. The other has lost three of its last four including one to Brighton. One team has an incredible defense. The other often relies on Ben Davies and Eric Dier to not suck.
Do I think Spurs will win? No. Do I think Spurs have a better shot than the bookies seem to believe? Yes. City are without question better. HOWEVER. Jozayball – if played correctly (for once) – with Sonny and Kane up top has the potential to be a threat against anybody. So if I am throwing any money on this game (note: nope) it would be on something like a draw or perhaps Spurs +1/2. Jozay has a way of giving Pep fits with lesser teams. It wouldn't be the first time. 1-0 Spurs is not likely but also not important. That said if you put a gun to my head and made me pick a score I'd say…
Prediction: CITY TO WIN 2-0
---
ARSENAL [-133]
LEEDS [+275]
Draw [+280]
Hard not to be tempted to sprinkle a little something on Leeds at that price, especially since (1) Thomas Partey and Keirnan Tierney will both miss out for Arsenal and (b) Leeds looked like the more dangerous side when they played in November, though they had to settle for a scoreless draw after hitting the post a bunch of time.
Two countervailing points to keep in mind: (a) let's not forget that the game last fall (like roughly 50% of Arsenal's this season) featured a boneheaded red card by Pepe that put the London side at a significant disadvantage and (2) Kalvin Phillips – who it often seems is the only thing standing in the way of Leeds and a double-digit loss – is in doubt for Leeds.
If Phillips is out I'm calling this a LOCK for Arsenal. If he's in the squad I'm still going with Arsenal but don't love it nearly as much. However, what I do like is the OVER… because the first game between these teams deserved a handful of goals so it is time for the soccergods to pay up.
Prediction: ARSENAL TO WIN 3-2
I hear you but…
---
Some more predictions… to increase the possibility that I eventually get one right, maybe (note: gonna start highlighting my BETTER BETS – meaning the ones I legitimately like as opposed to just picking because it's kinda my make pretend job – in BOLD): 
• Palace 1-1 Burnley
• BRIGHTON 2-1 Villa
• SOUTHAMPTON 1-0 Wolves
• West Brom 1-3 UNITED
• EVERTON 2-1 Fulham
• West Ham 2-2 Fulham
• Chelsea 0-1 NEWCASTLE
---
REST OF EUROPE
ITALY: great games in Serie A every weekend it seems and this one is no exception with 6th place Napoli hosting 3rd place Juventus on Saturday (11am CT) followed by 5th place Lazio visiting 2nd place Inter on Sunday (1:45pm ET)
GERMANY: USA vs USA on Saturday as The BVBabyjesus Jr host Hoffenheim and Chris Richards (8:30am CT)
SPAIN: 1st place Atleti head to upstarts 8th place Granada on Saturday (9:15am CT) hoping to maintain the 5-point lead on Real Madrid, who head to 12th place Valenthia on Sunday (9:15am CT) 
---
So there we go. Champions League is BACK next week. Get pumped. Have yourselves a spectacular weekend and get ready for more good stuff to come…
Thanks for reading you beauties!