Bruce Arians is Cucking Belichick With Tales of His Bromances with Brady and Gronk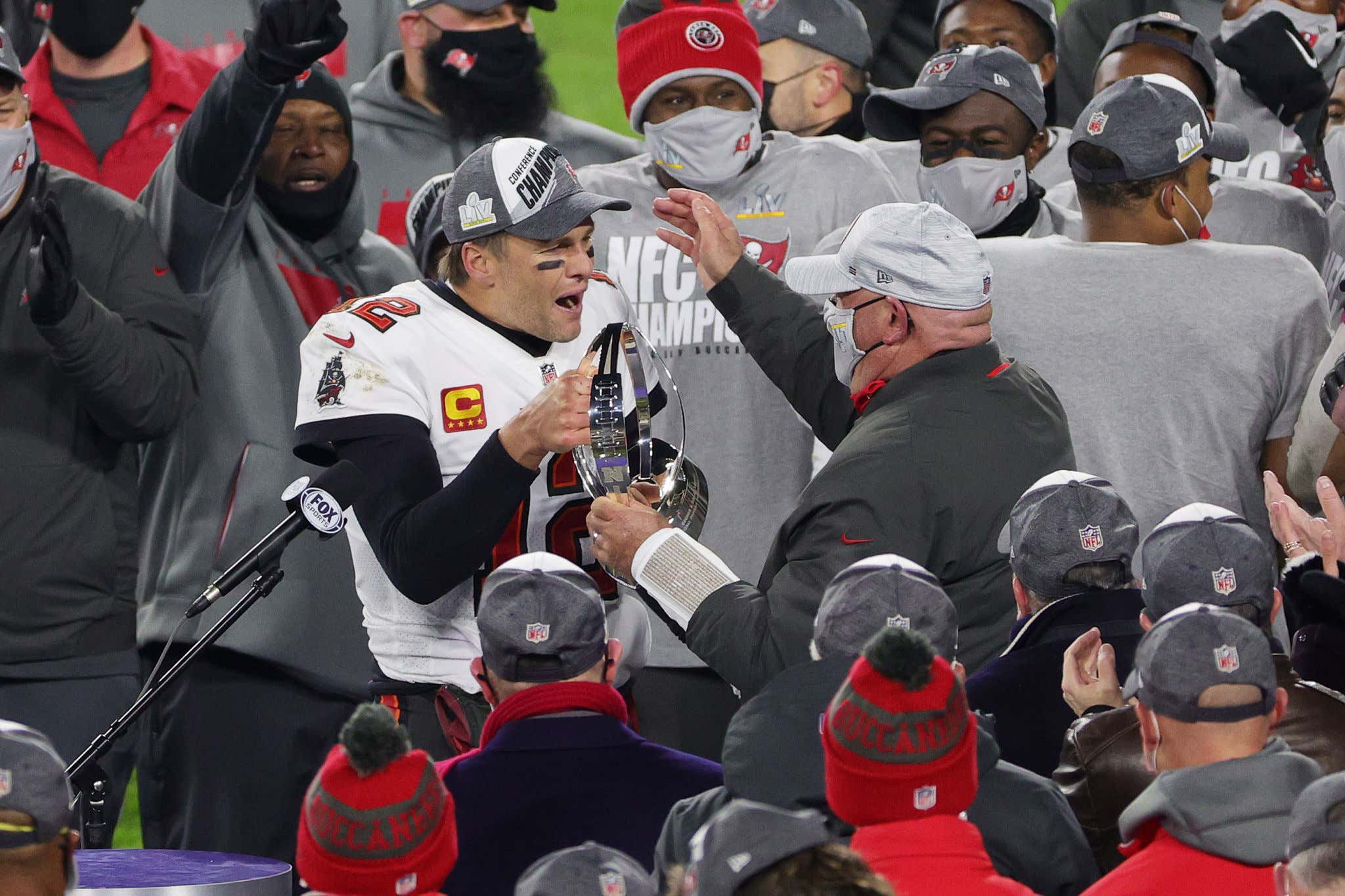 Stacy Revere. Getty Images.
These are difficult days to Bill Belichick, to say the very least. Two franchises were the victims of the Buccaneers victory Sunday night, the one Tom Brady defeated and the one that finished third in the AFC East without him. And while Belichick was watching from a sofa in a tastefully appointed living room on Nantucket, he was as much a presence in the stadium as Andy Reid was. 
And Bruce Arians is not about to miss the opportunity to let him forget that Tampa's championship was built upon the ruins of Belichick's relationships with Brady and Rob Gronkowski. 
Source - Arians found Tom Brady, threw his arms around him, and reminded him of a shared premonition they had months earlier.

"We talked about this in our first conversation," the coach shouted over the delirium. "We talked about winning the Super Bowl."

Arians recalled the moment Monday morning. …

"I told Tom, 'If you come here, we'll win the Super Bowl. You're the missing ingredient. We're a very talented team, but they just don't know it,' " Arians said of the multi-team courting process that captivated the sports world and ended last March with Tampa Bay winning the Brady sweepstakes.

Not surprisingly, the meticulous Brady had done his homework. …

He knew everything about us. I'm trying to do the sales pitch, 'Hey, Florida's great, it's warm, no taxes. And we do have [receivers] Mike Evans, Chris Godwin, all these guys.

"And he said, 'Hey, I think Gronk might want to come out of retirement,' " Arians recalled, referring to All-Pro tight end Rob Gronkowski, who caught two of Brady's three touchdown passes Sunday night. "I said, 'Let's get you signed up first and then we'll work on that one.' It was just a constant collaboration. That getting to know each other and that growing process is just so much fun."

Brady and Gronkowski were coming from the buttoned-down world of New England, where the seemingly robotic and ruthlessly efficient "Patriots Way" ethos resulted in nine Super Bowl appearances for the quarterback and six Lombardi Trophies.

Like the untucked and typically easygoing Arians, the Buccaneers send off a more relaxed vibe.

"You've got to be super involved as a coach, but with him it's not about Xs and O's," Arians said. "It's making sure he's comfortable and feels good about the game plan and work week. He'd text me and say, 'Do you mind if I don't throw Wednesday?' I was like, 'Yeah, I don't care.'

"I'd ask him, 'Do you want to take mental reps or do you just want to sit back?' He'd say, 'I just need to sit back.' And we did that two or three times during the season."

Clearly, Brady grew to appreciate that.

"Early on," Arians continued, "I'd say, 'Hey, are you taking a day off?' And he'd say, 'This will be the last day I ever take off.' But after a while it was like, 'Do you mind if I take off Wednesday?' "

"Even with Gronk I'd say, 'Dude, you're not practicing on Wednesdays. I need you on Sunday. I don't need you on Thursday,' " Arians said. "And he was like,'Oh, man, I'll be fresh. I'll be like, super.' I told him that if he ever needed a day off, he should just let me know. Because he never had days off before."
Goddammit, Arians. Why not just put a zippered leather mask on a guy and haul him out of a locked trunk by a leash when you're going to humiliate him like this? 
This is absolutely savage. Coach McFriendly just putting it out there for the public's consumption that his whole approach was to be Brady and Gronk's personal anti-Bill. Bizarro Belichick. Like a guy getting the skinny on his girlfriend's ex so he can be that guy's total opposite. "What? He never took you anywhere fancy? Want to tell me all about it over dinner? I scored us a table for two at Maison de la Casa House. He didn't like quiet evenings of snugging on the couch? So I suppose you haven't seen 'Together We Make Scents,' about a pair of mismatched jarred candle makers who fall in love, which I just purchased. He never cooked for you? How weird that I'm studying under a French chef at the Adult Learning Annex! Go figure!!!" Arians isn't content to just make sweet, sweet love to these two. To really get the most out of it, he's got to make their ex sit in the cuck chair in the corner and force him to watch.

The degradation of Belichick was bad enough when Tampa made the playoffs and the Pats were eliminated with weeks to go. It picked up momentum with each subsequent win. And now it's damned near universal. 
There are fewer of us everyday standing by the man who built a Dynasty where the worst franchise in all of sports once stood. It's inconceivable that a man who won his sixth Super Bowl with one of the great defensive game plans of all time just 24 months ago could be so debased like this. But those of us pointing that out are shouting into the wind right now. And can't be heard over the howls of derisive laughter from every direction. 
As hard as this is to believe, there are imbeciles claiming to be Patriots fans calling Boston sports radio shows saying they'd like to see Belichick fired over this. I heard one host say he'd trade him for Sean McVay right now. And I have to assume that an unhealthy percentage of them are the very people who this time last year were saying he blew the Brady situation by trading away Jimmy Garoppolo in 2017. But now they're killing him because he didn't extend Brady through 2025 and do whatever it took to keep Gronk happy. 
If this isn't a low point in Belichick's New England monarchy, it's only because he hasn't hit bottom yet. All us Loyalists who stay committed to the crown can do is hope that he's hearing all this and ready to pay any price, bear any burden, to make the doubters and the haters and the Arians pay. Here's a good start: