The Most Underrated Super Bowl Halftime Show
That's right, it's Bruce Springsteen & The E Street Band at Super Bowl XLIII in Tampa, the last time the Big Game was played there.
While the likes of Prince (rightfully so) usually grace the top of the Best Super Bowl Halftime Shows lists, I just don't think Bruce Springsteen quite gets the credit he deserves.
Now, I might be a tad bit biased here, as I am a fairly large Bruce Springsteen fan. My music taste is all over the map, I am a pretty big EDM fan (shoutout Vegas Club Jeff D Lowe), but in terms of traditional bands, Bruce Springsteen will always be my favorite. I've been to a few shows, and it's hard to top the pure entertainment Bruce Springsteen dishes out every time he graces the live stage.
And that's why his Super Bowl Halftime Show in 2009 was so fucking awesome. It truly was a show. It felt raw, natural, and like real entertainment, not a series of over-choreographed sequences, or light shows.
First off, the fact that Bruce even left the stag remains nothing short of a miracle. If you've ever been to one of his shows, you know he's barely getting started after 12 minutes, and the entire thing will run well into the next morning. Shit, the song "Tenth Avenue Freeze Out" will sometimes go for as long as 20 minutes on its own!
He opened up the show with this fucking badass look...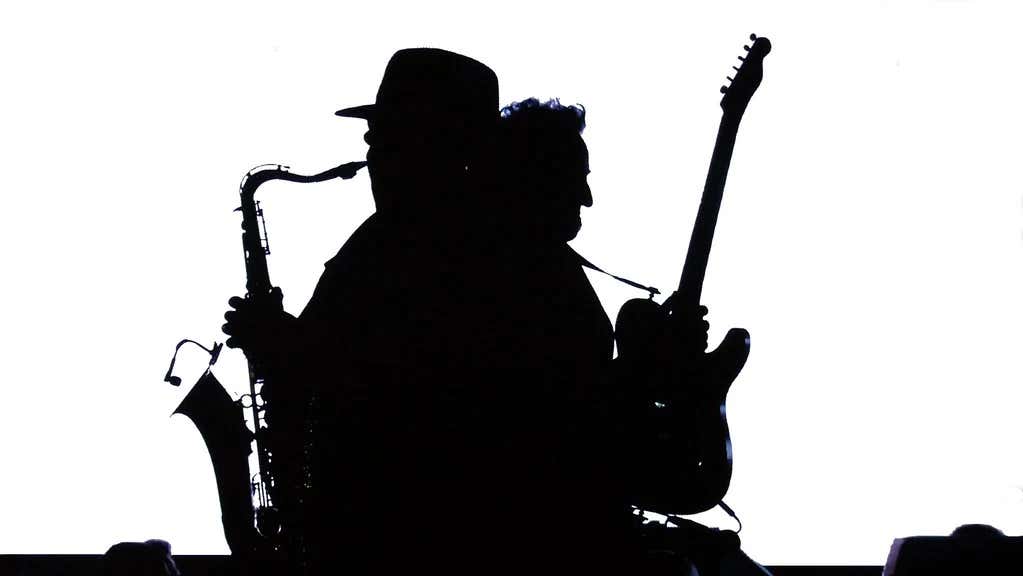 (Rest in peace, Clarence Clemons)
Then, right away, he started talking directly into the camera and right at everyone sitting on their couches. This wasn't going to be a big-time artist going through the motions to bridge the gap between halves, he was going to be a showman, and lay it all out. The "put the chicken finger down" line gets me every single time. It sounds corny as hell, but man, if that doesn't get your attention, what will!?
The most famous moment of the show came from the opening song as the 59-year-old did his iconic slide across the stage… this time with a killer crotch shot right into the camera…
…and he even ran it back for the other side!
The pure joy in his face says it all. There are plenty of great halftime shows, but they typically feel rather robotic to me. Nobody embraces putting on a killer performance quite like Bruce Springsteen.
Bruce's set-list was short, ripping through "Born to Run" (Top 5 favorite song of all-time), the recently-released "Working on a Dream" (a decent song that was improved by the light show, even though "Jungleland" would've worked great in this spot), and ended with the crowd-pleasing "Glory Days."
From start to finish, he hammed it up, the E Street Band crushed it, and they put on a fucking awesome show…
Not everyone is a fan of Bruce, and that's fine. Music is weird, it's as subjective as any art form, but it's hard to watch Bruce's performance, then compare it to this utter trash…
…and not say, "okay, Bruce was pretty fucking great."
Does it beat Prince's incredible rain-soaked performance in Miami? Probably not. Is it as emotionally memorable as U2's following 9/11? Unlikely. But Bruce Springsteen's Super Bowl Halftime show deserves more love.
Let's hope The Weeknd puts on a cool show tonight. Hot take, maybe, but I still love the song "Blinding Lights," even if it is over-played.
Oh, also…
Hell yes.