A Look At How The Celtics Can Survive Without Marcus Smart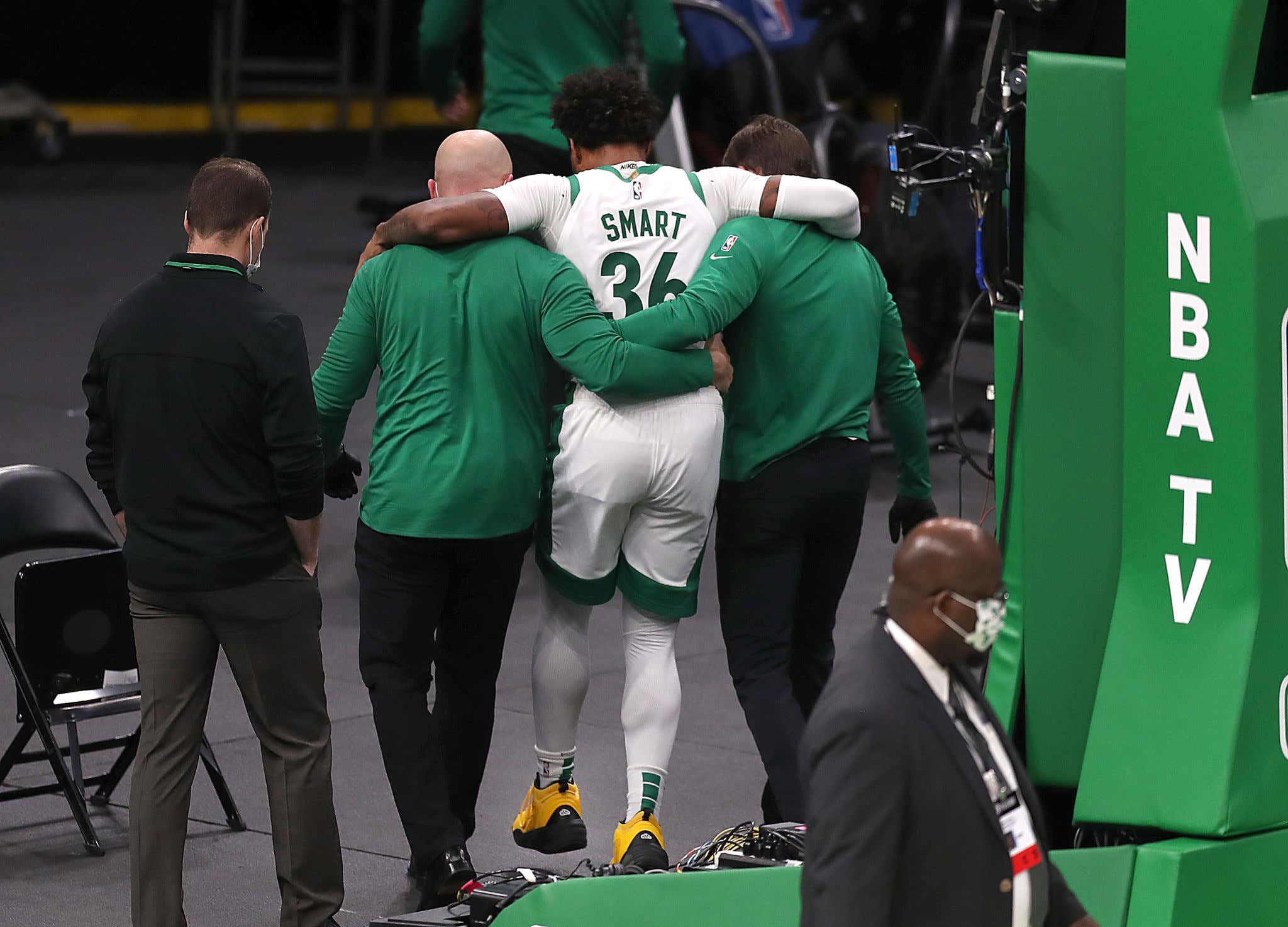 Boston Globe. Getty Images.
While the Celtics may have avoided disaster with Marcus Smart's injury, I wouldn't exactly call things "ideal". It's always a relief when a non contact injury that looked brutal in real time/slow motion during the broadcast ends up not being a tear or season ending, but there's no denying this is a tough blow. I know people think this team is better without Marcus Smart (they aren't), and now we're going to have to see the Celts survive at least 11 games without one of their core players. You definitely do not rush Smart back, so if he's out for a full three weeks you're probably looking at around a Feb 20th return. Here is the Celtics schedule over that timeframe
@GS/@SAC/@LAC/@PHX/@UTA/TOR/DET/@WSH/DEN/ATL x2
A brutal West Coast trip only to then come home to face a Raptors team who is starting to figure it out, a legit Nuggets and Hawks team, and then a date with the Wizards who just dropped like 250 points against the Nets. While we obviously have no clue who will be available or maybe out with health and safety protocols, the point is this is not an easy break in their schedule by any means. You add to it this roster is still without Payton Pritchard and will be for a while, things are looking really really thin.
So how do they survive? I have some ideas.
Whether we like it or not, this injury means one thing. We're going to get a heavy dose of Jeff Teague. It's basically his time to prove he's worth his roster spot. So far I think we can all agree that he's been complete ass to start the season, so it's all going to come down to how Brad uses Teague in an effort to actually get something positive from his minutes. Here's what I don't want.
Do not use Teague as the P&R ball handler. 
He can't do it. Not only is he putting up just 0.76 points per possession as the ball handler in the P&R, he's shooting 30.6% and ranks in the 26th percentile. This is an issue obviously because Smart was such a huge part of the P&R offense as this team's best facilitator. I'd much rather see this offense use their Teague minutes as a spot up shooter. Basically, more of this
As a spot up shooter, Teague on the season is shooting over 38% from three. Compared to Smart's 27.7%, that's an area where you can get something from Teague that Smart wasn't giving you. I know it will be tempting to maybe have Teague try and attack the paint for a floater, but I'm all set with that. Teague is only shooting 28.6% in the paint and 10.5% from the midrange. The Celts offense has to shift from what they did with Smart on the floor. When he uses his size to get into that zone? It's fantastic. When Teague does it? Nothing but disaster follows. 
In order to make this adjustment, it means this offense is going to need a whole lot more playmaking from the two Jays. They've shown signs of improvement in this area, but we now live in a world where Kemba/Jaylen/Tatum should really be the only ones who are handling the primary playmaking duties until Pritchard gets back. If I had to choose? I'd roll more with Jaylen. He has a lower TO% in the P&R, a tighter handle and at this point is more advanced at reading defenses on the fly. Plus, you can use him in a similar way they did Smart in terms of using his size to get into the midrange, where Jaylen has thrived. 
In terms of their new starting lineup, you need to find someone who can give you like 65% of what Smart did. That being defensive versatility, good passing, and the ability to make the open corner three. To me, this screams an opportunity for Grant. I'd roll out 
Kemba/Jaylen/Tatum/Grant/Theis
and avoid the double bigs at all costs. You may not realize this, but Grant is up to 41% shooting from three on the season. He's 71% from the left corner and 40% from the right. The sample size is very small, but he's shown the ability to knock down those open looks which are going to be very important especially if Tatum/Jaylen are doing the playmaking and drawing so much attention in the paint. It also wouldn't shock me if we see Semi as the small ball 4 at times, because really this stretch isn't loaded with teams that play super big.
With Kemba being on a minutes restriction, that means Carsen Edwards is going to get another legit opportunity. I would always make sure he's on the floor with at least one of the Jays. His best asset is being able to knock down open looks while the defenses focus on them. You know the times we saw Kemba/Smart + the bench? That can't really happen during this stretch. You can't play like 
Kemba/Carsen/Semi/Grant/Thompson
and think that will work. There aren't enough shot creators to make defenses not focus solely on Kemba. Brad needs to find a way to stagger his rotations so that one of the Jays is basically on the floor at all times. That's how you're going to get the best out of Carsen in my opinion. 
I also think this could be the perfect time to see what Aaron Nesmith can do while playing with the starters. It's not like Brad has a ton of options, and his defense actually hasn't been completely terrible as of late while his shot does look to be rounding into form. Throw him in some lineups as the SG/SF next to the Jays and let him spot up. If they can get his confidence rolling, that will really help.
It sounds weird, but I actually think the defense is going to be the one thing the Celts should be able to tread water with. You may not want to admit it, but Smart hasn't been blowing our dicks off defensively this year, especially on the perimeter. With guys like Semi/Grant, you can still have the versatile defense Brad wants. Maybe Carsen surprises us on that end given his strength. Guys like Teague/Tremont, they're going to get crushed, so you try and hide them the best you can.
It wouldn't shock me if we see Brad go zone against certain teams like DET/WSH. I would avoid it against the rest considering they are some of the better three point shooting teams but we have seen them go to it more often, mostly out of necessity. At least it wouldn't be a new concept for them to try.
So here's my plan:
1. Play Teague off ball, don't use him in P&R and never again once Pritchard is back
2. Increase Jaylen's usage as a primary playmaker/facilitator and run a ton of P&R with him like they do with Smart
3. Start Grant
4. Make sure the Jays are on the floor with Carsen/Nesmith
5. Go zone
It's not going to be easy. This is about as true a test as you can have given how their schedule plays out over these next three weeks, and I think we're going to get a good idea of just how valuable Smart is. There's always the possibility of a little Ewing Theory action, and now that this team won't have the excuse of Smart's (at times) poor shot selection, let's see how they respond.