Charles Krupa. Shutterstock Images.
After today's Hall of Fame vote was released with nobody getting into the Hall of Fame, it is clear that it is time for reform. Hall of Fame votes should be strictly based on what was done on the field. If you are not voting for Curt Schilling because of his political views, you should lose your ability to vote on the Hall of Fame. Too much of what goes on these days in the Hall of Fame vote is personal feelings. One only has to watch the incredibly smug video released by Tom Verducci to see how holier than thou the voters for the Baseball Hall of Fame view themselves. Any Hall of Fame that does not include Roger Clemens and Barry Bonds is incomplete. The fact that steroids are still used as a reason to not vote for a Hall of Famer is a joke, especially when Bud Selig, the commissioner who permitted steroids with his inaction for a decade, has been in the Hall of Fame since 2017. 
The writers have their say for ten years, then the fate of players goes to the veterans' committee. This is also a disgrace; it has turned the Hall of Fame into a private club where all you need is a few friends in high places. Harold Baines was inducted into the Hall of Fame in 2019, thanks to Tony LaRussa's efforts. Baines played for 22 years, never led the league in any of the major offensive categories. Baines spent most of his career as a Designated Hitter. He did not hit .300 for his career, he did not hit 400 home runs, and he did not get 3,000 hits. Harold Baines never was in the conversation for MVP in any of his 22 years. There are at least 20 players who deserve to be in the Hall of Fame more than Baines. Among the players with better resumes for the Hall of Fame are Gil Hodges, Dave Parker, Al Oliver, Steve Garvey, Keith Hernandez, and Don Mattingly. Besides, how does Allan Trammell get into the Hall without Lou Whitaker? Either both should be in, or none should be in. 
Steroids and the use of PEDs were pervasive in baseball until Jose Canseco's book came out. This led to the congressional hearings, which led baseball to act. There was the double-secret Mitchell Report, which continues to leak out slowly. Anyone that has been leaked out has been kept out of the Hall of Fame. However, Ivan Rodriguez, who was named by Canseco, was let into the Hall of Fame. This is what happens when you don't release all the names and are selective in your outrage. When David Ortiz comes up, will they exclude him too? 
Uncredited. Shutterstock Images.
It is ridiculous how many players have not been inducted that deserve to be in the Hall of Fame. The true scope of players that used steroids and other PEDs is unknown. There may be players inducted already who slipped by the voters. Also, the number of players using steroids has been estimated to be over 50%, making Clemens and Bonds' freeze-out even more ridiculous as both should be in the Hall of Fame even if you subtract their later years of greatness while using PEDs. The era is labeled the players should not be punished. It is no different than pitchers who had greater success in the "Deadball Era." This means everyone who has 3,000 hits, 500 home runs, and 300 wins should be in. This includes Mark McGwire, Rafael Palmeiro, Sammy Sosa, Gary Sheffield, and Roger Clemens. That does not even begin to cover the fact that both Pete Rose and Shoeless Joe Jackson should also be in the Hall of Fame. 
Alex Trautwig. Getty Images.
The Baseball Hall of Fame, more so than football, which more often than not gets it right, has become the Hall of Grandstanding the Hall of Sports Writers with grudges, and the Hall of I like this guy more than the Hall of the Fame, the home of best players in the history of baseball. Any Hall of Fame voter who uses his privilege to vote and uses it to make a statement should no longer be allowed to vote on Baseball's Hall of Fame.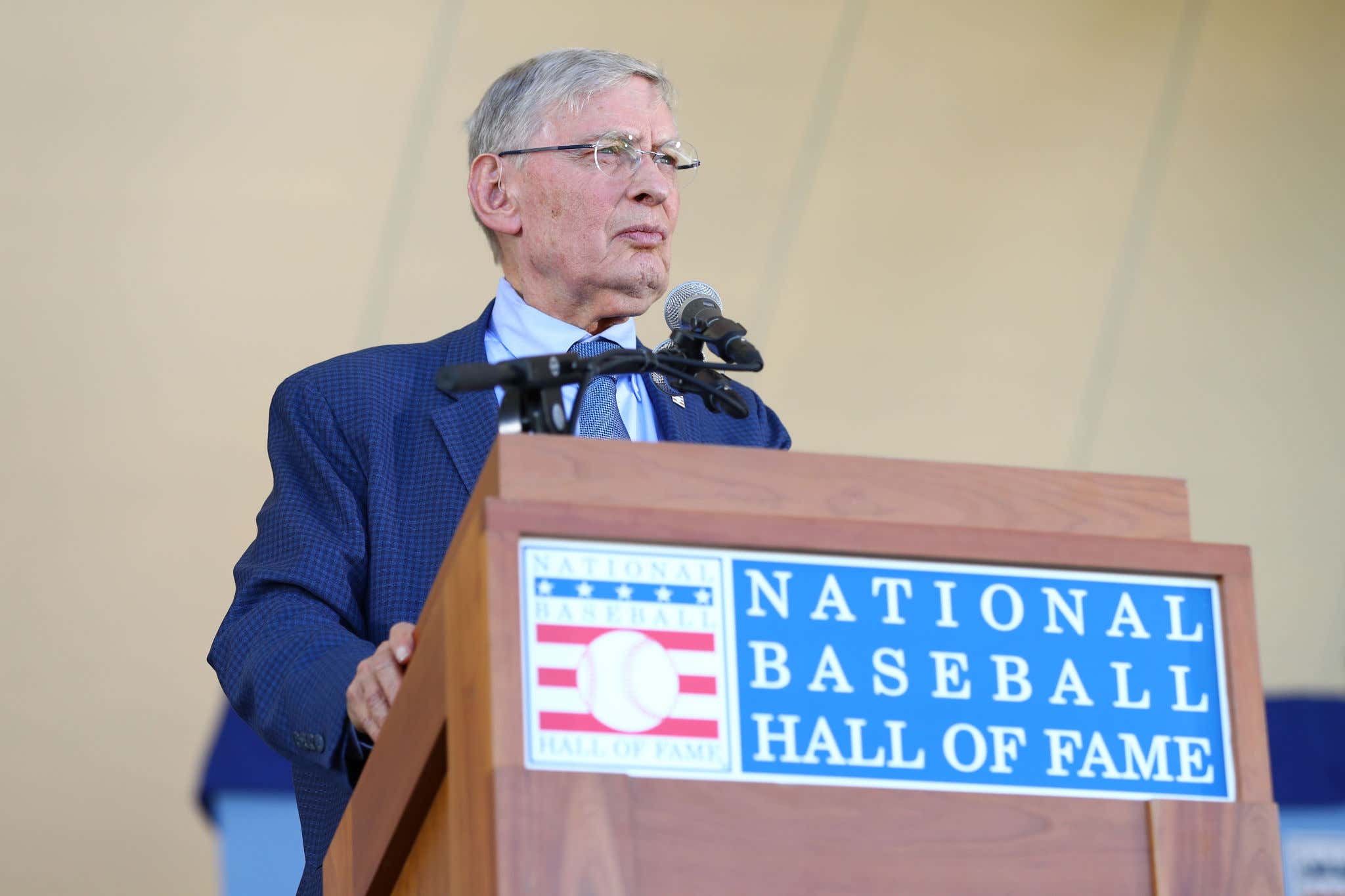 Alex Trautwig. Getty Images.
 The fact if Curt Schilling were not outspoken politically, he would likely have gone in years ago. His resume is considerably better than Mike Mussina, who only needed a few years to gather enough support for induction. This is the Hall of Fame for baseball greatness, Ty Cobb was a terrible human being, and he is in. It's time the writers make about the game and the players and not about themselves. Baseball also needs to clarify steroids and Hall of Fame eligibility once and for all. More legends could be affected as Alex Rodriguez hits the ballot for the first time in 2022. The steroid era is just another era and just needs to be accepted and no longer scorned. Teams at one time gave players stimulants. Those are now banned too by MLB, and a great many Hall of Famers used them. Should they be out too?
Mike Groll. Shutterstock Images.
Baseball could luck out as the players who were unable to be inducted last summer due to the pandemic will take the stage this year in Cooperstown. However, with this being the first year of no players elected since 1960. Could you imagine a summer with no pandemic and no Hall of Fame ceremony? That would be a shame as that ceremony in Cooperstown is one of the bucket list experiences a fan must do at least once.