The PGA Tour Hits The West Coast With The American Express At PGA West
Robert Laberge. Getty Images.
Welcome to the West Coast swing! 5 tournaments in 5 weeks at some of America's most iconic courses. Torrey Pines, Pebble Beach, TPC Scottsdale, and Riviera CC are all on this stretch of the schedule. But first…. a little bit of an appetizer with the American Express. Yes that's the name. No "Open". No "Classic". No "Invitational". It may have been known as the Desert Classic, the Bob Hope Classic, the CareerBuilder Challenge, and a variety of other names but nowaways… it's just the American Express. For the rest of this tournament I'll simply be calling it the AmEx. Deal with it.
For my money this is the last tournament before things really start heating up and the top players start their march towards Augusta. It's traditionally a pro-am much like Pebble Beach, played on 3 different courses with a 54-hole cut. However with COVID taking the "ams" out of "pro-am", this tournament will be played much more like a traditional Tour event. 156 players, 36-hole cut, with players alternating between the Nicklaus and Stadium courses on Thursday and Friday before the weekend is played on the Stadium course.
Last year it was Andrew Landry (a 200/1 longshot) who won the AmEx by 2 strokes, holding off Abe Ancer's furious Sunday 63. There aren't too many notable names on this leaderboard, which speaks to the depth of the field that traditionally plays this event. Not many guys want to play 6 hour rounds of a pro-am event, especially when there's a more prestigious pro-am traditionally scheduled a couple weeks later.
Recent Winners
2020: Andrew Landry (-26, +20000 pre-tournament)
2019: Adam Long (-26, +50000!)
2018: Jon Rahm (-22, +800)
2017: Hudson Swafford (-20, +5000)
2016: Jason Dufner (-25, +4000)
As you can see, not exactly a tournament where the guys near the top of the betting board have thrived outside of Rahm in '18. And yes, scores have been  low but I must warn you - La Quinta CC is the 3rd course that was dropped from this year's tournament and is the easiest of the 3. So those winning scores might be a touch inflated relative to what we'll see on the other 2 courses.
The Course(s)
The 65 players plus ties who make the 36-hole cut will play the Stadium course in 3 rounds and the Nicklaus course once. For that reason I won't dive into the Nicklaus course other than saying it's scoreable. All four par 5's are easily reachable in 2 for these guys so that par 72 will easily get torn to shreds. Oh, and if you're following along on the PGA Tour app… no shot tracker. Always hate that.
The Stadium course presents a little more of a challenge, albeit not much of one. At least not these days anyway. There was a time in 1987 where PGA Tour players actually successfully petitioned to have the course removed from the tournament. It took until 2016 for the tournament to return to the course. From the Jan 22, 1987 New York Times:
More than 100 golfers are expected to petition Deane Beman, the commissioner of the PGA Tour, within the next week to insist that the PGA West course not be used again.

The three-year-old, 7,000-yard course designed by Pete Dye, was used for the first time in the Bob Hope Chrysler Classic last week at La Quinta, Calif., and almost every one of the 128 professionals who played it complained about it. Even Corey Pavin, who won the tournament, said it was too severe.

Roger Maltbie, a member of the 10-man PGA Tour Policy Board, said that he expected a petition to be drawn up and that he would submit it to Beman.

''There's a possibility of a petition going around and if it does I will ask that it be put on the agenda of the membership meeting during the Los Angeles Open,'' Maltbie said. ''I haven't seen a petition yet although the subject of PGA West will undoubtedly come up at that membership meeting.''

Beman said he had not heard of any such petition yet. ''I will react to it when I see it,'' he said. ''Until then I have no comment. But that's very interesting.''

Rarely have so many touring pros been so critical of a course and never before have they reached a point of insisting that a course be dropped from the tour after only one tournament.

''The Policy Board decided that we play there,'' Maltbie said. ''Yes, I voted to play there. We owed it to ourselves and everyone to try it. That we did. We did and we saw and nobody likes it. With that in mind the thing is that not to make a change now that would be stupid.''

Dye also designed and built the Tournament Players Club at Ponte Vedra, Fla., which was the most controversial course on tour before PGA West. Many changes were made to fairways, greens and hazards at the Ponte Vedra T.P.C. after it was first used for the Tournament Players Championship in 1982.

Maltbie, however, said that he did not think changes in PGA West would help and that it should not be used on tour again. #90 Percent of Players Upset ''My reaction at this moment is PGA West shouldn't be played next year,'' he said. ''I just don't think it's good for the tournament.

''I think Deane Beman understands. When the players are that unanimous in their dislike of a golf course he has to listen to them. There are too many good golf minds out here. I haven't seen this much unanimity among players about anything before.''

Speaking of PGA West and the designer, Maltbie said, ''I don't like his targets, those specific places you have to play the ball. There are far too many undulations in fairways. I think bunkers on many holes are far too penalizing, certainly for the length of the holes. The sheer walls of bunkers are too steep and water running adjacent to fairways hole after hole is bad. You might as well have out of bounds one foot off every one of those fairways.''

The PGA Tour shifted this week to another new course, the Tournament Players Club of Scottsdale, for the 52d Phoenix Open, which begins tomorrow. Most of the players, however, seem to like the course, which was designed by Tom Weiskopf, a 15-time winner on tour, along with Howard Twitty and Jay Morrish.
Pretty wild that Pete Dye created a course that was so challenging that the world's best resorted to taking their balls and going home. Nowadays with advancements in equipment, a higher standard of fitness, etc etc… these guys aren't so afraid anymore. If you didn't read the excerpt above, the course is riddled with hazards. There are over 90 bunkers, many of them incredibly steep. I mean look at this monstrosity. 
Keyur Khamar. Getty Images.
You'll also find water hazards lining 7 holes. Including quite a bit on my featured hole…
Best Hole - 17th Hole, Par 3 168 yards
Keyur Khamar. Getty Images.
Ah yes, the one they call "Alcatraz". Pete Dye loves his island greens. Obviously his design at Sawgrass is the more notable one, but any time you put a green in the middle of a lake and take out virtually all margin for error, you're going to get great drama. Especially when it's the penultimate hole, just like it is at Sawgrass. 
Duf Daddy's par save here in 2016 was a big part of his win that year.
Lee Trevino also aced it in a 1987 Skins Game against Nicklaus and Palmer
The Weather
Not much to report here. Maybe a little chillier on the weekend than one might think for southern Cali but shouldn't be a factor when it comes to the golf this week.
The Trophy
Jeff Gross. Getty Images.
Verrry middle of the road trophy here. Which is probably about what this tournament's trophy should be. Not too flashy, but the glass (crystal? is it crystal?) makes for a nice piece on the mantle. It's whatever. What do you want me to say, I'm trying here. It's a 5/10.
The Favorite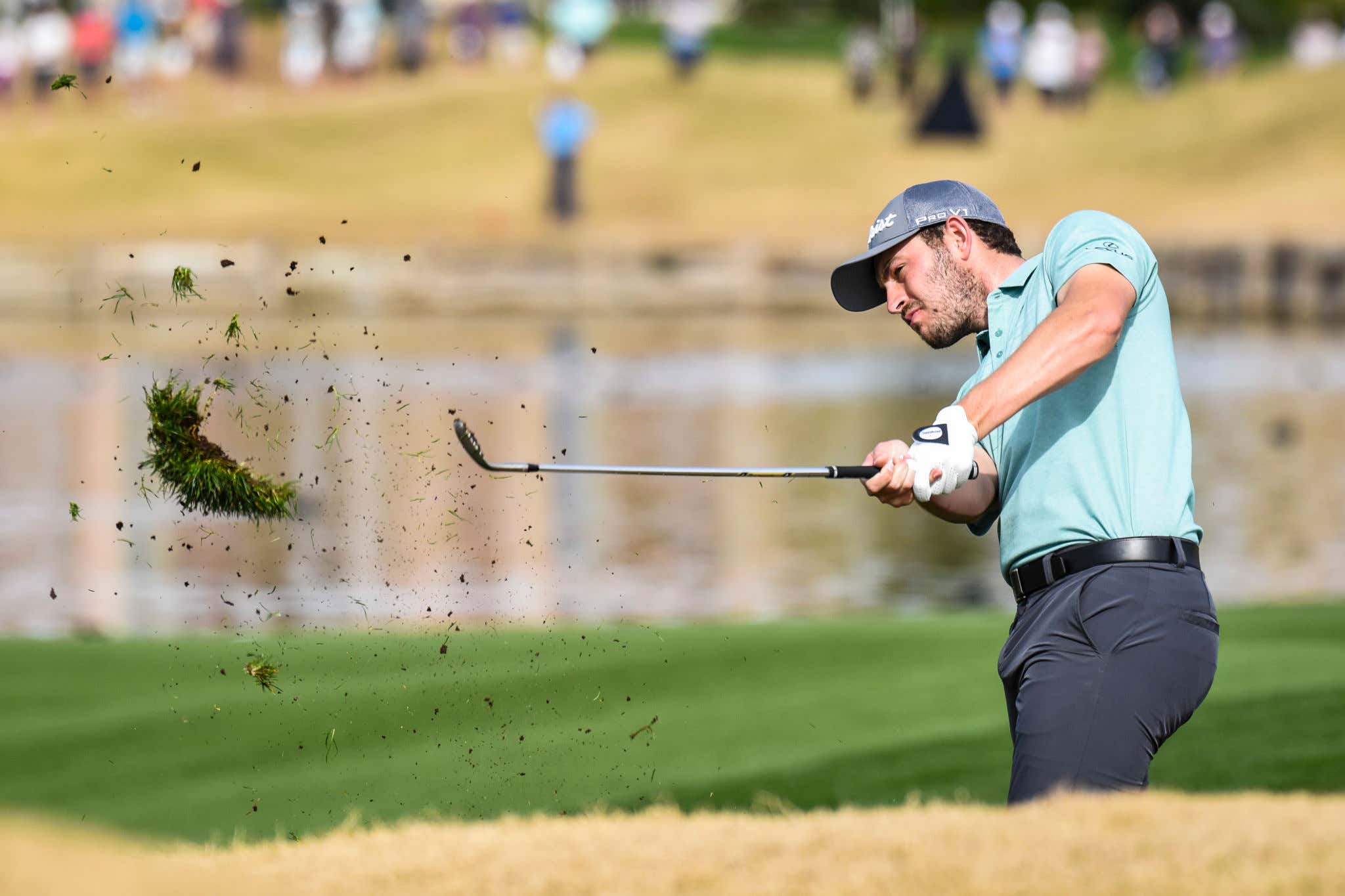 Keyur Khamar. Getty Images.
The favorite this week is Jon Rahm Patrick Cantlay on the Barstool Sportsbook App. Cantlay's steadily made a name for himself as a top 15 golfer in the world since winning the 2019 Memorial and could be primed to take that to the next level this year. He's joined by former champion (2014) Patrick Reed, never-champion Tony Finau, and last year's 3rd place finisher Scottie Scheffler. Brooks Koepka is also playing in his first tournament of the year after an injury-riddled 2020. Here's the top of the board:
I am actually going to pull the trigger on Abraham Ancer +2200 here. He may have missed the cut (by one stroke) last week but I think that adds a bit of value to that line. Him and Scottie Scheffler have followed similar trajectories and performed well here last year, so I would think he should be closer to Scheffler's +1600 number. He struck the ball well at the Sony, just putted like trash. Given the amount of hazards off the tee, this is a course where driving accuracy is a virtue. Ancer is currently 7th on tour in driving accuracy and finished runner-up at this course last year. He seems like a guy who was bound to win sooner or later all of 2020 and I'm banking on a bounce-back week from his putter to do just that.
Given the recent winners I mentioned at the top, I feel like it's appropriate to throw a dart further down the board. I'm taking Adam Hadwin +6600. Hadwin didn't play this tournament last year, but the the previous 4 years he finished 2nd, 3rd, 2nd, and 6th. I'm sure his value would be higher if he hadn't missed his last 3 cuts in 2020, but he hasn't played since the Mayakoba. No better place to find his game than a tournament where he's had a lot of success.
Other Plays
Hadwin Top 5 +1400 and Top 10 +700 - As mentioned above.
Hadwin Top Canadian +130 - Bit of a trend here, no?
Chez Reavie +10000 to win - Finished in the top 10 in driving accuracy every year since 2015, including #1 in 2019. He's made 6 out of 7 cuts at this event, although none have resulted in a top 10. But hey, that's why he's 100/1.
Doc Redman Top 5 +700 and Top 10 +1000 - Young fella out of Clemson that I think breaks through this year and wins at some point. 13th in driving accuracy in 2020 and finished T29 in his only start here. Also… NOT a doctor
To Be Decided By A Playoff (Yes) +350 - 4 of the last 10 tournaments here have gone to a playoff. Largest win margin over that span was 2 strokes. You gotta go all the way back to 2001 to find somebody who won by more than 3 (Joe Durant, back when this was a 5 round tournament). This tournament tends to play tight. Roll the dice with that payout. 
Tony Finau +1600 to win - (WARNING: This is merely a FOMO pick. Been chasing that Tony win for like 4 fucking years and there's just no way I'm going to miss the boat. This pick will be a mainstay here for the foreseeable future, ride or don't.)
Enjoy the AmEx.