Trump Does Finally Does Something to Unite the Country: Awards the Medal of Freedom to Bill Belichick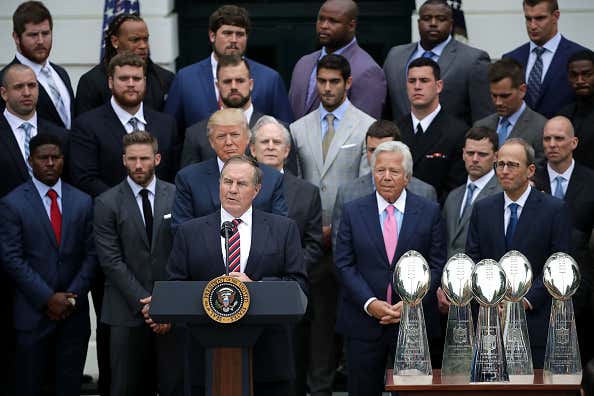 Chip Somodevilla. Getty Images.
You don't need me reminding you these are the most divisive times in the modern history of our nation. Or that now, more than ever, we need something - anything - that we can all rally behind to unify us. And we may have just found it. 
The most polarizing public figure in our lifetimes hasn't scored a lot of points lately, God knows. But unless and until he's removed from office, the job of POTUS still comes with certain perks.
Politico - With just days to go in office and facing calls to resign, President Donald Trump is planning to spend the upcoming week taking a ceremonial victory lap and making last-minute use of his presidential powers. ... [O]n Thursday, Trump plans to award New England Patriots head coach Bill Belichick the Presidential Medal of Freedom, according to a White House official. ...

Last month, Trump reappointed Belichick to the President's Council on Sports, Fitness and Nutrition and, prior to then, he welcomed Belichick and the Patriots to the White House following their Super Bowl win against the Atlanta Falcons in 2017. ...

"He's a winner," Trump told Hugh Hewitt during a radio interview in August. "You know, if I ever had a military battle, I'd call up Belichick and say what do you think? What do you think? Give me a couple of ideas."

Belichick, who does not have military experience — but whose dad was an advance scout for the Naval Academy — said it was a "very nice compliment" but he is fine with his day job.
Say what you will about Trump. Everybody is. But if he's going to leave office on any kind of note, it might as well be a positive one. And it's hard to think of anything more positive than this. If there's anything everyone from across the political divide can agree on, it's that Bill Belichick is worthy of recognition from the Chief Executive of the United States. Whoever that may be.
For the record, the Medal of Freedom has been around since the time of JFK. And by definition, it's awarded by the President "for especially meritorious contribution to (1) the security or national interests of the United States, or (2) world peace, or (3) cultural or other significant public or private endeavors". Among others, JFK awarded it to Thornton Wilder, among others. LBJ gave it to Walt Disney. Nixon to the Apollo 11 astronauts, Ford to Norman Rockwell, Carter to John Wayne, Reagan to Jimmy Stewart, Bush I to Johnny Carson, Clinton to Arthur Ashe, Bush II to Mr. Rogers and Obama to Steven Spielberg. For all his controversies, Trump has given it to Tiger Woods, Mariano Rivera, Babe Ruth, Alan Page, Lou Holtz, Roger Staubach, Annika Sorenstam and Gary Player. 
Hate the current (for now) sitting President all you want. But an award that includes these names as well as scores of other great Americans is only strengthened by the addition of Bill Belichick's name among their mighty company. You can hate the nominator while still admiring the worthy nominee. 
Belichick is a man who came from humble beginningt to build an empire. Has won the respect of millions. Reinvented the great American game several times over. Become the gold standard of success in our society. Seen the people he has mentored and tutored reshape the landscape of the NFL and NCAA football. Formed a charitable foundation. And inspired others to achieve something approximating his own level of greatness. The question is not whether this particular President should be giving him this award at this particular time. It's why it's taken the holders of the office of Commander in Chief this long to award this honor to him. Because it is well deserved. 
There's some talk that Belichick could and should decline the honor. I can't imagine anyone would. Or that the other recipients I've mentioned would turn theirs in at this point, just because it's the politically popular thing to do. If he doesn't, that's within his rights, as it is theirs. If he does, then I'll expect Biden to make it his first order of business once he's sworn in to re-award it. That again is something I think would bring us all together. Congratulations, Coach Belichick. You've earned this honor and it's long overdue.
UPDATE: This isn't the worst idea I've heard: