Patriots' Football Before Brady & Belichick: Hirings, Firings, & Revolving QBs. The First 40 Years...
I started watching professional football in 1960, the year the AFL was founded and the Boston Patriots entered the startup league as the eighth and final team. They didn't have a dedicated stadium then and played their home games at different locations in and around Boston including Boston University's Nickerson Field, Harvard Stadium, Fenway Park, and Boston College's Alumni Stadium. My Uncle Mike got tickets to a lot of games and I always went despite the frigid temperatures and ice-cold seats.
_____________________________________________________________________________
Early passer statistics reflect a time when defenders could grab, hold, and hit receivers downfield without being penalized. There were tighter windows to throw into and the dink 'n dunk era that yielded higher passer ratings had not yet begun. Currently, "the defender is allowed to maintain continuous and unbroken contact within the five-yard zone, so long as the receiver has not moved beyond a point that is even with the defender. A defender may not make original contact in the back of a receiver, nor may he maintain contact after the receiver has moved beyond a point that is even with the defender. A defender cannot initiate contact with a receiver who is attempting to evade him. A defender may use his hands or arms only to defend or protect himself against impending contact caused by a receiver. Beyond the five-yard zone, incidental contact may exist between receiver and defender".
Passer Rating is the official NFL measure of quarterback performance. It's a system that takes into account yards, touchdowns, interceptions, and completions/attempts, to calculate a rating on a scale of 0 to 158.3. Passer rating double counts completion percentage, favoring quarterbacks who tend to throw screens and short passes.
In 2011, ESPN began calculating QBR (Total Quarterback Rating) which is based on a 0-100 scale where 50 is the true middle. It's harder on quarterback performance than Passer Rating. QBR takes into consideration other variables like difficulty. A quarterback gets more credit for success in more difficult situations, and less credit for success in less difficult situations. Plays occurring during trash time are discounted by as much as 30%.  It attempts to reward QBs for making the clutch throws downfield versus easy swing passes on second down and takes into account "strength of opponent". A quarterback with an 80 QBR should theoretically win 80% of the time.
"Passer Rating is calculated using a totally transparent formula and is easily calculated, while QBR is highly subjective, has many variables, and has been compared to sausage; the average fan has little idea what goes into it exactly..."
_____________________________________________________________________________
The Patriots' first Head Coach was Lou Saban and their first quarterback was Edward "Butch" Songin. From 1947-1949 Songin started at quarterback for the Boston College Eagles where he was also an All-American defenseman on the Eagles hockey team. From 1953 to '54, Songin played for the Hamilton Tiger-Cats of the Interprovincial Rugby Football Union, predecessor of the Canadian Football League. He won the Grey Cup in his rookie season. He was 36 years old when the Boston Patriots signed him to start under center, which he did for 12 of their 14 games during the AFL's inaugural season. Songin quarterbacked in the first-ever AFL game, a Friday night 13-10 loss to the Broncos on September 9th at Boston University's Nickerson Field. Under Coach Saban, the Patriots finished 5-9 and Butch finished the season completing 187 passes (4th in the league) for 2,476 yards, 22 TD passes, 15 interceptions with a 70.9 Passer Rating, and the Patriots were 4-8 in games he started. The backup QB was Tom Greene and the Patriots were 1-1 in his starts. There's a street named after Songin in South Walpole, MA where he grew up, Butch Songin Circle, and his nephew Tom Songin, played three seasons at right wing for the Boston Bruins (1978-'81).
Focus On Sport. Getty Images.
The Week 1 starter at QB in 1961 was 31-year-old Vito "Babe" Parilli, who the Patriots got from the Oakland Raiders in a five-player trade. Parilli previously played two years in the Canadian Football League for the Ottawa Rough Riders, and in the NFL for Green Bay and Cleveland where he started 16 games in five seasons, including 1,416 passing yards and 13 TDs in his rookie year. He was 11-26 for 92 yards, 1 TD, 1 INT with a 48.9 Passer Rating in the 21-20 loss to the NY Titans in the '61 opener. Songin was back under center in the Week 2, 45-17 win against the Broncos, and he was 13-26 for 250 yards, 4 TDs, 0 INTs with a 123.4 Passer Rating.  After a 2-2 start and falling behind 34-14 in Week Five against the Chargers, Parilli, in relief of Songin, threw two TD passes in the second half, a 30 yarder to Jim Colclough and a 47 yarder to Gino Cappelletti, making it a more competitive loss, 38-27. At that point in the season, at 2-3, Coach Saban was fired and backfield coach Mike Holovak was elevated to Head Coach. The two quarterbacks shared the snaps until Week 13 when Parilli went the distance in the 34-21 win against the Raiders and again in the final game against the 12-1 Chargers, who the Patriots beat 41-0. Songin started 6 games (3-2-1) and Parilli started 8 (6-2). The Patriots finished a very respectable 9-4-1, second in the AFL East. 
In '62 the Patriots were 6-3-1 in games Parilli started. He finished the season 140-253 for 1,988 yards, 18 TDs, 8 INTs with a 91.5 passer rating. Patriots' backup quarterback and punter, Tom Yewcic, started 4 games and the Patriots were 3-1 in his starts. Yewcic was 54-126 for 903 yards, 7 TDs, 5 INTs with a 69.6 Passer Rating. The Patriots finished 9-4-1, good enough for another second-place finish.
In '63 Parilli was not spectacular (153-337 for 337 yards, 13 TDs, 24 INTs with a  52.1 passer rating) but the Patriots finished the regular season 7-6-1. Yewcic started one game, a Week 5, 31-24 loss to the Jets. In that game, Yewcic was 18-38 for 311 yards, 3 TDs, 4 INTs with a 62.4 Passer Rating.
Parilli and the Patriots beat the Bills in the Division Playoffs 26-8, but were beaten badly by the Chargers 51-10 in the AFC Championship. 
Lm. Shutterstock Images.
In '64, Parilli's best season, he was a first-team All-Pro, finishing 10-3-1 (2nd in the AFL East), with a league-leading 3,465 yards, 31 TD passes (a team record until Brady threw 50 in 2007), and 27 INTs (a team record that was equaled by Drew Bledsoe 30 years later) with a 70.8 Passer Rating. In addition to his duties under center, Parilli was an excellent holder for placekicker/wide receiver Gino Cappelletti, earning the nickname "Gold Finger". 
In '65, Parilli had his worst season as a Patriot. He was 173 of 426 passing (40.6%) for 2,597 yards, with 18 TDs, 26 INTs, and a Passer Rating of 50. The Patriots finished a disappointing 4-8-2.
At the end of the '65 season, the Patriots traded Colclough to the Jets for 1964 Heisman Trophy winner, quarterback John Huarte (Notre Dame). Huarte had been the Jets 2nd round pick, 12th overall in the '65 AFL draft, and the Eagles 6th round, 76th overall pick in the NFL draft. In his first year with the Jets, Huarte was third on their depth chart behind Joe Namath and Mike Taliaferro and was relegated to the "Taxi Squad" where he never saw any playing time. Much was made of his trade to the Patriots, but for the two years he was there he only completed 8 of 20 passes. In '66 he was Parilli's backup and in '67 he fell to third in the Patriot's depth chart behind Parilli and backup Don Trull, who on December 9th, started, lost to the Bills 44-16 on 5-20 passing, 0 TDs, and 3 INTs, the first starting QB in Patriot's history to post a 0.00 Passer Rating. In the National Football League (NFL), the lowest official passer rating that a quarterback (QB) can achieve is 0.0. To achieve a Passer Rating of 0.0 in a game, a QB must have no touchdowns, complete no more than 30% of his pass attempts, average less than 3 yards per attempt, throw an interception on at least 9.5% of attempts and attempt at least 10 passes. (The full list of NFL QBs who have accomplished to feat can be viewed here: https://en.wikipedia.org/wiki/ListofNFLquarterbackswhohavepostedapasserratingof_zero
Huarte was let go at the end of the season and in Week 2 of '68, playing for the Eagles, he got the only start of his career, losing to the Giants 34-25. He was 7-15 for 110 yards, 1 TD, 2 INTs with a 54.2 Passer Rating. Huarte was on the Chiefs in '70 when they won the Super Bowl and then with the Bears in '72. He finished his football career with the Memphis Southmen of the World Football League.
The Patriots turned it around in '66, finishing second in the AFL East at 8-4-2, and Parilli was named AP's AFL Comeback Player of the Year on 181 of 382 passing for 2,721 yards, 20 TDs, 20 INTs, and a 66.9 Passer Rating. Second-year Fullback, Jim Nance (19th round, 151st overall out of Syracuse) led the league with 1,458 yards for a 104.1 average per game and 4.9 per carry).
Parilli had skills and they're are clearly on display in this summary of the '66 season
In '67, at age 37, Parilli had an off-year and the Patriots finished 3-10-1, last in the AFL East. Parilli was 161 of 344 passing, with 19 TDs, 24 INTs, and a 58.5 Passer Rating. Former Punter and backup QB, Tom Yewcic became the backfield coach and Don Trull was the backup with John Huarte behind him. Parilli started 11 games and the Patriots won three of them. Nance led the league again with 1,216 yards, becoming the first player in AFL history to rush for over 1,000 yards in back-to-back seasons (14 games).
In 1968, 38-year-old Parilli was traded to the Jets for their 27-year-old backup Mike Taliaferro, and went on to serve as Joe Namath's backup in the historic 16-7 Super Bowl III win over the Baltimore Colts. In seven years with the Patriots (1961-1967), Parilli started 82 games, compiling a record as a starter of 44-32-7 with 1,140 completions on 2413 attempts for 15,747 yards, 132 TD passes, and 138 INTs with a 64.8 Passer Rating. In 1993, Parilli was inducted into the Patriots Hall Of Fame.
The Patriots started Mike Taliaferro under center in '68, but after throwing  5 INTs against the Jets, the Pats benched him in favor of 23-year-old Rookie Tom Sherman. In his first start against the Broncos, Sherman threw 4 INTs and he followed that up with 3 against the Chargers. In his seven starts, the Patriots were 1-6. Sherman had 90 completions on 226 attempts, 12 TDs, and 16 INTs with a 45.6 passer rating. After the 4-10 finish, coach Mike Holovak was fired and Clive Rush became Head Coach. While being introduced at his first press conference on February 12th, Rush grabbed the microphone to speak and was nearly electrocuted. He was being shocked by the current running through the mic and couldn't remove his hand. If not for Dan Marr Jr., a board member, who quickly pulled the wire, unplugging the hot mic, the current might have made it to Rush's heart where it would likely have killed him. After gathering himself, Rush made light of it,  "I heard about the Boston press being tough, but I didn't think they were going to be this tough."
In 1969 Taliaferro started all 14 games and the Patriots finished 4-10, again. Taliaferro completed 160 passes on 331 attempts for 2,160 yards, 19 TDs, and 18 INTs with a 66.0 Passer Rating. 
Focus On Sport. Getty Images.
Joe Kapp under center
After the AFL merged with the NFL in 1970, the Boston Patriots changed their name to the New England Patriots and played their home games at Harvard Stadium while their new stadium was being built. 32-year-old Joe Kapp was fresh off a Pro Bowl season with the Vikings, winning 12 of the 13 games he started and after losing to the Chiefs 23-7 in Super Bowl IV, the fourth and final AFL–NFL World Championship Game, and then being unable to ink the contract he wanted, Kapp signed with the Patriots. Nicknamed "The Toughest Chicano" for his Mexican heritage and his ability to shake tackles and run over defenders, in the ten games he started the Patriots were 1-9. He threw only 3 TD passes and had 17 INTs with a disappointing 32.6 Passer Rating. The press accused him of not griping the ball by the laces and being unable to throw a spiral… It was after losing six games in a row (Weeks 2-7) that Head Coach Clive Rush left the stadium with an irregular heartbeat. He resigned two days later, winning only 5 games in the season and a half he was there. John Mazur became the Head Coach for the remainder of the season.  On October 11th's 32-10 loss to the Chiefs, Taliaferro became the second and last Patriot's starting QB to receive a 0.00 passer rating. He was 3-12 for 30 yards with 4 INTs. The Patriots finished 2-12.
Joe Kapp called it a career after his dismal season with the Pats. He is one of only eight quarterbacks who threw for 7 touchdowns in a game. He did it on September 28, 1969, in a 52-14 win against the Colts. It wasn't done again until Peyton Manning did it on September 5th, 2013. Fifty years after he retired, Kapp is still the only QB in history who played in the Rose Bowl, a Grey Cup championship game, and the Super Bowl. Kapp is also a member of the Canadian Football Hall of Fame, the B.C. Sports Hall of Fame, the BC Lions Wall of Fame, the College Football Hall of Fame, and the University of California Athletic Hall of Fame.
Focus On Sport. Getty Images.
Schaefer Stadium was completed in September of '71 and the Patriots added a shiny new piece under center, picking 1970 Heisman Trophy winner Jim Plunkett out of Stanford in the first pick of the NFL draft. The 24-year-old started and played every down in all 14 games in '71, finishing 6-8 (Patriots' best record since '66) with 158 completions on 328 attempts for 2,159 yards, 19 TDs, 16 INTs, and a 68.6 Passer Rating. He showed the ability to run with the ball with 45 rushes for 210 yards, a 4.7 average per carry, and was named AFC Rookie of the Year.
In 1972 Plunkett took all the snaps and finished 3-11 on 169 for 355 passing for 2,196 yards with only 8 TDs, 25 INTs and a 45.7 Passer Rating. He ran well with 36 attempts for 230 yards and a 6.4 average, but it was not a good season for him or the team. On November 12th, after the Week Nine 52-0 thrashing by the Miami Dolphins, Mazur resigned as Head Coach and Phil Bengston was brought in to coach the remaining 5 games. Chuck Fairbanks left the University of Oklahoma where he coached for 5 years to become the Patriot's Head Coach in '73.
Over the next 2 years Plunkett, battling injuries and a poor offensive line, compiled a 12-16 record, and in 1975 the Patriots started 25-year-old Neil Graff, who went 0-2, scoring just 14 points in the two games he was under center. Plunkett started the next game, but after he threw 3 INTs, didn't score any points, and had a Passer Rating of only 22.0, 24-year-old rookie Steve Grogan replaced him. Grogan, who was the Patriots' 5th round pick out of Kansas State University, threw a TD pass in the 4th quarter. 
Fairbanks started Plunkett the next three games, and although the Patriots were 2-1 in those starts, Grogan got the Week 7 start against the Cardinals. The Pats led going into the 4th quarter but ended up losing 24-17. Grogan got the Week 8 start and beat the 0-8 Chargers 33-19, and the Patriots improved to 3-5.
Plunkett got the start in Week 9 against the 5-3 Cowboys and threw two TD passes to Darryl Stingley in the 4th quarter, but the Pats lost a close one 34-31.
Ronald C. Modra. Getty Images.
Grogan got the start the following week against Buffalo and threw for 365 yards on 25 for 46 passing with 2 TDs, 3 INTs with a 67.8 Passer Rating. Sam Cunningham's three TDs were bested by O.J. Simpson's four, and the Bills prevailed 45-31.
Grogan started the rest of the way, but the Patriots didn't win another game. In the last game of the season, he threw 5 INTs and had a 34.0 passer rating in the 34-21 loss to the 10-4 Baltimore Colts.
During the offseason, Plunkett was traded to the San Francisco 49ers for two 1976 first-round draft picks (#12 & #21), one 1977 first-round draft pick (#16), one 1977 second-round draft pick (#44), and a 23-year-old backup quarterback Tom Owen, the 49ers 13th round (322 overall) draft pick in 1974. In 1976 the Patriots selected cornerback Raymond Clayborn using their first-round draft pick. Clayborn played 13 years in New England, started 179 games, was voted to three Pro Bowls, and started on the Patriots'first conference championship team. His 36 interceptions are tied with Ty Law for most in franchise history. 
After being released from the 49ers Plunkett went on to win two Super Bowls with the Oakland Raiders, 1980 (PFWA Comeback Player of the Year/Super Bowl MVP) and 1983.
Grogan got all 14 starts in '76 and the Patriots were 11-3, finishing the season strong with six straight wins. He completed 145 out of 302 attempts for 1,903 yards, 18 TDs, 20 INTs with a 60.6 Passer Rating. In the division playoff game against the Raiders, the Pats had a 21-10 lead heading into the 4th quarter, but the Raiders scored 14 unanswered points and beat the Patriots 24-21. Coach Chuck Fairbanks was named Sporting News Coach of the Year. 
In 1977 Grogan started all 14 games and was under center for every snap. Sam Cunningham rushed for 1,015 yards, Don Calhoun 715, and Grogan added 324 himself. He threw for 2,162 yards on 160-305 passing with 17 TDs, 21 INTs and a 65.2 Passer Rating. The 9-5 Pats finished 3rd in the AFC East behind the Baltimore Colts and the Dolphins, both 10-4.
In 1978 the NFL went to a 16 game schedule. It was in the second quarter of a preseason game against the Raiders that Grogan led wide receiver Darryl Stingley too much and although the pass was uncatchable, Raider's safety Jack Tatum, known as "The Assassin" for his devastating blows, hit Stingley late and with deadly intention. In today's game, Stingley would have been considered a defenseless receiver and Tatum's hit to be illegally launched, a flag would have been thrown, Tatum fined by the league (https://operations.nfl.com/football-ops/nfl-rules-enforcement/fines-appeals/), and disqualified if the action was judged to be flagrant. Back then Tatum was a celebrated player in the NFL and sadly, his late hit on Stingley appears on more than a few of his highlight reels. Stingley was carried off the field on a stretcher and later he was diagnosed with two fractured cervical vertebras, ending his football career and rendering him a paraplegic for life. Stingley, with the help of Fairbanks, had worked out a contract extension before the game, but after the Monday night game and hearing the injury's diagnosis, the Patriots, with the help of their lawyers, refused to honor the contract. Fairbanks was livid and his relationship with Patriot's ownership became further strained. He was denied the contract extensions he was trying to negotiate for John Hannah and Leon Gray during the prior season, and voiced his opinion on the Stingley decision, letting it be known he would not be coaching the Patriots beyond the current season…
After Stingley's injury and the Patriot's refusal to honor his new contract, morale suffered and the Patriots started the season 1-2 before reeling off  7 wins in a row, finishing 11-5. The Patriots set the all-time single-season team rushing record with 3,156 yards, a record that stood until 2019. Grogan rushed for 539 yards himself, scored 5 touchdowns, and averaged 6.7 yards per carry. Sam Cunningham rushed for 768 yards, Horace Ivory 693, Andy Johnson 675, and Don Calhoun 391. 
Prior to the last game of the season against Miami, Coach Chuck Fairbanks was suspended for negotiating a head coaching position with the University of Colorado during the regular season and the two coordinators, Hank Bullough and Ron Erhardt, were named as co-coaches for the last game against 10-5 Miami. Grogan injured his knee in that game, but despite losing 23-3, the Patriots still had the tie-breaker over Miami and won the AFC East. Grogan started all 16 games and finished 181-362 for 2,824 yards, 15 TDs, 23 INTs with a 63.6 Passer Rating.
Fairbanks was reinstated for the division playoff game against the Houston Oilers, but he had already lost his team and it affected their performance. Grogan, still gimpy with the knee injury, threw two INTs early and was pulled in favor of backup Tom Owen. The Patriots lost 31-14. 
After Fairbanks left for Colorado the Patriots elevated offensive coordinator Ron Erhardt to Head Coach.
In 1979 Grogan went the distance again, completing 206 passes on 423 attempts for 3,286 yards with 28 TDs, 20 INTs with a 77.4 Passer Rating. Both Stanley Morgan and Harold Jackson had over 1,000 receiving yards each on 45 and 44 receptions respectively. Tight end Russ Francis added 557 yards on 39 receptions. Grogan rushed for 368 yards on 64 carries for a team-leading 5.8 yards per carry. The Pats finished 9-7 under Erhardt. This was the last season Grogan started every game. 
Grogan had knee surgery in April and in 1980 he was injury-plagued the entire season. He started the season with a 34-17 win over the Browns going 17-26 for 277 yards, with 3 TD's, 1 INT, and a 123.4 passer rating, connecting downfield with Stanley Morgan for a 67-yard touchdown. After a Week 2 loss to the Falcons, Grogan sprained his left knee in Week three's 34-31 win against the Seahawks but was still able to complete 15-24 passes for 273 yards, 3 TDs, 1 INT, and a 123.4 Passer Rating. During Week 4 against the Broncos Grogan sprained his right knee, but down 14-10 in the third quarter, he found Morgan for a 45 yard TD and the Patriots went on to win 23-14. 
Battling knee injuries, Grogan was removed in Week 5 against the Jets and 24-year-old backup Matt Cavanaugh came in and was 9-15 for 155 yards, 1 TD, and 1 INT with an 89.6 passer rating, and the Patriots prevailed 21-11, improving to 4-1. Cavanaugh wasn't anything like Grogan, but he protected the ball well and made few mistakes. He was the Patriots' 2nd round pick, 50th overall in the 1978 NFL draft. In his three years at Pitt, he posted Passer Ratings of 123.2, 160.5, and 161.7.
Both Grogan and Cavanaugh threw TD passes against Miami in their Week 6, 34-0 blowout win. The Patriots finished 10-6, 2nd in the AFC East. When Grogan was healthy he had some incredible games, but unfortunately, as his body broke down he took fewer snaps and was no longer the runner he was early in his career. 
In '81 Grogan suffered a neck injury causing him to miss four games and then another knee injury in Week 11 that ended his season. A mix of Grogan, Cavanaugh, and Tom Owen only produced 2 wins (2-14) and the Patriots fired Head Coach Ron Erhardt and hired former Southern Methodist University Head Coach Ron Meyer, winner of the Southwest Conference Championship in 1981.
In the strike-shortened 1982 season, Meyer was named AFC Coach of the Year for making it into the playoffs after the Patriots posted the worst record in the NFL the year before. Grogan started 6 games (4-2, 84.4 passer rating) and Cavanaugh started three (1-2, 66.7 passer rating). Grogan got the start in the 28-13 Wild Card loss to the Dolphins. Grogan's 56.1 Passer Rating didn't come close to David Woodley's near-perfect Passer Rating of 153.8. 
Focus On Sport. Getty Images.
In the '83 NFL draft the Patriots' first-round pick, 15th overall, was quarterback Tony Eason out of Illinois. (Dan Marino was the 27th). When Grogan broke his leg in Week 12 against the Browns, the 24-year-old got his chance. Eason started 4 games and went 2-2 on 46-95 passing for 557 yards, 1 TD, 5 INTs, and a 48.4 Passer Rating. Before Grogan broke his leg, the Patriots were 6-6 in games he started. He finished 168-303 passing for 2,411 yards, 15 TDs, 12 INTs with an 81.4 Passer Rating.
In '84, Head Coach Ron Meyer fired defensive coordinator Rod Rust without first consulting then-owner Billy Sullivan, which was his right. A day later Sullivan brought Meyer in and fired him, which was his right, and then called former Patriots receivers coach ('78-'81) Raymond Berry and signed him to a multi-year deal to become the new Head Coach. At the time Berry assumed the job the Patriots were 5-3. One of the first moves the Patriots made was rehiring Rust. Berry beat the Jets in his first game as Head Coach 30-20 and he finished 4-4. The team finished 9-7. The Patriots were 7-6 in the games Eason started under center. Statistically, Eason was very good, going 259 of 431 for 3,228 yards, 23 TDs, and only 8 INTs for a 93.4 Passer Rating. He wasn't "tough as nails" like Grogan, but he was a very good technician.  
In '85, Berry's first full year as Head Coach, Eason was the starter and Grogan didn't get on the field until week 6 when Eason sprained his shoulder. In his first game, Grogan and the Patriots beat the Bills 14-3 on 15 of 19 passing for 282 yards with a TD, 0 INTs, and a 136.3 passer rating. With Grogan under center, the Patriots went on to beat the Jets 20-13, Buccaneers 32-14, Dolphins 17-13, Colts 34-15, and the Seahawks 20-13, for six straight wins. After Eason returned the Patriots went 3-2, finishing 11-5, 3rd in the AFC East. They ran the table in the playoffs, beating the 12-5 Jets in the Wild Card, the 13-5 Raiders in the Division, and the 14-4 Dolphins in the AFC Championship game. Eason was stellar in the three playoff games, posting Passer Ratings of 132, 102.4, and 130. 9 with 5 TD passes and 0 INTs. 
In the Super Bowl against the Bears, after Eason was 0-6 passing (only starting QB in Super Bowl history not to complete a single pass) and putting up just 3 points, Grogan entered the game with just over five minutes remaining in the half. Grogan went 17-30 for 177 yards, 1 TD (8 yards to Irving Fryar) with 2 INTs in the 46-10 loss.
In '86 Eason got 14 starts and completed 276 passes out of 431 attempts for 3,328 yards, 19 TDs, 10 INTs, with an 89.2 passer rating. Grogan started 2 games and got into two more and put up excellent numbers, 62-102 for 976 yards, 9 TDs, 2 INTs with a 113.8 passer rating. The Patriots finished 11-5, first in the AFC East, but lost to the Broncos at Mile High Stadium in the division playoff, 22-17. Eason was 13-24 for 194 yards, 2 TDs, no INTs with a 108.7 Passer Rating, and outplayed John Elway, who was 13-32 for 257 yards, 1 TD, 2 INTs with a 53.8 Passer Rating.
In '87 Grogan got the Week 1 start against the Dolphins and beat them 28-21 on a 4th quarter Ronnie Lippet pick-6 off Dan Marino. Grogan was 14-21 for 150 yards with 1 TD, 2 INTs, and a 63.7 passer rating. Week 2 went to Eason and he lost to the Jets. By Week 3 the player's union officially went on strike and all games were canceled. The next three games were non-union games and owners signed replacement players, a lot from the USFL which folded in '86. Week 4 was the first replacement player game and the start went to 23-year-old Bob Bleir, who was 10-26 for 138 yards, 1 TD, 0 INTs with a 69.1 Passer Rating in the 20-10 loss to the Browns. Bleir started again in Week 5 going 4-13 for 43 yards, 0 TDs, 1 INT with a 9.5 Passer Rating. Despite the poor play at QB, the Patriots' replacement players beat the Bill's replacement players 14-7… The Week 6 start went to Doug Flutie, the 1988 Heisman Trophy winner (Boston College) who the Patriots got from the Bears on October 13th for an eighth-round pick in the '88 NFL draft. Flutie was willing to cross the picket lines for his chance to be back in New England where he grew up, and he beat the Oilers 21-7 on 15-25 passing for 199 yards, 1 TD, 0 INTS, with a 98.6 passer rating. After the 24-day strike ended, Eason and the regulars were back on the field for Week 7's 30-16 loss to the Colts. The remainder of the season featured a mix of Grogan, Ramsey, who threw for 402 yards in a 34-31 overtime loss to the Eagles, Eason, Flutie, and Bleir. Despite the strike driven revolving door at quarterback, Raymond Berry's Patriots managed to finish 8-7, 2nd in the AFC East behind the 9-6 Colts. Grogan started the final three games, beating the Jets 42-20, the Bills 13-7, and the Dolphins 24-10. In those games he was 32-54 for 503 yards, 7 TDs, 2 INTs with an average Passer Rating of 100.4.
In '88 Grogan got the week 1 start and beat the Jets 28-3 on 16-31 passing for 256 yards, 2 TDs, 1 INT, with an 87.6 Passer Rating. After losing three in a row, the last a 31-6 loss to the Oilers where he threw 4 INTs and finished with an 18.4 rating, Berry started Ramsey against the Colts. After Ramsey produced just 7 points with a 32.1 passer rating, he brought in Doug Flutie who threw a 26 yard TD to Stanley Morgan and then ran the 13-yard game-winner in himself. 
Rick Stewart. Getty Images.
Although the Patriots were 6-3 in games Flutie started, and he beat the 7-1 Bears on 6-18 passing for 165 yards and 4 TDs (an 80 yarder to Fryar) with no INTs and a 107.6 Passer Rating, overall his passing was mediocre. But no one could question Flutie's will to win or the team's success with him under center. After a 13-7 win against the Seahawks, a game Flutie went 5-10 for 47 yards and 0 TDs, 1 INT with a 23.7 passer rating, the network covering the next game against the 4-10 Buccaneers in Foxboro, featured Flutie in their pregame special, the focus on his uncanny ability to find ways to win with little concern for stats. They showed him on the sidelines before kickoff, but when the Patriots took the field it was Eason and not Flutie, who got the start. It was an unexpected change at quarterback and the network did everything they could to try and explain it. The Patriots squeaked out a 10-7 win, Eason finishing without a TD pass, 2 INTs, and a 44.5 Passer Rating. Grogan got the final start of the season, a 21-8 loss to the 7-8 Broncos. Grogan finished the game 10-22 for 109 yards, 0 TDs, 1 INT, and a 41.7 Passer Rating. The Patriots finished 9-7.
In '89 Berry rotated 4 quarterbacks under center, Grogan (6 starts), Eason (3 starts), Flutie (3 starts), and Marc Wilson (4 starts) and the Patriots finished 5-11. Then-Patriot's owner Victor Kiam made the decision to fire Berry citing "disagreement on personnel decisions"…
In 1990, the NFL added a "Bye Week" to the schedule. Each team would play 16 games in 17 weeks. Rod Rust was elevated to Head Coach and he rotated his starts between three quarterbacks, Marc Wilson, rookie Tom Hodson (3rd round, 59th overall, out of LSU), and Grogan, who was the only QB to get credit for a win in the 1-15 season, worst in Patriots' history. Grogan got the Week 1 start against the Dolphins and outplayed Dan Marino (3 INTs, 70. passer rating) with 17-28 passing for 217 yards, 2 TDs, 0 INTs, and a 108.8 Passer Rating, but Marino threw a 4th quarter, 7-yard pass to Tony Paige for the game-winner (27-24). After beating the Colts 16-14, they ran the table, but in the wrong direction, losing 14 straight. 
After 16 seasons with the Patriots, Steve Grogan retired. He finished his career with 1,897 completions on 3,593 attempts (52.3%), 26,886 passing yards, 182 TDs, 208 INTs, a 69.6 Passer Rating, and a 75-60 record in games he started. Additionally, he rushed for 2,176 yards (4.9 avg.) and 35 TDs. He was inducted into the Patriots Hall of Fame in 1995.
Then-Patriots' chief executive Sam Jankovich fired head coach Rod Rust. It was during the '90 season that several Patriots were accused of sexual harassment and coupled with the 1-15 finish, it was the obvious move. The Patriots brought in 61-year-old Dick McPherson, who had 31 years of coaching experience at both the pro and college levels.
In 1991, Tom Hodson started the season under center and he had a good Week 1, going 13 of 18 for 136 yards, 1 TD, 0 INTs, with a 112.3 passer rating in a 16-7 win over the Indianapolis Colts. After posting sub 40.0 QBRs in losses to the Browns and the Steelers, Hugh Millen, who the Patriots got in Plan B Free Agency, started the rest of the way. The Patriots were 5-7 with Millen under center. He finished 246-409 for 3073 yards, 9 TDs, 18 INTs, and a 72.5 Passer Rating. The team finished 6-10.
In 1992, under McPherson, the Patriots finished 2-14. Even though the QB by committee had failed in the late 80s, McPherson started Hugh Millen 7 games, Scott Zolak 4 games, Tom Hodson 3, and Jeff Carlson for 2.
Hugh Millen started the first game and threw 4 INTs in a 14-0 loss to the Rams. Millen had a couple of good games statistically, but after losing 5 in a row, McPherson switched to Tom Hodson. Hodson was 25-43 for 267 yards, 2 TDs, 0 INTs, and a 91.9 Passer Rating in the 38-17 loss to the then-undefeated Dolphins. Millen was back under center in Week 8, performing well against the Browns, completing 17 of 33 for 194 yards, 2 TDs, 0 INTs, and an 89.7 Passer Rating, but the Patriots lost 19-17 when the Browns scored 10 unanswered points in the 4th quarter. After Hodson lost to the Bills 16-7 and then the Saints 31-14, Scott Zolak replaced him. In Week 11 Zolak was 20-29 for 261 yards, 2 TDs, 1 INT, with a 105.7 passer rating in the 37-34 OT win against the Colts. After beating the Jets 24-3 the following week on 7-16 passing for 102 yards without a TD or INT, and a 65.1 Passer Rating, Zolak was 9-16 for 58 yards without a TD pass, 2 INTs, and a Passer Rating of 21.5 in the 34-0 thrashing by the Falcons. His last start was against the Colts in Week 14 when he was pulled in favor of Hugh Millen. Neither QB could find the end zone and the Patriots lost 6-0. Each QB got some time the rest of the way and although they combined to lose 14 games, they were competitive in nine of them.
JOHN MOTTERN. Getty Images.
In '93, Bill Parcells took over the reins and in the NFL draft the Patriots chose Drew Bledsoe out of Washington State first overall. Bledsoe led the Pac-10 in just about every QB category in '92 (passing yards, completions, touchdowns, etc) and with passer ratings of 121.8, 127.2, and 127.2 in his three years under center. The 6 foot 5, 238 pounder became Parcells' starter and immediately began displaying his big arm. The first year Parcells and Bledsoe were together, the Patriots were 5-11, but it was obvious Parcells and Bledsoe were the future. 
In '94 Robert Kraft bought the team, the stadium, and the parking lots for 227 million. In the five losing seasons leading up to the purchase, the Patriots were 19-60. Then on November 13th, the 3-6 Patriots facing the 7-2 Vikings with Warren Moon under center, and with a very weak running game, went no-huddle in the second half. Bledsoe completed 45 of 70 passes for 426 yards, 3 TDs without an INT in the game and the Patriots went on to win in OT on a 14-yard pass to Kevin Turner, 26-20. The Patriots won the next 6, making it 7 in a row to finish the season at  10-6, but lost to the Browns 20-13 in the Wild Card. Bledsoe finished the season 400- 691 for 4,555 yards, 25 TDs, 27 INTs, and a 73.6 Passer Rating. He took all the snaps and there was no question the Patriots had finally found their starting quarterback.
In '95 rookie running back, Curtis Martin rushed for 1,487 yards (remains 2nd best in franchise history) and scoring 14 TDs, but Bledsoe had an off-year, throwing just 13 TDs with 16 INTs on 323-636 passing and 3,507 yards. After beating the Browns 17-14 in week one, they lost 5 in a row. They won 5 more games, all against AFC East division teams, beating the 10-6 East Champion Bills twice, but lost twice to the 9-7 Indianapolis Colts, who were still in the AFC East. The Patriots finished a disappointing  6-10. Martin was the NFL Offensive Rookie of the Year.
In '96, the Patriots finished first in the AFC East at 11-5 with Bledsoe firing on all cylinders, completing 373 of 623 for 4,086 yards, 27 TDs, 15 INTs, with an 83.7 passer rating. Terry Glen caught 90 passes for 1,132 yards, Ben Coates caught 62 for 682 yards, and Shawn Jefferson added 50 catches for 771 yards. Curtis Martin ran for 1,153 yards and 14 TDs. After winning the AFC Championship, they lost in the Super Bowl XXX to Brett Favre (14-17, 246 yards, 2 TDs, 0 INTs, 107.9 Passer Rating) and the Packers 35-21. Bledsoe was 25-48 for 253 yards, 2 TDs, 4 INTs, with a 46.6 Passer Rating. 
After the Super Bowl loss, Parcells left New England as a "Consultant" for the Jets, attempting to skirt the coaching contract he was still under in New England. When Robert Kraft threatened legal action, then-NFL commissioner Roger Tagliabue stepped in to broker a deal that allowed Parcells to coach the Jets and get out of his existing contract with New England. The cost to the Jets was an immediate third and fourth-round pick, a second-rounder the following year, and a first-rounder the year after that. The Patriots, who were 9-39 from 1990 to 1992, had become a Super Bowl team under Parcells. He is best remembered by the quote "If they want you to cook the dinner, at least they ought to let you shop for some of the groceries." Parcells put together a great young team and then walked away.
Pete Carroll left the college ranks in 1983 and after defensive roles with the Bills, Vikings, and Jets, he was elevated to head coach of the Jets in '94, but after a 6-10 finish he was fired. After successful years with the 49ers as a defensive coordinator ('95-'96), he was hired as the head coach of the Patriots in '97 and began by winning 4 straight. The Patriots went .500 the rest of the way, finishing 10-6, good enough for first in the AFC East. For his part, Bledsoe was on target again, completing 314 of 522 for 3,706 yards, 28 TDs, 15 INTs, with an 87.7 Passer Rating. Curtis Martin rushed for 1,160 yards, Ben Coates caught 66 passes, Shawn Jefferson 54, and Troy Brown added 41. They beat the Dolphins 17-3 in the Wild Card but lost to the Steelers 7-6 in the division playoff.
After 3 seasons with the Patriots, Curtis Martin, a restricted free agent, went to the Jets in '98 after Parcells offered him what's known as a "Poison Pill" contract, one that because of salary cap restrictions, the Patriots were unable to match. 
Rookie Robert Edwards took Martin's place, rushing for 1,115 yards and 9 TDs, adding 335 yards receiving and 3 more TDs, and made the All-Rookie Team. 
Edwards was chosen to participate in the "Rookie Beach Bowl", which took place before the actual Pro Bowl. During the contest, Edwards jumped up to defend a Charlie Batch pass intended for R.W. McQuarters and landed awkwardly.  The extent of the injury was not initially apparent, but later the pain increased and it was determined he had not only torn three ligaments in his left knee — the ACL, MCL, and PCL — and partially tore his LCL tendon, he had also suffered major nerve damage. But the most critical of all his injuries, he sliced the artery in his left leg and was told that his leg might have to be amputated if the blood flow was not sufficiently stopped or the sutures in his artery did not hold. He did not need amputation and the road to recovery was long and tedious. He never made it back to the Patriots, but in 2002 he was primarily a third-down back for the Dolphins where he won the Pro Football Writers Association Halas Award for his comeback from his serious injury. Edwards put in the work, but he never made it back to his rookie form but did finish his career with three good years ('05-'07) in the CFL where he rushed for 3,022 yards.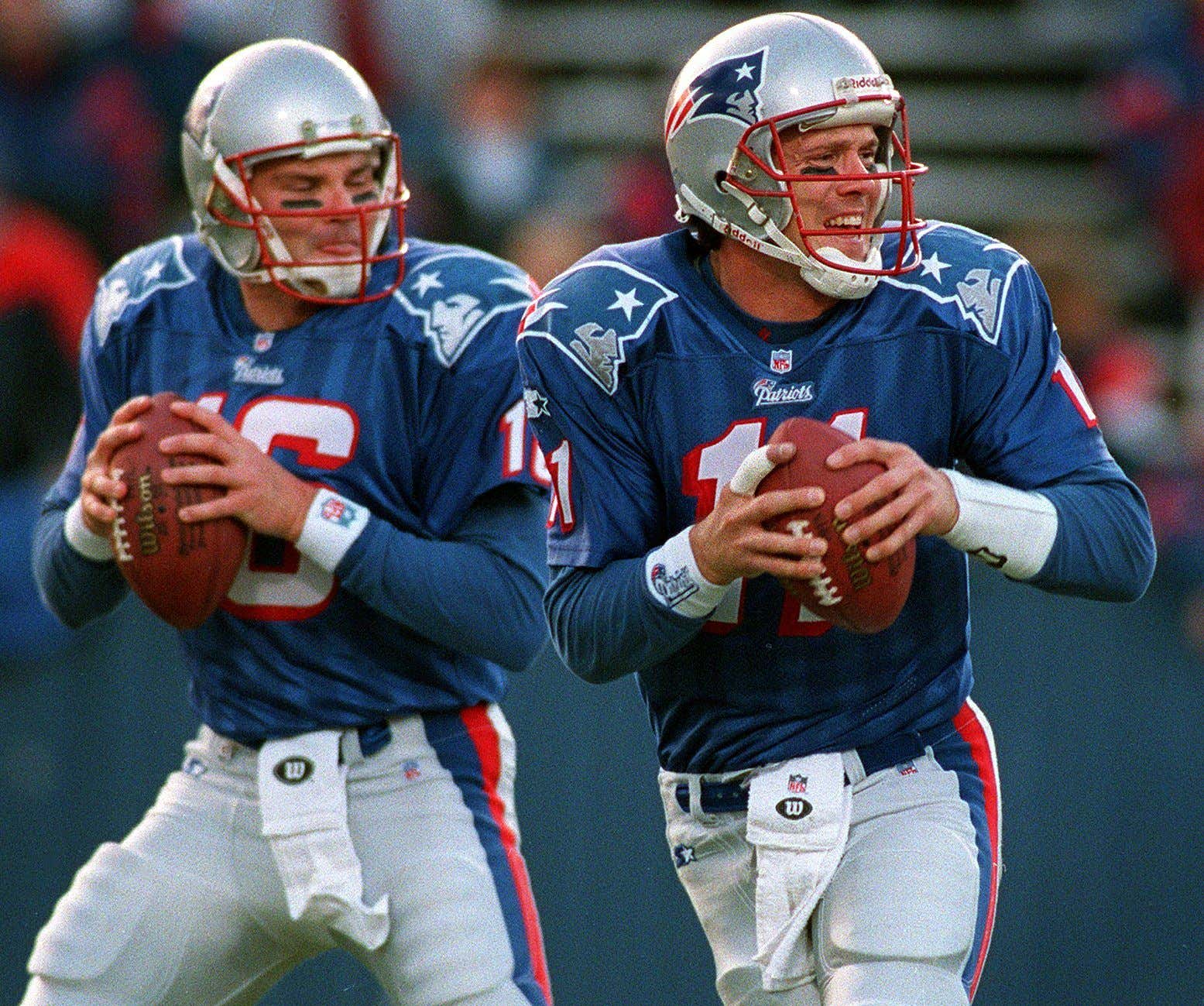 Boston Globe. Getty Images.
Scott Zolak came in for Bledsoe when a broken finger sidelined him
In '98, Bledsoe had 263 completions in 481 attempts for 3,633 yards, 20 TDs, 14 INTs, and an 80.9 Passer Rating. Bledsoe broke a finger in Week 15 and was replaced by Scott Zolak (14-30 for 205 yards, 2 TDs, 2 INTs with a 63.9 Passer Rating) who beat the 11-3 49ers 24-21 on a 35-yard field goal by Adam Vinatieri with 6 seconds left. In the 2nd quarter, Zolak hit Shawn Jefferson for a 61-yard TD. After a 31-10 loss to Bill Parcells and the Jets, the Patriots finished  9–7, fourth place in the division, but still good enough for a playoff berth. Zolak was under center in the 25-10 loss to the 12-4 Jacksonville Jaguars in the Wild Card.
In '99, under Pete Carroll, the Patriots began with four straight wins (Jets, Colts, Giants, and Browns) with Bledsoe throwing for 1,265 yards, 6 TDs, 3 INTs, with an average Passer Rating of 103.7. The Patriots went 4-8 the rest of the way and finished last in the AFC East. Bledsoe finished with 19 TDs and 21 INTs with a 75.6 Passer Rating. Terry Glenn caught 69 passes for 1, 147 yards, and Shawn Jefferson caught 40 for 698. Carroll was fired by Robert Kraft after the season ended in what he described as "one of the toughest decisions he has had to make since buying the team".
Al Pereira. Getty Images.
After being named head coach of the Jets, Bill Belichick resigned after only one day on the job to accept the head coaching job for the New England Patriots on January 27, 2000. In a letter dated January 27, 2000, from Bill Parcells, then-Director of Football Operations New York Jets, he outlined a deal struck and agreed upon the night before. "If Bill Belichick accepts and assumes a position with the New England Patriots, and reports to work on or before Monday, January 31, 2000, then the New York Jets trade to the New England Patriots their 5th round pick in the 2001 annual NFL selection draft, and their 7th round pick in the 2002 annual NFL selection draft, and the New England Patriots trade their 1st round pick in the 2000 annual NFL selection draft (16th overall), their 4th pick in the 2001 annual NFL selection draft, and their 7th round pick in the 2001 annual NFL selection draft."
With that agreement signed, Bill Belichick became the new Head Coach of the New England Patriots. In his first year, Belichick finished 5-11. Kevin Faulk rushed for 570 yards on 164 carries, but more importantly, he caught 51 passes for 531 yards and established his role as a receiver. In addition, Troy Brown caught 83 passes for 944 yards and Terry Glenn caught 79 for 963 yards. Bledsoe was 312-531 for 3,291 yards, 17 TDs, 13 INTs with a 77.3 Passer Rating.
Harry How. Getty Images.
The three backup QBs combined for 15-33 for 152 yards, 1 TD, and 2 INTs. Twenty-three-year-old Tom Brady, a sixth-round pick (199 overall) out of Michigan made an appearance late in one game, a Week 13 34-9 blowout loss to the 8-4 Detroit Lions. After a completion to J.R. Redmond for 4 yards was called back due to an ineligible receiver downfield, Brady completed a pass to Rod Rutledge for 6 yards and finished 1-3 passing with a 42.4 Passer Rating. 
The Patriots began 2001 with a Week 1, 23-17 loss to the Bengals. Bledsoe was 22 of 38 for 241 yards, 2 TDs, 0 INTs with a 94.3 Passer Rating, and almost pulled off a comeback win.  In Week 2 against the Jets, with just over five minutes remaining and down 10-3, Bledsoe took a hit from Jets' linebacker Mo Lewis as he ran down the sidelines that changed everything. Bledsoe is one tough hombre and he returned for a series, even threw another pass, but he wasn't right, it was more than just a "bell ringing". Team Physician Dr. Thomas Gill IV, suspected it was something more serious. Complaining of shoulder pain, Gill thought that Bledsoe may have ruptured his spleen. After other team doctors and internist Jim Dineen had a look, there was agreement that Bledsoe go immediately to Mass General. Bledsoe was put in an ambulance and it was later determined he had suffered a hemothorax, and his abdomen was filling with blood.
Gill later described what actually happened. "Drew could have died. He ended up having about three liters of blood in his chest. He had torn one of the blood vessels behind his rib that was then pumping blood into his chest. They got a CAT scan of his belly, and you can see the bottom of the lung fields and they could see that was filled with fluid. So then they extended the study up the chest and saw what the problem was. They were able to drain the blood out and immediately once that happened, he started feeling better, his breathing was under control, his blood pressure stabilized. But it was really dicey. I don't even think Drew knows how serious it was. But he really could have died."
Bledsoe nearly died on September 23rd, but he was cleared to return to play football on November 13th, just seven weeks later. 
By then Brady was under center, and although his first two games as a starter were less than stellar, his third game was a doozy, a shootout with Doug Flutie and the 3-1 Chargers that ended with an OT win. Flutie was 20-32 for 270 yards, 1 TD, 0 INTs with a 99.7 Passer Rating. Brady was 33-54 for 364 yards, 2 TDs, 0 INTs with a 93.4 Passer Rating. In the next game, a 38-17 win against the Colts, Brady was 16-20 for 202 yards, 3 TDs, 0 INTs with a 148.3 Passer Rating. And so the Brady/Belichick era had begun. 
Bledsoe had one more big game in him for the Patriots. When Brady limped off the field with just under 2 minutes left in the first half of the AFC Championship game against the Steelers, Bledsoe came in determined to win one more for his team. With just over a minute left in the half, he hit David Patton in the corner of the end zone with a perfectly thrown ball for a touchdown and a 14-3 lead at the half. Bledsoe played well in the second half and the Patriots upset the Steelers and advanced to the Super Bowl where they defeated the Rams 20-17. Brady was 16-27 for 145 yards, 1 TD, 0 INTs with an 86.2 Passer Rating. 
During nine years with the Patriots, Bledsoe broke the existing Patriots' career passing records for attempts (4,518), completions (2,544), and yards (29,657) and still holds the NFL single-game passing record for attempts with 70 and completions with 45 (tied with Jared Goff 2019) and he did it in an OT win against the Vikings in '94 that began a seven-game win streak, giving the Patriots their first playoff berth in eight years. Bledsoe went on to lead the Patriots to the playoffs four times during his first six seasons, helping the team earn back-to-back division titles and three consecutive playoff berths for the first time in franchise history. In 1996, he guided the Patriots to only their second AFC Championship in franchise history, earning a trip to Super Bowl XXXI. Bledsoe was the first quarterback in NFL history with four seasons of at least 600 pass attempts, including three straight from 1994-96 with the Patriots. Bledsoe was the face of the franchise while he was the starter and was instrumental in rebuilding the Patriots and taking them to the next level. After 3 years with the Bills and 2 with the Cowboys, Bledsoe finished his career in 2006 with 3,839 completions on 6,717 attempts, with 251 TDs, 206 INTs, and a 77.1 Passer Rating.  He was inducted into the Patriots Hall of Fame in 2011.
During the first 40 years in their franchise history, the Patriots fired a lot of head coaches and changed quarterbacks as frequently as the weather changes in New England. It wasn't until Belichick and Brady that there was consistent leadership in the huddle and on the sidelines, a consistency, that beginning in 2001, produced 17 AFC East Championships, 9 AFC Championships, and 6 Super Bowl Championships. 
Maddie Meyer. Getty Images.
It's 2020 and Brady's now taking snaps for the Tampa Bay Buccaneers and Cam Newton is under center for Bill Belichick and the Patriots. The thirty-one-year-old, 10 year NFL veteran has an impressive resume', 2010 Heisman Trophy winner, 2012 AP Offensive Rookie of the Year, 2016 AP NFL Offensive Player of the Year, and 2016 AP NFL Most Valuable Player, but in the NFL fans care less about the past and more about what you've done for them lately. Currently, the Patriots are 6-9 heading into the last game of the season and Newton/Belichick has a long way to go before developing Brady/Belichick chemistry. In fact, most Patriots' fans don't expect that to happen overnight or any time soon. They do expect the Patriots to field a competitive football team and make the playoffs. They've gotten very used to winning. 
Unlike his predecessors, Bill Belichick's head coaching job is safe regardless of this year's outcome, but the same can't be said of Cam Newton's job. He's only signed to a one-year contract and with only 5 TD passes in 338 attempts, he has little in common with Tom Brady, Steve Grogan, Babe Parilli, and Drew Bledsoe, who are firmly chiseled into my Mount Rushmore of Patriots Quarterbacks. Too often this year, Newton's passes have sailed over the heads of receivers or bounced on the ground in front of them. And on more than one game-winning drive inside the red zone, he's either fumbled the ball or threw an interception. Still, his fans point to the Patriots' lack of tight ends, top-tier wide receivers, pass protection, a pre-season, and then being stricken with COVID, and all while having a difficult playbook to learn as reasons why Newton's performance was lacking. A lot of die-hard Patriots fans are not making any excuses for Cam Newton and want him gone.
It'll be a long off-season for the Patriots and their fans, and Belichick has already promised, no, threatened change. We'll have to wait and see who's under center next year and if the Patriots can field a competitive team…