Lamar Jackson Came Back From The Dead To Save The Baltimore Ravens And Justin Tucker Finished The Job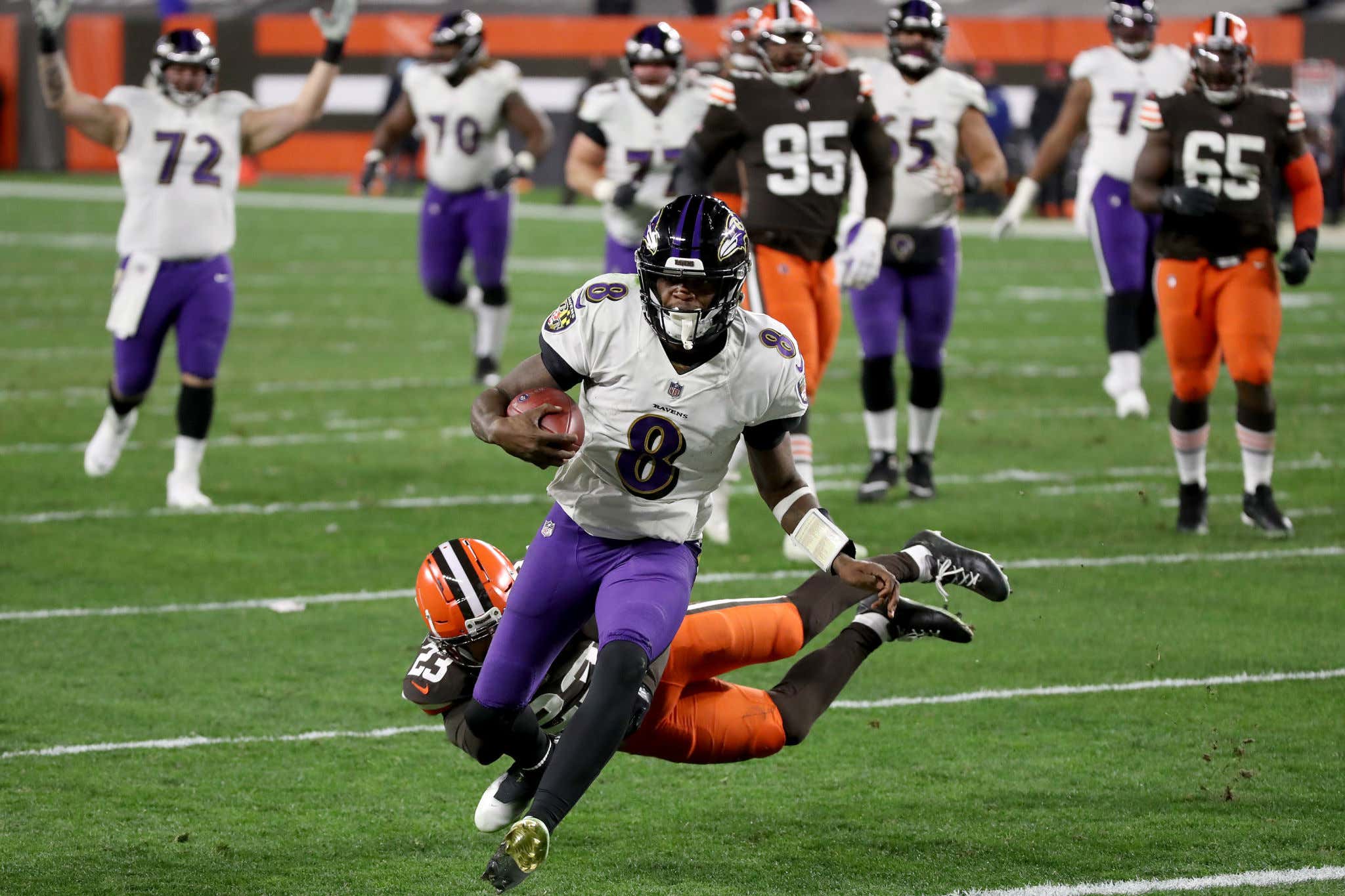 Gregory Shamus. Getty Images.
WHAT. A. GAME.
I don't know what the hell was going on out there and I do not care. Bubbleguts, cramps, whatever it was, I do not care.  I care that Lamar Jackson came back from the dead at this team's' hour of need and saved the mothafuckin day. Two times over. Absolute hero shit.
This game was just about in the books early in the 4th quarter. Lamar and the Ravens were absolutely shoving it down the throat of the Browns and had built a 2-score lead. It wasn't supposed to matter how soft the defense was playing because they simply did not have an answer for Lamar and the rest of the run game. The Ravens were just going to continue to shove every time they got the ball and bleed out the clock.
And then all hell broke loose. As soon as Trace McSorley jogged out on the field after the Browns cut it to 6, it felt like it was over. That feeling was magnified a million times over when Marquise Brown dropped that easy 3rd down throw to go 3-and-out. Everything was spiralling in such fantastic 2020 Ravens fashion where nobody knew what the hell was going on and nothing could imaginably go right. Sure enough the Browns marched down the field again and took the lead. McSorley showed a ton of heart to get the Ravens into Browns territory and a 3rd and 2, and then the turf monster tore his knee up. We thought maybe it was Sam Koch time with the season on the line.
And then Lamar Jackson arrived.
Absolute king shit. 
Surely because nothing can ever be made easy for Ravens QB's, the defense let the team down and Lamar had to get off his ass and do it all over again. 1 minute drill right down into Tucker range and the GOAT did what the GOAT does. 
Season is back fucking on baby. We've got problems on defense but I do not care tonight, the season is back fucking on baby. And fuck your narrative about Lamar Jackson. Guy went out and made big time plays in a big time spot, on top of dominating the first 3 quarters in which he played. Don't you ever doubt him baby.