Knee Jerk Reactions to Week 11: Patriots vs. Texans
Things to consider while encouraging everyone to have that safe, responsible, socially distanced outdoor Thanksgiving that "Dawson's Creek" promised us:
--Bill Parcells used to say that you spent the first third of the season figuring out who you are and the second third becoming what you can be. Or words to that effect. We're roughly 2/3 of the way through 2020 and what we know for a fact is that, while these Patriots can't necessarily beat every team, there is nobody they can't lose to. And like all your truly below average teams, they're capable of letting you beat them in any number of ways. 
--Houston came into this one 25th in the league in points scored, 26th in points allowed. With their only two wins both coming over Jacksonville. And while their passing offense is easily among the top 10 in the league, they're not this good. The 2013 Denver Broncos weren't this good. Deshaun Watson had 270 total yards in the first half. Jordan Akins came into the game with 17 catches for 192 yards, but finished this one with five for 83, with three receptions of 20+. Brandin Cooks and Will Fuller also went for 80+ yards each. And those three combined had just four incompletions when targeted. That's right. It was the kind of defensive performance that forces you to use italics in every sentence. Which is a lot of extra work, and I resent having to go to those extremes. But it's the only recourse of a frustrated mind trying to stay sane after watching the Patriots secondary - which is supposed to be the strength of the team - get shredded in what was the football equivalent of the US Navy vs Japan at Saipan, an air battle so one-sided it got the instant, boxing promotion-like nickname of "The Great Marianas Turkey Shoot." The intermediate zones of the Patriots, defense were a target rich environment and Watson had total air supremacy. Particularly in the the middle of the field, which has been their most vulnerable area of the field all season.
--Not that the Pats secondary got much help. Watson is among the most sacked quarterbacks in the league. But - just to keep beating the military metaphor into the ground because I'm feeling it - the Texans' line set a perimeter around him with trenches, razor wire, sandbags and concrete pillboxes with interlocking fields of fire. We're used to seeing the Patriots pass rush get more exotic this time of year, incorporating more complex rush packages, stunts and games. And blitzing more often, whether it's off the edge with a corner or that old Brian Flores favorite, the Double-A gap blitz. We're seeing none of that from Steve Belichick. Yesterday was all about 3- and 4-man rushes, trying to stay at Watson's level and contain him. Which they rarely succeeded at doing. And the officials weren't doing their front any favors, throwing flags on every nitpicky violation of obscure footnotes in the special teams rulebook, while swallowing their whistles on blatant holds like the one on Carl Davis during Watson's TD run:
And Kyle Dugger getting hauled to the ground by Duke Johnson on a rare safety blitz. But even without the missed calls, the unit that held up so well last week against Baltimore, and got Stephon Gilmore and Ju'Whaun Bentley back from injuries, was forced to lick white dog poop by the 25th best offense in the NFL. 
--The maddening thing about it is this is the unit that was supposed to be our greatest hope of succeeding in a post-Brady world. Any yet any given week they're capable of playing like the bad old days of 2009-12, when they were regular recipients of the Mediocre Quarterback Society's "Good Guy" Award. Yesterday the Patriots put together four scoring drives. And on the subsequent possessions, the Texans responded with a score of their own all four times. (See? More italics. And I'm thisclose to breaking out the  Comic Sans.) By halftime, I'd given up all pretense of hoping they'd make a drive-killing sack or force a turnover. I was just pleading out loud to my TV screen for incompletions. And the rare times we got one, it felt like finding a stash of Playboys in the woods when I was a kid. (You guys under the age of 30 have no idea of the thrill. It was better than finding pirate treasure. Your dad will tell you.) All too often what we got instead was Watson finding time to throw and either stepping up comfortably in the pocket or getting flushed and making a second reaction throw to guys coming open against coverage that couldn't stay with them.
--The Houston tight ends in particular were a problem all game, which is a recurring theme around here. Without Pat Chung, they still lack that tweener with the size and athleticism to stick with a tight end. I'm optimistic Kyle Dugger can be that guy, because he's tough and athletic. But right now, he's very much a run force defender and a liability in coverage. And it became clear Watson was targeting him. Eventually he was replaced in coverage by another half safety/half LB hybrid in Joejuan Williams, with pretty much the same results. It's one thing if you're going to throw all your available resources into stopping Darren Waller or Travis Kelce like they did earlier in the season. But if you can't find a guy to assign to Jordan Akin (no disrespect meant), you're not going to stop any NFL offense. It's especially frustrating when you see how much draft capital they've invested searching for that very guy. But yesterday it was as futile a gesture as wearing a Covid mask on the sidelines.
--Speaking of useless gestures, I'm not a guy who thinks women don't watch football. On the contrary. One of the Irish Rose's girlfriends is as engaged a Pats fan as anyone I know and her husband once unironically asked me who Bill Belichick is. True story. Another of her friends is in an all-female fantasy league. The suggestion that only men watch football is a good 50 years past its expiration date. That said, I'm not sure putting an ad for maxi pads on during a game is the best way to reach your target demo. If you want more bang for your advertising buck, you'll find the Thornton women over on Hallmark watching "Never Kiss a Man in a Christmas Sweater." Your welcome.
--I spent the better part of the 1990s arguing with people who blamed every Patriots loss on Drew Bledsoe. (Maybe we should make that "worst part of the 1990s.") And to a certain extent, we're getting that this year with Cam Newton. (Which might explain why I'm making obscure references to WB teen dramas.) I'm not saying that Newton was perfect. He left some plays out there. He bounced easy throws and overthrew a wide open James White. On the second possession he threw one that should've been picked. He's showing a tendency to go for the safe, path of least resistance checkdown on 3rd & long. And he gets more passes batted down at the line than QBs half a foot shorter than he is. Like it's surreal how often it happens. But this is a bizarre time to be complaining about Cam Newton. If you sent a building inspector through this game with a punch list, "Bring the quarterbacking up to code" is somewhere on Page 3, behind "N'Keal Harry's penalties" and ahead of "Clean the lint out of the dryer exhaust vent." 
--I mean, what more can you ask of a passer than this ball? 
That's the pluperfect example of throwing a guy open. Of putting a ball on target, on the shoulder that will keep him away from the defender he'd just stacked. With precision timing and a laser-guided accuracy. And that's not exactly Tyreek Hill he's throwing to. When he can get 132 yards out of Damiere Byrd, 365 to this receiver group altogether without turning the ball over, then that weird noise you keep hearing under the hood whenever you start this team up is not coming from Cam Newton right now. 
--On a side note, while I liked Byrd's celebration, we've seen it done better:
--If anything, I'm questioning Josh McDaniels' playcalling. That first drive was a textbook example of how I thought this game would go. The went back and forth between Damien Harris power runs out of 21 personnel and passes to White. The second play was a perfectly designed screen, set up by Jet sweep action by Jakobi Meyers and put White behind a wall of blockers. Joe Thuney kicked out Eric Murray while Shaq Mason and Dave Andrews were left to block nothing but air because inside linebacker Tyrell Adams turned his back on the play and was sprinting upfield chasing a seam route. Damien Harris took a couple of pitches that could've gotten blown up and was able to get around the corner and turn the into gains. And Harris' touchdown was perfection. Meyers absolutely earholed JJ Watt to set the edge. Jakob Johnson was out in front and Vernon Hargreaves III's self-preservation instinct kicked in as he hit the deck rather than take on that block and Harris never came in contact with another human until they were arguing over who got to spike it.
--But from there, McDaniels kind of lost his way. The second possession stalled Thanks to a Zack Cunningham blitz and good coverage by Justin Reid on a bubble screen to Rex Burkhead. And by the time they got the ball in the 2nd quarter, it was as if he felt like the party was dying so he broke out his magic act. He pulled a bouquet of flowers out of his sleeve. Ran a double reverse, Burkhead to Byrd. Took a quarter out from behind someone's ear. Called a run option to Burkhead. Got two solid metal rings to interlock and then come apart. Called for the double pass where Byrd came open on a post/corner route by Newton checked to Meyers underneath for 20. And by the time McDaniels whipped out his deck of cards, he'd more or less abandoned the Harris-led rushing attack before Houston had proven they could stop it. 
--It seems to me that running Harris behind Johnson is what this team does best. And once opponents realize that and pack in tight to stop it - which they don't often do because Harris has been one of the best runners in the league against loaded boxes - you can counter-adjust to their adjustments and beat them with play action and designed rollouts. But Johnson played just 28% of the snaps. And by the time Burkhead went down, most of the 2-back sets were White and Harris and the running game died by its own hand. 
--Make note of this because I'll forget it: The name of my alt rock band will be Loaded Boxes. And our debut album will be "Play Action and Designed Rollouts."
--Another thing the Patriots couldn't handle was the Houston blitz, which Romeo Crennel dialed up more as the game went on and he realized how effective it was. That double safety blitz when White picked up one side and the sack came from the other. Cross dogs, when two linebackers come from the inside. That corner blitz when Jermaine Eluemenor came in for Isaiah Wynn was vintage Crennel, attacking a team's weakest point. We could use an Operation Warp Speed to come up with a vaccine for that.
--I'd like to thank CBS for not showing the replay of Burkhead's injury. As a general rule I'm a "the public has a right to know" guy. But even more so I'm a "the public has the right to be spared the sight of something that's so bad both teams took a knee" guy. I'm afraid it will be like Gordon Heyward's from a couple of years ago. And that one will randomly pop into my head at the worst times, if you know what I mean. At my age, you have to make every arousal count. 
--In all sincerity, Burkhead has played some of his best ball this season and seems like a universally respected teammate who took  a hometown discount to stay in New England this year. This game is brutal. We all obviously hope he recovers fully from whatever it is. But if he decides to call it a career, we'll understand completely.
--I was really looking forward to seeing Michael Onwenu on Watt, but the results were not what I was hoping for. He didn't give up any sacks, QB hits or, as far as I can tell, pressures of any kind. But Watt did make a difference with a tackle for loss and four (I just can't stop) balls batted down at the line. The thing is the Patriots have handled Watt as well as anyone over his career. I'm a big believer that line play is like hitter vs pitcher match ups in baseball. There are just certain guys you handle better than others. And Marcus Cannon recently and Sebastian Vollmer before him always came out ahead in their battles against Watt. There's still reason to see Onwenu as the best new thing to come out of this dismal, soul-crushing season and he's undoubtedly a starter next season. But it appears Watt is not a good matchup for him.
--I have to say I was disappointed that the JJ Watt Reaction Shot Counter [tm] total was so low. Typically you can count on his sideline cutaway shots to be at least in the double digits. And I say again that if an alien craft ever lands on the 50 yard line in the middle of a game and announces their presence, the network will go to close up of him while the analyst says, "Here is definitive proof alien life exists! And just look at JJ Watt! You think he isn't excited about first contact with beings from beyond our world???"
--Still, we did learn one thing. If you want to celebrate a milestone in the career of a long snapper, Watt is your go to. I didn't realize the Texans had such an accomplished one. And if their defensive end thinks he's worthy of praise, that's all we need to hear.
--This Week's Applicable Movie Quote:
Del: "I've never seen a guy get picked up by his testicles before. Lucky thing for you that cop passed by when he did. Otherwise, you'd be lifting up your schnutz to tie you shoes. I'm sorry. That's terrible. Do you have any idea how glad I am I didn't kill you?"

Neal: [high voice] "Do you have any idea how glad I'd be if you had?" - "Planes, Trains and Automobiles"
--I'm announcing my retirement from the business of preaching patience with N'Keal Harry. I just worn out from it. Those penalties might have been cheap calls and perhaps that pass went off his fingertips was uncatchable. But I just don't have the energy required to defend this guy any more. Not when when I see the kind of production the Pats have gotten out of Byrd and Meyers. And seeing that he's on yet another quarterback where it seems like their chemistry is a cocktail of ammonia mixed with chlorine. Until Harry dazzles us with a spectacular game of big catches, broken tackles, YAC all over the field and crushing blocks, the floor is yours to say what you will. On this issue, I'll be on my emotional golf course.
--My buddy Duke suggested this would be a particularly morbid KJR to write and that I should throw in random photos of women to lighten the mood. I won't stoop to that sort of base, cheap pandering. I have my standards. On an unrelated note, here's a brief tribute to the Texans cheerleaders tribute to our Armed Services: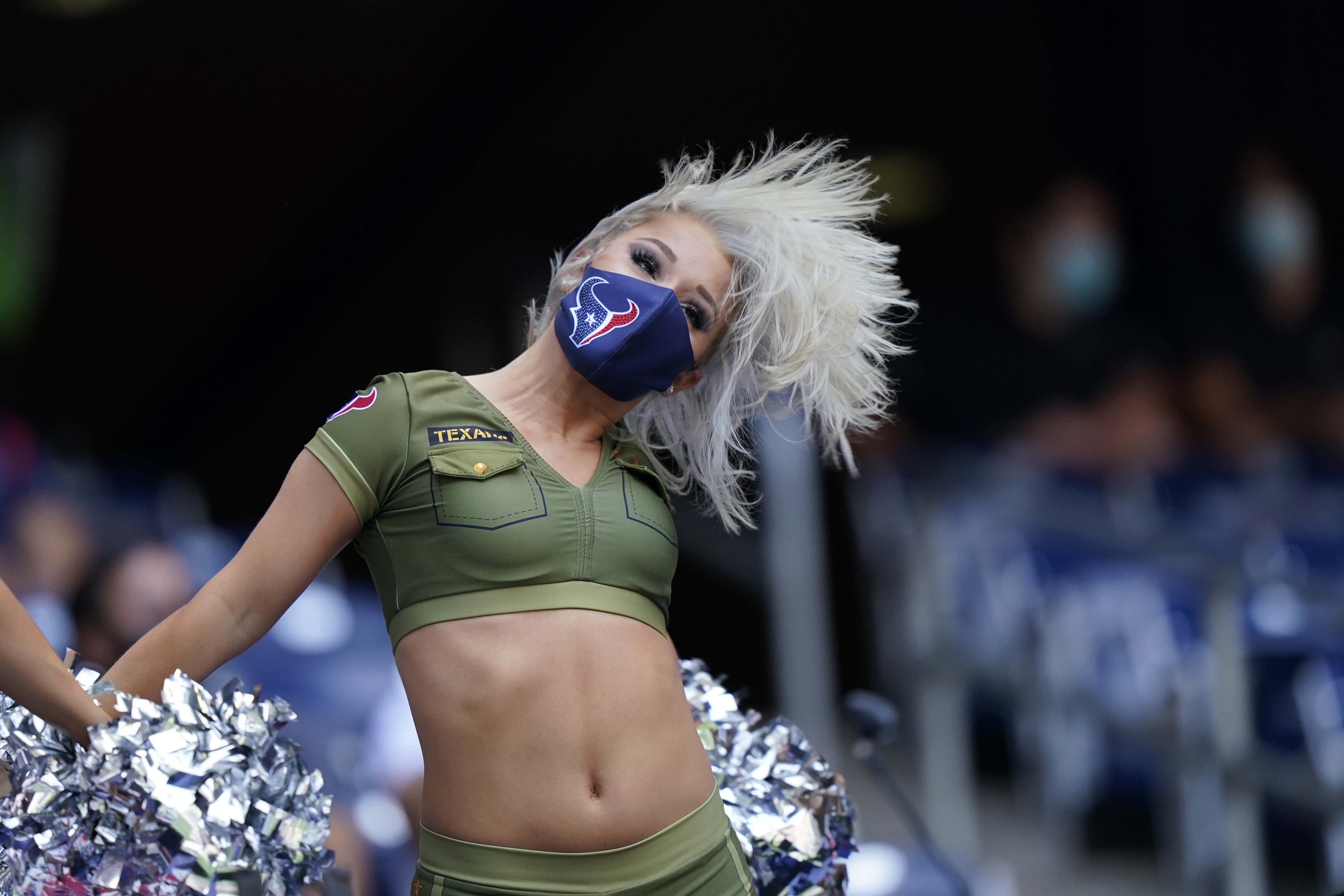 David J Phillip. Shutterstock Images.
David J Phillip. Shutterstock Images.
Eric Christian Smith. Shutterstock Images.
Matt Patterson. Shutterstock Images.
Salute the Troops.
--Since halfway through the 2019 season, the Patriots are 8-11. In the previous 3 1/2 seasons, they went a combined 54-11. Dwell on that for a second. On second thought, maybe we should listen to the people saying to cancel the holiday altogether. At 4-6 there's not much to be thankful for.
--Remember the good times and spread some cheer by getting a book for everyone you care about. You can thank me later.