Jake Burger Is Looking LEAN, Is Ready To Unzip His Pants And Piss On Baseballs
This is Jake Burger. If you're a Chicago baseball fan, you've probably heard of him. If you're not, you probably haven't unless you're one of those guys who is constantly balls deep in Baseball America constantly like I am.  So... why am I posting a video of a guy who's simply taking hacks in a cage?
Because Jake Burger was the Chicago White Sox 1st round pick in 2017, was a consensus top 20 draft prospect, and consensus top 10 prospect in the White Sox (loaded) system before he ruptured his Achilles heel in Spring of 18, not once, but twice. 
Here's his 2017 draft snapshot via. MLB Pipeline: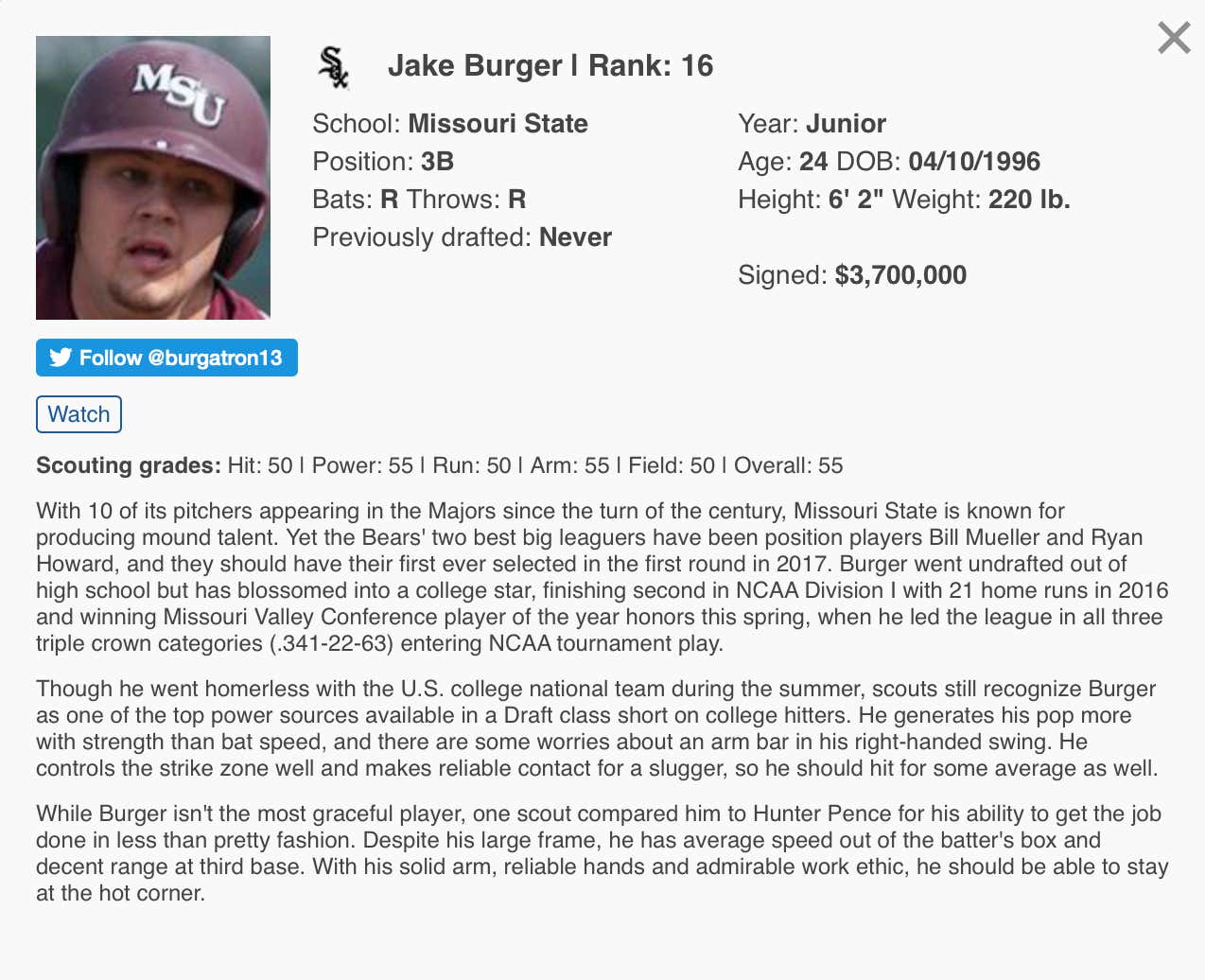 Dude hasn't seen a pitch in affiliated baseball since that time.  In fact, this is one of the last plate appearances he had prior to popping his tendon:
The news was absolutely gutting for everyone, Jake especially, because it effectively killed two full seasons of his. He's even eligible for the Rule 5 draft already should the White Sox not put him on the 40 man this year, though he hasn't played in a real game since 2017. But the video above of Jake taking hacks in the cages is awesome. Jake clearly worked his ass off to shed weight and get healthy both mentally and physically, and as someone who has spoken with him a little bit about the art of hitting, I cannot wait to see him in action this spring. I am not joking when I say this, but our convo with him when he came on Red Line Radio his draft year was so enlightening. He's got as good a brain about how to approach an at bat and attack pitching as anyone I've ever spoken with, and I mean that sincerely. White Sox Director of Amateur Scouting Nick Hostetler told us that Jake was the best hit/power combo in his entire draft class too. Dude can hit, hit and hit some more.
That's why I couldn't be more excited for the kid; he's an awesome dude who yucks it up with Sox Twitter all the time and had an entire mountain of shit to climb over to get to where he is now. Reports were that he was awesome at the Schaumburg satellite camp this year too. There wasn't much reason to post this other than to give Jake a shout out and remind people that this team is not to be fucked with for the foreseeable future and how I think Jake plays a big role in the team's future success. This is going to be an AWFUL winter as the pandemic rages on, but come spring we should be able to live normal lives again hopefully. Can't wait to see Jake and Co. completely dismantling pitching at Camelback Ranch in a few months.