The New Secretary of Defense is Basing Our Nation's Military Strategy on 'Incomparable Football Coach Bill Belichick'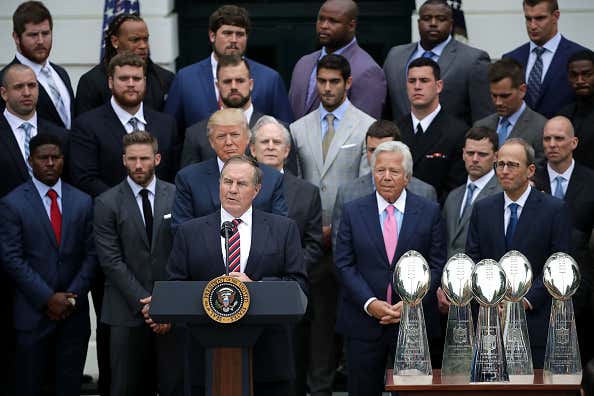 Chip Somodevilla. Getty Images.
Do you remember back in August when the Commander in Chief of the United States of America went on the Hugh Hewitt radio show and declared whom he would most want leading our military into battle?
Q: Are you going with Belichick or Brady?

DJT: Well, I would say this. You've got, if you ask me coach on coach, I like that as a better question. You always have to hit me with these very tough questions. I think they're both going to do great. They're both friends of mine. I'll tell you, Belichick is an incredible coach, and I think he's going to do really well. This guy just knows how to win. And he's a very good friend of mine. He's a winner. You know, if I ever had a military battle, I'd call up Belichick and say 'what do you think? What do you think? Give me a couple of ideas.' And he'd be as good as any general out there. 
Well the Constitutionally appointed civilian leader of our armed forces is not alone in his assessment. Christopher Miller, the acting Defense Secretary's first order of business after assuming his post agrees:
The money quote:
As we embark on this clear path forward, I often reflect on the simple, yet powerful, leadership mantra of the incomparable football coach, Bill Belichick, 'Do your job.' We are a team, and that should be the mindset. Focus on your assignment. Complete the task at hand. And if each one of us does so to the best of our abilities, nothing can stop us from achieving our objectives and successfully accomplishing the mission. That is what I am committed to doing every single day as your secretary.
To put that quote into context, Miller was born in Platteville, Wisconsin. From the age of 10 on, he was raised in Iowa. And he got his B.A. from George Washington University. But rather than cite some quote from Vince Lombardi or Hayden Fry or Joe Gibbs, he goes to a guy he's probably hated since he won more titles than Lombardi, ran up the score on Gibbs or passed Curley Lambeau on the all time wins list. 
Why? Obviously because he's a serious man with a serious job to do. When you're taking over a military that has been in two wars non-stop for almost 20 years, that is facing threats from virtually every time zone on the globe and needs to be completely revamped to meet the challenges of a new age of warfare, there's no time for petty resentments. To be the best, you've got to learn from the best. 
And the man himself was asked about it earlier this morning:
Well, I appreciate the kind words from Secretary Miller. When you consider the type of leadership that he's shown throughout his career and serving our country, it really means a lot. I'm flattered by the reference that he made. I'd just say, while we're on the subject, I read his point about combatting [transnational] threats and I couldn't help but think and hope that we've seen from other countries around the world and I hope that our country will take action against Turkey and Azerbaijan for their unprovoked and deadly attacks on Armenians. We've seen when humanitarian crisis and things like that, like ethnic cleaning, go unpunished, they just continue to happen. I hope that we can put a stop to that. But, I appreciate the question, Jim . It's really a flattering comment from Secretary Miller. What a tremendous career he's had in protecting our freedom and help give us the opportunity to do what we do, and that's coach and play football.
Mother of God. How can any one person be so up to speed on current events happening halfway around the world and still be able to make roster moves and game plan ways to slow down the Ravens' offense? It's like he's given 12 extra hours a day the rest of us don't get and uses them to make himself smarter and more informed. That's why he can't get out bed in the morning without someone in charge of our nation's armed services being inspired by his leadership methods.
 I'd suggest whoever ends up being sworn into office in January (ever since 28-3 I don't pay attention to win probability until the clock shows 0:00) appoints Belichick to head the military. But I know he'd never accept it. It'd be a step backward in terms of power and prestige.