Every Last Fucking Thing You Need To Know Before Tonight's Boxing Main Event
Hey, there, fight fans...
There is a pretty big card being televised tonight on ESPN, but I will not be blogging too deep of a dive into it because the Main Event appears to be extremely lopsided.  It's looking like the type of night where I'll be content admiring a generational fighter (and heavy favorite) taking on a serviceable underdog that will NOT get my money, even with his long odds.
Tonight's Main Event from the MGM Grand Convention Center in beautiful Las Vegas, Nevada is Terence Crawford (36-0, 29 KOs) vs. Kell Brook (39-2, 27 KOs).  The match is scheduled for 12 rounds and these two gentlemen are fighting for Crawford's WBO welterweight strap.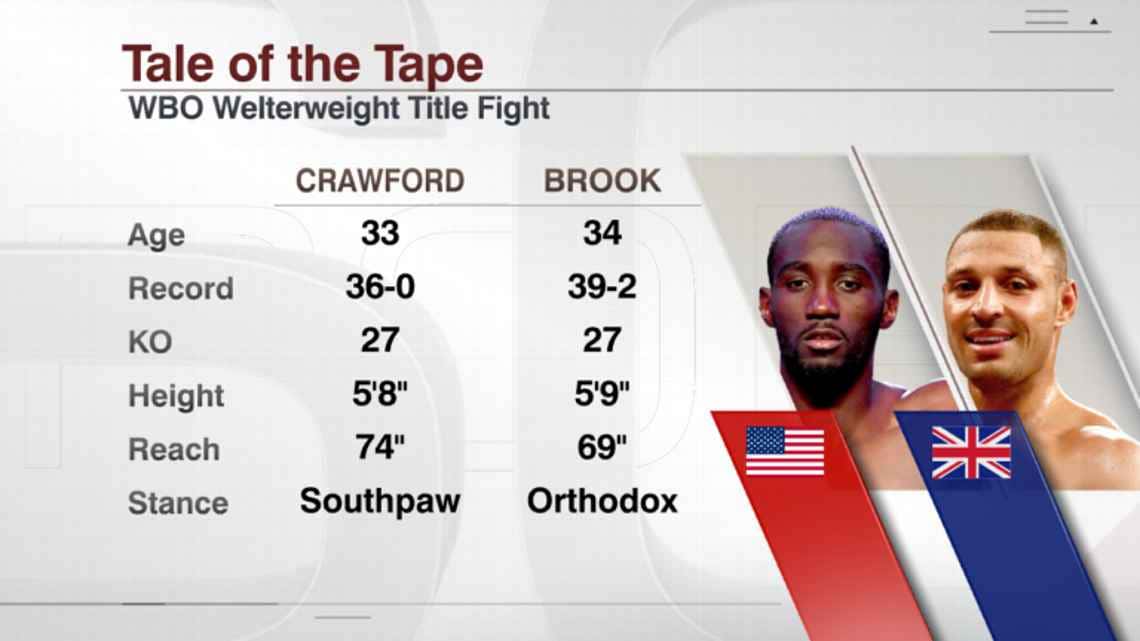 ESPN is doing the right thing by giving everyone a refresher on Crawford by televising his old fights on ESPN NEWS right up until their undercard starts… I just rewatched the Amir Khan fight that I was ringside for in April 2019 (no big deal), and then they are showing Crawford vs Indongo, Postol, and Diaz. 
And my laissez-faire attitude towards tonight's matchup is not the fault of Crawford's team at Top Rank.  My good friend Bob Arum and company were trying to make Terence's next trip into the ring be against either Manny Pacquiao or Errol Spence Jr, but those talks were sidelined by some global pandemic I keep reading about, and Arum is adamant that Crawford's next fight will be against either Pacquiao or Spence in the first half of 2021.
But tonight we get Kell Brook and his 2 losses (against GGG and Errol Spence Jr) stepping in versus Crawford.  And even though most people are giving Kell a puncher's chance because he is both bigger and stronger AND will probably put on 13, or so, pounds after yesterday's weigh-in, I just don't agree.  
Crawford is faster than Brook (especially at this weight), and… well… he just does everything better.  
And I can see the quicker southpaw getting on the outside of Brook, beating him to the punch…
… and punishing him similar to the way he was punished by another talented lefty welter named Spence back in 2017.  
(that's Spence vs Brook)
Plus, the political machinations of boxing that have kept Terence out of mega-fights may be starting to stall, so if Crawford can put on a clinic tonight, it'll go a long way in talks for his next match-up.
I like Terence Crawford stopping Kell Brook in 7 rounds.
I should probably also spend just a little time previewing today's DAZN card that started a little earlier in London, only because that Main Event (which will air here sometime after 5 PM EST) involves another solid fighter that casual boxing fans should know about.
The only problem there is that I really don't watch female fighters… Even one as good as "The Pride of Ireland" and 2012 gold-medal-winner, Katie Taylor, who is defending all of her lightweight belts versus an unbeaten challenger I never heard of… And she is doing it less than three months after her last defense.
And I know that my indifference towards ladies boxing is a very sexist thing for me to admit on the blog, but what am I going to do?… Lie to you?
I have nothing against women athletes…
But females competing chest-to-chest in contact sports makes me nervous…
And I especially don't enjoy watching anything that involves violence against women… Even if it's consensual.  
Plus, I can't remember the last time Big Cat hammered the over in a softball game.
Still, today's title defense will be Taylor's 11th fight in only a 1,113-day span… And all 11 of those bouts were title fights.  But I will not get excited to watch anything more than Katie's impressive highlight reel (and if you watch this one below, you'll see she's a quick-handed beast with a granite chin who never stops throwing punches)…
… UNTIL promoters can slap together a mega-fight for Taylor versus the likes of a Cris Cyborg, Jessica McCaskill, or maybe Claressa Shields.
Take a report.
-Large
---