Fore Please! Your Masters Day 1 Recap
What a first day here at Augusta National. We were teased with a couple of holes bright and early by some no-names before succumbing to a 3-hour lightning delay. When the skies cleared and the players came out, it was bombs away. Course played super soft and super gettable and the scores reflected that. Guys were taking aim at tucked pins that had no business being attacked. The darts that Paul Casey, Jon Rahm, and Dustin Johnson hit on #2 immediately come to mind. 
The afternoon wave didn't get 18 holes in - didn't come close really. Most of them will be out there bright and early tomorrow to finish their 1st rounds, and get right back out there for their 2nd rounds. It's pretty unlikely that we won't get a full 2nd round in by the end of tomorrow, so we won't see a cut until Saturday morning. Either way, early signs point towards this cut being around E or -1. Stay tuned.
Here are your winners and losers of Day 1 at The Masters Tournament.
Winners
Paul Casey
Jamie Squire. Getty Images.
Paul Casey is your current leader with a crisp bogey-free 65. The 43-year old Englishman has been a Tour regular for a long time and is well known for backdooring leaderboards, but rarely for getting out in front or winning. He has 3 stateside Tour wins in his career, 2 of which came at the Valspar in 2018 and 2019. He's played the best golf of his career in the past half decade, so it's not shocking to see him here. But I wouldn't expect him to separate from the pack either. Great guy, good golfer who played an excellent round, but he's got to put together another round in the 60's tomorrow before I start to think he might win this thing.
The Morning Wave
Rob Carr. Getty Images.
Thursday's morning groups gained a major advantage by getting all 18 holes in while this course was so soft. 27 of the 48 players in the morning finished under par. There was really no fear of going at pins with mid and long irons because everything would pretty much sit down exactly where it landed. The fact that they got a full 18 holes in those conditions and the other half of the field got around 9 holes definitely gives them a leg up. We'll see how much the course firms up tomorrow. More on that shortly.
Tiger Woods
Patrick Smith. Getty Images.
Tiger balled out today. Bogey free 68 and it felt like he left a couple out there too. He just played a really clean round. Rarely did it look like he was in trouble or had to grind out his pars. He hit 10 of 14 fairways and looked extremely comfortable doing it. Swing looked fluid and pain-free, which you always love to see. Plus he even sprinkled in a Thursday fist pump.
In none of his 5 Masters victories did he shoot his first round in the 70's (4 of the 5 were 70 on the number), and only once did he go sub-70, in 2010 when he also shot 68. Tiger is a weekend warrior at Augusta National, so it's exciting to think that his best golf of the weekend might be ahead of him.
Justin Thomas
Jamie Squire. Getty Images.
If JT had the fortune of playing a full 18 holes in these conditions, he very well may have taken down the Masters record of 63. He went out in 32 and birdied #10 just before the horn sounded. For all intents and purposes, he will go to sleep tonight the betting favorite to win this thing and rightfully so. When you give the world's best iron player soft conditions, he's going to fire at pins and rack up birdies. He was my pick to win this thing and there's a ton of golf left to be played, but I'm feeling pretty good about that pick so far.
Larry Mize
Rob Carr. Getty Images.
Larry! The 1987 Champion is totally a non-factor in this Tournament, but it's always good to see the old fellas relive past glory and put a good round together. The goal for these guys is always just to make the weekend and he's put himself in position to do exactly that. Plus he matched Bryson's score, who hits it a country mile further than he does! Bravo.
Webb Simpson and Xander Schauffele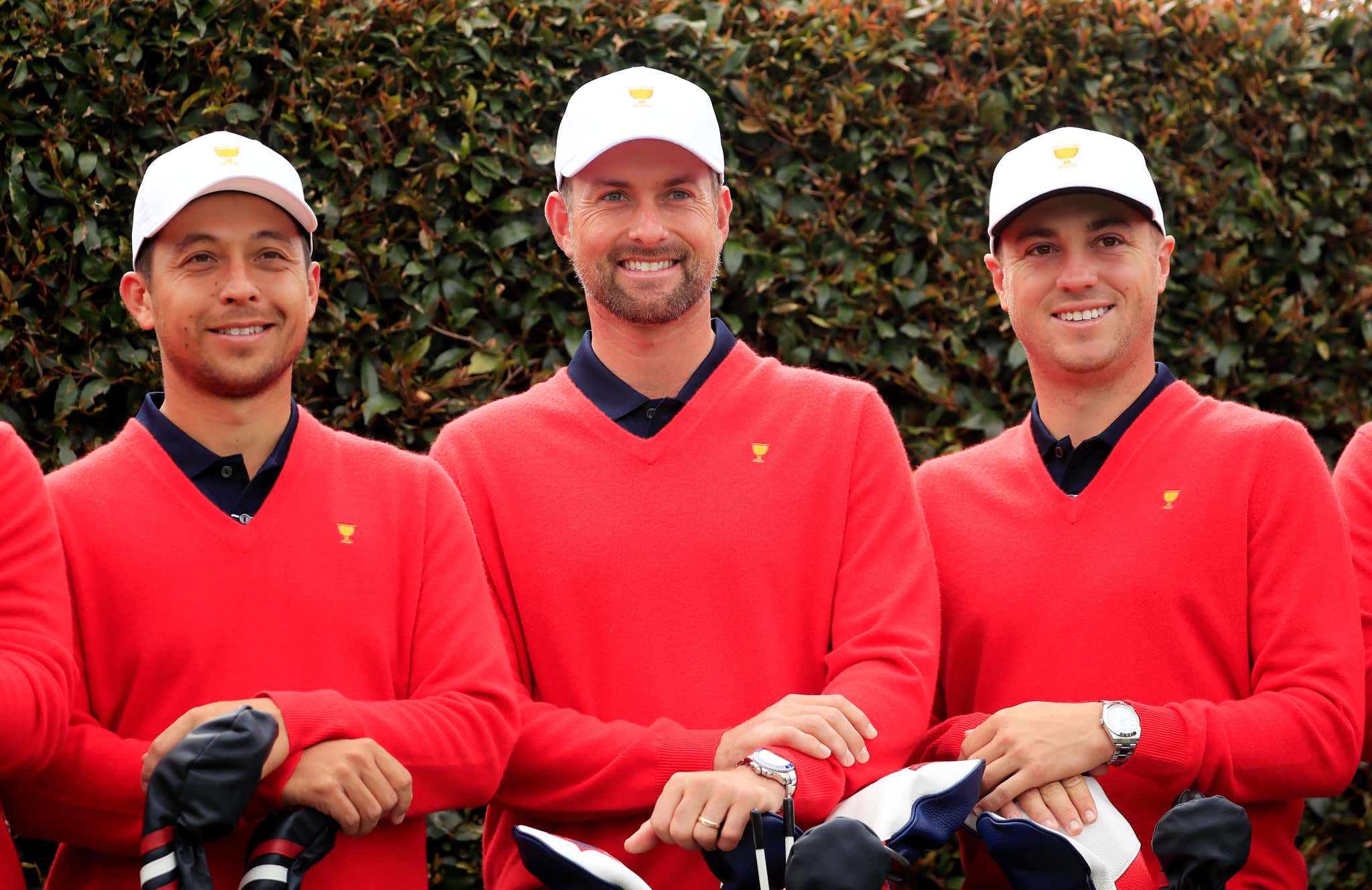 Cliff Hawkins. Getty Images.
These guys are worth mentioning because they went out and took advantage of the conditions and fired 67's. They're both thoroughbreds who are more than capable of setting the pace on this tournament and will be ready to do so if Paul Casey falters. There's a ton of great golfers still in the middle of their first rounds (Wolff, Scott, DJ come to mind) who are hot on their tails, so this is shaping up to be a great leaderboard.
Losers
Bryson Dechambeau
Patrick Smith. Getty Images.
Bryson had himself a bit of a rough one out there. I know, I know, he still carded a 70 and is very much in the Tournament. But he was supposed to go out and obliterate this golf course. At one point this week he said he saw this course as a Par 67 in his eyes. After you say something like that, you can't go out there and shoot +3!
In all seriousness though, it's insane that he was still able to get back to -2 after the debacle on 13. He didn't hit too many straight tee shots but when he did, he left himself with some ridiculous numbers in on holes that are not supposed to be pushovers. #5 and #9 immediately come to mind.
There were plenty other wayward tee shots than 13, but if he cleans up just half of those, he's gonna find himself near the top of this leaderboard very quickly. But today? Was not his day.
The Course
Patrick Smith. Getty Images.
I've said it a few times already. Big L for the course today. Absolutely bullied by the weather and these stud golfers today. Last year only 6 holes played under par for the Tournament. Today that number was 9. Holes #4, #9, and #14 crossed over into the red.
Most years if you miss by the slightest of margins on these greens, these slopes and swales will turn potential birdie chances into tough up and downs. I saw numerous guys (including Tiger and X) dump balls onto the left side of the 18th green that normally would've bounced hard left and rolled into the gallery. Instead they stuck right on the fringe and took bogey out of play. Augusta National has an absurdly good drainaige system underneath these greens, so they'll get this course dried out and firm in no time. Expect ANGC to fight back tomorrow as long as there's no rain.
Jordan Spieth
Jamie Squire. Getty Images.
It's been well documented that ol Jordo has been on tilt for a couple of years now. But there was always a chance that a drive down Magnolia Lane would wake something up in Jordan. When he birdied his first hole of the day, it looked like that may have been true, but that quickly fell apart as he struggled on the Second Nine and rinsed a ball on 16. With how scoreable it was today, a 74 will leave you behind the ball just to make the cut. We'll see if he can put something together tomorrow and backdoor the weekend
The Highlights
Here are the best shots of the day, courtesy of @TheMasters
Dylan Frittelli nearly aced #16. Infuriating that the Masters account didn't use the TV broadcast clip where Verne Lundqvist gave us a "just a moment ago"
Patrick Reed hit an insane shot from a wayward left tee shot on 9. Great example of a shot that he probably doesn't even try if these greens are firmer. Credit to him for executing it.
Here are the 3 darts on the Par 5 2nd hole by Rahm, Casey, and DJ
Eldrick on 16. Say no more fam.
Tony Finau splashed in an eagle from the bunker on 15, eliciting the first Augusta roar (?) of the weekend
And there you have Day 1 at The Masters. We'll see you all tomorrow.