SPOILERS! Here Are The Best Easter Eggs From The Season 2 Premiere Of The Mandalorian!
*MAJOR SPOILERS FOR 'THE MANDALORIAN' AHEAD*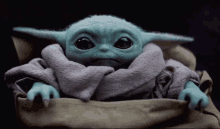 This week, we finally got the long-awaited season premiere and return of 'The Mandalorian', which means, more importantly, the return of our sweet boy....
GOD HE'S SO MOTHAFUCKIN CUTE!
Jeff D Lowe, KenJac, and I have already recorded our in-depth recap/reaction video breakdown for the amazing premiere, which you could watch below….
….but I figured to for those of ya who don't wanna sit thru a 45min nerdfest, I'd compile some - NOT all - of the episode's best easter eggs into a blog for y'all. 
Notice how I said "y'all" there? I talk like Timothy Olyphant now. Deal with it.
Let's waste no more time and just get right into it….
R5-D4
Heeey there he is! Everybody's favorite faulty (and possibly Force-sensitive?!) astromech droid - R5-D4! 
You may remember R5 from his show stealing performance in 'Star Wars: Episode IV - A New Hope', where he's purchased by Uncle Owen along with C-3PO before blowing his faulty motivator….
….a faulty motivator they made sure to give us a reeeaaal tight shot of pretty early on….
Kind of a shame he never made it off Tatooine, don't ya think?! He's like the Pete Best of droids. So close to superstardom - yet so far.
---
BOBA FETT'S FOUND ARMOR/COBB VANTH'S WHOLE CHARACTER
Believe it or not, the whole Cobb Vanth character and his backstory are pretty much pulled from a recent Star Wars Expanded Universe novel entitled: 'Aftermath' by Chuck Wendig. It takes place immediately after 'Return of the Jedi', and although the story behind Vanth getting Boba's armor is a liiiittle different in the book, the character's broad strokes here are more-or-less on point with how he was originally written. 
I'd actually love to see them pull from the books/comics MORE in the Star Wars universe, considering some of those characters from the extended universe have already been battled-tested with the hardcore audience, and…well - some are simply too cool to rob us of seeing on-screen. You tell me about a Marshall who donned the armor of legendary bounty hunter Boba Fett to take his outlaw town back from bandits? I'm in. Who wouldn't be? 
….and you know what? I think Olyphant did Cobb justice. Awesome addition to the show.
---
THE KRAYT DRAGON
Woah! Over 40 years after seeing the skeleton of a Krayt Dragon in the opening moments of the first 'Star Wars' movie ever….
….we finally got to meet one of these bad boys while they're still alive and kickin - and let me tell ya - they're absolutely TERRIFYING! 
They even spit out acid like the lil dinos in 'Jurassic Park'!
---
COBB VANTH'S SPEEDER
Cobb Vanth's speeder looks an awful lot like it was made from the scraps of Anakin's old podracer, now, doesn't it?
Sure, there's some slight differences, but it's prrrretty similar. Plus, it's been a hell of a long time since that racer was in commission, so maybe Vanth just took a couple scraps to modify his speeder? Very cool looking regardless.
---
BOBA FETT'S FAULTY JETPACK
I really loved this one so much on a personal level. It encapsulated so much of what makes this show work for everybody, in my opinion.
When the Krayt Dragon is approaching Mando and Cobb at the end of the episode, and Mando decides to get Cobb to safety so he could try some "Psycho Shit" as Billy Football would say, he hits Boba's jetpack just like Han Solo does in 'Return of the Jedi' to make it malfunction and sent him flying like a balloon that just had the air let out of it. 
For the casual fan? Great moment. Mando being a badass and getting that guy to safety in a funny manor. 
For the hardcore fan tho? Fucking tremendous.
---
THE KRAYT DRAGON'S PEARL
Fans of the legendary video game 'Star Wars: Knights of the Old Republic' were STOKED to see acknowledgement of the Krayt Dragon's Pearl after its demise at the end of the episode, having first seen it in a mission verrry close to the closing battle of this episode back in 2003. Krayt Dragon Pearls are EXTREMELY rare/valuable (obviously), and can even be used to make lightsabers.
---
CAMEOS
GOR KORESH was voiced by the legendary JOHN LEGUIZAMO, who you may know from the live-action 'SUPER MARIO BROS.' movie, 'JOHN WICK', or even 'THANKS FOR EVERYTHING'.
The WEEQUAY PROPRIETOR was voiced by W. EARL BROWN, best known for playing Dan Dority on 'DEADWOOD'.
AND FINALLY, FOR THOSE ASKING….
Yes, that was BOBA FETT (played by TEMUERA MORRISON) at the end of the episode.
Looks like that Sarlacc really did its damage on the poor guy, huh?