What Can We Read Into Josh McDaniels Telling Jimmy Garoppolo He'll 'Stay in Touch'?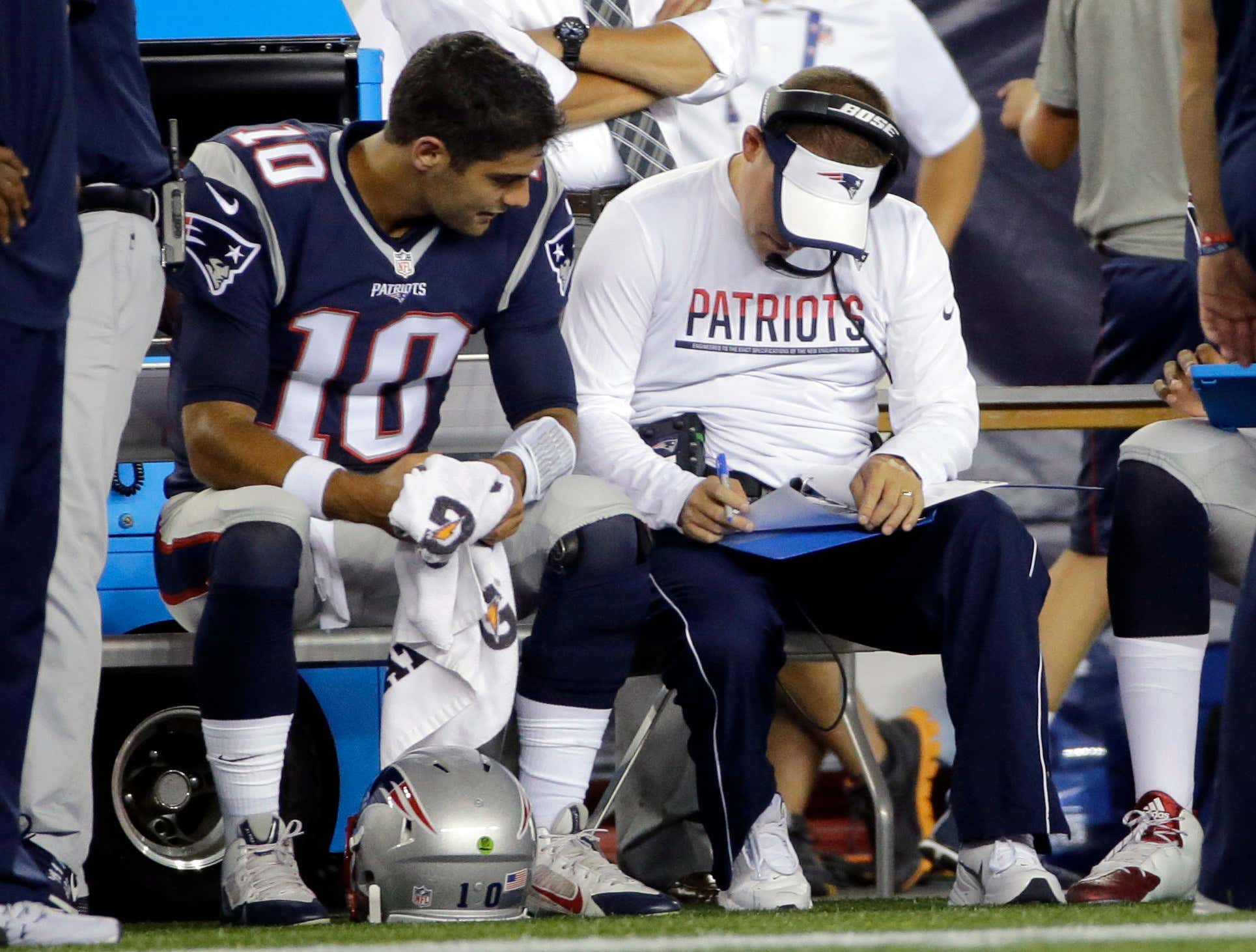 Elise Amendola. Shutterstock Images.
I think like most people, I'm not one to typically watch the highlight videos or the Mic'd Up features after a loss. If I'm going to dwell, I'm wired to dwell on the positives. Watching a loss, especially a bad one, is like putting on the tape of the time you were on "Fundle Bundle" and told Edward R. Meow nobody wants to be your friend and it's super painfully awkward for everyone:
But some losses are such a holocaust of bad, they can't get worse, even with repeated viewings. And a rewatch is like letting the Dominatrix keep working you over without uttering your safety word, way past the point where you've had enough, just to get your Suffering Money's worth. So it was with the worst home loss in Bill Belichick's 21 years in Foxboro. 
And here's the money shot. Cued up to the 2:15 mark:
Here's what the mic picks up at the end of the game:
Jimmy Garoppolo: Coach.
Bill Belichick: All right, hell of a game.
Garoppolo: Good to see you.
Belichick: Yeah, you too. Good luck.
Garoppolo: Good luck the rest of the way.
Belichick: You too.

Josh McDaniels: I'll stay in touch.
Garoppolo: Yeah, no doubt, man.
McDaniels: All right. Good luck.
Garoppolo: Good luck the rest of the way, Josh.
McDaniels: Thanks, you too.
Now almost all of that is typical coachspeak/playerspeak/postgamespeak. Add a comment about how women shouldn't have gotten the right to vote, and it's verbatim the same conversation Curly Lambeau had with Arnie Horween after the Packers lost to the Chicago Cardinals in 1922. 
What makes it noteworthy is this part:
Josh McDaniels: I'll stay in touch.
Garoppolo: Yeah, no doubt, man.
In the big picture, it might not mean a ton. But it's not nothing. I mean, I find it hard to believe anyone on the Patriots staff said it to Russell Wilson or Patrick Mahomes. It might just be a platitude, the kind of thing you say to a former co-worker instead of saying, "We'll probably never see each other again." And it's especially blogworthy given that Jimmy G has been rumored to be on his way out of San Francisco and they stand to get out of his contract cheap if they release him this offseason. 
I suppose we could assume that this is just McDaniels thinking ahead to Garoppolo becoming a free agent and him landing a head coaching job at the same time. Yet with all due respect, with his team sitting there with the 31st offense and the 30th passing offense in the league at the moment, I don't know how much of a hot commodity McDaniels and his vaunted "System" that carried Tom Brady to success all those years is going to be.
 I can't even believe I'm saying this because it's the kind of conversation we used to have on a daily basis around 1990.  When every reasonable capable quarterback on every other reasonably winning franchise was the object of our lust and we'd talk about the remotest possibility he could come to New England and be our deliverer. Then we'd go back to talking about how we need to bench the starter and give the backup a shot. Seriously, that is how we spent our days and I never want to go back to it. But in the wake of that debacle Sunday, this feels real somehow.
Garoppolo has a history here. He talked about it in a euphoric state after the game. He obviously loves the head coach and the coordinator. The feeling is plainly mutual. If this were to happen somehow, it would be the culmination of a saga that began the moment they drafted Jimmy G with the 62 pick in 2014. 
We're dealing with wolves a little closer to the wagon at the moment, like getting the Cam Newton version of the McOffense to score more than 13 points in Buffalo. But that's not going to stop us from reading way too much into eight simple words said in the immediate aftermath of a game. I hate to admit it, but when you're looking at potentially being 2-5, it's not too late to start looking ahead.