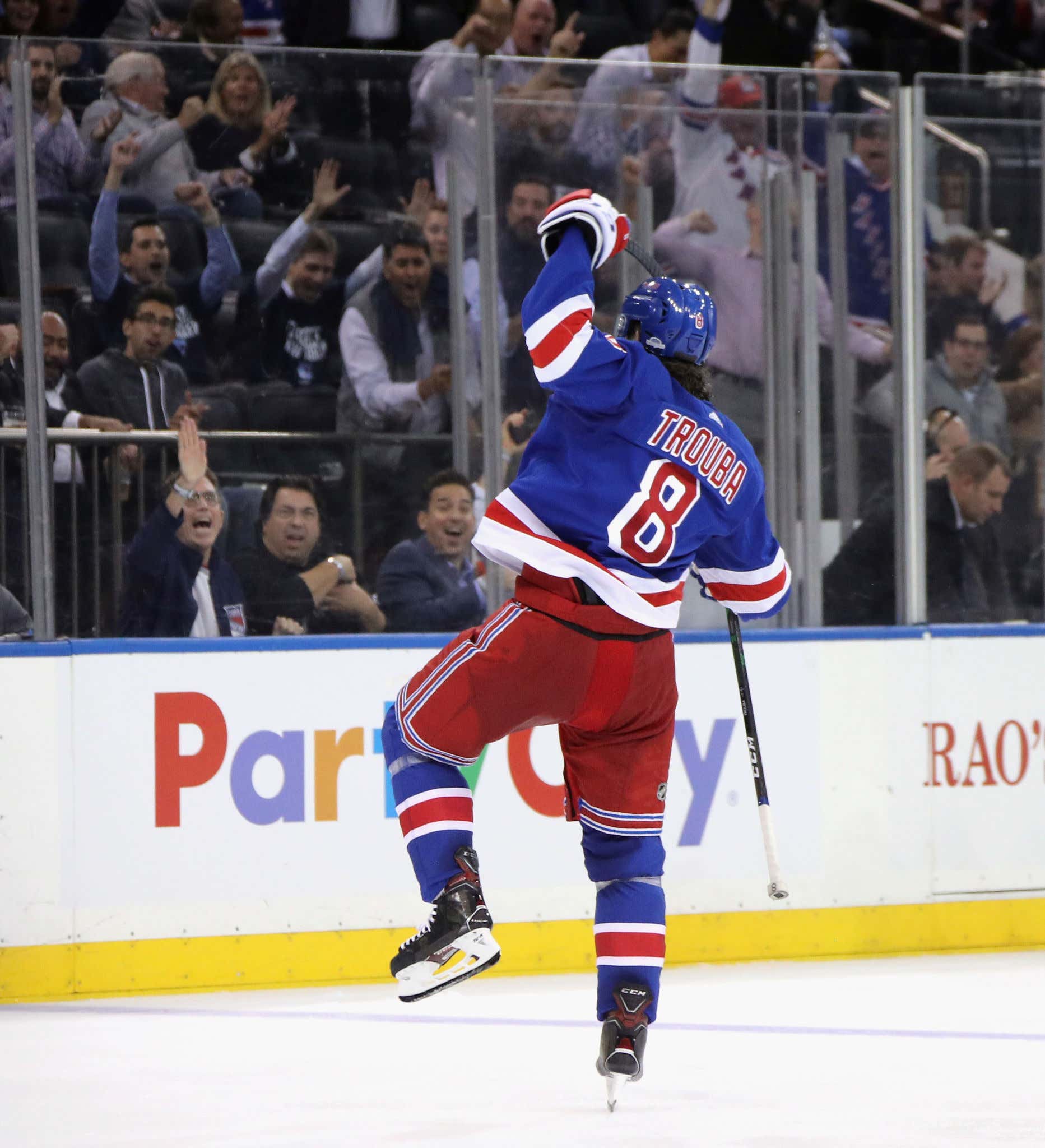 Bruce Bennett. Getty Images.
Listen Rangers fans, I get it. We're just conditioned to hate on whichever defensemen make the most money on our roster. With names like Girardi, Staal, Skjei & Shattenkirk all gone, that leaves Jacob Trouba to absorb the brunt of it. And let's be clear - his debut season as a Blueshirt was an absolute dud. There's plenty of reason to be skeptical of a guy cashing in 8 sheets a year after that inauguration. What I'm reading and hearing though makes it sound like Trouba was never good and never will be. He'll end up an albatross of a contract they'll never get out of. We gotta rein it in a bit, boys & girls. So I'm here to defend Jacob Trouba.
First, the contract. $8M is a lotta dough - but if you want to compare it to the contracts of other players you need to look at the cap hit percentage. For example, you'd be right in saying Trouba's AAV is higher than Hedman's - but when Hedman signed four years ago for $7.875M per, that was 10.8% of the cap - a full percent more than Trouba's hit. In today's market, Hedman's AAV is actually $8.8M (which is still low but that's where state tax breaks allow players to take less money). So while Trouba's AAV is 7th among blueliners, his cap hit percentage is actually 15th. Why does that make a difference? Because if you look at the list there's a pretty distinct difference between most of the names in the top ten compared to the names after. The top ten are largely the true elite. The cream of the crop (at least when they signed their deals). The next group, where Trouba lands, are certainly a rung below.
I'm harping on this to make one single point - if your expectations for Jacob Trouba were to come aboard and be a Hedman or Josi then you're living in bananaland. He's a bonafide 1D though and, while determining "is he worth $8M" is impossible to do, the fellas at Evolving Hockey believe he's been worth $8.275M per over his four seasons prior to his nightmare in New York. Over that same span, Trouba is 24th among all defensemen in total WAR (7). For perspective, Norris finalists Carlson & Josi are 18/19 at 7.5 each. Trouba has been excellent.
Now all of that means nothing if he's just gonna shit the bed on Broadway. I understand that - and overall that's what he did. In fairness though it was a virtually impossible spot to thrive in. Every single circumstance was against his success. Moving to a new city where he'd be a focal point under the microscope of a monster media market can certainly affect a player. More importantly though, he had to adjust to a new coach, system, teammates and the role of shutdown defender on the league's youngest & arguably worst all-around defensive squad. Oh and he had the pleasure of trying to anchor this D corps against the opposition's best with help from the likes of Skjei, Hajek and Smith who's common skillset is to hang out in their own zone for as long as possible every shift. Quite the uphill battle.
Still, like I said at the jump, there's plenty of ammo for skepticism - but If you dig a little deeper there's actually a lot of reason for optimism as well. Split his regular season into 2019 and 2020. 2019 Trouba was downright abysmal over 39 games. Analytically, probably the worst full-time defender in the league. His 5x5 per-60 on-ice numbers against:
68 shot attempts, 37 shots, 34 scoring chances, 13 high-danger chances, 2.99 expected goals
All of those numbers scraped the bottom of the barrel league-wide. He was also -24 in giveaways vs take. 2020 Trouba's 31 games though showed remarkable improvement across the board:
63 shot attempts, 31 shots, 27 scoring chances, 9.5 high-danger chances, 2.16 expected goals
While the shot attempts & shots were still high, the other numbers paint a more telling picture. Trouba excelled in preventing quality chances. Fire away from far and wide all you want, but opponents were not getting many opportunities in close when he was on the rink. Only 12% of the chances against with Trouba on were high-danger. Adam Fox, unquestionably the best defender on this roster, allowed 18% and had an expected goals against a tick worse (2.18). That should make it clear how well the Eight Million Dollar Man defended since New Year's Day, especially considering Fox was deployed more favorably in the offensive zone. Trouba also tightened up big time with the puck by cutting his turnovers down more than half while continuing to block a ton of shots & bang more than he ever has before. It's no coincidence the team's dead-last 2019 xGA/60 jumped to a respectable 17th once the calendar turned at the same time their biggest 5x5 minutes eater found his game.
A defensive juggernaut they are not - yet - but the Blueshirts made significant strides the second half of last season. Looking ahead to next season you've got addition by subtraction (Skjei & Staal…although Jack Johnson may very well be a carbon copy) in front of a full workload from Shesterkin. Tony DeAngelo is now the longest tenured Ranger who matters on the back end, so that first full NYR campaign under the belts of Fox, Lindgren and Trouba should go a long way in establishing a reliable core-four for next year. I went through my thoughts on pairings last week so I'm not gonna get into it again - but for all you Trouba doubters out there, if Quinn pairs Fox (or even Lindgren) with 2020 Trouba you'll be eating your "he's overpaid, he sucks!" words.
Besides, no one can be overpaid when your squad raises two Cups over the life of your contract.