Ryders Assemble! Everything You Need to Know Ahead of Today's Stool Streams XIX
He's baaaaaaaack. After a pair of electric appearances inside Stool Streams Stadium, the one and only Rico Bosco returns in our Cornhole main event this afternoon. We have three fantastic matches set to take place, but more importantly, YOU have the chance to claim the Progressive Jackpot of $5,500 by making your picks inside the Play Barstool App. Let's break down each matchup and give you the best shot to win:
Match 1 - Dana Beers vs. Trysta
History: Dana 0-1, Trysta 1-0
Storylines to Know: This started off as a bitter rivalry, but has died down as of late. Will it stay quiet or is there going to be a rivalry renewed?  Dana is averaging 7.33 HNHS per match while participating, but is still searching for his first win inside the Triple S. On the flip side, Trysta is a respectable 4-1.
Quotes to Remember: "[Tomorrow we can expect] Fully sober Dana - I also said that last time and ended up drinking seven High Noons, sometimes people are bad influences. I'm going to do my best to take time off from the nooner count." - Dana
"I hope [the rivalry] is in the rearview mirror, but I'm all about what's best for the content. I'll let him make the move." - Trysta
Analysis: Will Dana hold strong to his hope of avoiding those delicious High Noon Hard Seltzers? (Spoiler: probably not) But perhaps this is what's holding him back from picking up his first win inside the Triple S. We'll see.
Question 1 - Series Winner
Question 2 - Total Cornholes (Game 1)
Match 2 - Nate vs. Billy Football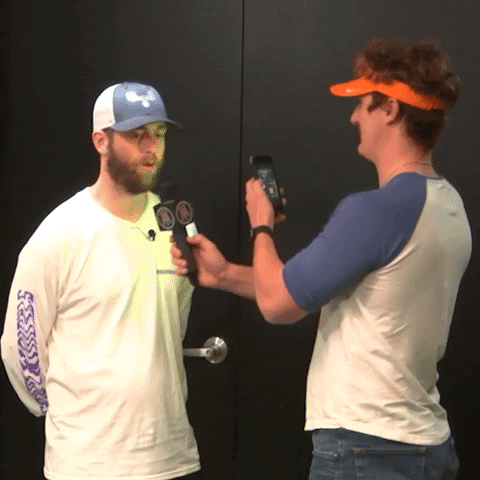 Giphy Images.
History: Nate 0-2, Billy 0-1
Storylines to Know: This will be the fifth straight week that Nate and Billy will be competing in the same contest. But it will be the first in that span that they are opponents. Both have never won in Cornhole, but one of those streaks will come to an end this afternoon. Billy is the most experienced player in Stool Streams history, making his 12th appearance today. 
Quotes to Remember: "Fuck Billy, he's gonna fucking lose, that's fucking trash talk right there." - Nate
"I'm going to do a little more trash talking than usual, I know him better, it will be lighter. I don't talk trash unless I know the person. I think I can beat him." - Billy
Analysis: With an 0-3 combined record, who will finally get that first win? Billy and Nate know each other really well, so I'd expect a decent amount of trash talk in this one. Whoever gets under the other's skin the most will definitely have an advantage.
Question 3 - Series Winner
Question 4 - Margin of Victory (Game 2)
Match 3 - Rico Bosco vs. Captain Cons
History: Rico 1-1, Cons 1-0
Storylines to Know: This one could get UGLY. There is beef between these two that has gone on for more than a year. Rico does not like Cons because of a tweet about Marshall football last season and because he said DJs bar is closing, which is not true. Rico looks to rebound off a tough loss to $20 Chef, while Cons swept Billy in his debut. 
Quotes to Remember: " I wouldn't have a problem with the guy if he didn't start it, he started the beef when he would interject twitter conversations, started a lie about betting Marshall last year." - Rico
"He's pretty immature. It's a childish way of looking at life. Im expecting him to not say a word the whole time."
Analysis: Make sure to microwave that popcorn and hit the button before the beeper hits 00:00. Because you'll have the opportunity to enjoy a fun one here. Rico is bound to say some crazy things, and Cons will try to get in his head. Will Rico break? Or stay mentally strong on his way to victory?
Question 5 - Series Winner
Question 6 - Total Cornholes (Entire Match)
First pitch will be at 1 PM ET this afternoon, as The Wonton Don makes his debut in the booth with me. The stream will be available via Facebook, Twitter, YouTube, and here on the blog. Hope you can join us and remember to make those picks!