Could This Be The Guy That Helps Convince Giannis To Stay With The Bucks?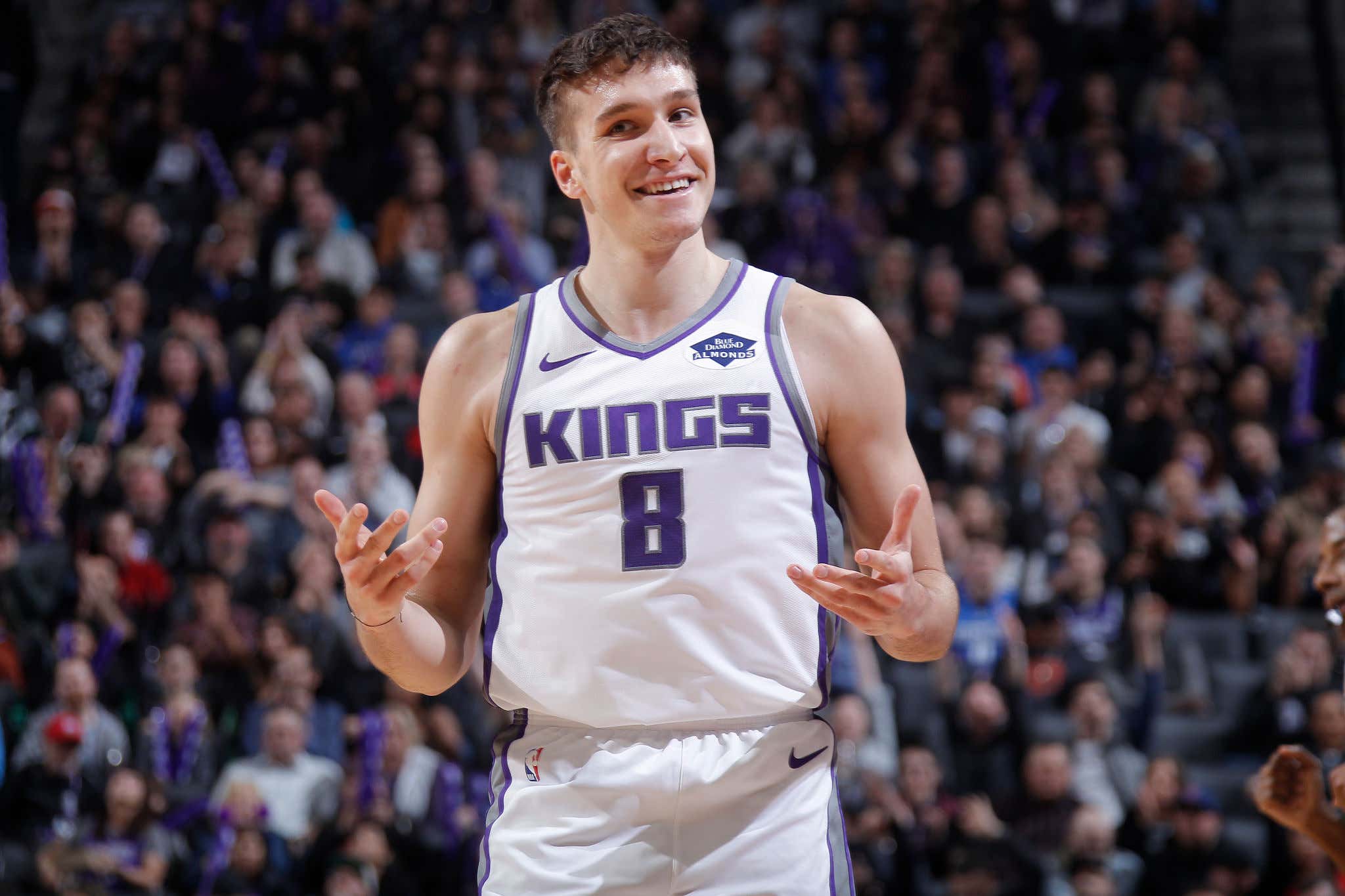 Rocky Widner. Getty Images.
Well now this is interesting. We all know the Bucks are on the hot seat in terms of the Giannis sweepstakes. They have to show him that they are willing to do whatever it takes to improve this roster so that they can finally get over the hump and actually make an NBA Finals. There are rumblings that could mean trading Eric Bledsoe, and now Shams threw this little nugget out into the universe. 
A quick reminder for those who may not know Bogdan Bogdanovic's contract situation. He and the Kings could not reach an early extension (they had just extended Buddy Hield this summer), so he's now a RFA. If you are someone who didn't watch a ton of Kings games, maybe you aren't really aware of what type of talent this kid is. The man can play
He has good size at 6'6, made 2.7 3PM a night this season, and he can handle the ball a little bit while showing flashes as a playmaker. While on the Kings he has experience starting and coming off the bench, and he has all the looks of a guy that is the exact type of glue piece every contender has. 
Here's the thing though, as a RFA, it doesn't matter how much the Bucks want him if the Kings plan on matching the offer. They do have a new GM in place and maybe that guy prefers to give Buddy Hield more of a role and will decide not to match. They could also potentially trade Hield and decide to commit to Bogdanovic, so just because the Bucks might be in on him doesn't really matter. There could be the rare situation where Bogdanovic accepts his qualifying offer (10M) and then is an UFA next offseason where the Kings could lose him for nothing. I feel like that almost never happens, but if he feels like the Kings would match any offer he gets and he wants out, that certainly is on the table. 
In terms of fit, he'd be awesome on the Bucks in my opinion. He gives them additional shooting/ball handling that they need, andmaybe they are more inclined to flip Bledsoe. Their cap situation is a bit of a mess, so you're probably looking at a sign and trade. If I'm MIL and I can flip Bledsoe for this guy I do it without hesitation. Sure you may lose a little bit defensively, but you have Giannis/Lopez/etc for that. They'll survive. Too often have Bucks fans seen Eric Bledsoe disappear in the playoffs, maybe it's time for a change. Also if Giannis says do this, you do it. 
If I were a Bucks fan, I'd be all in on this move. Bogdanovic is legit. He helps check off two boxes in terms of need. They'll need the Kings to act like the Kings in order for it to happen, but that shouldn't be a problem.