Phil Collins Is Here To Remind Us Why It's Never A Good Idea To Get Back Together With Your Ex-Wife
You know, I get it. People get lonely, desperation comes a-knockin and suddenly you start to forget all the reasons your ex is your ex: she wears too much makeup, her breasts are nothing to write home about, she's insecure about her body, you're unhappy when you're with her, she's flat-chested. Instead the only thing you can think about is how for a brief period you had someone to share moments with. Even if those moments consisted of her pretending not to hear your safe word.  
It happens to the best of us because we all want to believe relationships can evolve and people can change. 
And on occasion, they do! 
Sure in this particular case, Jan's change was physical, but a good man would see this alteration as a big step towards massive emotional enlightenment. 
"No, no, no, no, no. I'll tell you this - it's not about the boob job. Excuse me, boob enhancement. That would be shallow, and this is the opposite of shallow; this is emotionally magnificent."
Michael Scott is that man and, even if her assets were not a critical factor in his decision to reunite with his ex-wife, something tells me Phil Collins is also that man. 
Larry Marano. Shutterstock Images.
Back in February 2016, Collins confirmed to PEOPLE that he and Orianne [Cevey] resumed their relationship, explaining that it "wasn't something we wanted to make a song and dance about… But obviously when you have children, there's two ways you can go. You can go the nasty way or you can go the nice way, and we always went the nice way … and we realized we missed each other," he added at the time. (source: People) 
Unfortunately at the time, Phil Collins couldn't feel a second separation coming in the air. 
TMZ reports, Collins and Orianne have called it quits again.
More importantly, he definitely didn't wait all his life for the moment his ex-wife decided to marry some random dude… while still living in his home.
The outlet claims Orianne married another man in August after telling Collins she was taking a business trip to Las Vegas. Citing sources close to the musician, TMZ said Collins gave Orianne until Friday afternoon to pack her bags and leave, but she refused and allegedly threatened him to renegotiate their divorce settlement.
"Hey honey, ugh, you're not going to believe this but I have to head to Vegas on business. I'm sorry, I know we had plans this weekend, but I promise I'll be back before you know it. Kisses! Muah muah!" 
Comes back a married woman.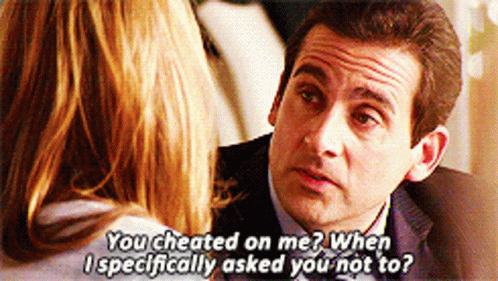 It's always tough when you think your ex-wife/current girlfriend is headed to work, when in actuality she's legally tying the knot with someone not named you. But it's especially tough when she's threatening to renegotiate the reported $46.76 million you gave her in the divorce, while she's living in your home and refusing to vacate, after you were trying to do things "the nice way."  
Well, no more Mr. Nice Guy. 
The outlet also reported that Collins intends to file an eviction lawsuit this week.
Let this be a lesson to us all: remember the reasons you two called it quits, not the extenuating circumstances staring you in the face.