The First Trailer For David Fincher's New Netflix Movie 'Mank' Is Here
The story centers around the life of Herman J. Mankiewicz as he wrote Citizen Kane, and the problems that arose with Orson Welles during production and leading up to the film's release.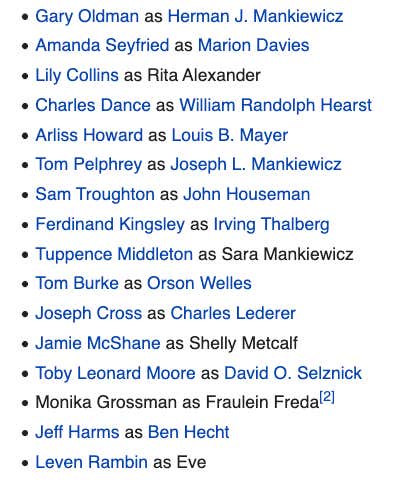 On its face, this may not look like a movie that moves the needle for a casual moviegoer, or in this case a Netflix subscriber. A black and white, stylized biographical drama about the guy who wrote one of the most critically acclaimed movies ever. But here is the thing:
David.
Motherfucking.
Fincher.
The guy just doesn't miss. And this looks to me like it will be a big time passion project for him, as the screenplay was written by his father who passed away in 2003. The cast is certainly intriguing, especially the fact that it's being helmed by Gary Oldman. Since winning the Oscar for wearing a Churchill fat suit in 'Darkest Hour', he has been in a slurry of garbage like 'The Laundromat', 'The Courier' and more. That probably stems from his off-camera stuff limiting his opportunities, so you have to assume he went all-out in this chance to get back up into the big leagues. 
I enjoy Amanda Seyfried a lot, as well as Lily Collins (Although her new Netflix show 'Emily in Paris' is unreasonably bad), and Tywin Lannister will always be a great casting in my book. 
I think one thing that critics, who are going to cum their pants at this movie regardless of quality, are going to zero in on is the portrayal of Orson Welles. I'm not familiar with the actor who is playing him, but he certainly has the look. Out of all the historical, old-hollywood castings in this, that one has to be perfect. 
Personally, I openly admit my ignorance on a lot of classical hollywood cinema. I want to learn more, which has me excited to see this movie and learn more about the battles behind 'Citizen Kane'
Oh by the way, BUY A SHIRT: