10 Things To Know About The #2 Ranked Fighting Illini Baseball Team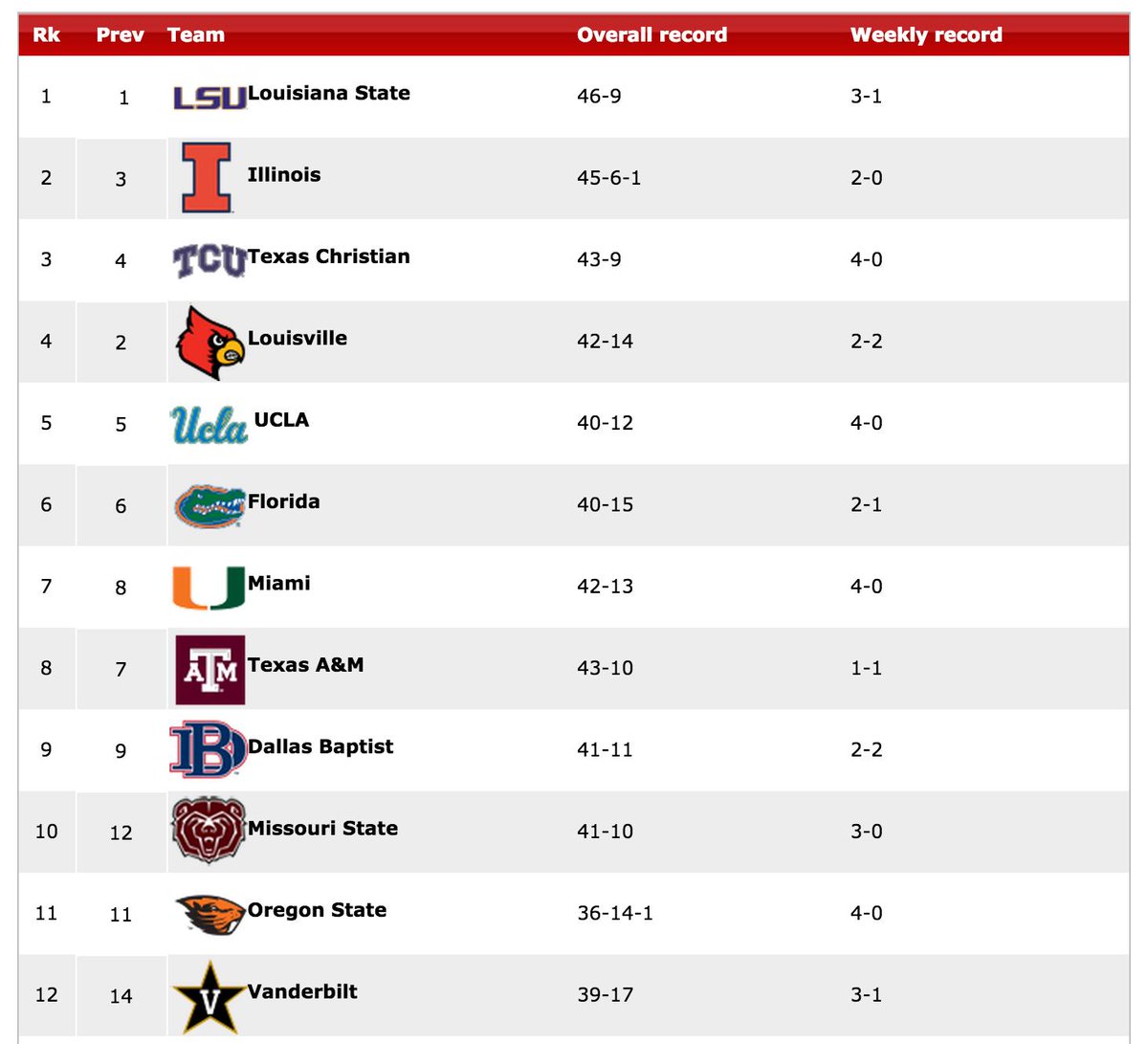 Did you know that Illinois is absolutely fucking awesome at baseball? That they're one of the best teams in the country, littered with homegrown talent, just destroying the competition in our backyard? Well they are, and the college baseball postseason is now underway. So with that, here's some background on Chicago's 3rd baseball team, the Fighting Illini. Familiarize yourself now because these guys are headed to Omaha and you bet your fuckin ass we're going to be covering the entire journey at Barstool Sports Chicago because despite what our sister cities/sites want you to believe, we care about sports. Also, you can watch them tonight on Big Ten Network at 9pm against Maryland where they're a -230 favorite. Let's begin:
1. The Illini are ranked 2nd in the country at 46-6-1.
2. They've won 27 games in a row. I can't fathom a world where a baseball team – any team – could win 27 games in a row but oh well, here we are living in it. That's the longest winning streak in conference history… history that spans some 130+ years and now includes 14 programs…. and the longest winning streak in the country this year. Specifically, they haven't lost since MARCH 29th. That's almost a two month winning streak. Do you know how much shit you can get away with during a two month winning streak? Answer: a lot of shit. I'd be cutting class and study table and all that stuff like a champ. Oh you're gonna yell at me coach? Want me to shave my neck beard? TWENTY SEVEN IN A ROW. THE BEARD STAYS.
3. And before anyone gives me the "its the Big Ten they suck who cares" bullshit I would ask that you shut your goddamn mouth and listen up. The Big Ten could put as many as 6 teams in the NCAA tournament this year. That would be yet another broken conference record, and it would mean the third most bids behind the SEC and ACC. The conference started investing in baseball heavily about 10 years ago and you're starting to see the results, like with Indiana's trip to the college world series semifinals last year.
4. They won the conference award triple crown with the player, pitcher and coach of the year. The player of the year is switch hitting first baseman David Kerian, who came to Illinois 4 years ago from one of the Dakotas. He led the conference in a bunch of shit this year, most notably home runs and RBI's. He's also got tremendous flow which, like hockey, is a big plus on the diamond. The pitcher, Tyler Jay is armed with a 97mph fastball from the left side and also (allegedly) a 10 inch cock. He spent almost the entire season closing and still managed to be conference pitcher of the year. And finally, the coach, Dan Hartleb will also probably win every national COY award too – something he should have won back in 2006 after giving me a roster spot, but that's a different story for a different day.  Point is the guy has orchestrated one of the greatest seasons in the history of college baseball north of the mason dixon line. He deserves every award anyone wants to give him. After all, you flat ass can't knock SUSSESSFUL SITUATIONS, guyz.
5. Speaking of Tyler Jay, he's supposed to get drafted in the top 10 picks. Specifically, the barstool rumor mill says he doesn't make it past the White Sox at 8 overall. That would be a nice welcome home story for the kid from Lemont. It would also mean he would get paid something like ONE POINT FIVE MILLION FUCKING DOLLARS. Not that I'm jealous or anything. Good luck with your career bro.
"I like to do p-90x in my free time." – Tyler Jay, probably
6. The rest of the staff is fucking awesome. This isn't some one trick dog and pony show here folks. They have arm after arm after arm. Like the #1, Kevin Duchene, who was the freshman player of the year and first team all conference and the winning pitcher in the Cape Cod league championship game this summer and a team USA finalist and a projected top 3 round pick and blah blah blah. Or the #2, Drasen Johnson, who legitimately only throws 8+ innings per start. Or the set up guy Nick Blackburn who was pumping 95 yesterday in the 8th against Nebraska. I can keep going but will stop here just to say that they're 3rd in the country in ERA and top 5 in a bunch of other impressive shit.
7. They scored 28 runs in one game, which can only get the proper attention it deserves via throwback RBI Baseball Highlights. H/T to my man Jason Marry for putting this together.
8. You gotta have a pretty good lineup if you're scoring 28 run in a single game, right? YEAH OF COURSE NO FUCKING SHIT. They have a stacked lineup. They led the conference in literally everything. They start 7 guys hitting over .300. One of them, Reid Roper, has actually been on the team for 15 years. He's one of those "eligibility doesn't apply to me" guys like Aaron Craft and every white guard to ever play for Wisconsin. Seriously. It's nice knowing your 3 hitter collects a pension from the University. Opposite Roper at shortstop is flare-enthusiast Adam Walton. He's notable for having a decent looking girlfriend – wink, wink – and generally being the most athletic guy on the field. My personal favorite is rightfielder and unofficial swag champion Casey Fletcher, who happens to be the son of former big league All Star and World Series Champion, Darrin Fletcher. Other Chicago guys include a nice Jewish boy and 4.0 student behind the plate (also a legit draft prospect) in Jason Goldstein, some gigantic Irish kid Pat McInerney from Benet that drops bombs and probably grew up in a nice sub division, and the only kid to graduate from Maine South High School and not own his own DJ company/at least a dozen v-necks, Will Krug.
9. They will earn a national seed in the NCAA Baseball Tournament, which is given to the top 8 teams. That means that they would get to play both the Regionals and Super Regionals at home. That's a remarkable advantage, especially when you consider the fact that they had to go to Cal State Fullerton back in 2011 for the NCAA tournament. Granted, that didn't matter too much as they ended up making it to the regional final and eliminated both Kansas State and Cal State Fullerton, but still. You want to play at home any chance you get. It's as simple as that. You want your own apartment/dorm room with your own bed and the same clubhouse and the same jersey chasers and all that shit. You don't want to be trekking across the country to stay at a Ramada Inn eating shitty continental breakfasts and rationing $20 worth of meal money at the local burger king for a weekend. Speaking from experience, FUCK. THAT.
10. For context on how impressive it is that they are on the cusp of getting a national seed, it's worth mentioning that no team from the Big Ten has ever gotten a national seed. So yes, that's important.
Bonus Point 10 –  a lot of these guys are stoolies. They're regular dudes who just happen to be very good at  playing baseball for Chicago's Big Ten school. So do everyone a favor and follow them. They're fucking legit and deserve your support. Safe to say these boys have earned it.
@barstoolcarl