NSFW: Russian Military Storms 'Vulva 3.0' Film Screening, Remains Unable To Locate & Detain Clitoris
When they're not in US airspace harassing our F-22s or nearly colliding with our Naval ships or ramming into our up-armored vehicles in Syria, the Russian military is on a missions to stop... VULVAS. (*If you're not sure what a vulva is listen to today's ZeroBlogThirty where Cons struggles to explain & Chaps saves the day with the perfect ditty to help you remember.)
Via the Moscow Times:
Moscow law enforcement authorities shut down a Tuesday night "Vulva 3.0" documentary screening in support of Yulia Tsvetkova, an LGBT activist who is being prosecuted for her drawings of female genitals.

Around 20 National Guard officers arrived at the "Vulva 3.0" screening on an anonymous tip-off of "homosexual propaganda," the screening's organizer Andrei Parshikov told the MBKh Media news website. 
"A police chief came down to the Flacon design factory and said: 'This is not okay'," Parshikov said.

The unnamed police chief reportedly offered to take in a copy of the film to make sure it doesn't violate the law on gay propaganda, "though we still can't guarantee anything."
"Uh… Officer Kuntzetsov here and uh this is not ok, so yeah, we're gonna have to break this thing up on account of all the vagina stuff. And uh.. we're gonna need all those vagina videos. Gonna have to take in a copy or two. To make sure they're not uh… so we can see if they, uh, violate stuff. For research and law purposes. Can't guarantee you're gonna, uh, get this back.
Tsvetkova, 27, faces up to six years in jail on charges of distributing pornography for posting drawings of vaginas on her social media page dedicated to body positivity. She has been fined twice under a controversial law banning propaganda of "non-traditional" sexual relationships to minors for her drawings and for running LGBT-themed groups on social media. 
Ah, Russia… Where the leader can get folks poisoned & shoved out of hospital windows with impunity but if you post a vagina cartoon or attempt to normalize women's bodies or speak up for basic human rights, watch out.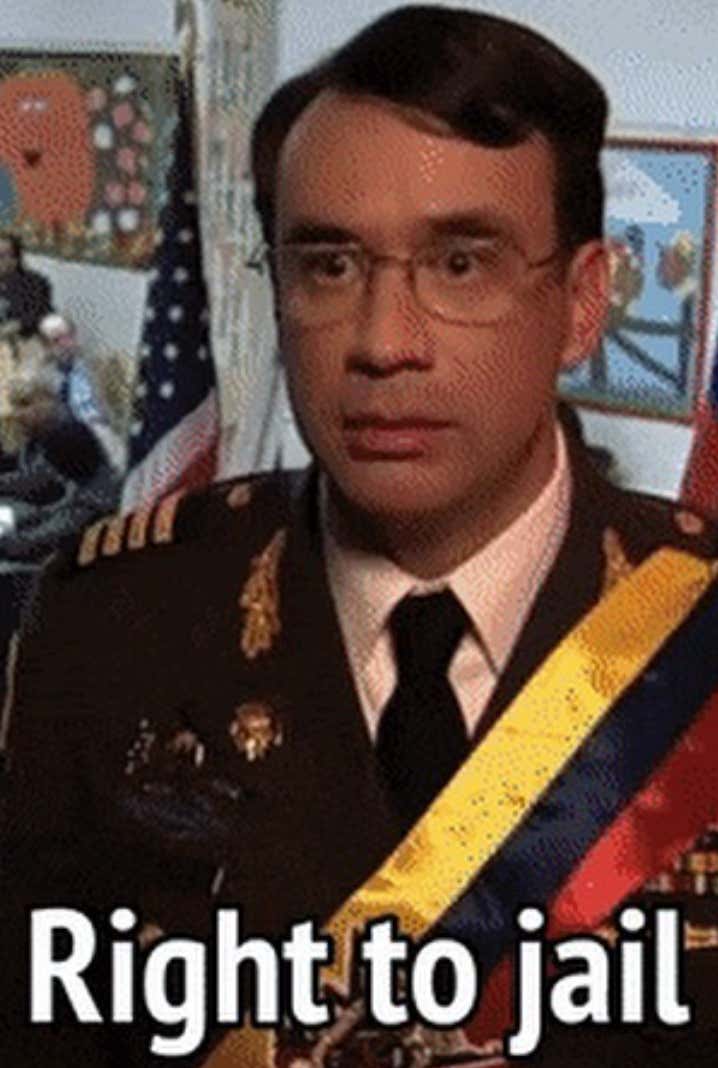 Putin & his regime have been nightmare fuel for the LGBTQ+ people of Russia, where their free speech & general human rights have been severely curtailed while he uses them as political pawns.
According to Human Rights Watch, Russia's notorious anti-LGBT "propaganda" law is being used as a tool for outright discrimination. 'Under the law, adopted in 2013, portraying same-sex relations as socially acceptable in the public domain and in the presence of children is illegal. That law has given them a loophole to target all sorts of peaceful public protests, individuals' social media posts, teachers', etc. 
Not great!!
Even scarier, universities there were recently ordered to track their students' social media for "gay propaganda," which I'm sure has a very flexible & wide ranging definition to fit whatever agenda is at hand. Students accused face expulsion.
So yeah, a documentary viewing about the anatomy of vaginas (Vulva 3.0) held in honor of persecuted Russian LGBTQ activist Yulia Tsvetkova was scandalous & threatening enough to get stormed by a unit of Russian military. 
I'd call Putin a giant pussy for all this but I don't want to give him the flattery of such a comparison. Freedom, women's bodies, human rights, terrifying stuff for those dickheads.
For more military & international news (kept light & fun!) check out ZBT & follow us on Twitter & Instagram!